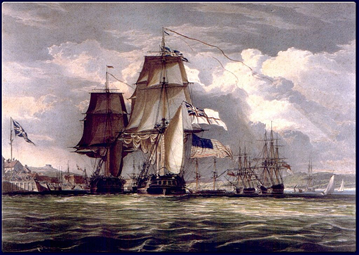 P


The Chesapeake and Shannon by J.S. Schetky and L. Haghe, Public Domain
" Blackbirds tend to like Shiny Things" ~ The Bloody Raven
This coin has been on the top of my "MUST GET List" for the last year watching for a further break on its already 25% off its original $64.95 Issue price. I love a sale! But with the recent increase in Silver Prices I would wait to no avail so I had to go for it.
I tout this coin as my personal favorite Royal Canadian Mint acquisition of the Sailing ship theme. The 2012 HMS Shannon is only one coin of The War of 1812 series.
A tremendously attractive coin marking one of the key events of the War of 1812 and should have been a big seller but not. Why? I blame it on the lack of history taught in our high schools. From my experience, almost deliberately made boring by the teaching staff. As a former addict to Historical Romance novels I liked to read selections from the writer's personal experience.
The Silver Coin
1812 - 2012 10 Canada Dollars: The HMS Shannon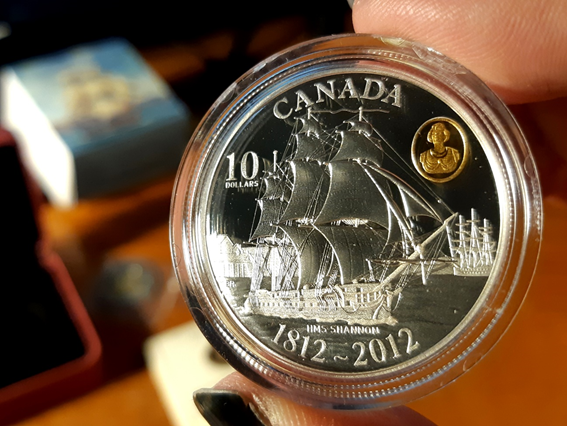 Reverse; HMS Shannon departing Halifax Harbor
Legend; CANADA, 10 DOLLARS, HMS SHANNON, 1812~2012
Fine Silver 0.9999, 15.87g
34mm Diameter
Artist: Bonnie Ross
Gold accented inset of the HMS Shannon's Figurehead
'Before the Battle': A fictional account
Captain James Lawrence did not expect the hero's reception stepping off the carriage that morning in May 1813. The street seemed to erupt in enthusiasm and the good people of Boston mobbed him with eager smiles, well wishes, handshakes, and moral support. As the days passed eventually those cheers changed to complaints demanding action.
The 'Herald' first wrote a glowing tribute to Captain Lawrence about his resounding success commanding the Hornet's victory over the HMS Peacock, now called for the Good Captain to rid the people of Boston the scourge that now blockaded the harbor.
1812 - 2012 10 Canada Dollars: The HMS Shannon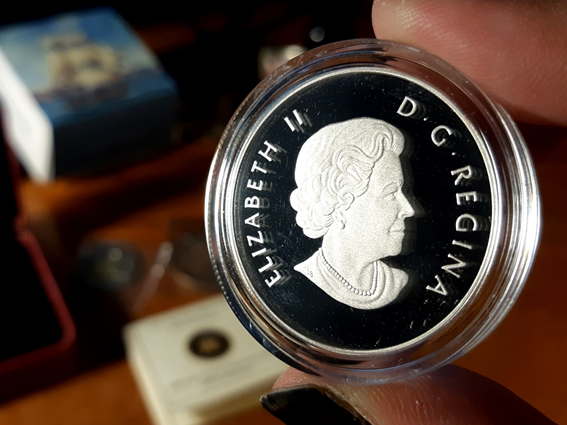 Obverse; Queen Elizabeth II facing right
Legend; ELIZABETH II, D G REGINA
Reference KM#1249
Mintage 10,000 Proof
Artist: Susanna Blunt
It was as if all the world's troubles and pent up anger were attributed to that one ship just outside Boston harbor. The cessation of commerce, the hijacking and appropriation of private ships, the careless violation of Sailor's rights and the small detail regarding the declaration of war.
Before he settled in, he demanded to convey his orders with the Naval office and perform an immediate review of his new command and formally relieve Captain Evans to retire into needed convalescence.


Bonnie Ross' original color illustration of the HMS Shannon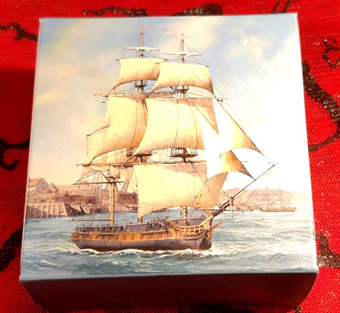 The Chesapeake was almost back in good order since her return to the Shipyard back in April. A D-Class Frigate with 38 guns and a solid reputation with her name since her entry into service. Still quite formidable even though her original design was that of a 44-gun Heavy Frigate like the USS Constitution but instead scaled back into the D-class due to economic necessity.
However, the crew may be a problem as most of the original had departed when their agreements expired over the lengthy dispute of the prize money being tied up in Court. The Captain decided to intervene by paying those that remained the prize money owed to expedite order and boost morale, and that morale was given a considerable boost as some members of the idle USS Constitution signed on.

The Business Strike for General Circulation
1812 - 2012 2 Canada Dollars: War of 1812The HMS Shannon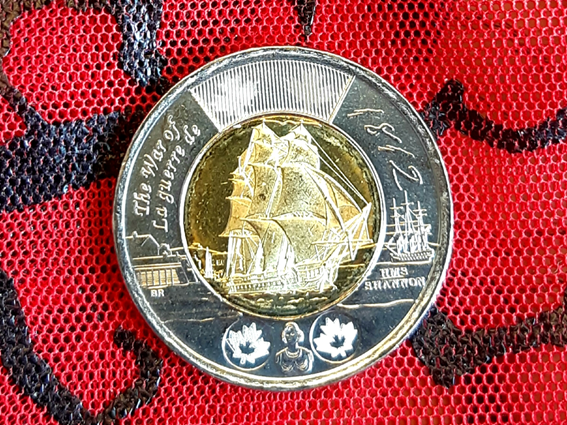 Reverse; HMS Shannon leaving the Halifax harbour
Legend; The War of 1812, La guerre de 1812, BR, HMS SHANNON
Artist: Bonnie Ross
Bimetallic Bronze & Aluminum, 6.92g
28mm Diameter, 1.75mm Thick
Captain Lawrence would have relished commanding the USS Constitution, but the Naval Office saw him fit for The Chesapeake as her readiness is more at hand with the Constitution still undergoing refitting and will not be ready for service until much later. Though the new crew were seasoned, experienced and acquired a new-found enthusiasm they have yet to work together.
1812 - 2012 2 Canada Dollars: War of 1812The HMS Shannon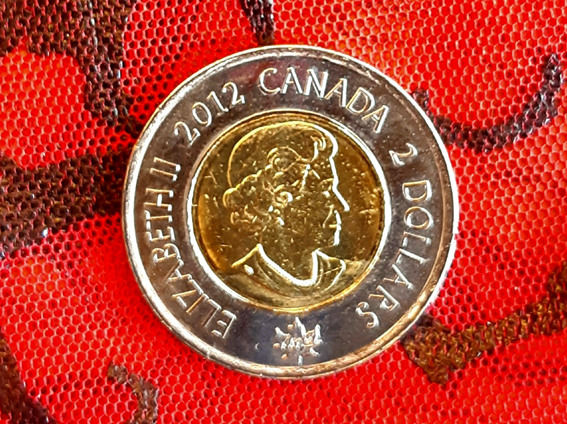 Obverse; Queen Elizabeth II facing right
Legend; ELIZABETH II 2012 CANADA 2 DOLLARS SB
Artist: Susanna Blunt
Reference KM#1258
Mintage of 5,000,000
A few days before the Chesapeake was ready Captain Lawrence, accompanied by his officers, observes the HMS Shannon from a prominent hilltop overlooking the harbor entrance. From what he could discern through his spyglass she was that indeed a Frigate class with 38 Guns and size like the Chesapeake.
The Certificate of Authenticity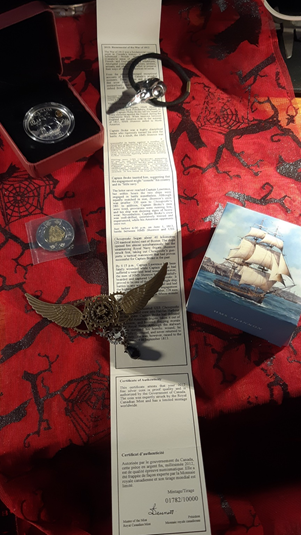 The HMS Shannon 1806 Specifications;
38 Gun Leda-class Frigate
Launched May 5th, 1806 Frindsbury, England
Completed August 3rd, 1806 Chatham Dockyard
Burden Tons 1,065
Length 150 ft along the main gun deck
Beam 40 feet
Hold Depth 12 feet 11 inches
Sail Plan: Full Rigged Ship
Commanded by Captain Philip Broke
Full Crew Compliment 330
Armament upper deck: 28 x 18 pounders
Armament quarterdeck: 8 x 9 pounders, 14 x 32 pounder Cannonades
Armament forecastle deck; 2 x 9 pounder, 2 x 32 pounder Cannonades
Named after an Irish River


This has to be the longest COA I've gotten for an RCM Product.😅
"Perhaps a good match." The Captain thought. "Hmmm, the Shannon appears to be somewhat disheveled that is indicative of a depleted or undisciplined crew. Any additional thoughts gentlemen?"
His lieutenant replies, "The Shannon has been observed here for five weeks Sir. She would be low on supplies by now."
The first officer chimed in, "I believe she is well below full crew compliment as she was observed to transfer a skeleton crew to each of the ships captured over the weeks. I estimate 290 to 300 crew remaining compared to our 380."
Captain Lawrence closed his spyglass and paused for a few long minutes in deep thought. He took a few relaxing breaths before facing his officers, "The Shannon's Captain is just daring us, challenging us to go out face him ship to ship. I believe the conditions are in our favor if he is anything like the Command of the HMS Peacock, we shall celebrate our good fortune at the Tavern that evening.Let us tell the Herald that!"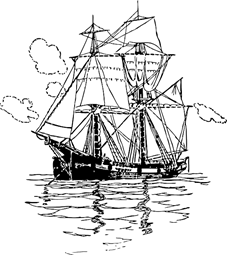 I hope you enjoyed this very seaworthy feature
Thank you for stopping by my Pirate Blog today.
The #piratesunday tag is the scurvy scheme of Captain @stokjockey for #silvergoldstackers pirates to proudly showcase their shiny booty and plunder for all to see. Landlubbers arrrh…welcomed to participate and be a Pirate at heart so open yer treasure chests an' show us what booty yea got!
References
1. My own pictures shot with a Samsung SM-A530W
P. Image under Pixabay
R. Clip art from 123RF
W. Wiki Commons
Sources
The Canadian Encyclopedia: HMS Shannon
Wiki: HMS Shannon
Wiki: The Capture of the USS Chesapeake
Mint.ca Archive: $10 HMS Shannon
Mint.ca Archive: $2 HMS Shannon Link currently broken
Mint.ca: War of 1812 Time Line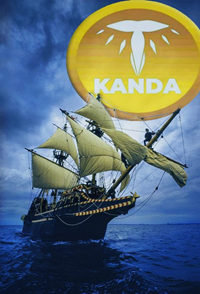 To Educate Africans of the benefits of the Block chain
Crypto Rain Alert on Discord, https://discord.gg/cmbSM5B

R
"Et lux in tenebris to serve laboro, sum sicarius" "I work in the shadows to serve the Light, I am an Assassin"