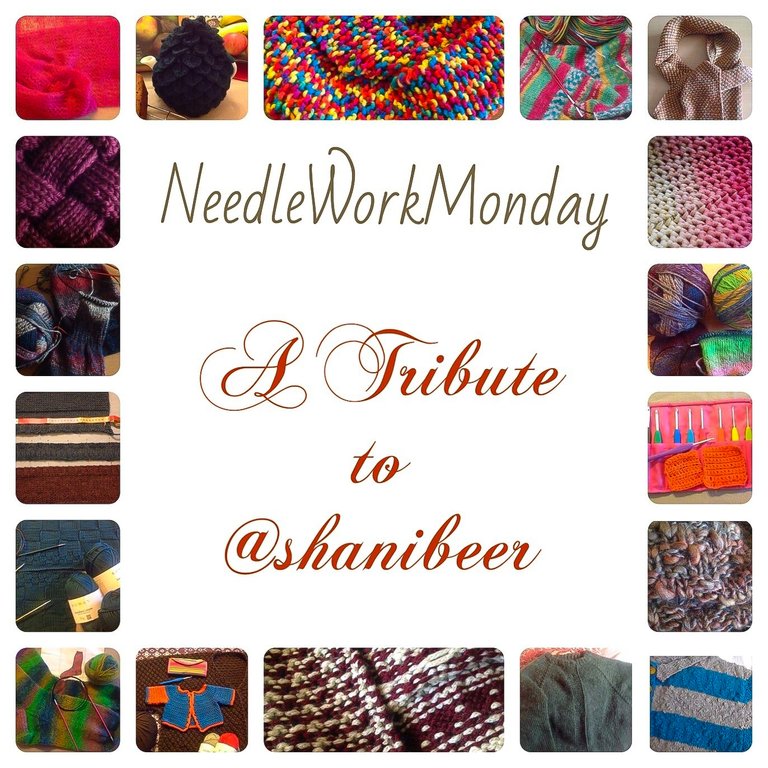 When you scroll through the posts of @shanibeer you will see several things she is passionate about. Amongst those things are gardening, art galleries, bread baking, freewrites, minnow growth and investments.
She is always finding ways to help people grow their accounts and to expand their knowledge here on the chain. She is a devout supporter of several projects that lead to account growth.
All of these things are very admirable but there is one that stands out the most to me. It is the one thing that connected us together.
That is her love and passion for the needle arts and her support of the NeedleWorkMonday Community, it's growth and it's members.
She taught me ways to grow the @needleworkmonday account in order for us to better support needleworkers of all skill levels. When I was unaware or nervous about trying new things she was always there guiding me and helping me to understand.
She was the first one to delegate to the @needleworkmonday account. With her recently increasing her delegation she is our biggest contributor as of today:

I remember when she first delegated, we were able to give $.01 - $.03 upvotes for the first time - it was quite exhilarating! She gave us the boost we needed.

As membership began to grow I became a little overwhelmed with trying to keep up with everything. I reached out to @shanibeer and asked if she would come behind the scenes to help out with some administrative work. This was not what she originally had in mind to do for the community but she graciously said yes and began helping me organize and plan.
She did this type of work before joining Hive and would have rather just enjoyed posting in the community. I am so grateful she decided to help out because she is a huge contributor to our growth and success. We wouldn't be where we are today without her.
After two years of doing administrative work, @shanibeer is now retiring from this position.
There are other things she is ready to dive into. She will still be apart of our community and contribute her works and I'm sure sharing more art exhibits with us too ;)
On behalf of the admin team @marblely, @muscara and I, we want to thank you @shanibeer for all you have done, all of the knowledge and wisdom you've provided, all of the time spent planning and helping organize the contests and challenges, all of the delegations you gave during our posting drive, all of the encouraging remarks you give to fellow needle artists, and for being the supportive woman you are.
𝙻𝚊𝚍𝚢 𝚈𝚘𝚞'𝚛𝚎 𝙰𝚠𝚎𝚜𝚘𝚖𝚎!
We look forward to keeping up with your latest projects and we'll see you right here in the NeedleWorkMonday Community ~ ♥️


For me, #needleworkmonday brings together a connectedness with art and creativity, skill and learning, accepting our frailty, flaws and uniqueness and understanding our relationship with women, society, politics and ecology. Thank you to the women and men who join us every Monday with your posts and comments.


All photos in collage were taken from @shanibeer's blog posts. She has been made 100% beneficiary of this post.


𝚃𝚑𝚊𝚗𝚔 𝚈𝚘𝚞!