Since we are doing a BBQ almost every week in the backyard, sometimes multiple times a week, I started to get interested in learning other ways of setting up a fire. One of the technique is the use of a feather stick which can be done with a knife or an axe. I don't have a good small knife I could use so I went buying a cheap but very good Opinel number 8. It's a French knife made with high carbon steel. The steel is not a modern one but it has the advantage to be cheap but still quite good quality, holds an edge better than stainless steel and is easily resharpen.
The Opinel is a folding knife, however, I also wanted a fixed blade knife and was considering buying one but thought it would be more fun to make one myself. I don't have a forge, yet, so for my first attempt at knife making I decided to try converting a butterknife into a sharp camping/bushcraft knife.
Making a bushcraft knife from a butter knife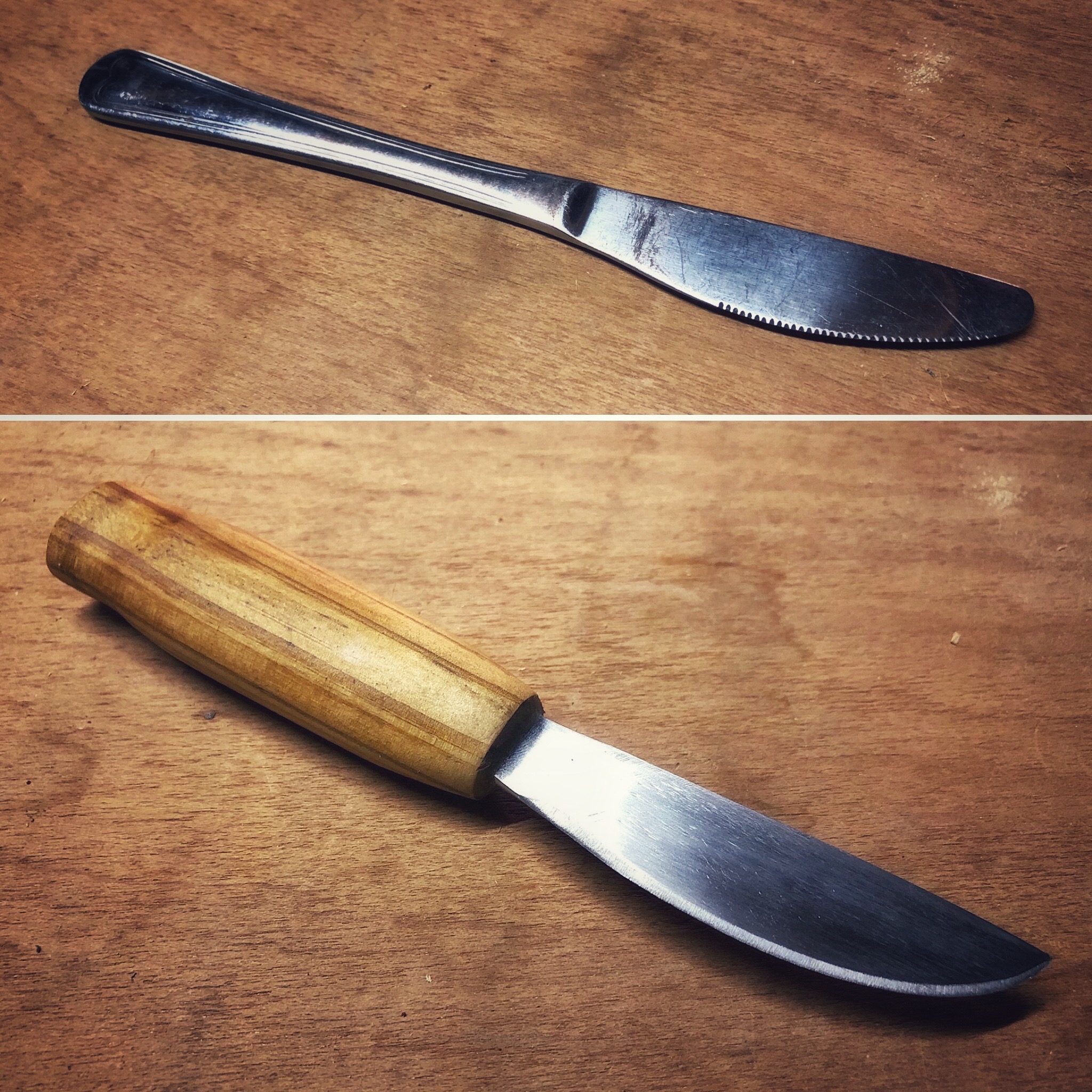 My first step was to cut the butter knife handle so that it does not protude too much out of my hand. The angle grinder was my friend here. I did a real bad job to keep the blade cool but it's a butter knife and I don't think it had been harden that much anyway.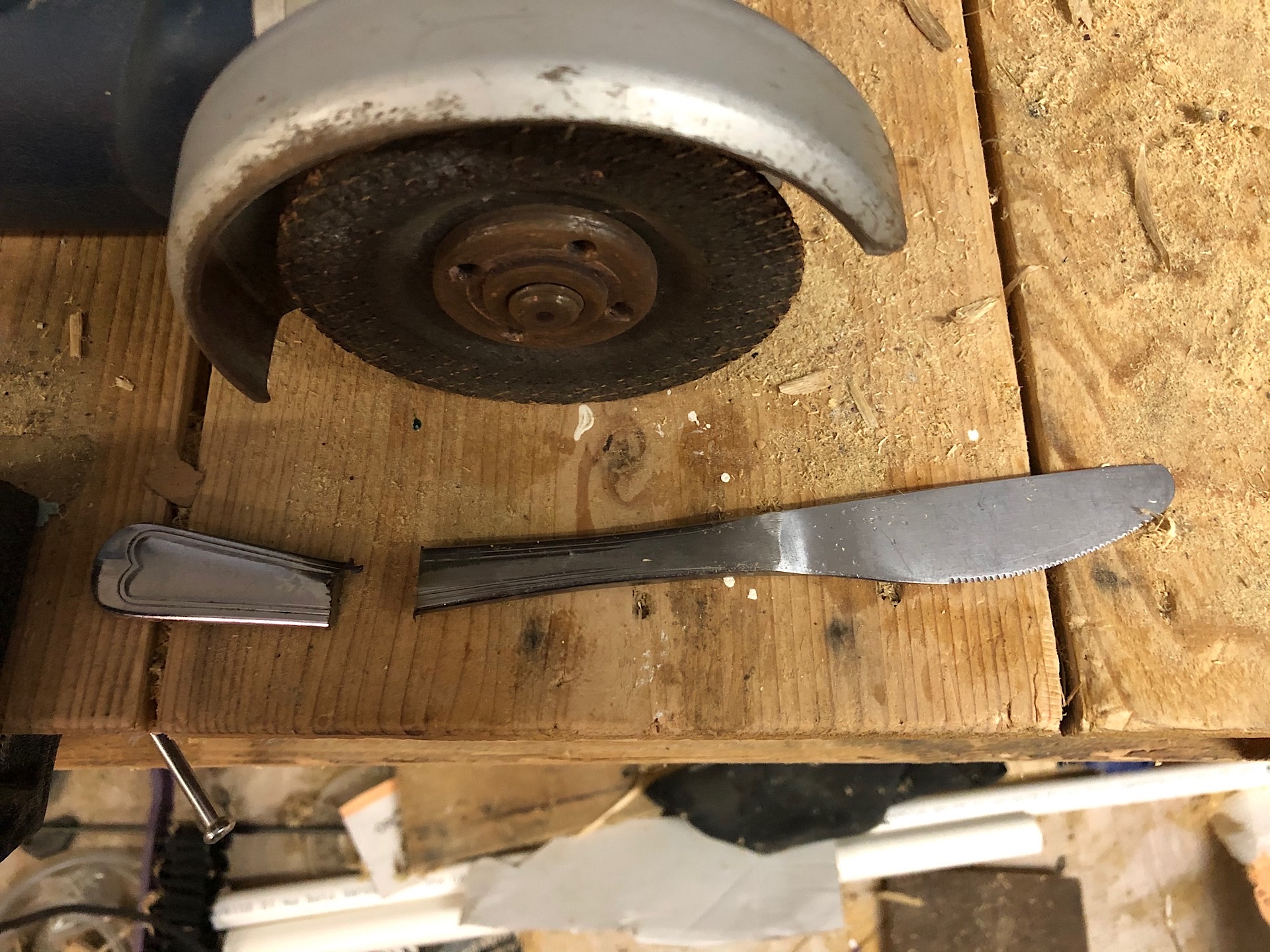 I then spent a lot of time sanding the sides of the handle so they would be flat. Harden or not, stainless steel is still a very hard material.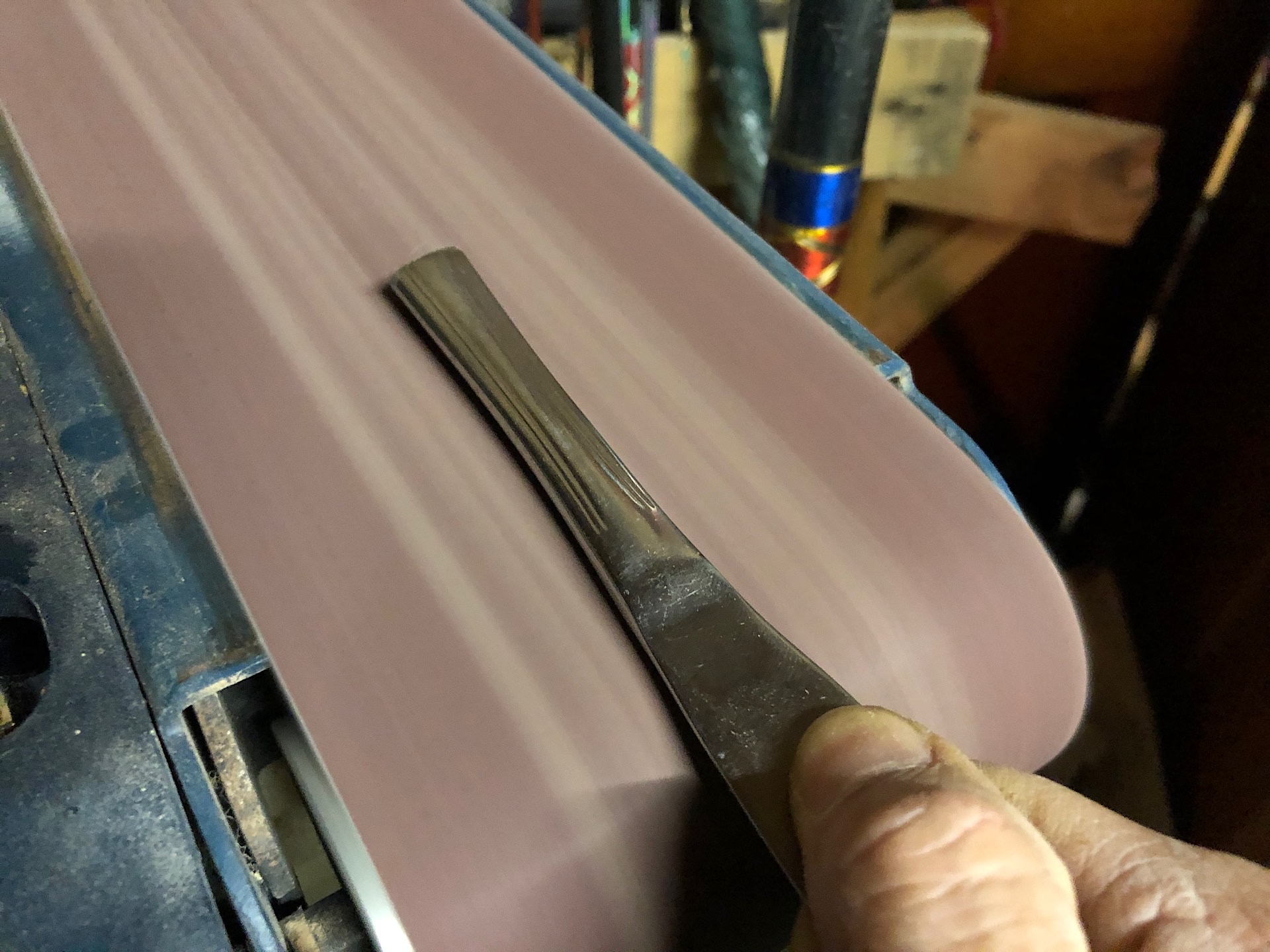 Putting the knife aside, I went and cut a piece of hardwood from an old fence. I cut it so it is about 2 cm (under an inch) length with a width that I thought would feel comfortable in my hand.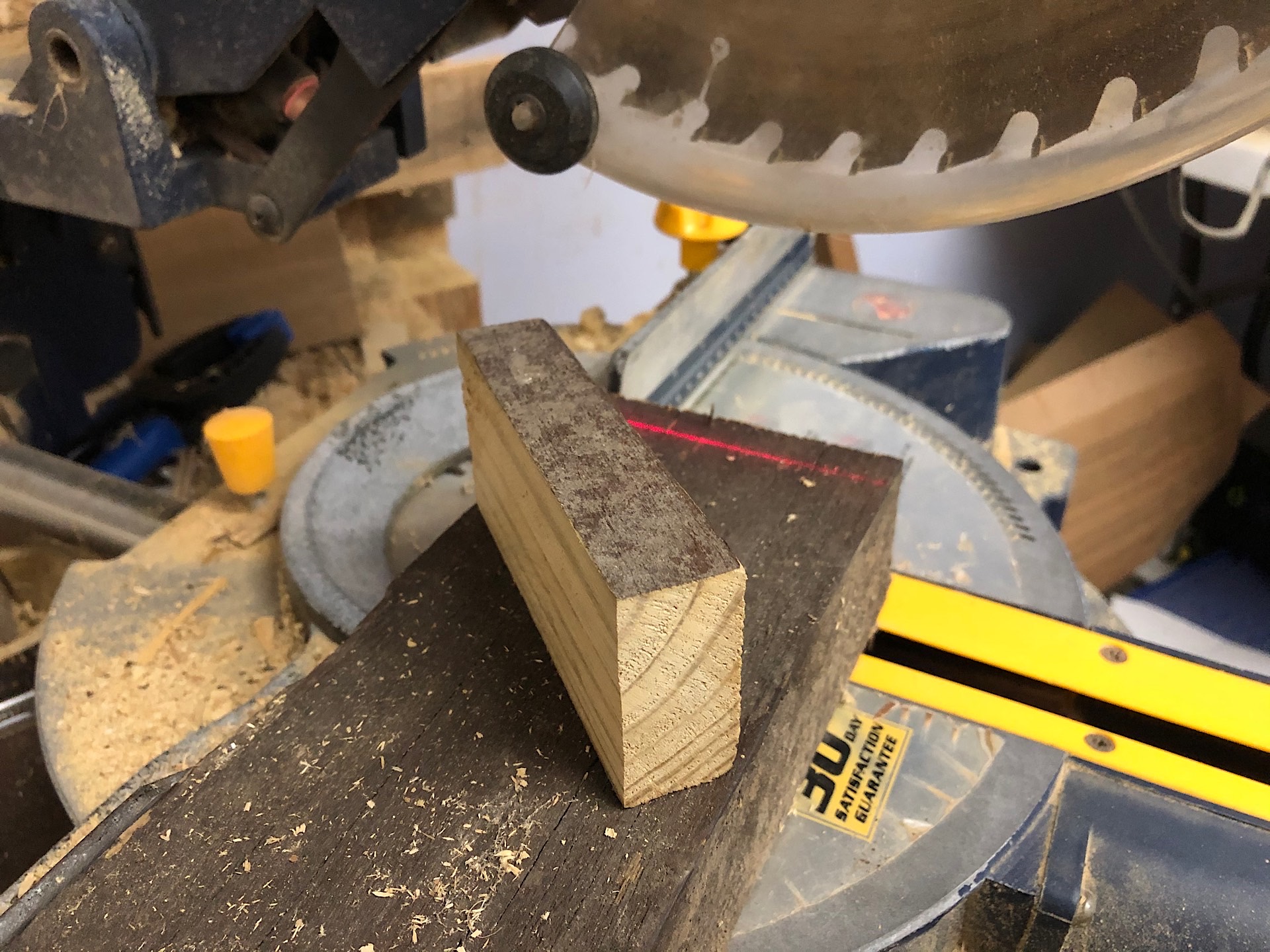 The knife I wanted would be a hidden tang one so I needed a way to cut a whole into which I would slide the butter knife handle. I used the drill press to make three holes. Luckily, the drill bit was long enough.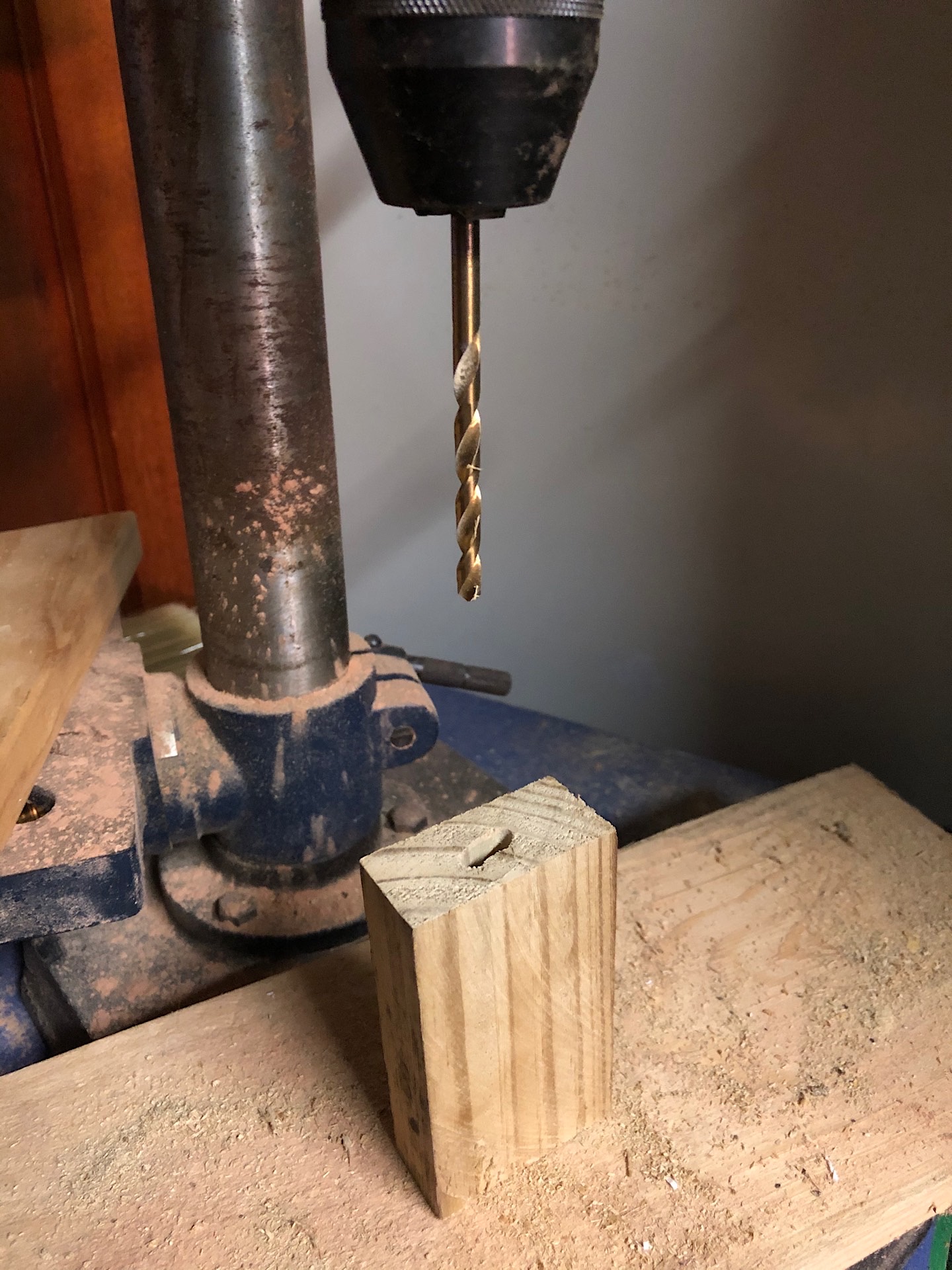 Little test and it seems to fit snug.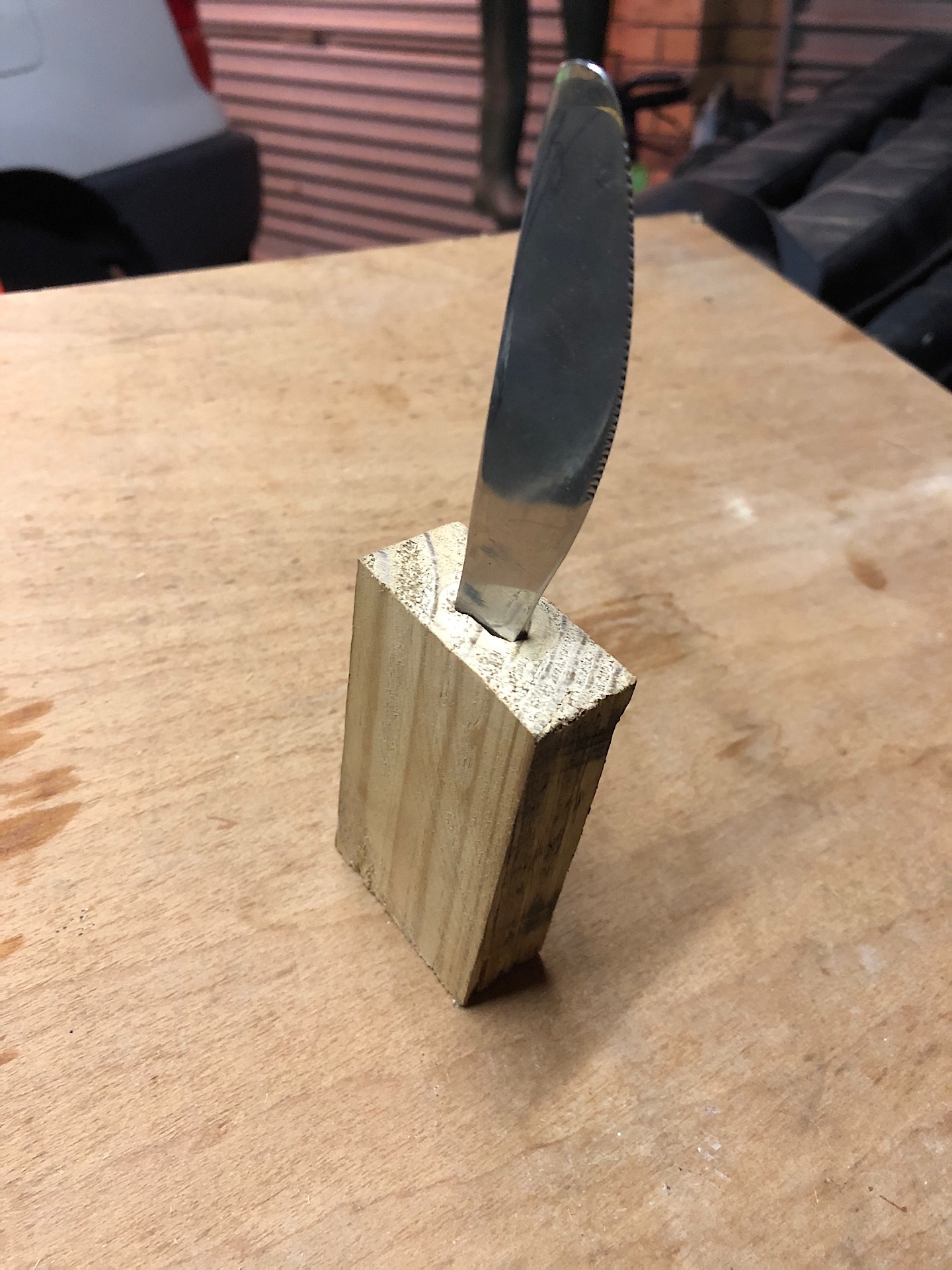 Because I failed to aligned the three drilled holes, I had to adjust the shape of the handle. I started with a hand saw but then decided to use a chisel instead.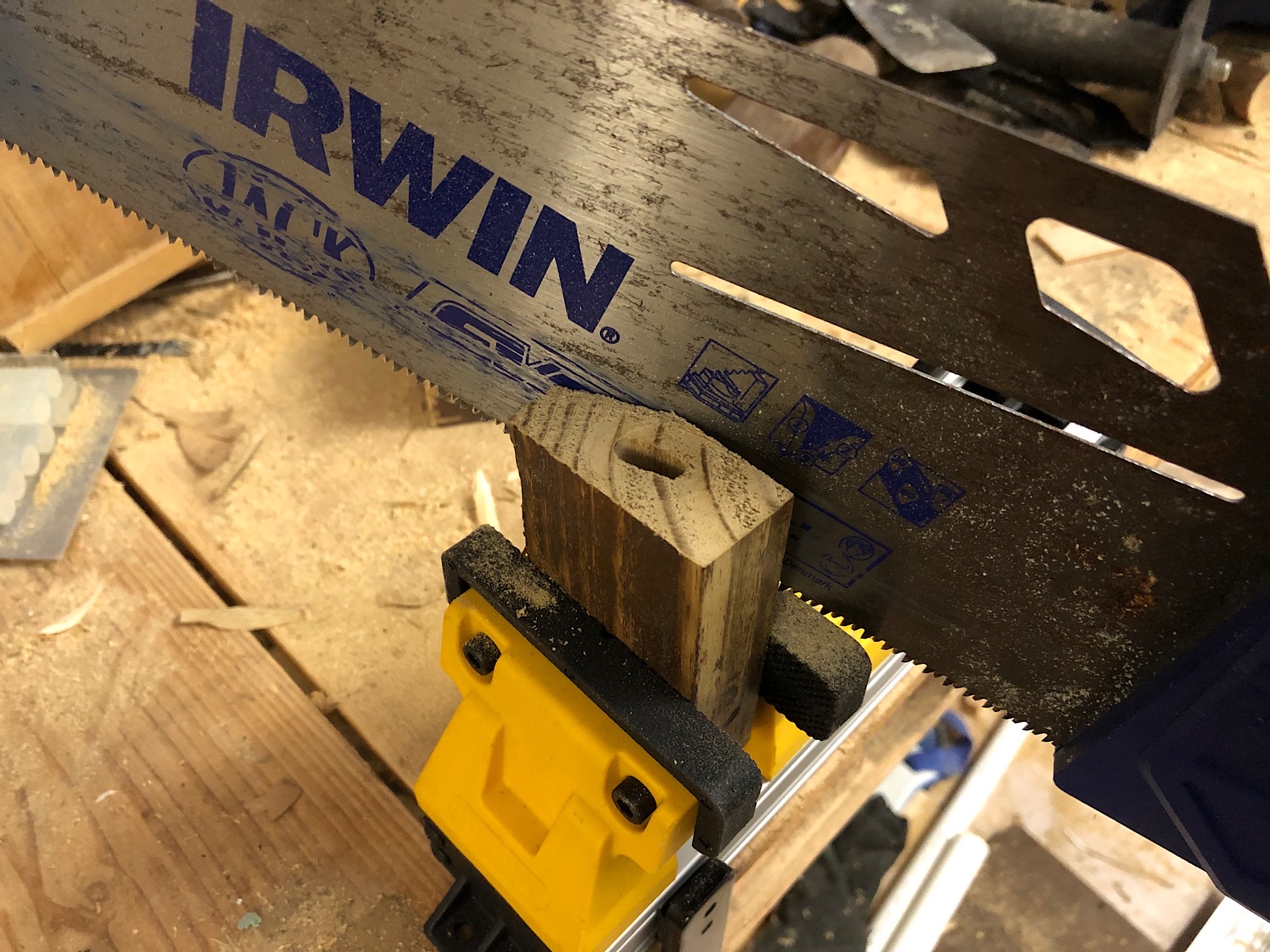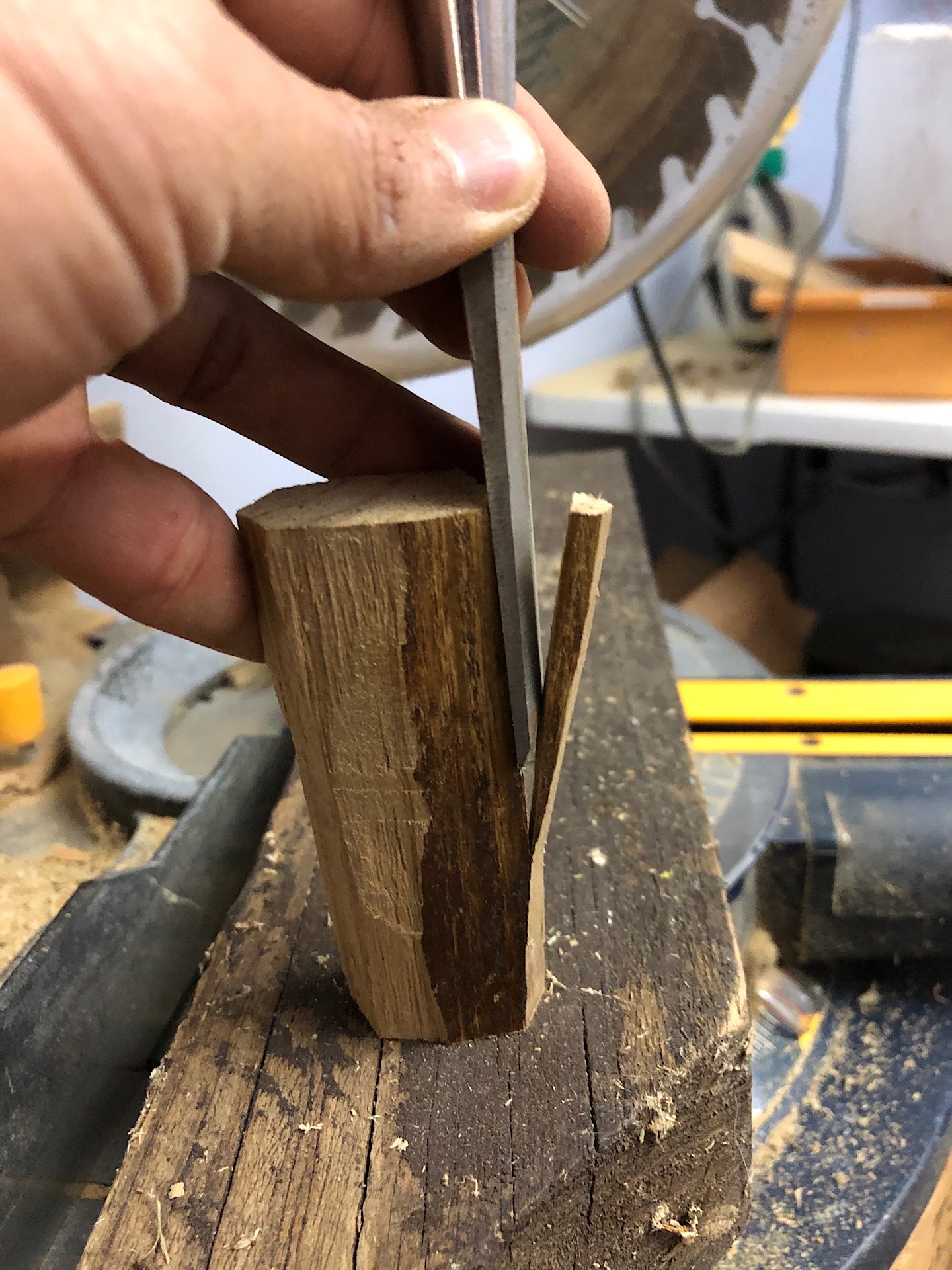 I was afraid that I would split the wood at an angle but thanks to the grain of the wood it was not an issue and I got a cut that was clean enough. Using the chisel was definitely faster than with the hand saw. I do need to improve my hand sawing skills but that would be for another project 😝.
Now it's time to shape the handle with multiple passes with a coarse file and the belt sander.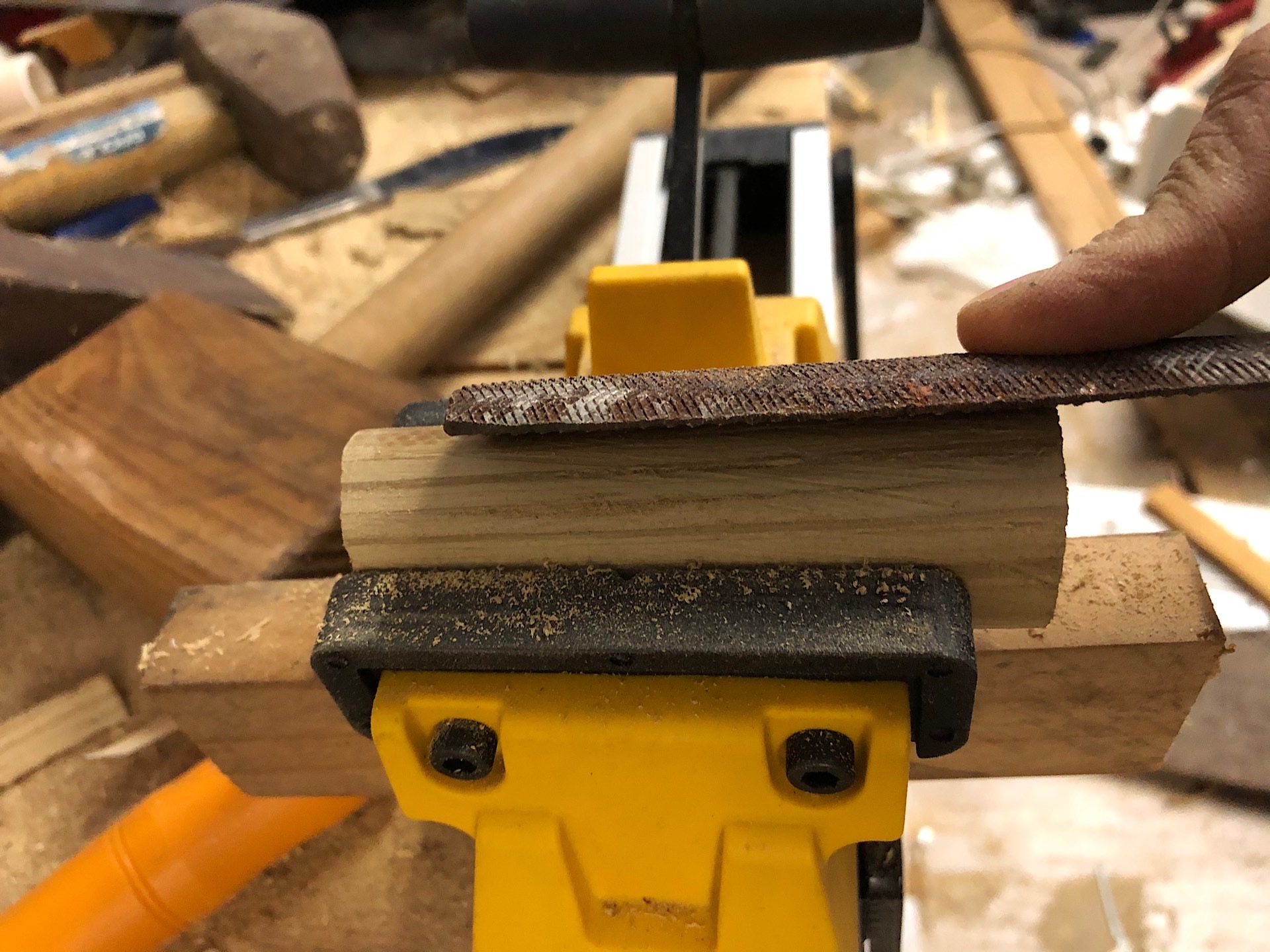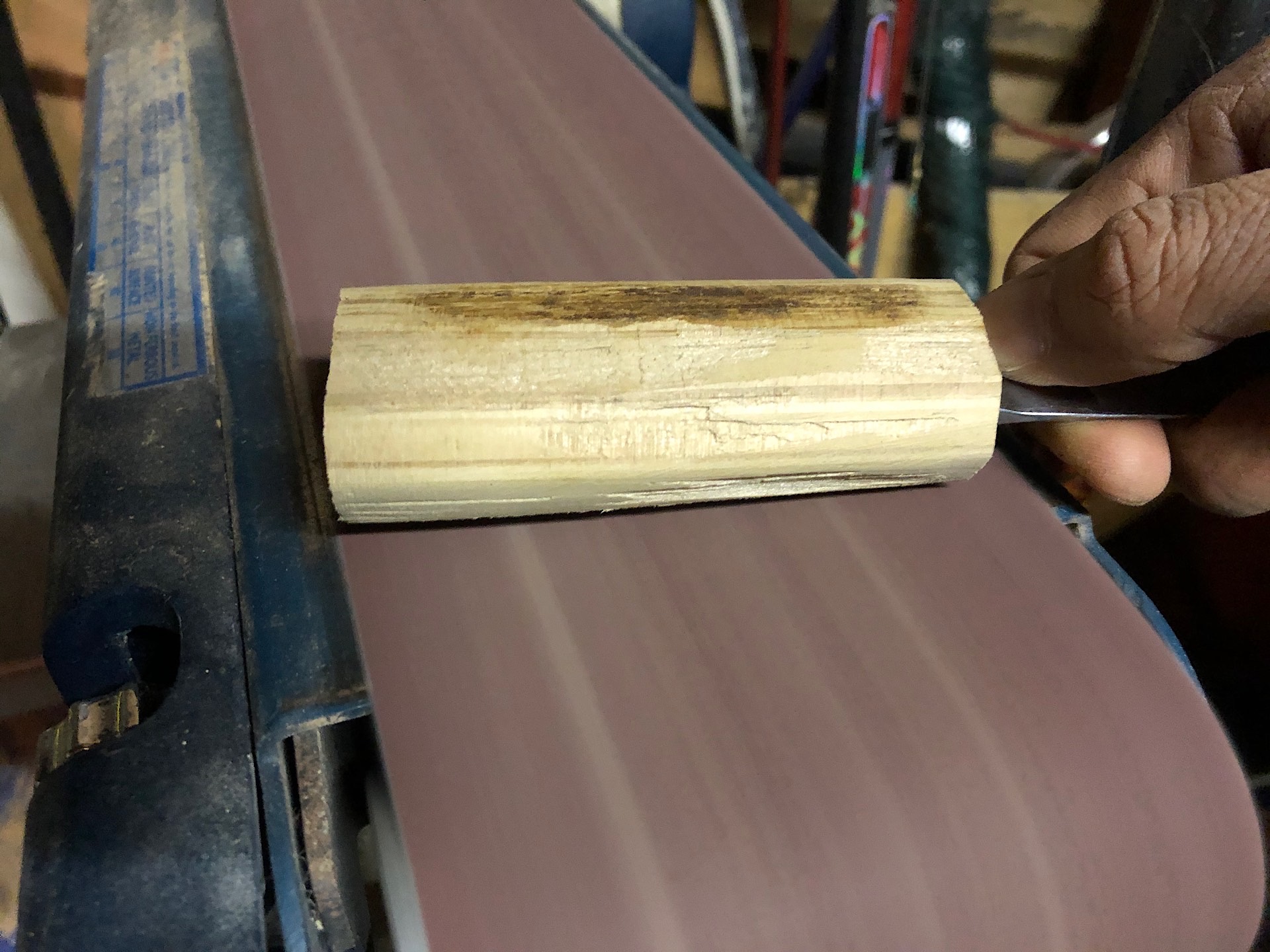 I should have gone online and look for a knife handle model and copy it but I was already working on the thing so just carried on and improvise. With a sanding block and a slice of sanding paper, I smoothen the surface of the handle. It feels so good!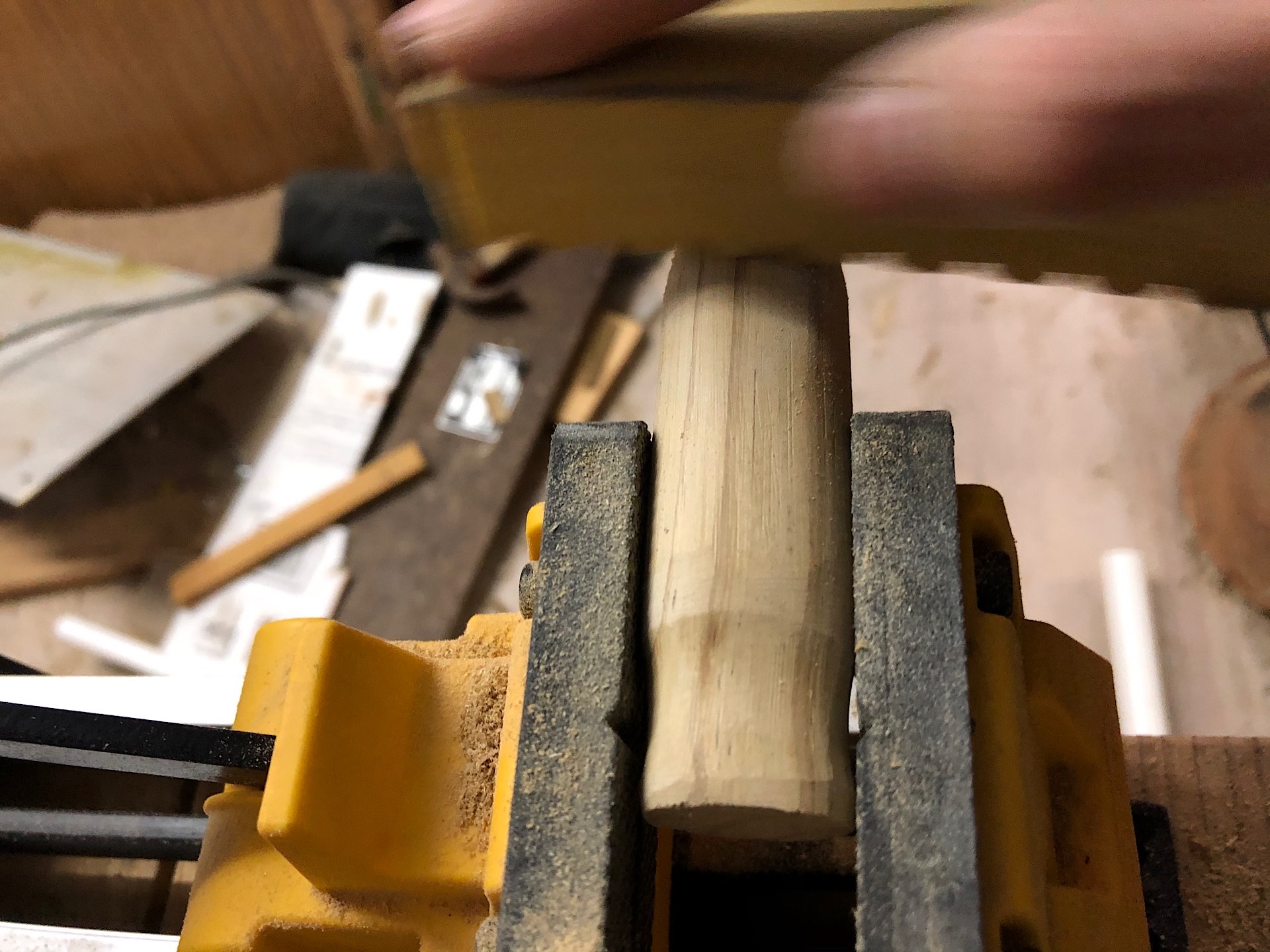 Back to the angle grinder to make two little notches at the top and bottom of the butter knife handle. This is so that the epoxy have something to hold on to and helps keeping the knife inside the handle.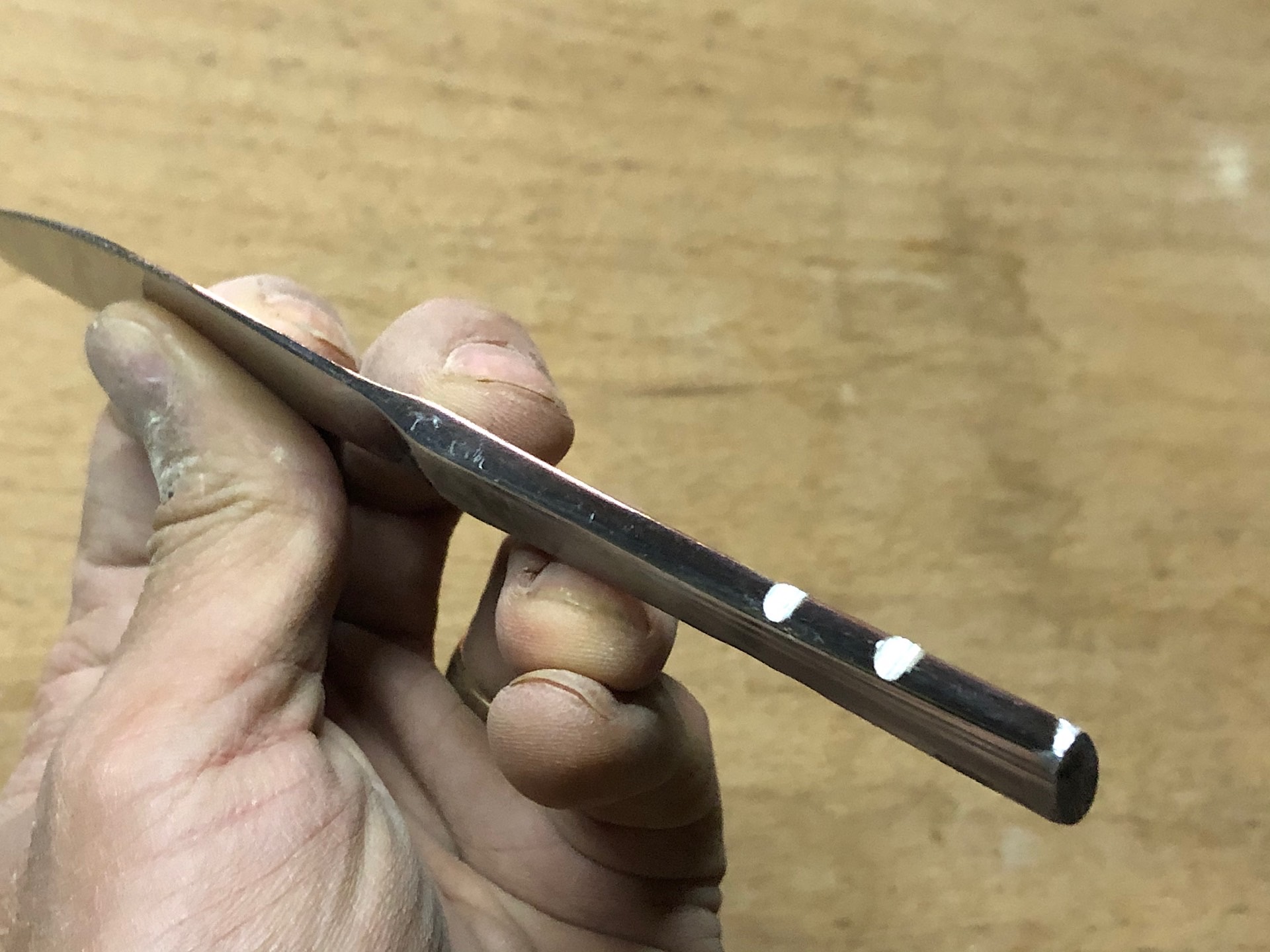 Some 5 minutes two part epoxy adhesive will do the job here. I mixed the epoxy thoroughly and used a wooden stick to transfer it into the hole in the handle and spread some on the surface of the knife handle too.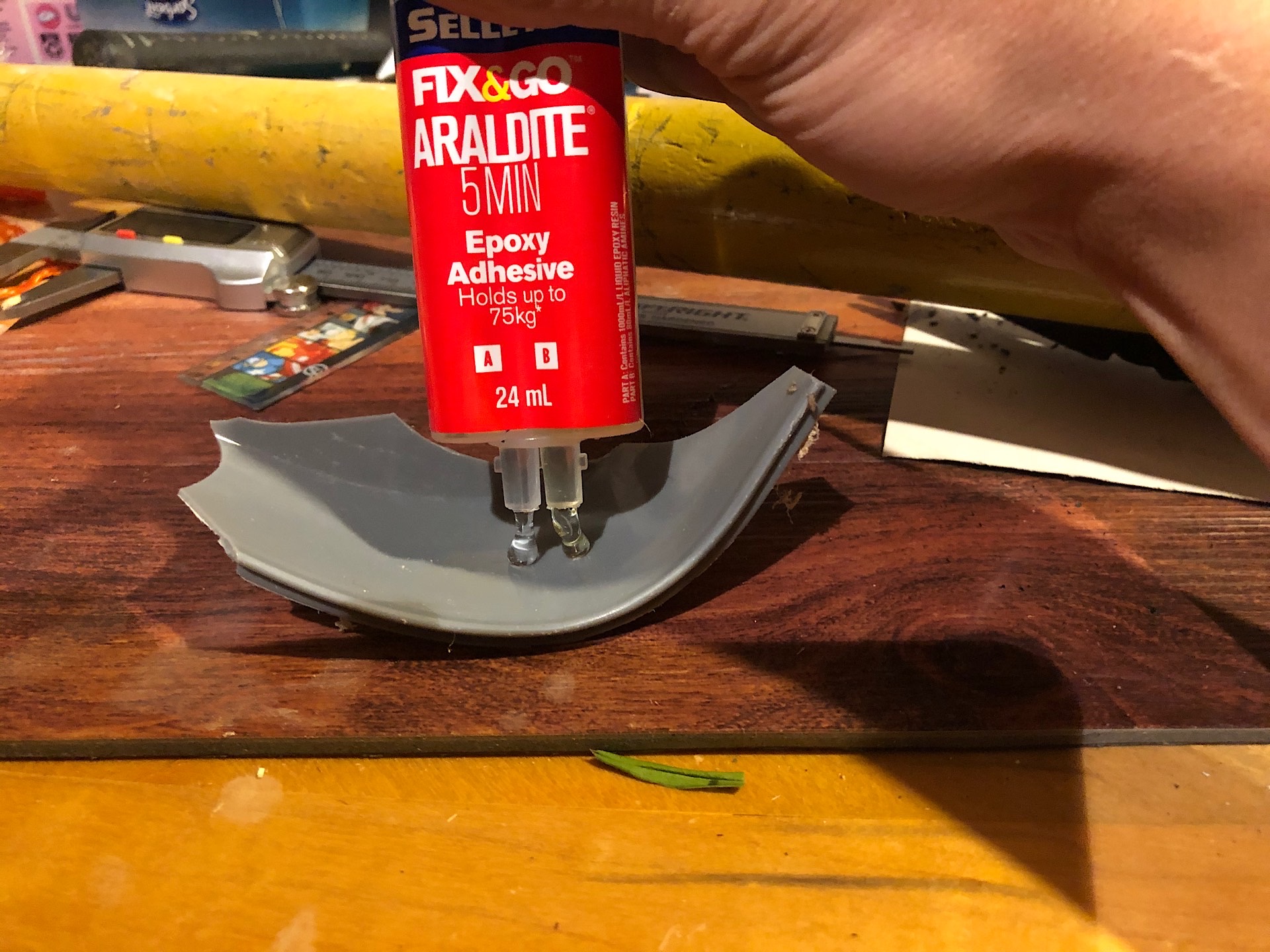 I let the epoxy overflow out of the handle for more adhesion and because I like the look of harden epoxy on wood.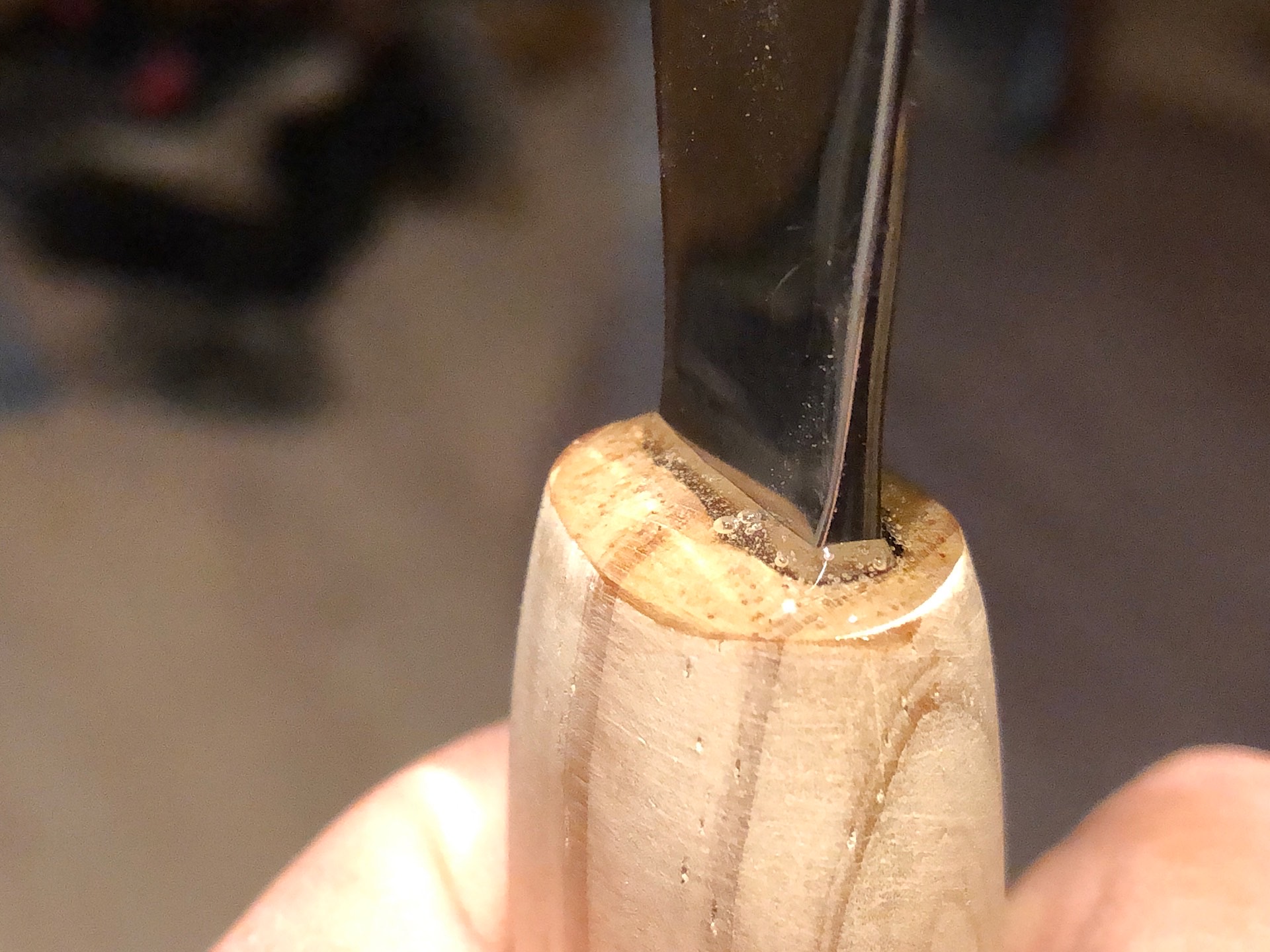 I have made a big mistake of glueing the handle to the knife too early. I forgot to sharpen the knife first and this was going to waste so much of my time. Not only it was more difficult to position the blade properly on the belt sander but it also made the handle dirty which I had to clean up with more sanding.
Using some sand paper of various grit (80, 240 and 600) I then worked on getting a brushed metal finish to the blade. It's definitely another time consuming task.
Anyway, after couple of hours, I managed to get something decent and finished by sealing the wood with some tung oil.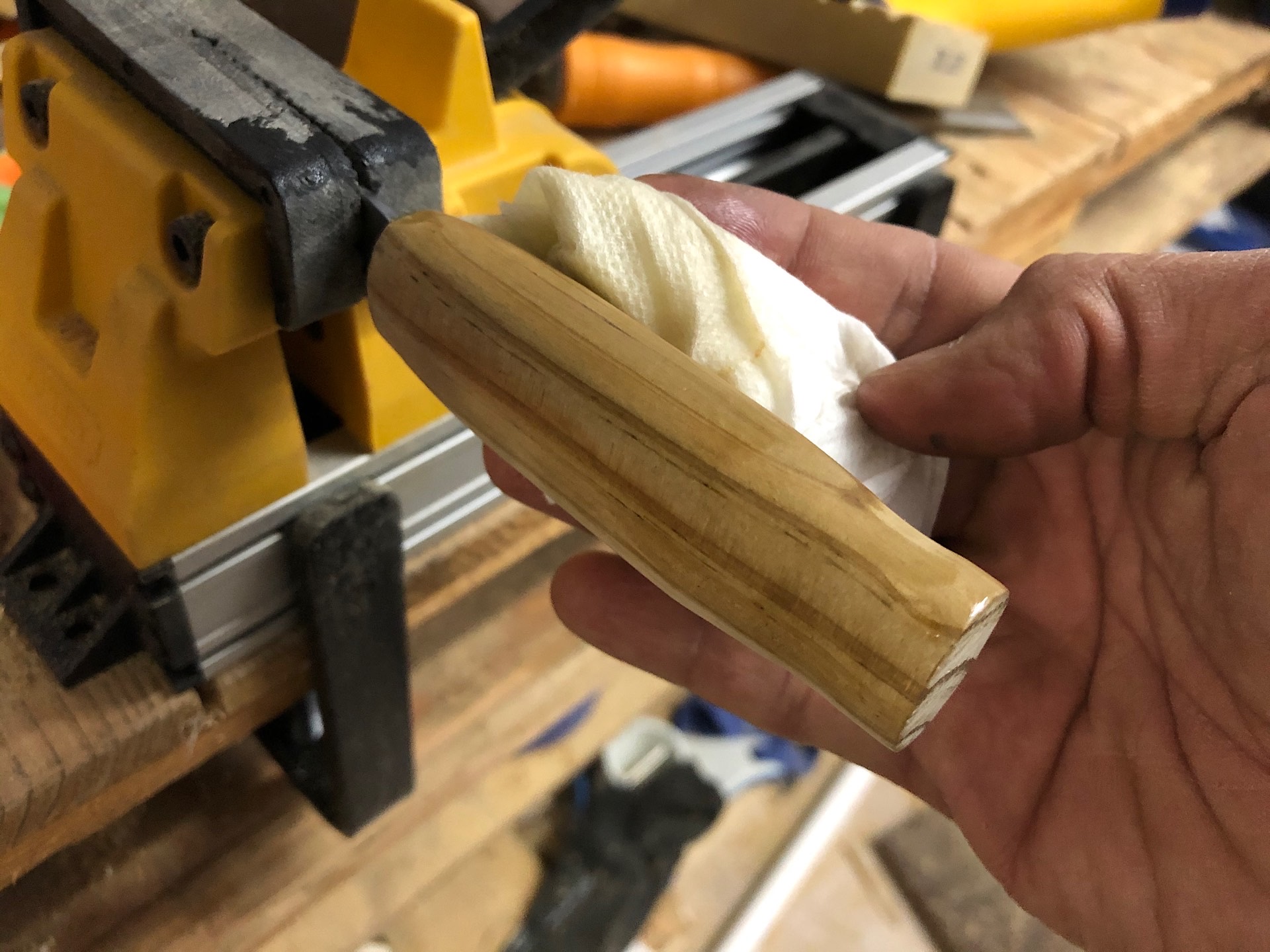 I could probably spend a bit more time with the belt sander or a coarse file to extend the bevel deeper into the blade but the blade is thin and the bevel angle would be too narrow. I might still give it a go later, just to learn a bit.
The result is not too bad... It does not look as sexy as other homemade bushcraft knives but that's my first attempt. Most importantly, it does cut (my fingers can testify...)
For my second knife, I will make one from scratch by cutting the steel of an old circular saw blade and use a chimenea as a forge.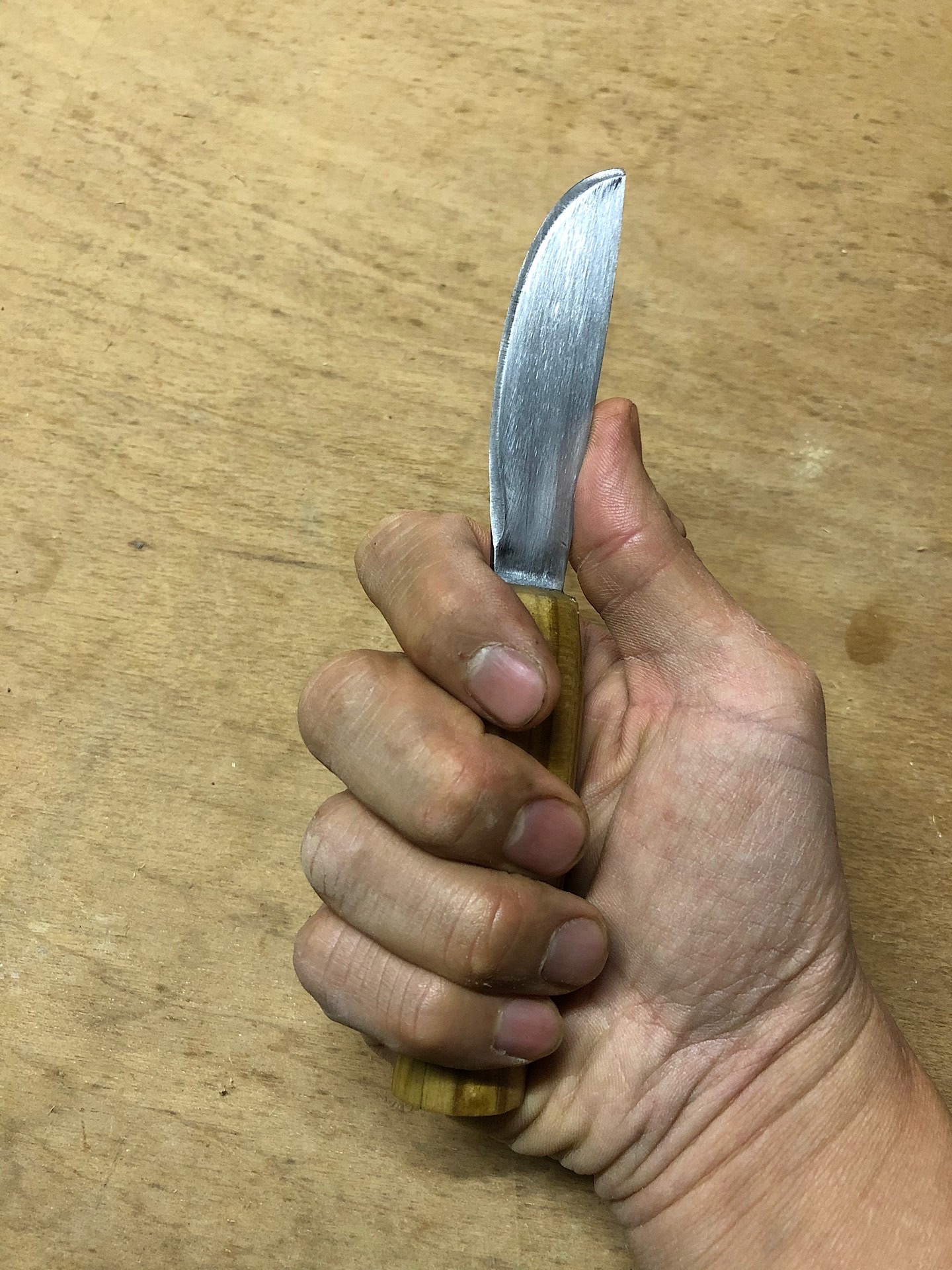 Forcing a patina on an Opinel number 8 blade
As mentioned, my Opinel is made from carbon steel and as such it will easily rust if you don't keep it dry at all time. Everytime you wash it you will need to dry it thoroughly before putting it away. You could also protect the blade by regularly oiling it with mineral oil. Mine was neglected for only two days and already showed some minor stains from red rust, yikes.
I read that forcing a patina on carbon steel would help protect it from red rust, at least slow down its formation. There are several ways of achieving a patina, you can dip the blade into vinegar, stick the blade into a lemon or a potato or even spread some mustard on the blade.
Some people would use a cotton swab and make small round spots on the blade with mustard to get some cool designs on the blade but I wanted to darken the whole blade. So I boiled some vinegar and dip the blade into it for about 30 minutes.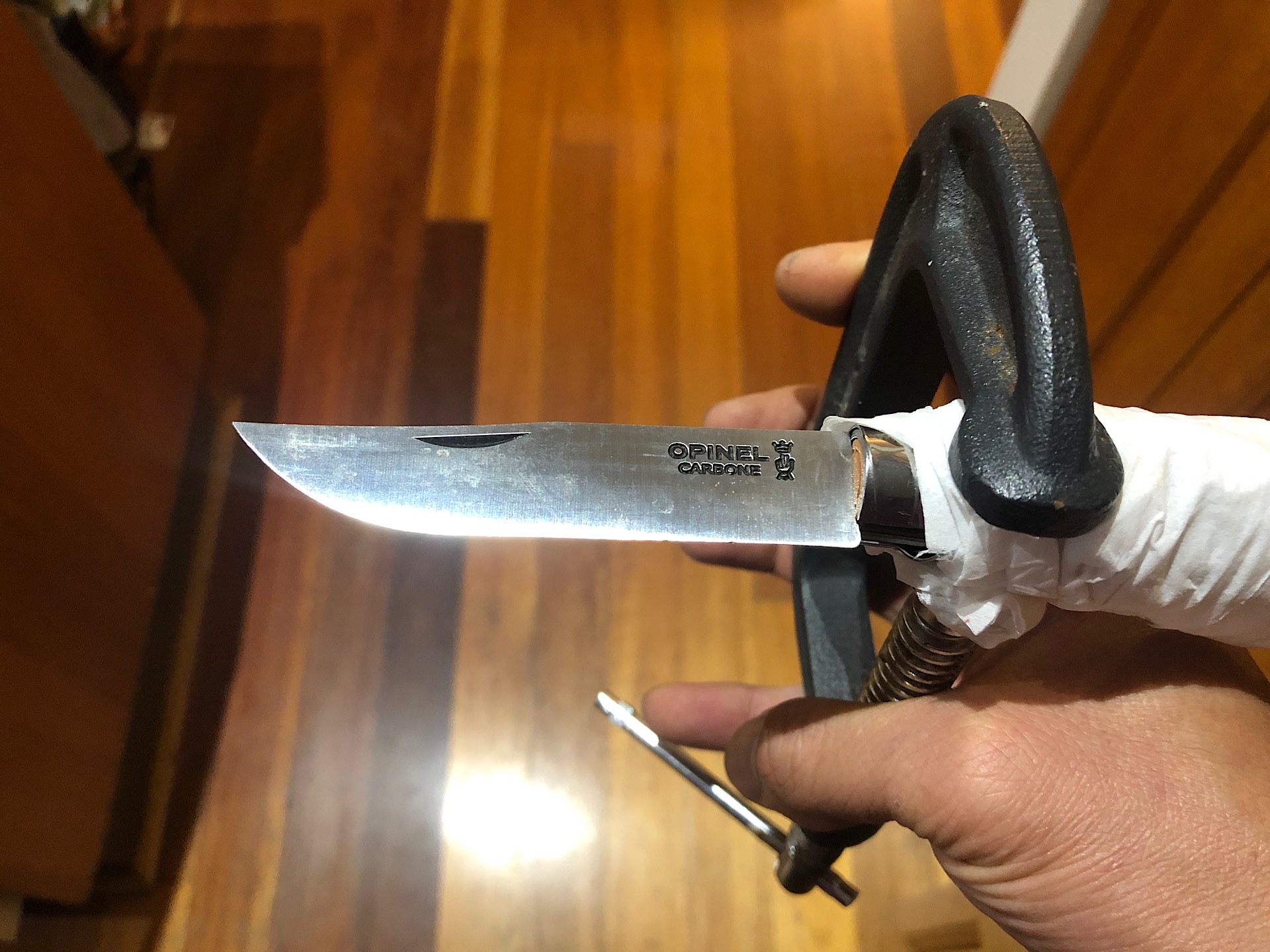 Hot vinegar acts quicker, as the vinegar reacts with the steel, it starts foaming and the process is done when the foam stops. Here is the end result after the 30 minute vinegar bath.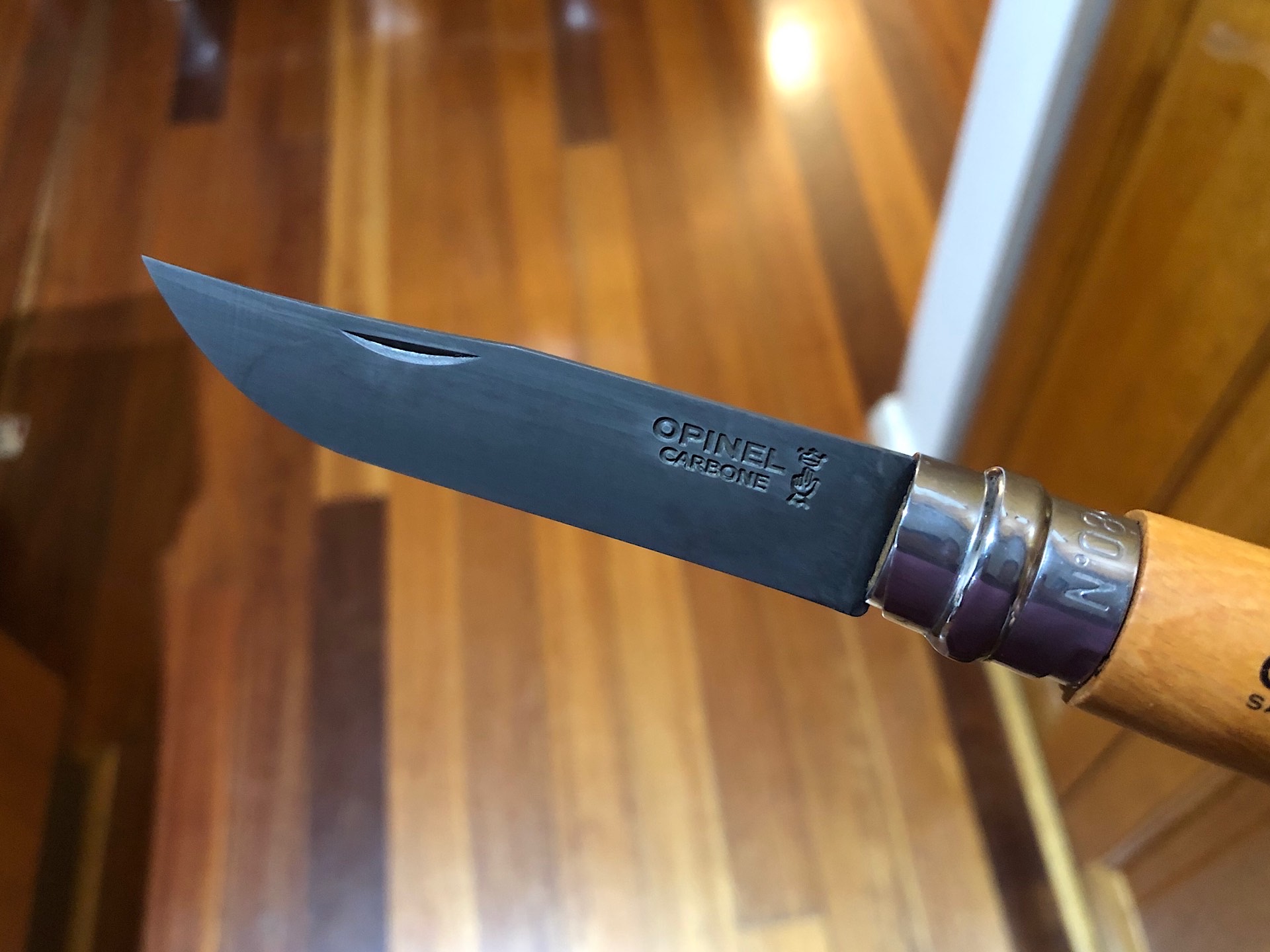 ---

---
I'm also a Hive Witness, I have been helping some communities and contributing to the Condenser (the software that powers this blogging platform). Support me by voting for my Witness