Dear friends, Christmas has arrived! Now to share together in families, to share new creations, in order to get an idea of those crafts that we do daily. I have always said that this is a month of joy. Today I am at the house of a friend from hive, he is @manuelgoa2000, we have been friends for years, his parents have been very good people to me, they mean great people to me, I actually see them as part of my family, in fact they invited me to his house, to decorate the tree together, and I thought it was great, because it is a big tree, and there are many ornaments of any kind to decorate it.

Queridos amigos, nos llegó la navidad!. Ahora a compartir juntos en familias, a compartir creaciones nuevas, para así tomar idea, de esas manualidades que realizamos diariamente. Siempre he dicho que este es un mes de alegría. Hoy me encuentro en casa de un amigo de hive es @manuelgoa2000, tenemos años de amistad, sus padres, han sido conmigo muy buenas personas, significan para mí unas grandes personas, en realidad los veo como parte de mi familia, de hecho me invitaron a su casa, para adornar el arbolito entre todos, y me pereció genial, porque es un arbolito grande, y hay muchos adornos de cualquier tipo para decorarlo.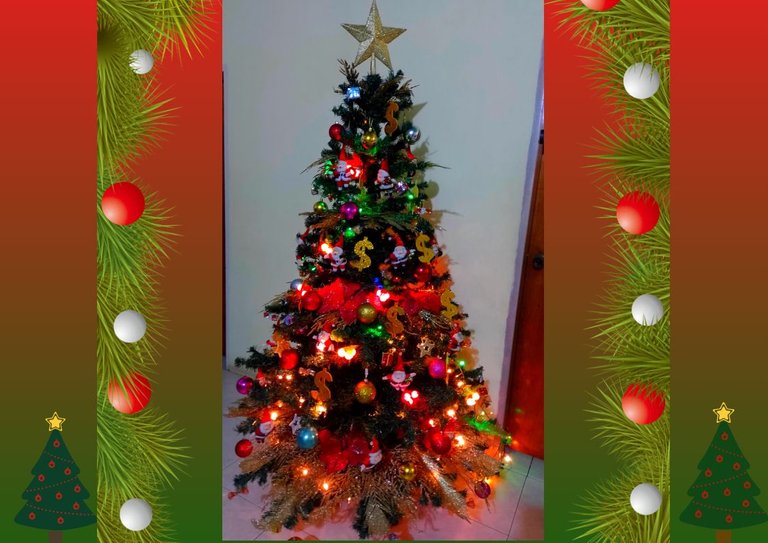 Here we are, ready to disassemble the boxes, where the tree, decorations and lights are located. let's get started First we opened the box of the little tree, and it began to be assembled part by part, until completing its 3 parts.

Aquí estamos nosotros, listos para desarmar las cajas, donde se encuentra el arbolito, adornos y luces. Comencemos. Primero abrimos la caja del arbolito, y se comenzó a armar parte por parte, hasta completar sus 3 partes.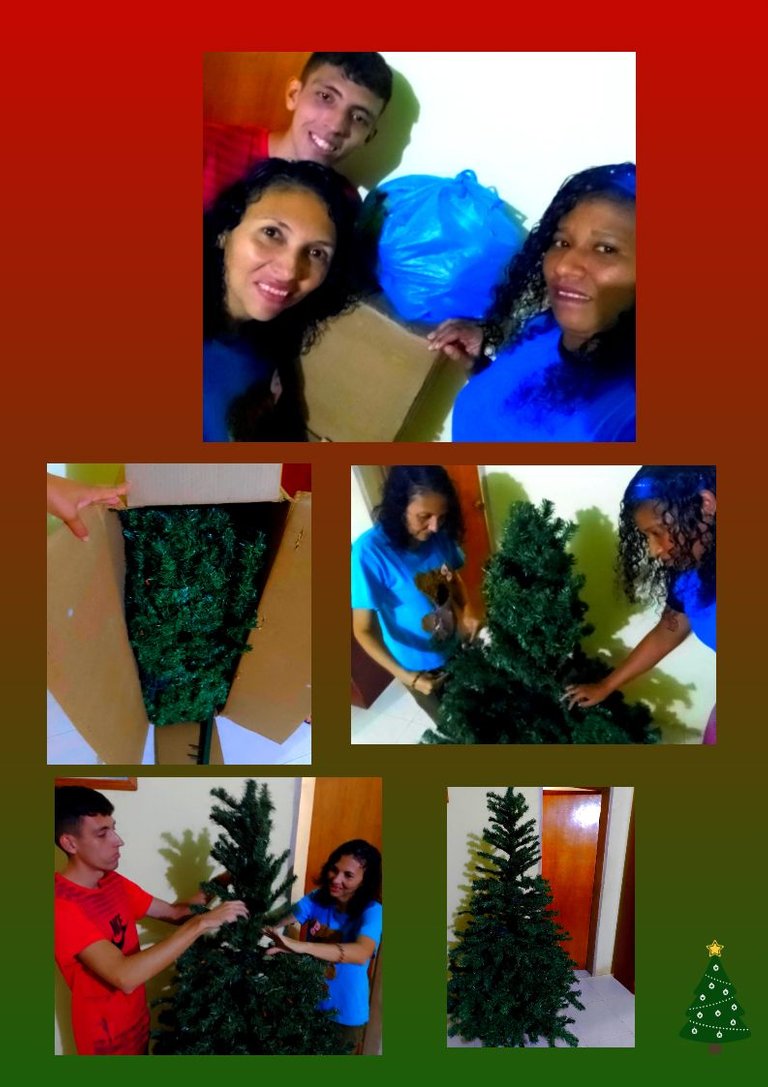 We proceeded to place the lights, imagine my friend's mother, she tells me that these lights that we are placing are years old, that it was not necessary to invest in one of them, we turned it on once, to give it brightness and more joy. Here we have all the decorations, to place it.

Procedimos a colocar las luces, imagínense la mamá de mi amigo, me cuenta que estas luces que estamos colocando tienen años, que no fue necesario de invertir en unas de ellas, de una vez lo encendimos, para darle brillo y más alegría. Aquí tenemos todos los adornos, para colocarle.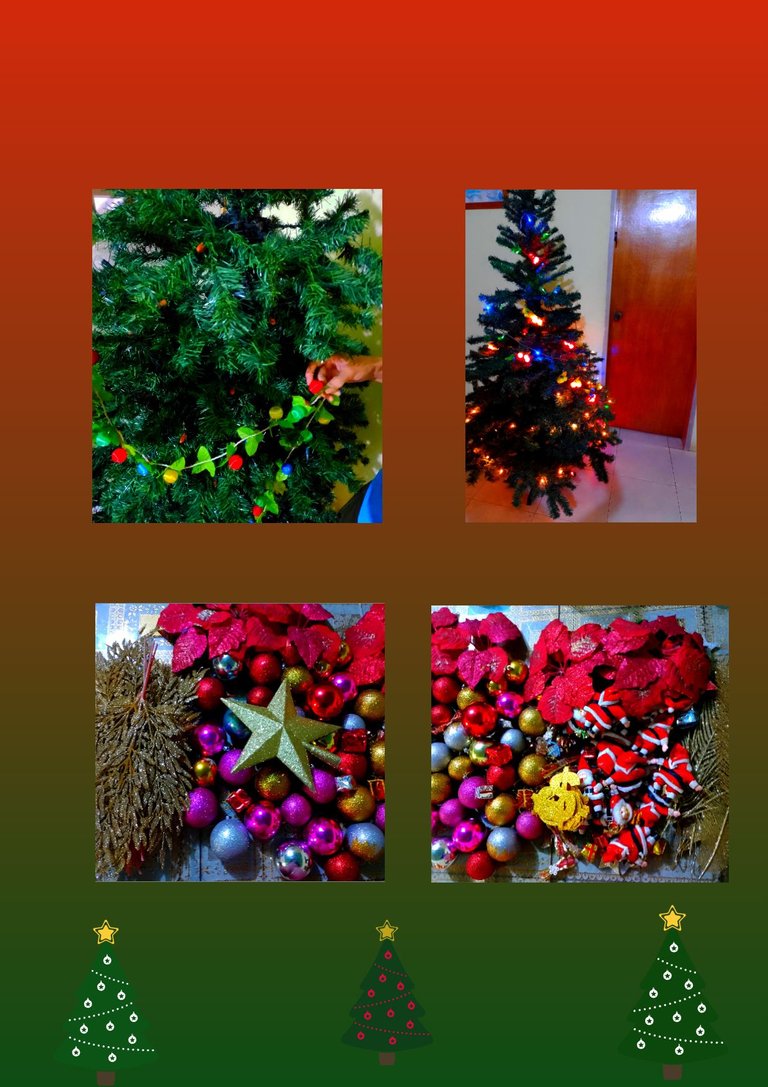 Here I am together with Mrs. Lorena, she is the mother of @manuelgoa2000, we are placing the first Santa Clauses, then the Christmas balls, and so on, the other decorations such as: $ badges, stars, ribbons, and so on.

Aquí me encuentro junto a la señora Lorena, ella es la mamá de @manuelgoa2000, estamos colocando los primeros los santa claus, luego las bolas navideñas, y así sucesivamente las demás decoraciones como: las insignias de $, estrellas, lasos y demás.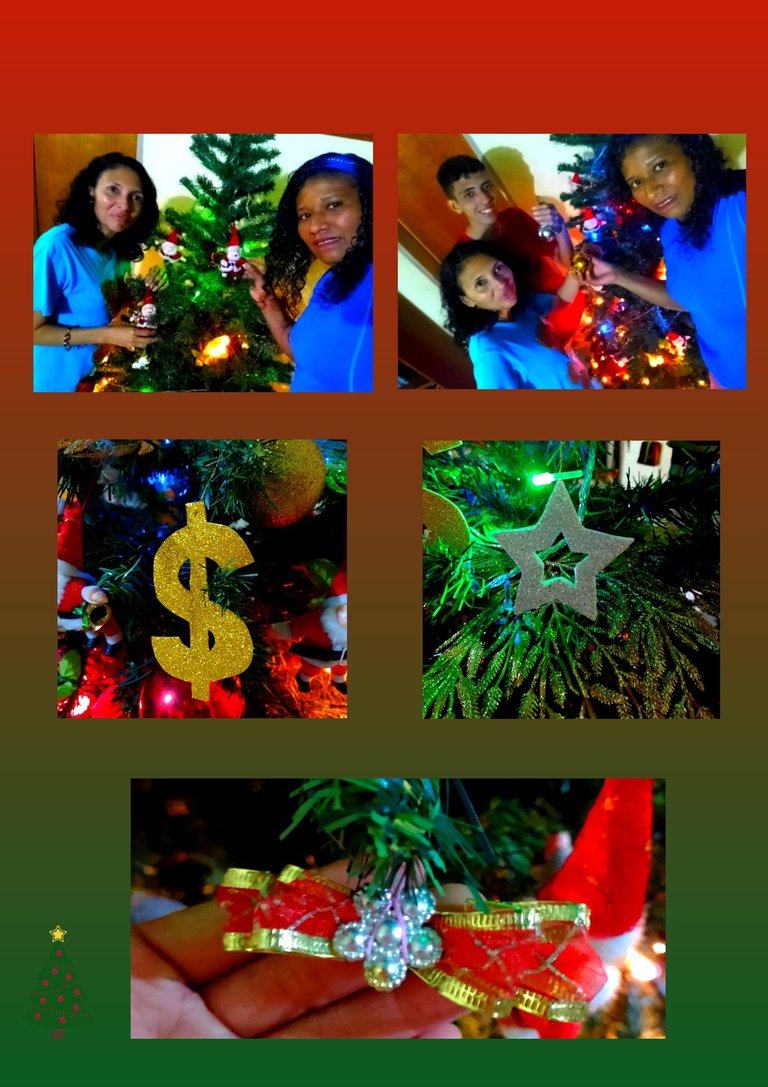 We put the golden spikes in 3 parts, starting from the bottom, in the middle and on top, accompanied by the red flowers, I am going to tell you that days ago I made some $ badges, it was precisely to put them on this little tree, and The truth is that they look very good on him, and finally the star was placed, which cannot be missing.
This is how I look, decorate this beautiful little tree. I hope you liked this beautiful share. Until another day.

Las espigas doradas se las colocamos en 3 partes, comenzando desde abajo, en el medio y arriba, acompañados de las flores rojas, les voy a participar que hace días hice unas insignias de $, precisamente era para colocárselas a este arbolito, y la verdad es que le lucen demás de bien, y por último se colocó la estrella, que no puede faltar.
Así quedo decorad este hermoso este arbolito. Espero que le haya gustado, este bello compartir. Hasta otro día.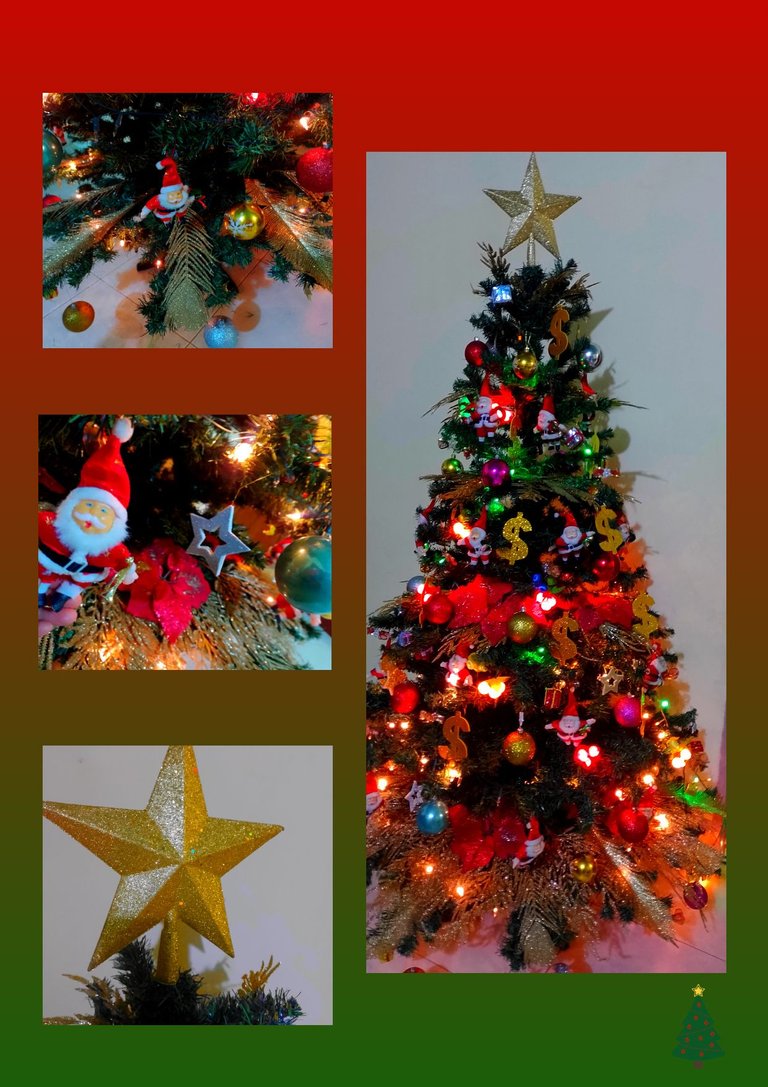 The photos were taken from a Xiaomi Mi A2.

Collage making program: Fotojet Link
Translated from google translator Link
Photo editing program: PhotoFiltre 7

Las fotos fueron tomadas desde un Xiaomi Mi A2.
Programa para hacer el collage: Fotojet Enlace
Traducido del traductor de Google Enlace
Programa para editar fotos: PhotoFiltre 7

I say goodbye until another opportunity.
Thanks for your support.

Me despido hasta otra oportunidad.
Gracias por su apoyo.

Copyright @imargasa. All rights reserved.