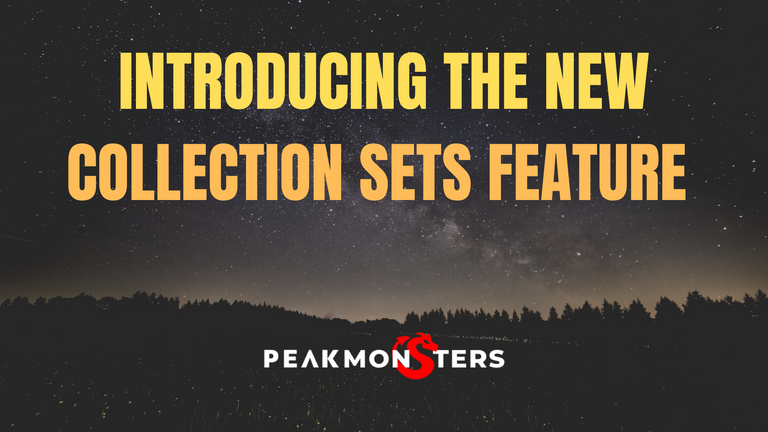 Introducing COLLECTION SETS feature!
Have you been looking for ways on how you can group and filter your collection mainly tailored to your own specific need? Then it's time to start using the new COLLECTION SETS feature in PeakMonsters! With this feature, you will be able to create your own set based on the cards in your Collection, and use that Set as a filter each time that you need to perform a specific task in the My Cards page.
To know more and learn how to use the Collection Sets feature, continue reading down below!

How to use the COLLECTION SETS feature?
Using the new Collection Sets feature in PeakMonsters is quite straightforward. However, if you prefer to follow along with a summary of the steps and a guide image, we have included these just for you!
Summary of Steps:
Select the cards that you want to add in a Set.
Click on the Stack icon.
Click SETS.
After clicking on Set, a dropdown called Create new set will show; click on that.
In the Manage Sets pop-up window that showed, input Set name in the field under Create Set.
Once done, click on Create that can be found in the bottom-right portion of the pop-up.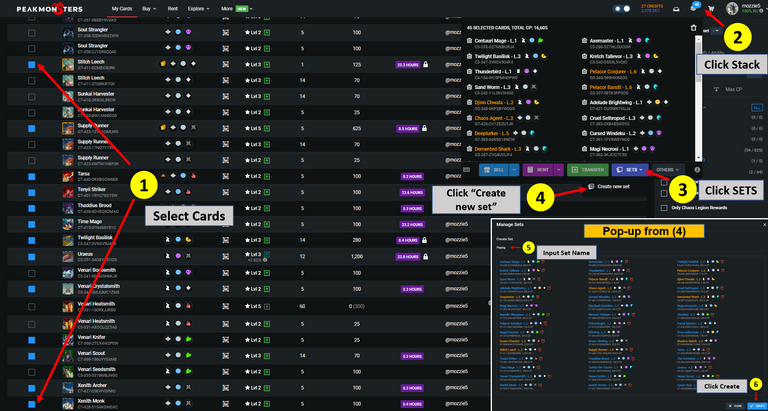 Guide image in using Sets feature
After creating a Set, you may choose to Edit, Delete cards, and Delete existing sets. Aside from that, you can also add new cards to an existing set by selecting the cards that you want, and clicking on the Add to "name of set" in the dropdown list of SETS button.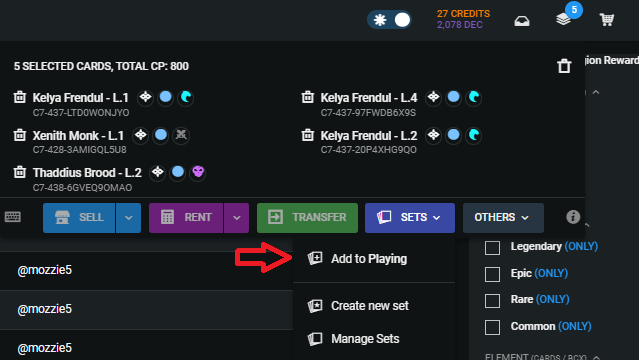 Adding more cards to an existing set
---
How many Sets are allowed?
Currently, the quantity of Sets that an account can make is based on its PeakMonsters Account Tier. To see the full list of requirements for each Account Tier, you may check out this post.
| TIER # | NUMBER OF SETS ALLOWED | MAXIMUM CARDS ALLOWED (TOTAL, ACROSS ALL SETS) |
| --- | --- | --- |
| 1 | 2 sets | 2,000 cards |
| 2 | 3 sets | 3,000 cards |
| 3 | 4 sets | 4,000 cards |
| 4 | 5 sets | 5,000 cards |
| 5 | 6 sets | 6,000 cards |
| 6 | 7 sets | 7,000 cards |
| 7 | 8 sets | 8,000 cards |
| 8 | 9 sets | 9,000 cards |
| 9 | 10 sets | 10,000 cards |
| 10 | 11 sets | 11,000 cards |
| 11 | 12 sets | 12,000 cards |
| 12 | 13 sets | 13,000 cards |
| 13 | 14 sets | 14,000 cards |
| 14 | 15 sets | 15,000 cards |
| 15 | 16 sets | 16,000 cards |
Note: The Maximum Cards allowed pertains to the total number of cards added across all sets. This means that in order for you to have 1,000 cards in one set, and 2,000 cards in another set, your account should at least be Tier 2 in PeakMonsters.
---
How are PeakMonsters users planning to use this feature?
While working on creating this feature, we have brainstormed ideas with PeakMonsters users in our discord to better understand how they are planning to use the Sets feature. If you are not yet sure on how you can utilize this new feature, here are some of the examples shared in our discord:

Summary of the suggestions/ideas in the discord
Some user examples on how you can use the Sets feature:
A set for cards played with at different league levels (Gold set vs diamond set etc)
Sets to delegate to friends or any referrals; sets to delegate for scholarship accounts
Sets for cards that I want to sell
A set for cards that I want to rent out
Sets I need to level up or combine; set for cards that I need to buy more BCX
Sets for different tournament requirements (e.g. Chaos Legion epic cards, Untamed & Dice edition, etc.)
Sets for brawl requirements (A/B frays, Gold foil frays, etc.)
Sets to differentiate gold foil and regular foil cards
Sets to distinguish between wild and modern playable teams
How about you? How are you planning to use the new Sets feature? Share it with us in the comments section or even in a Hive post! Looking forward to hearing from you!

PeakMonsters and Splinterlands links:
Other Social Media accounts: