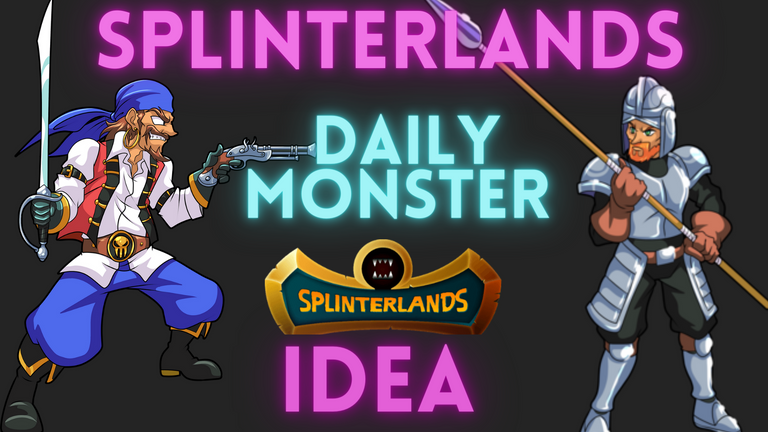 Fun Idea Incentivizes More Card Purchases and Rentals
While washing dishes and looking out on the Australian bush this morning and watching a bush turkey tap on my door window, I had an idea about Splinterlands. Please forgive me if someone else has had this idea, but if they did, I fully support it. HA!

Monster of the Day
What about a monster of the day (or perhaps 12 hours or 6 if you're worried it gives too much advantage)? Splinterlands could generate a monster of the day that if you play with that monster in your battle and WIN, you get a MASSIVE rewards win for using the card. This sort of addition would give players another reason to check into the game more frequently to see if they would have a chance at a big pot because they have that splinter/card. Now, I'm not saying organize it so that the card has to go with the Focus Splinter. It just would be that card that if the stars aligned just right, you could make some MAJOR rewards for using it.

How Does This Idea Benefit Splinterlands?
If you have a daily monster, you have quite a few opportunities if you own/rent cards because as you can imagine, people are going to want that monster for the day, so you drive up the prices on that monster in your rental market or even for purchasing! Just imagine if the rewards are incredible, then people would be willing to pay more to rent or even buy the thing! They may use the card and find out they love it so much for their battling that they want to own it. It creates exposure to some of these new monsters, because as a "new player", I remember being quite overwhelmed with the amount of cards you can choose from and knowing what works for me and what doesn't. If there's a Daily Monster, people can see how that monster works in game play and they may find a new favorite card.
I know for me, when I first joined, Splinterlands had a monster challenge for the week and that was a great way for me to learn more about the cards, but not everyone realizes you can find this challenge on social media, but if Splinterlands offered a Daily Monster challenge on their game, it would help players to learn the lore of the monster, uncover the use of the monster and probably get them more interested in the game because the rewards could be very high for winning.
Now I'm no @yabapmatt so I don't know how all the mechanics would work in making this happen, but I think it could be great win for the game. Also, people like @peak-monsters could offer a deal if you purchase the daily monster or something. I don't know, it's just some thoughts I had about additions for the game that is a win for everyone!
Let me know if you like the idea. Maybe it's something to add to the Splinterlands feedback area? Not sure. I'm usually an ideas person but I don't like to self-promote much soooo... hahaha... it probably won't go far, but I think it could add some great elements to the game and really get some more revenue going on all sides!
Thanks for reading! Have a great week!
If you enjoyed my post and want to try Splinterlands, please use my referral link: https://splinterlands.com?ref=rosiew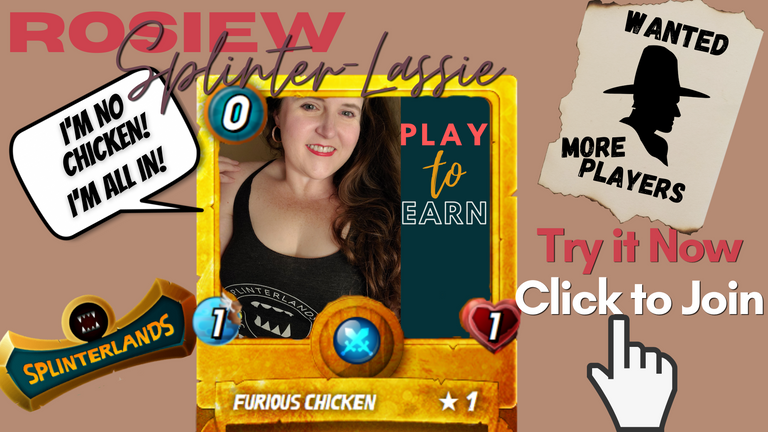 Please remember my post is not meant to be financial advice and is just my opinion.
Follow These Folks:
Splinterlands: https://peakd.com/@splinterlands/
PeakMonsters: https://peakd.com/@peakmonsters/
Monster-Curator: https://peakd.com/@monster-curator/
1Up (#OneUp): https://www.1up.zone/
Here are some great links to join as well!
Splinterlands Discord: https://discord.gg/Tw7KjNsQGs
PeakD Discord (PeakMonsters as well): https://discord.gg/7mQmzZeugE
Monster Market Discord (Monster Curator): https://discord.gg/DR3J9rfRFV
NFT Studios Discord (aka 1UP Discord #OneUp): https://discord.gg/4VYBcNuVQd