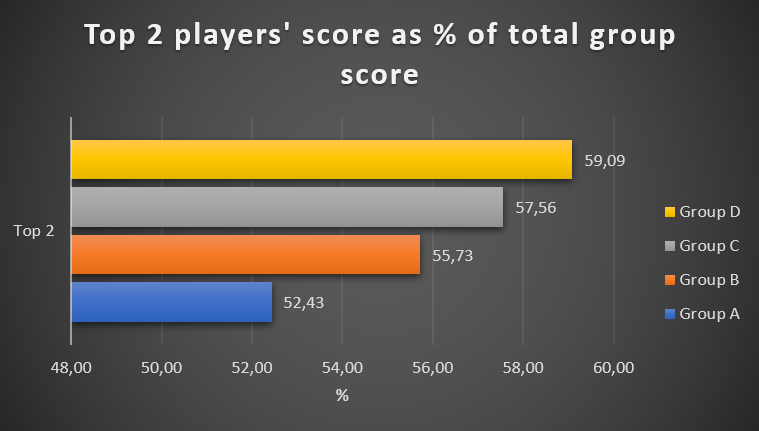 Hello #MAcFiT Champions League participants,
3 matches behind us, 3 more to complete the group phase. Let's see who's hot and who's not.
My first observation is that all groups follow similar pattern. In previous editions in some groups the top 2 players were clearly dominating. This season, in all groups the top 2 have gathered between 52 and 60% of total score. Which says that the level has been flattened and all contenders are more or less equal (well, some exceptions to this, see below)
Important Reminder
As in the last Season, players who finish on 3rd places will continue to play. They will be transferred to the Quarterfinals of Consolation Cup and will be seeded there.
That means that even if you have 0 or 1 point after three match days, you can still aim the 3rd place and stay in the game.
Group A


Group A is the only one that doesn't follow the "9-6-3-0 points" pattern. This is due to the only tie so far - between newbie @cryptospa and veteran @flaxz.
The Defending Champion, @ptaku, started with two surprising losses. Was it too much fun on the New Year's Eve? 😀 It looks so, as on Monday he showed a performance worth of the Champion.
The group is led by @venan with 3 wins. However, looking at the scores, all is possible in this group. Just note that the total score of @cryptospa (who occupies the last place so far) is the highest of all 4th-placed players. The next one has achieved 40.
My bets? I think @venan will not let his opportunity slip and will win the group. While @cryptospa will surely put up a good fight, in the end the Defending Champion is going to take the second place.
Group B

I like the group because all the players here publish their reports in a timely manner 😀
Instead of points, let's focus on scores. @ilodz24hd clearly leads the group, as the only player with an average score over 20. @notak is a newcomer (and with the lowest rank of 16 participants!) yet managed to score their first win.
@cezary-io is always a top 2 contender, but so far hasn't played a single quarterfinal. Will this season change his stats? He is on a good way, but @notak and @davidthompson57 are lurking closely behind.
My bets? @ilodz24hd shows consistent performance and will win this group. @cezary-io will break his 3rd place spell and will finish 2nd.
---
Some stats
Before we get on with groups C and D, let's see how all groups compare against one another in terms of players' total score.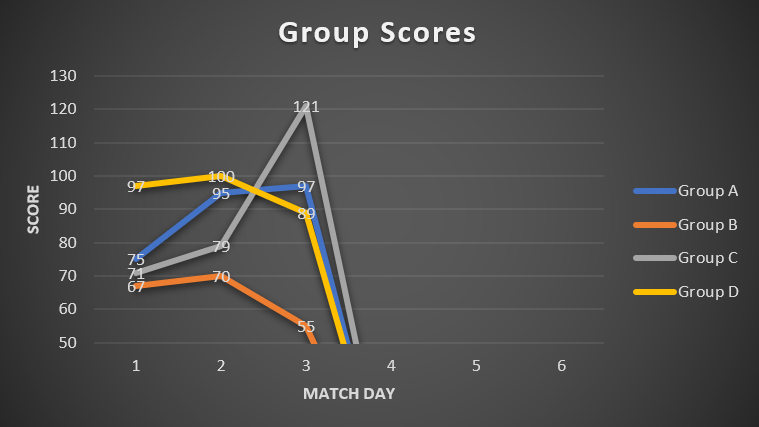 Over the first two match days, group D (mine) had the highest totals. On day 3, while we maintained more or less the same level, groups A and C scored higher. In group C it was all down to a single performance by @bucipuci who scored 57! Group B scores are consistently the lowest of all.
Group C

While this group looks similar to gr. B (9-6-3-0 points), look closer at the scores. Three players - @browery , @manuvert and @bucipuci average about 25 per match, while @davidesimoncini is the outsider here. Can he catch up? I wish Davide all the best, but the leading trio simply seem too strong this season.
My bets? @browery will lose to @bucipuci this coming Thursday, but will recover and will keep the 1st place. Given the schedule - weekdays favor @bucipuci who walks for work, I'd bet that he betters @manuvert leaving him out of Champions League Quarterfinals for the first time in #MAcFiT history
Group D

My group looks like a copy of group C. Three players with very similar average scores (26-29) and @pjansen who averages 12 per match.
@grecki-bazar-ewy is probably the most unlucky player of all 16. Had she faced me and @masoom in reverse order that she did, she would have won both matches and would have topped the group. Her total score of 81 would have made her the leader in groups A and B!
My bets? Thursday starts a long weekend for me and I will spend the next 4 days hiking. This gives me a chance to get ahead of the others and finish 1st. While I wish @grecki-bazar-ewy achieves her first Champions League quarterfinal, the difference of 6 points against @masoom is the big and the latter will finish 2nd, leaving Consolation Cup quarterfinal for @grecki-bazar-ewy
Some more stats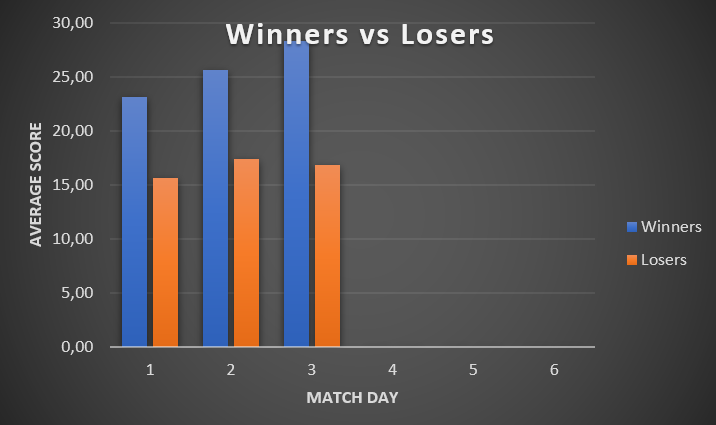 The chart shows that to have a chance of winning a match, one needs on average a score of 25. That's pretty high compared to previous seasons. It's a sign of our good shape in the New Year 2022.
How about some betting?
Comment this post with your bets for the top 2 players of each group.
I will share 50% of the earnings of this post with the participants who are the closest to guessing all Champions League quarter-finalists.
Bets are only valid if posted before Thu, Jan 6 20:00 CET
Wishing you'll a happy, prosperous (I say "blessed") and active year,
PS. Also, good luck in the POLIAC competition! The Winner of League One will be granted a Wild Card for MAcFiT Champions League Season 6.