Well friends, you know the drill, no bilingual post today, though I suppose I could publish a translation if any of my countrymen so desire. Anyway, I noticed something unfortunate about my go-to whitetail rifle, the Marlin .30-30, a few days ago. Last year, I noticed that the shots were going slightly to the right, and this resulted in me having to shoot one of the two deer I got twice. No biggie, that's happened before. However, when I went to sight in that rifle a few months ago and correct the error, the shots weren't going right, but high instead. The groups were also frustratingly large, easily 25% greater spread than what I was getting when I sighted in the newly-installed scope on the .45-70. No matter, it was still accurate enough to hunt with... or so I thought. Fast forward to opening day of regular firearms deer season in Pennsylvania. I hadn't filled any of my tags, because archery season was a bust for the third year in a row - most likely because of the drought. I'll elaborate if anyone asks me to, but otherwise, this post will cross the thousand-word threshold, and you're here for pictures, not my incoherent prattlings! So, long story short, I shot at a nice six-pointer, only for him to run off, disappear, and leave me wondering if I even hit him at all. I decided not to take any chances, and put the .30-30 back in the cabinet for the season. "But Kaja," I hear you say, "you have open scope rings on that rifle, you could just use the iron sights!" Yes, but I haven't practised with them in who-knows-how-many years, so I don't know if they need adjustment. I will find out after I replace the scope. Until then, I must resort to something else. Let's see... I'm still not good enough with the flintlock... 7.62x39 is under-powered... I recently bought a 12-gauge over-under, but I haven't shot it yet... oh dear, that leaves... the pig-killer, the Henry H010 .45-70!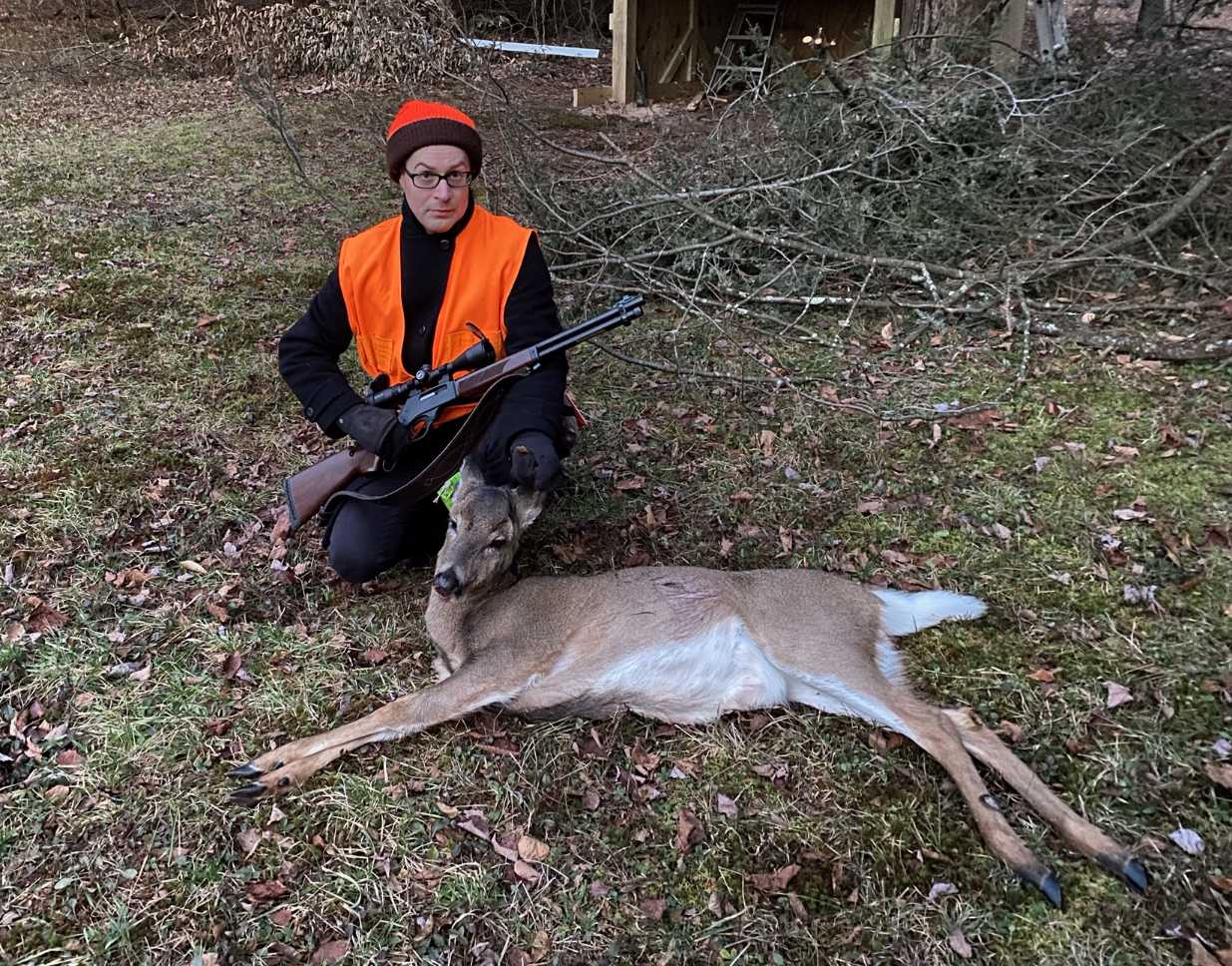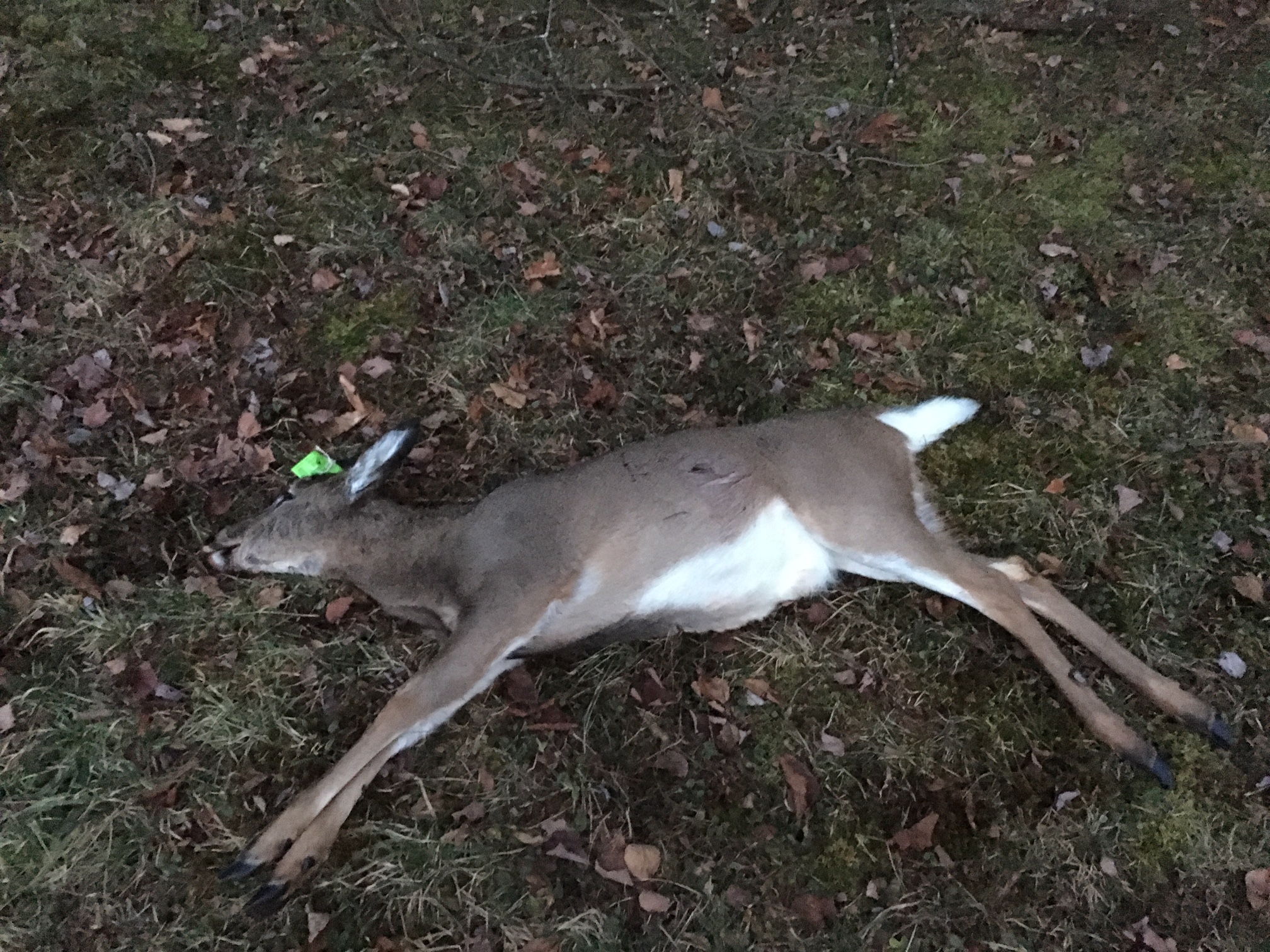 Well, it's effective! A bit messy, though. She was quartering toward me, so rather than pulling off a double-lung shot (which drops the deer instantly), I hit only one lung, and she ran about fifty metres - which is about the same distance they run if I hit both lungs with an arrow, incidentally. I suppose I could have gone for a headshot, which I did last year on one very fat doe who refused to give me any broadside and instead decided to have a staring contest with me, but otherwise I'd have to tag this post NSFW, and probably wouldn't post it in this community anyway. No, seriously, a .30-30 firing a 170-grain bullet does enough damage to a deer's head, imagine what a .45-70 firing a 300-grain bullet does. I'm imagining, of course, based on what this shot did to this doe's innards - it was disgusting, though not as bad as field-dressing a gut-shot deer, which I had the misfortune of doing when I was about 12 (don't blame me, I didn't shoot it), so I've seen some shit, literally.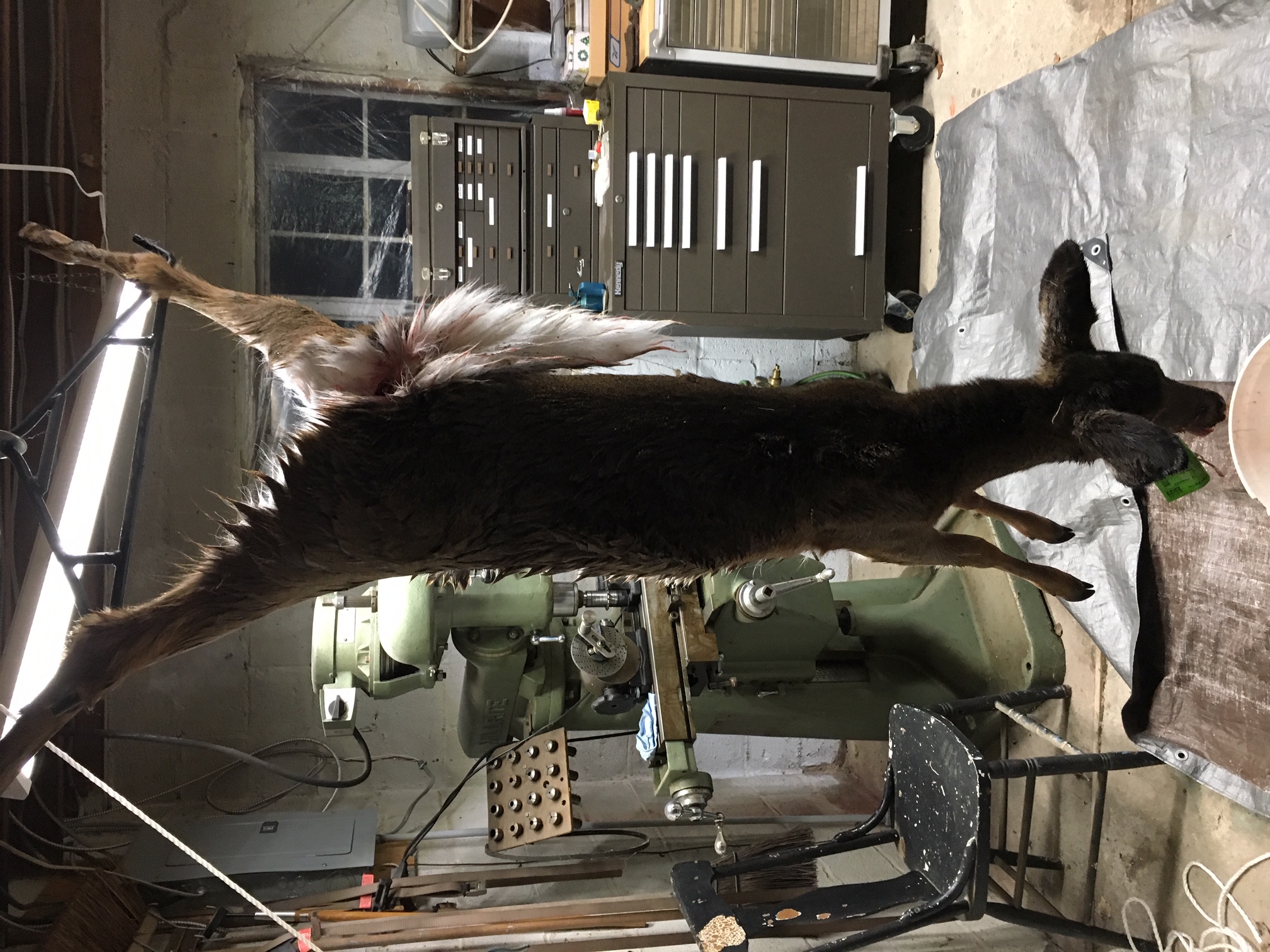 As always, she's hanging in my shop, and you can see my milling machine in the background, this time set up for cutting gears, since that was the last thing I used it for. Look, I may be an avid hunter, but my equipment and space are both rather limited, so I make do with what I have. Anyway, to continue my story, I'll bring you round to the inside...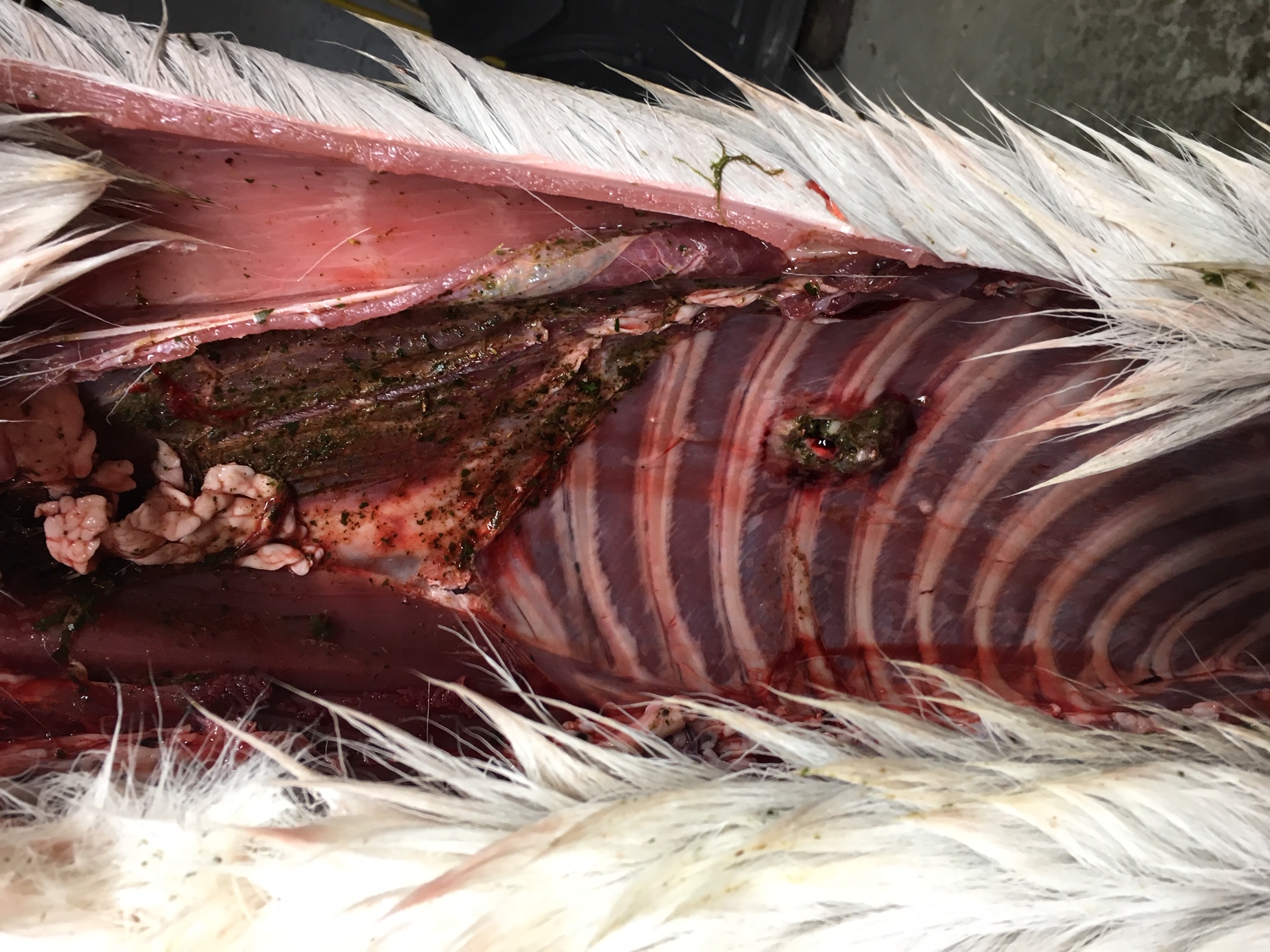 The bullet broke through a rib, obliterated part of a lung, punctured the diaphragm, and blew off a chunk of liver before exiting. At some point, it also ruptured the esophagus, which you can tell by the presence of chewed, undigested plant matter in the body cavity when you open up the animal. I have hit the esophagus once before, which is why I know - and also why I know that the local deer are eating a good bit more corn than they should be. Field dressing is messier than usual, but not utterly stomach-churning like an actual gut-shot.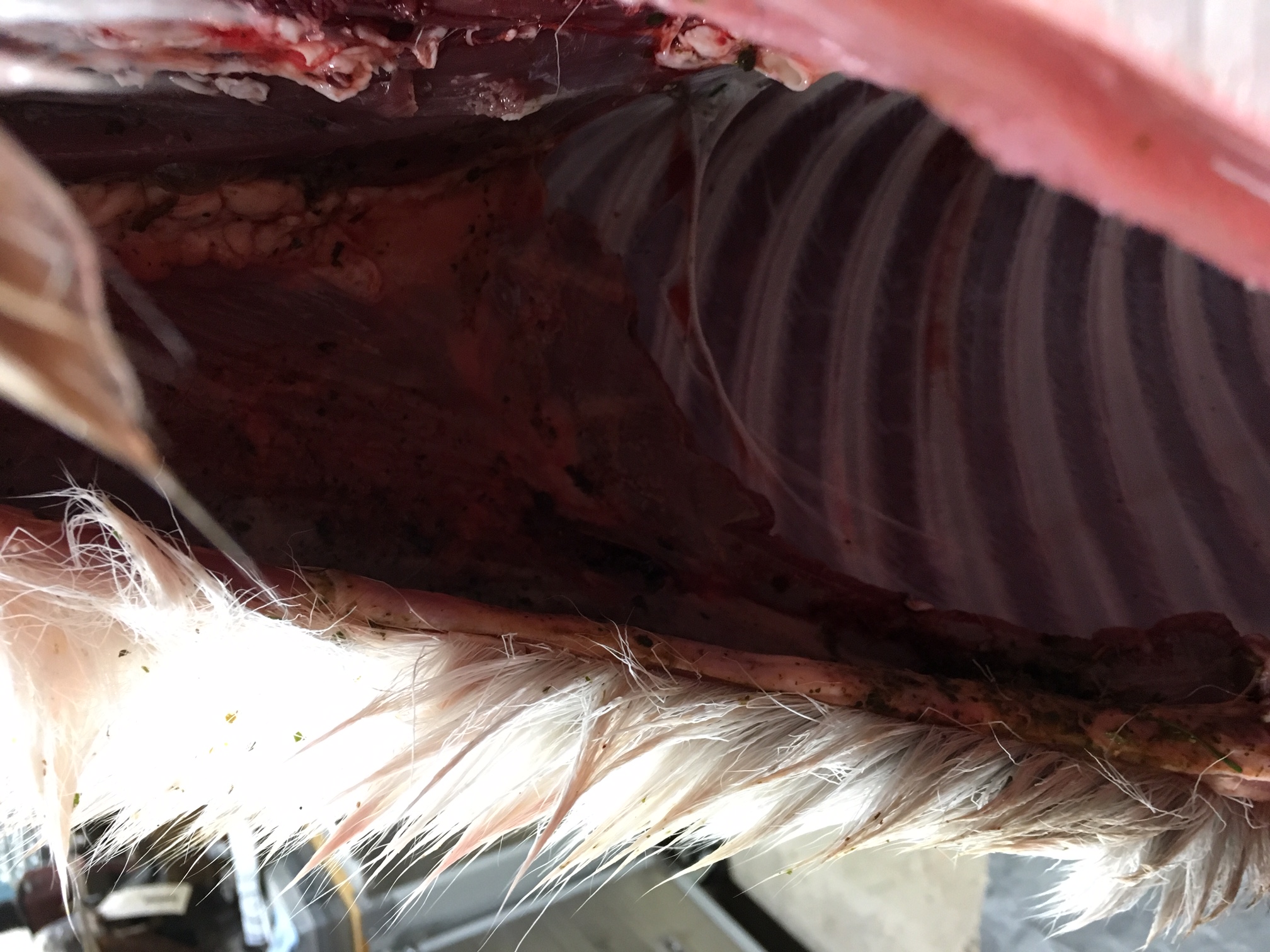 The lighting is terrible in this shot, but you may be able to make out the exit wound. I took all these photos on my surprisingly-not-covered-in-cervine-intestinal-matter iPhone. Don't worry Kat, I'm not about to steal your usual blog post epilogue. Right, you got me, I didn't take the first picture, my father did. Finally, here is the casing for the first bullet fired from this gun at something other than paper, using the draft of this post as a background... very meta.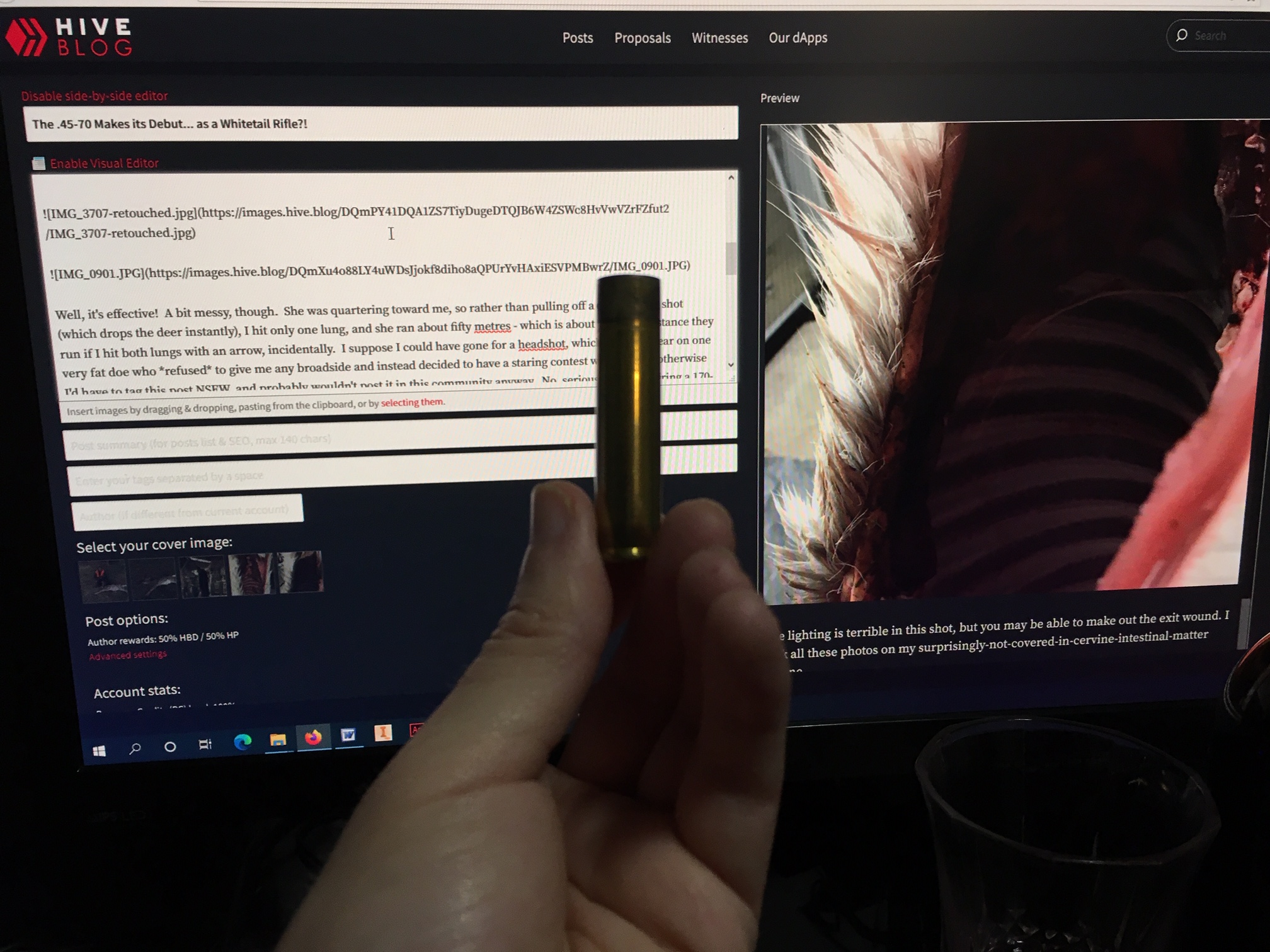 My father and I celebrated afterwards each with a plate full of sauteed tenderloins, a bowl of rice, and a bottle of Rabbit and Spaghetti Cabernet Sauvignon / Shiraz / Malbec blend, which is a wine made in 'Straya by a bunch of Guineas! Tomorrow is supposed to bring lousy weather, so we will spend the day in the shop. BTW, despite the obvious lack of snow, winter is definitely here. Our first snow has come and gone, but temperatures have been below freezing for a while.