Hello to everyone from Privex.io Staff! It has been a long time since we've written a post. We've been focused on handling orders and adding more nodes in our datacenters to meet the demand after the launch of HIVE. We would like to thank every one of our customers personally!
Today, we have several announcements new and old to make.
Our First Announcement
STEEM blockchain. As we have previously addressed on our Discord server (which you can join here) we officially notified our customers of our stance in STEEM's v22.8888 softfork.
Privex, as an advocate for privacy and freedom of speech, will NOT SUPPORT a softfork which blocks several accounts. We will not be offering any technical assistance nor selling pre-replayed nodes for this specific softfork.
However, our customers are welcome to install whatever version they want, and we will not be suspending or terminating any services. We're simply not actively supporting 0.22.8888 in any form.
Our Second Announcement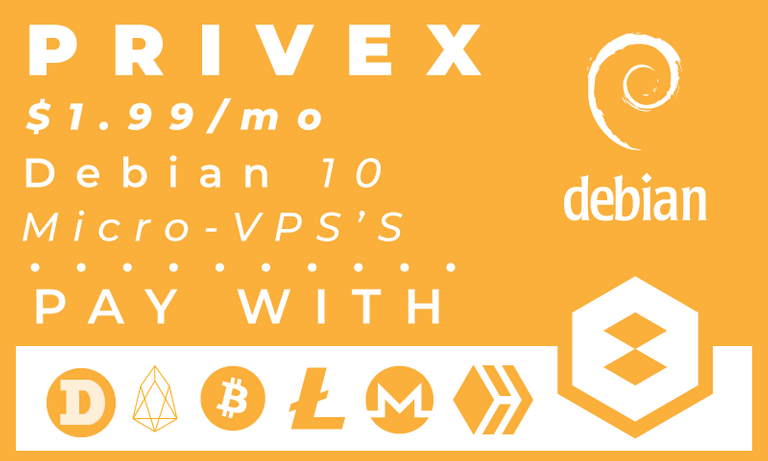 The HIVE and Graphene blockchain is an excellent platform for new developers to try out their programming skills in various programming languages. One of the most common projects is coding bots to automate your daily tasks on the blockchain.
These bots can do things ranging from automatic transactions, votes, price feed submission for witnesses, checking specific accounts for certain actions, notification bots and many more!
However, there is one caveat while programming a bot, most of them are made to run 24/7 alas, not everyone has access to a server where they can leave their program running and has to keep their computers running so that their bot can work.
We have a solution for you!
Today, we are announcing our newest package located in our Sweden Datacenter.
For just $1.99/month you can order a server with 2 virtual cores, 512 megabytes of RAM, 20GB HDD Storage and 100 Mbps network speed, running the Debian 10 Linux distro.
NOTE: These Micro-VPS's are IPv6 only (IPv4 addresses are scarce and expensive in 2020) - read about how this might affect you here: https://www.privex.io/articles/micro-ipv6-vps-s
We've also stocked up on hardware for our Node-in-a-box™ servers (Hive and Steem), currently available with SSDs in Germany from just $50/mo, and with HDDs in Sweden for just $30/mo - order one today, both cheap AND easy to setup :)
If you have any questions or problems about your order, you can always join our Discord server!
Our Third Announcement
We've added a new member to the Privex team - @deathwing - who's been working hard to support our customers, improving customer support response time on both Discord, and on our tickets :)
Check out his blog at https://peakd.com/@deathwing/
Thanks for reading
A big thank you to all of you from all of us at Privex.io!
Thank you!
We would be grateful if you would vote for our CEO @someguy123 as a witness, go to https://wallet.hive.blog/~witnesses and click the arrow near @someguy123's name.

Don't forget to join our Discord!
You can join our Discord here: https://discord.gg/zUVyjzV
Don't like Discord? We have a Matrix too: https://riot.privex.io (those with existing Matrix accounts, just join #privex:privex.io and #announcements:privex.io)
If you'd like to grab a server, just go to our website: https://www.privex.io - we accept HIVE, HBD, EOS, LTC, DOGE, XMR and BTC as payment. We offer both Virtual and Dedicated servers. Our offers range from as small as 256MB RAM, all the way up to 768GB of RAM!