English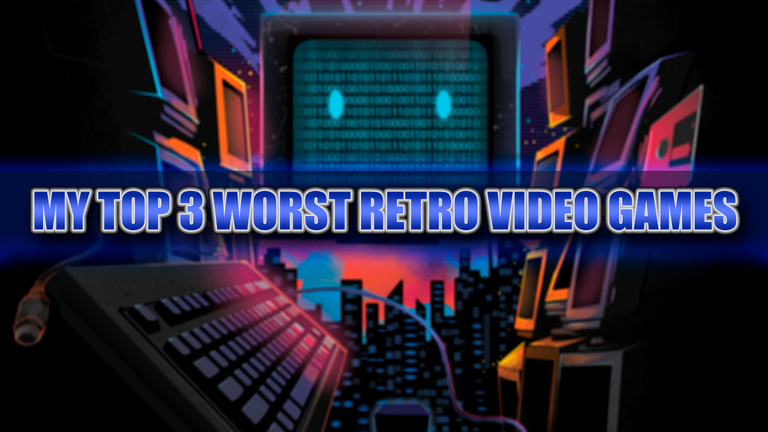 Being part of our childhood, retro video games generally represent a part of our greatest memories as gamers, regardless of the quality of the game, we enjoyed it as if it was the best of all, there was no room for criticism, but still there were some video games that simply did not amuse us or were not our style.
As we know the variety and quantity of games was quite extensive, so getting to a point where we can determine the worst video games in general is quite difficult, in that sense, everything is based on our experience and how many games we were able to try and enjoy.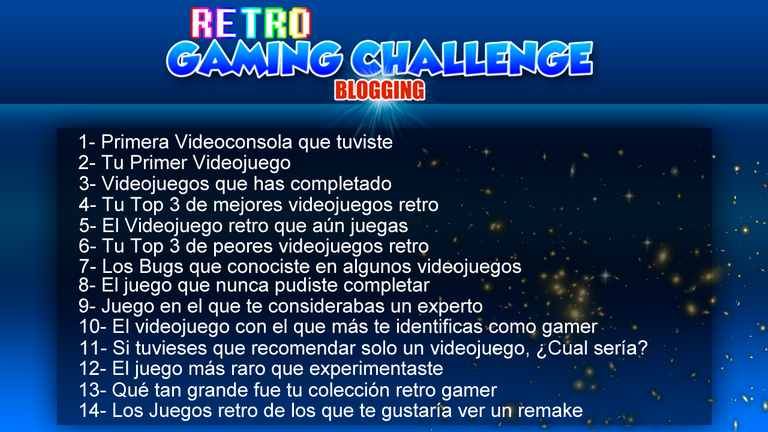 With this publication I don't want to be offensive, mainly because I could be mentioning a game that for someone else has been great, but as the title indicates it is "My Top 3", we all have different tastes, so obviously my top of worst video games is a more than personal opinion.
Thinking about bad experiences with video games is something quite difficult, because as children, if a game was not to our liking, we simply tried it for a few minutes and then we did not even determine them again, although in some cases it may have happened that we liked a video game so much that when we finished it we came across a very disappointing ending and for that reason we catalogued it as one of our worst experiences.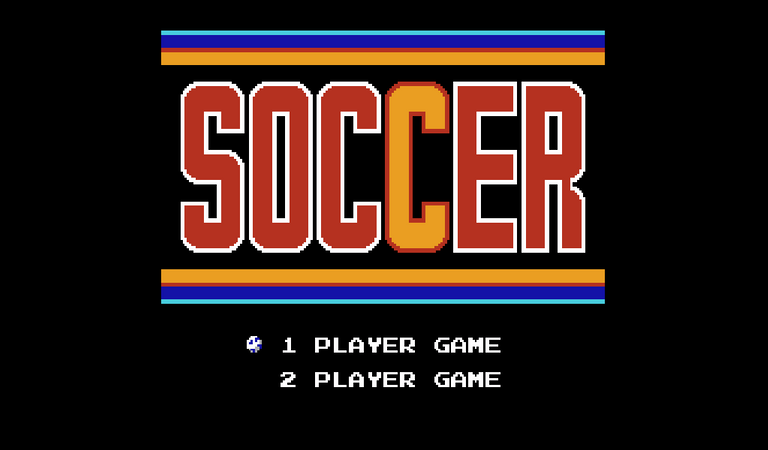 Capture made from the emulator of my game
As my first video game, I want to talk about Soccer, since I was a child I have been a big soccer fan, the first World Cup I could enjoy from start to finish was Korea-Japan 2002, and the first soccer video game I knew was this one. The experience was something totally unpleasant, it was the only video game of this discipline that I knew so far and I had to make do, the gameplay was pretty bad, the ball was practically in slow motion as well as the players, not to mention the fact that the mobility of our goalkeeper was depending on the mobility of the field player that we were controlling at the time, there were few teams, being only 7 countries with which you could play, the only thing that could rescue the game would be the camera angle, one that is used in soccer video games today. Some time later I met the great World Cup Soccer, with a much more fluid and great way to enjoy soccer.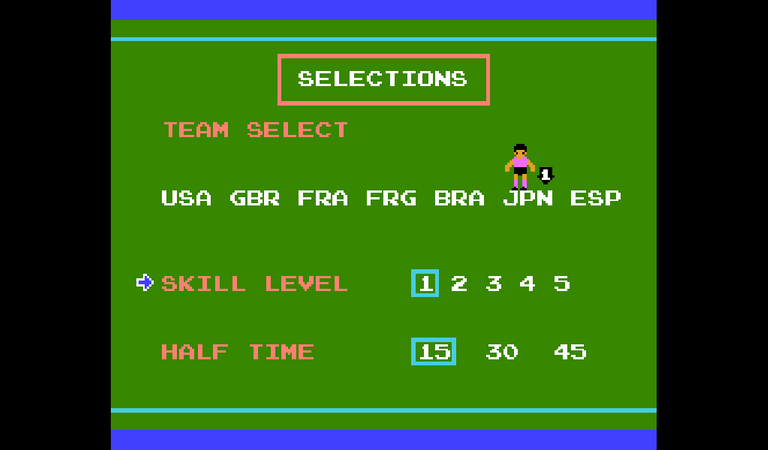 Capture made from the emulator of my game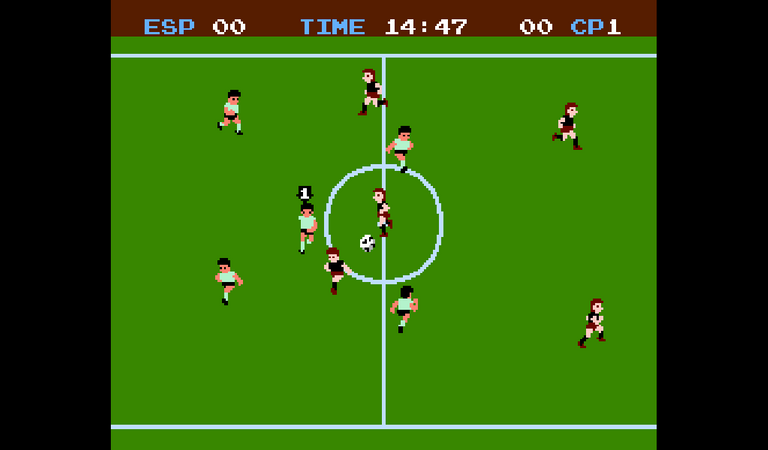 Capture made from the emulator of my game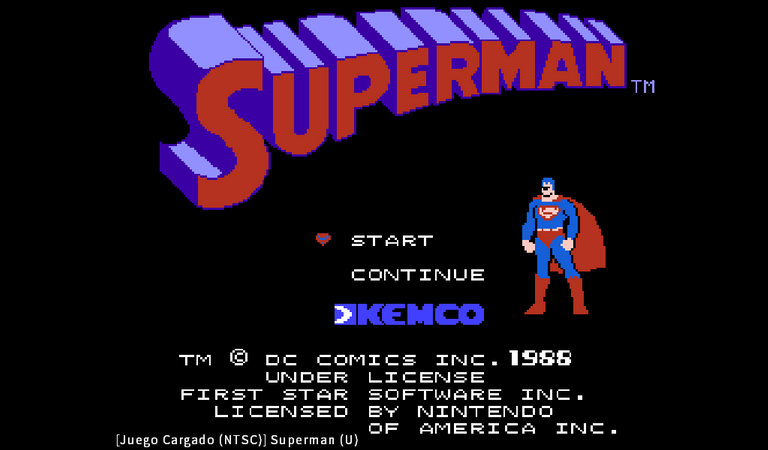 Capture made from the emulator of my game
While in the world of cinema, Superman was one of the great superheroes of our childhood, in the world of video games I did not get a similar feeling, or at least it was not as expected, there were already games like Dragon Ball Z, some other marvel games, like spiderman and others, that somehow met our expectations, however, this version of the Superman game was somewhat boring, because as children we were not so interested in the dialogues, but rather in the action, and this game gave us just what we did not want, I felt the character of Superman as a Mario platformer but very boring, everything was limited to a simple hit and walk through few places in order to advance in the game, I will have played it about 2 or 3 times wanting to give it a chance, but the truth is that it never met my gaming needs and ended up being personally, a game to forget.
I want to clarify that I only express the feelings that this game left me, because of course for other fans if it could have generated the impact and the results they expected with a Superman game.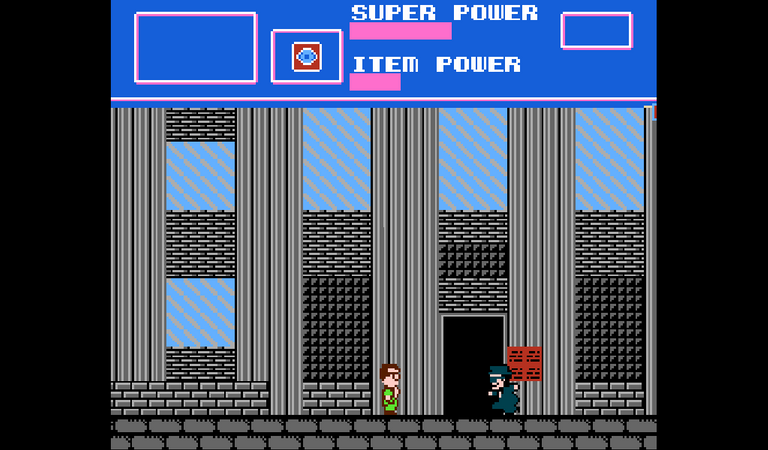 Capture made from the emulator of my game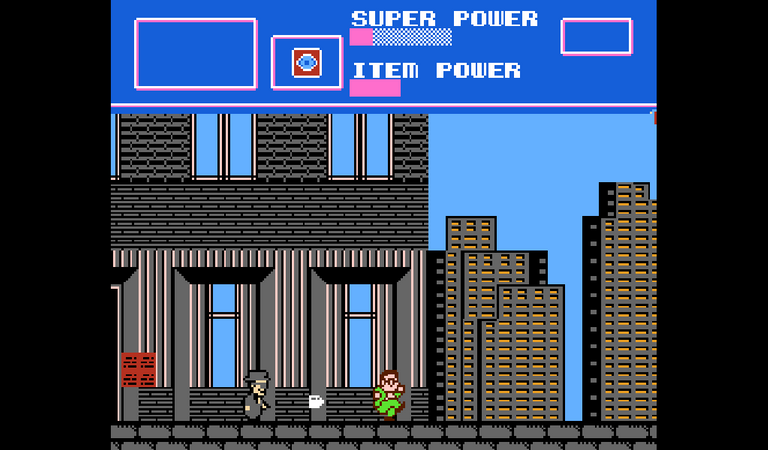 Capture made from the emulator of my game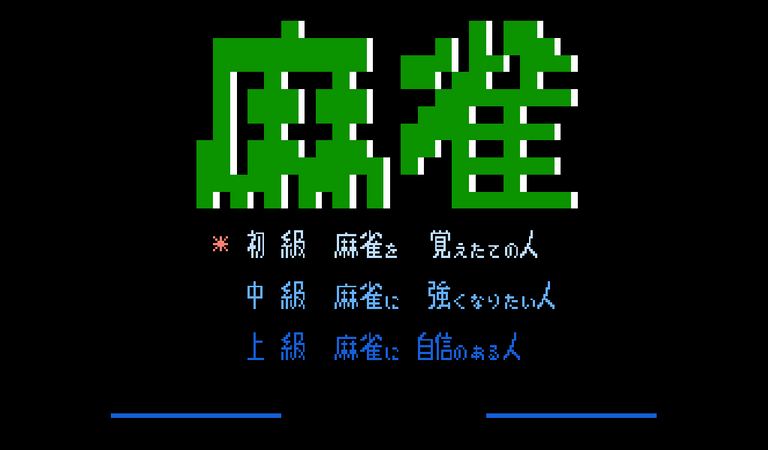 Capture made from the emulator of my game
As children, it was evident that video games with characters from our favorite cartoons, movies or sports were the things that most attracted our attention, we used to turn on the tv, connect the nintendo, and take control to just have fun, I was very curious exploring each video game that brought the cartridges I owned, and Mahjong was one of those games to which I found little entertainment, an oriental game not very popular, or at least little known to me, I opened it, I saw that it was a card game, and I did not want to know anything more about it, then I dedicated myself to other great titles that demanded me agility and generated adrenaline.
Of course Mahjong may have a game mechanic that generates interest in other people, but for me personally I was indifferent in my childhood, I just wanted to have fun like any other kid, and what was boring from the beginning, was not an option.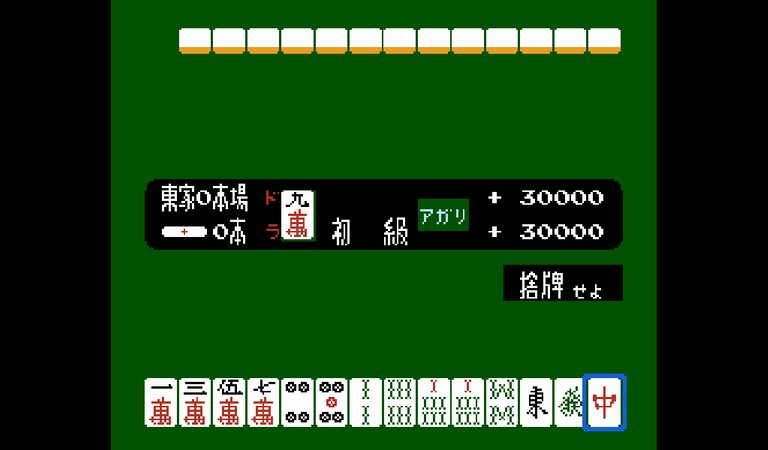 Capture made from the emulator of my game

Source of images
---
1 - 2 - 3

Español
Mi Top 3 de Peores Videojuegos Retro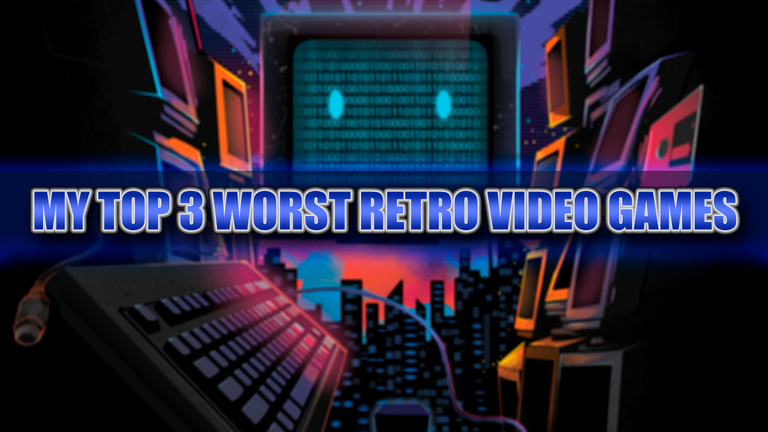 Al ser parte de nuestra infancia, los videojuegos retro representan en general una parte de nuestros más grandes recuerdos como gamers, sin importar la calidad del juego, lo disfrutábamos como si fuese el mejor de todos, no había espacio a la crítica, pero aún así habían algunos videojuegos que simplemente no nos divertían o no eran de nuestro estilo.
Como sabemos la variedad y cantidad de juegos era bastante extensa, por lo que llegar a un punto en el que podamos determinar los peores videojuegos de manera general es algo bastante difícil, en dicho sentido, todo se basa en nuestra experiencia y en que tantos juegos pudimos probar y disfrutar.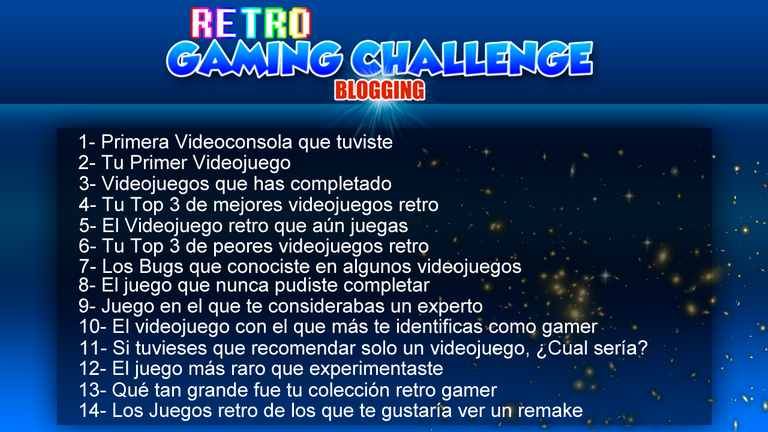 Con esta publicación no quiero ser ofensivo, principalmente porque pudiera estar mencionando algún juego que para otra persona haya sido genial, pero como el título lo indica es "Mi Top 3", todos tenemos gustos diferentes, por lo que evidentemente mi top de peores videojuegos es una opinión más que personal.
Pensar en malas experiencias con videojuegos es algo bastante difícil, pues cuando niños, si algún juego no era de nuestro agrado, simplemente lo probábamos escasos minutos y luego no los volvíamos siquiera a determinar, aunque también en algunos casos pudo haber ocurrido que un videojuegos nos gustase tanto, que al momento de culminarlo nos topáramos con un final bastante decepcionante y por esa razón lo catalogáramos como una de nuestras peores experiencias.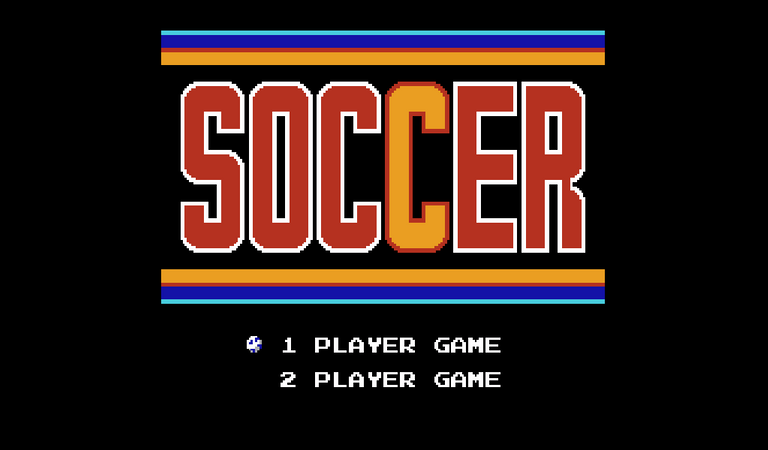 Capture realizado desde el emulador de mi juego
Como primer videojuego, quiero hablarles de Soccer, desde pequeño he sido un gran fanático del fútbol, el primer mundial que pude disfrutar de inicio a fin fue el de Corea-Japón 2002, y el primer videojuego de fútbol que conocí fue este. La experiencia fue algo totalmente desagradable, era el único videojuego de esta disciplina que conocía hasta el momento y me tocaba conformarme, la jugabilidad era bastante mala, el balón iba prácticamente en cámara lenta al igual que los jugadores, sin contar el hecho que la movilidad de nuestro portero iba en función de la movilidad del jugador de campo que estuviésemos controlando en el momento, habían escasos equipos, siendo solo 7 países con los que se podía jugar, lo único que se podría rescatar del juego sería el ángulo de cámara, uno que se usa en los videojuegos de fútbol de la actualidad. Tiempo después conocí el grandioso World Cup Soccer, con una forma mucho más fluida y genial de disfrutar al fútbol.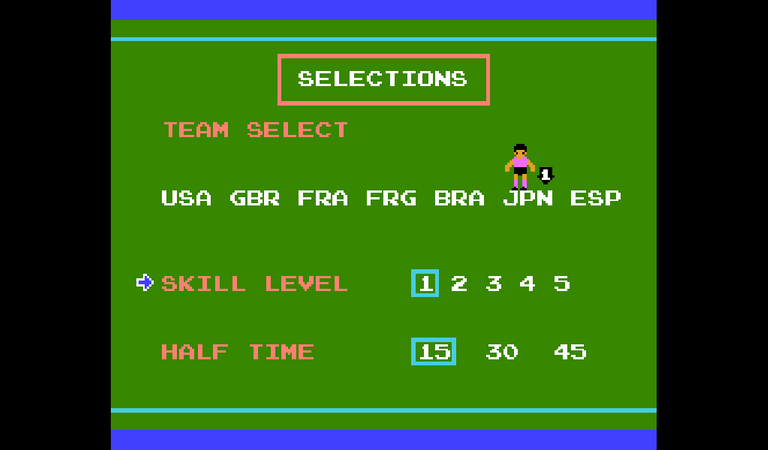 Capture realizado desde el emulador de mi juego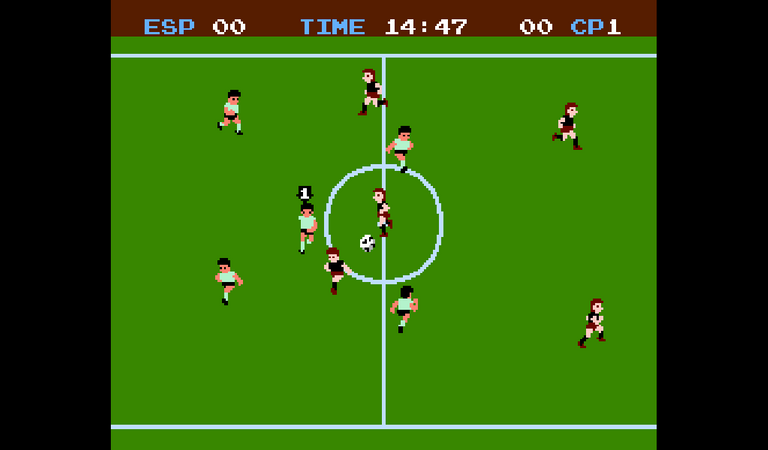 Capture realizado desde el emulador de mi juego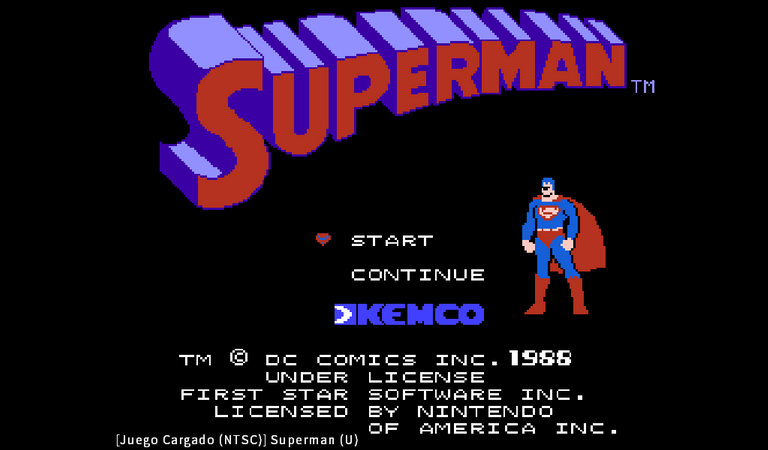 Capture realizado desde el emulador de mi juego
Si bien, en el mundo del cine, Superman era uno de los grandes superhéroes de nuestra infancia, en el mundo de los videojuegos no obtuve una sensación similar, o al menos no fue lo esperado, ya habían juegos como Dragon Ball Z, algunos otros juegos de marvel, como spiderman y otros más, que de cierto modo cumplían con nuestras expectativas, sin embargo, esta versión del juego de Superman era algo aburrida, pues como niños no estábamos tan interesados en los diálogos, sino más bien en la acción, y en este juego nos daban justo lo que no queríamos, sentía al personaje de Superman como un Mario en plataforma pero muy aburrido, todo se limitaba a un simple golpe y a caminar por escasos lugares con el objetivo de avanzar en el juego, lo habré jugado unas 2 o 3 veces queriendo darle una oportunidad, pero la verdad es que nunca cumplió mis necesidades gamers y terminó siendo en lo personal, un juego para el olvido.
Quiero aclarar que solo expreso las sensaciones que me dejó este juego, pues por supuesto para otros fanáticos si pudo haber generado el impacto y los resultados que esperaban con un juego de Superman.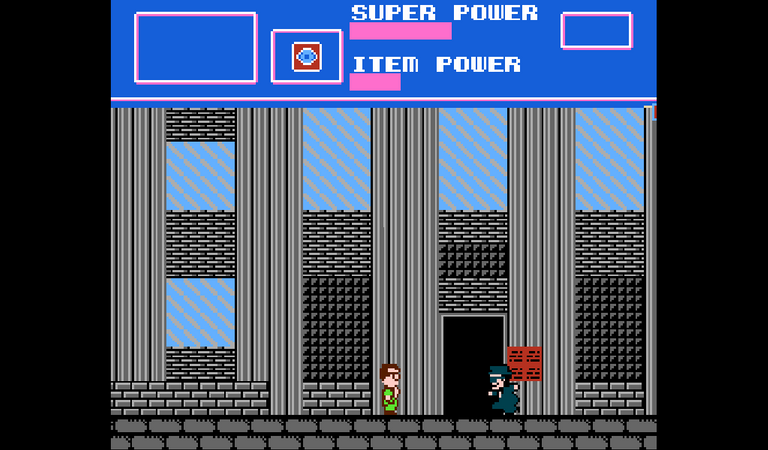 Capture realizado desde el emulador de mi juego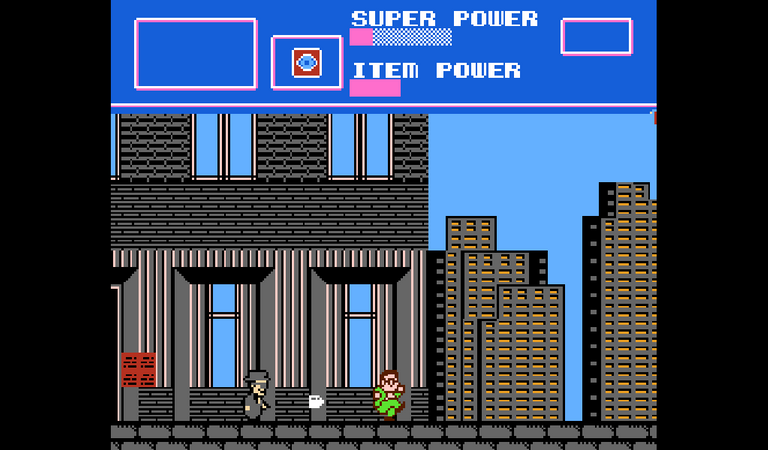 Capture realizado desde el emulador de mi juego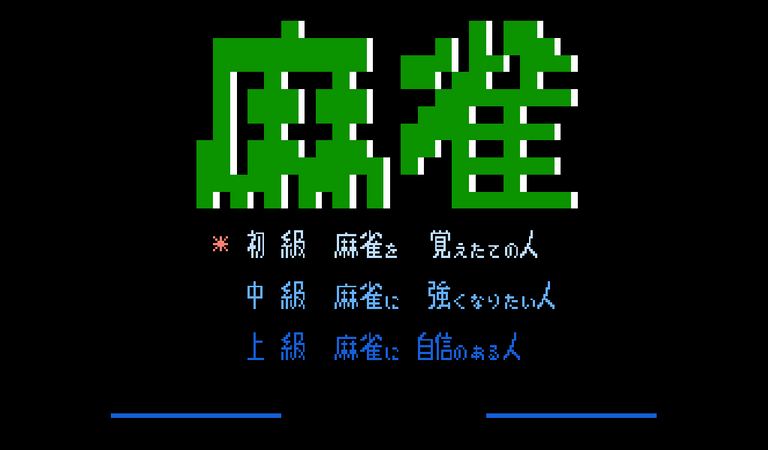 Capture realizado desde el emulador de mi juego
Como niños, era evidente que los videojuegos con personajes de nuestras caricaturas, películas o deportes preferidos eran de las cosas que más llamaban nuestra atención, solíamos prender el tv, conectar el nintendo, y tomar el control para solo divertirnos, yo era muy curioso explorando cada videojuego que traían los cartuchos que poseía, y Mahjong fue uno de esos juegos a los que poco entretenimiento le encontré, un juego oriental no muy popular, o al menos poco conocido de mi parte, lo abrí, vi que era un juego de cartas, y no quise saber más nada de el, luego me dediqué a otros grandes títulos que me exigían agilidad y me generaban adrenalina.
Por supuesto que seguro Mahjong tenga una mecánica de juego que genere interés en otras personas, pero a mi personalmente me fue indiferente en mi niñez, solo quería divertirme como cualquier otro niño, y lo que se tornaba aburrido desde un inicio, no era una opción.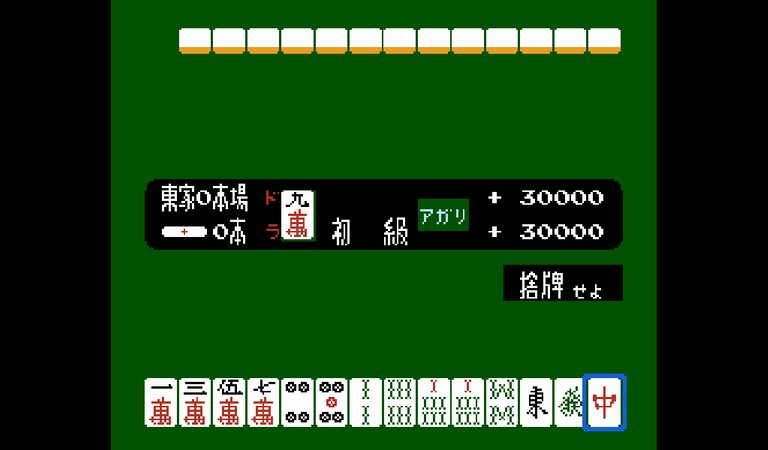 Capture realizado desde el emulador de mi juego

Fuente de imágenes
---
1 - 2 - 3


---