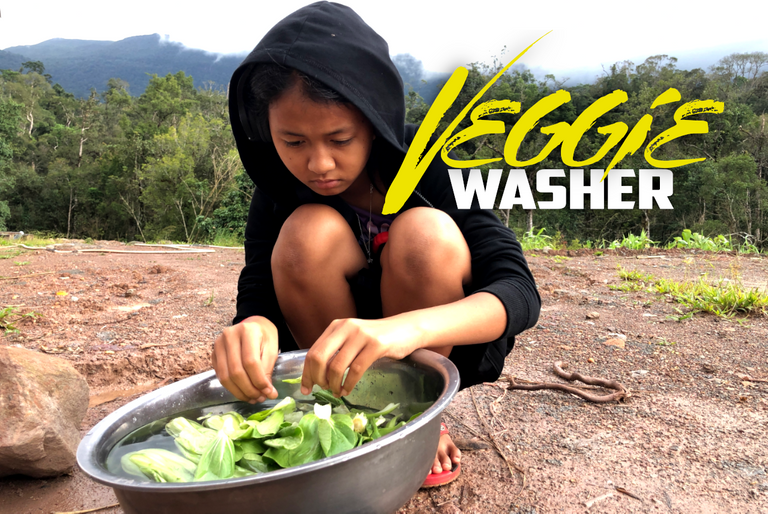 Today was a typical one involving activities such as washing veggies, eating extremely burnt food, and remembering the hammock hut.
Carbon-Based Lifeform Eating Carbon 👽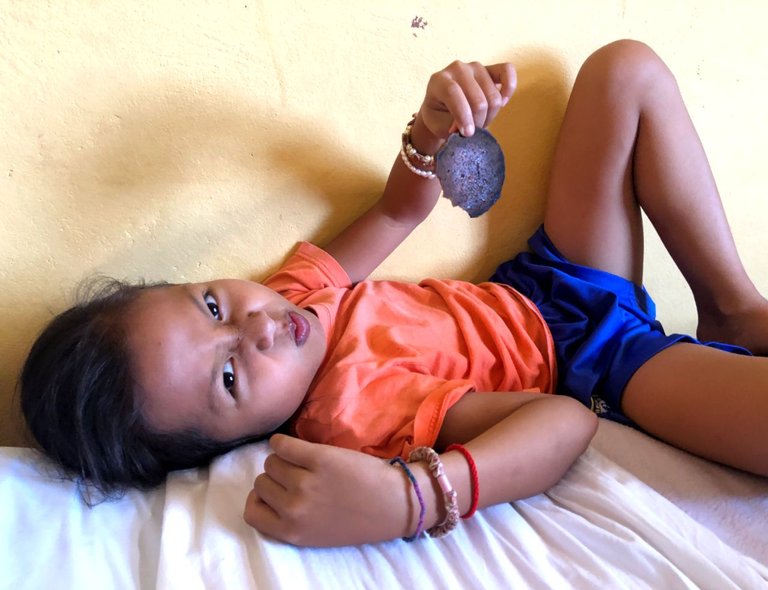 Today Srey-Yuu decided to do some cooking, or should I say overcooking. We have some vegetarian pâté, and the most common way we cook it is to thin-slice it and fry it in a bit of oil, but you do need to keep an eye on the flame. The finished product was given to Monkey-B, and she wasn't pleased, but yet still ate this black disc. Perhaps it will detox her a bit, it's basically activated charcoal anyhow.
Good Signs 🐛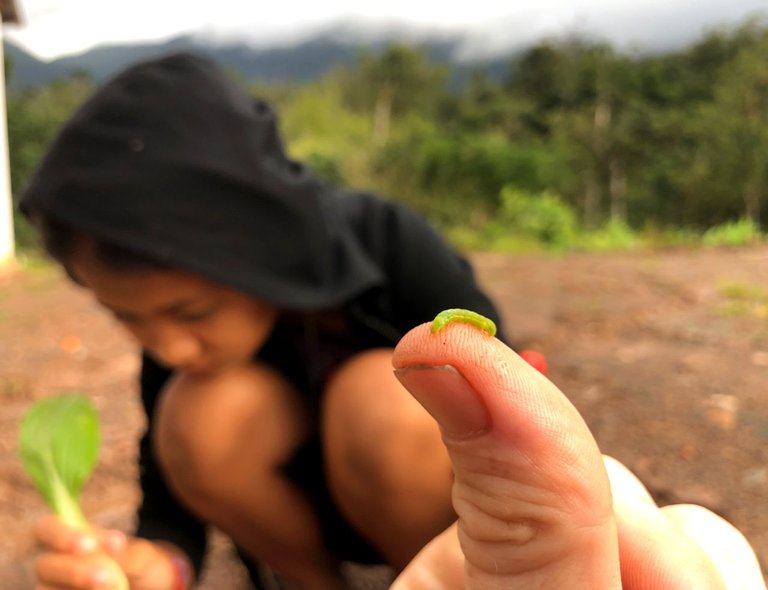 It may seem counterintuitive, but I actually like to find pests and bugs in our vegetables, at least these are signs that pesticides likely haven't been used for many weeks leading up to the harvest. Cheap Vietnamese chemical products are slowly becoming the norm in Cambodia, and not only are many of these agricultural products toxic, Cambodians can't read the Vietnamese safety or mixing instructions, and often eyeball the measurements using intuition, not exactly ideal.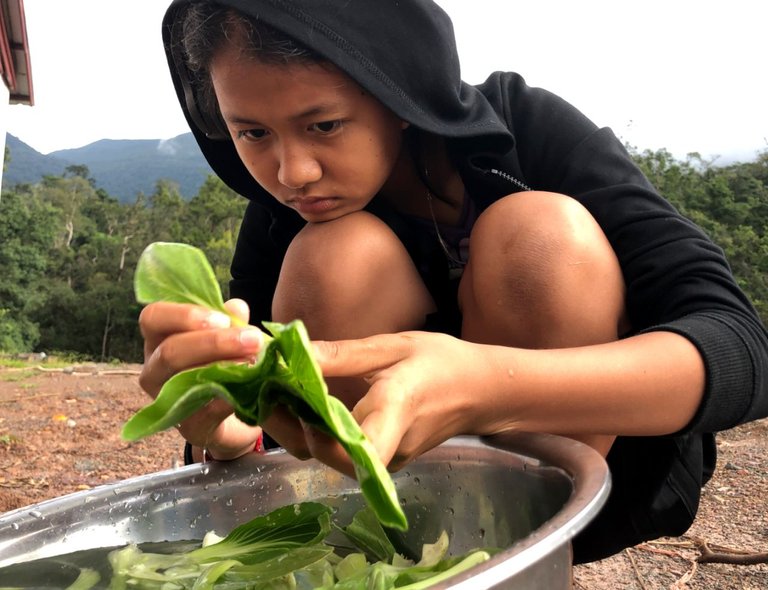 While Srey-Yuu cleaned and prepared the greens for the second meal of the day, I snapped a few pics and then decided to check on the drainage situation near the former site of the hammock hut.
Gone But Not Forgotten 🛖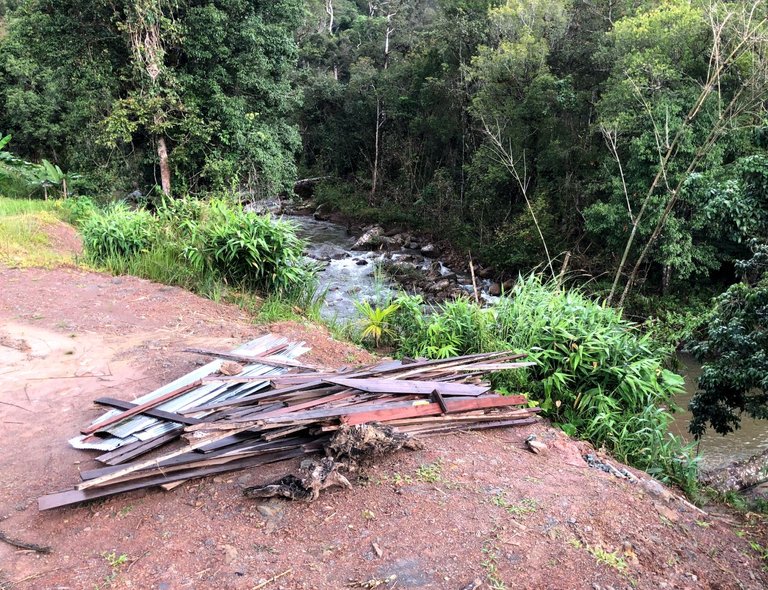 I have been working on trying to manage surface water runoff, and this mostly means not allowing any of the water to head towards the cliff's edge because it causes further erosion and makes a spongy unstable cliff. I suspect this played a small role in some of the collapses during the massive rains and flooding a few months ago. So far it looks like my drainage plans have worked, and I've noticed the land becoming more firm.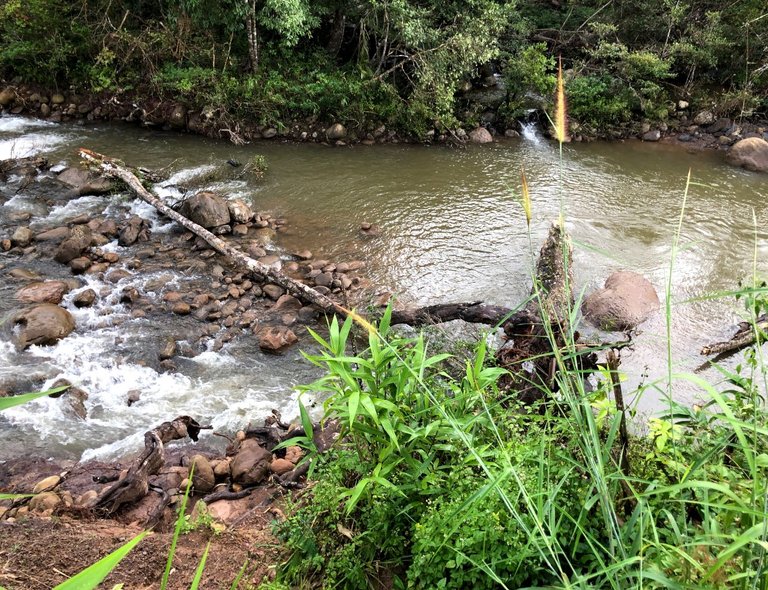 Do you see the two trees in the river? These were the two trees that supported the corner of the hammock hut and prevented the hillside from collapsing, well used to prevent the hillside from collapsing. There is not enough of an outcrop to rebuild anything there, but this year's flood reached the roofs of both hammock huts, so there is no logical reason to build anything that low and close to the river again.
Round #2, Eat 🔔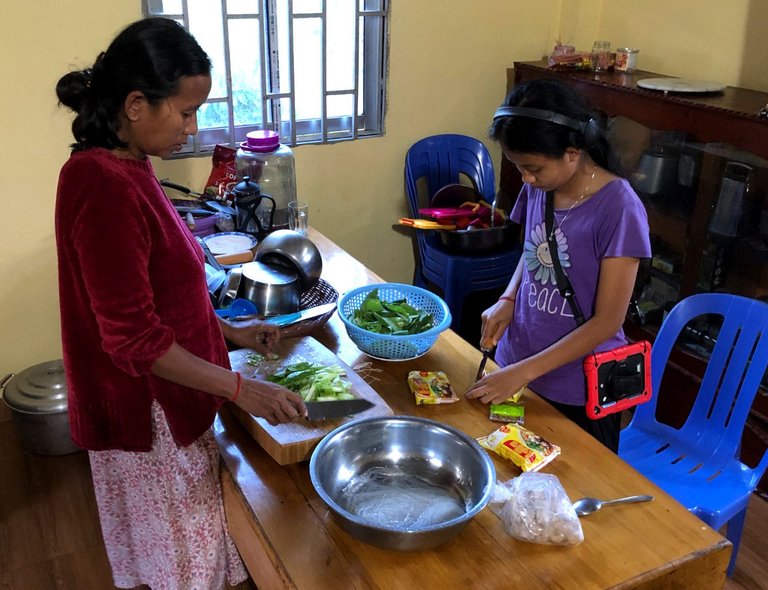 Dinner was a chance at redemption, and I snapped this pic of Srey-Yuu helping Pov to prepare a quick and simple noodle soup. This meal went without incident, and good news for me, another surprise holiday at school means I get to sleep in tomorrow (this) morning, so it looks like even though I'm posting this at 2am, I won't have to wake up at the usual 5:20am, and for me that's a victory.

CLICK HERE TO JOIN HIVE AND START EARNING CRYPTO LIKE US