We're a big believer in the body's nourishment in the Herbal Hive, and what better nourishment is there than rest for the first part of the year? One needs to let the seed take form in the dark ground, so that it finds a way to crack open and blossom.
With that in mind, the theme for the first challenge of 2022 is REST.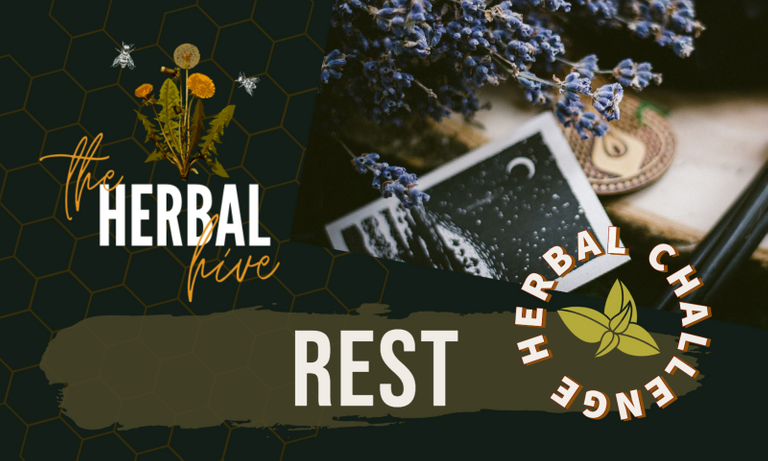 Anything plant medicine related and related to the word 'REST' is perfect!
Here's a few ideas - you are absolutely NOT limited to these and might like to adapt them:
What herbs promote sleep?
On the flipside, what herbs help wake you up when you're feeling lethargic, unmotivated, tired and sleepy?
How might herbs be used to create a restful environment?
What herbs might support stress or anxiety?
Are there other ways to experience a herb supported rest other than ingesting?
What about mushrooms or other plants not traditionally thought of as 'herbs'?
Remember we don't want to read something we can easily google. We'd prefer to read YOUR stories about these herbs. Of course, science is also appreciated. For example, you might start talking about a herb you always use for sleep and go on a journey of discovery that makes you understand it's properties and how and why it works. Or you might share a recipe for a syrup, powder, tincture, soup, bath salt or anything else you like, that you have personal experience with.
We don't support:
Posts with far too many similiar photos (think quality over quantity)
Blurry pictures
Plagiarism
Inaccurate information.
OH, and do check what OTHER people have written first. If there's already two posts on lavender, we really, really don't want to read three, unless yours is spectacularly different!
A Few Other Guidelines
Reblog this if you can
Tag one other person you think might like to join in
Post in the community!
Drop your link under this post - we won't count it otherwise!
Prizes
20 HIVE, divided amongst winners. If you'd like to sponsor, do let us know!
Thanks to...
Those who often join in this community or on HIVE with their great plant medicine related content! Do give them support if you see them! @artemislives @crosheille @creativetruth @edprivat @rubido @sanjeevm @didiveloka @kyleana @ratna9864 @fermentedphil @traisto @samstonehill @tydynrain @gentleshaid @umirais @blackberryskunk @nateonsteemit @foxfireorchards - and many more!



Community II Delegate II Curation Trail II Discord