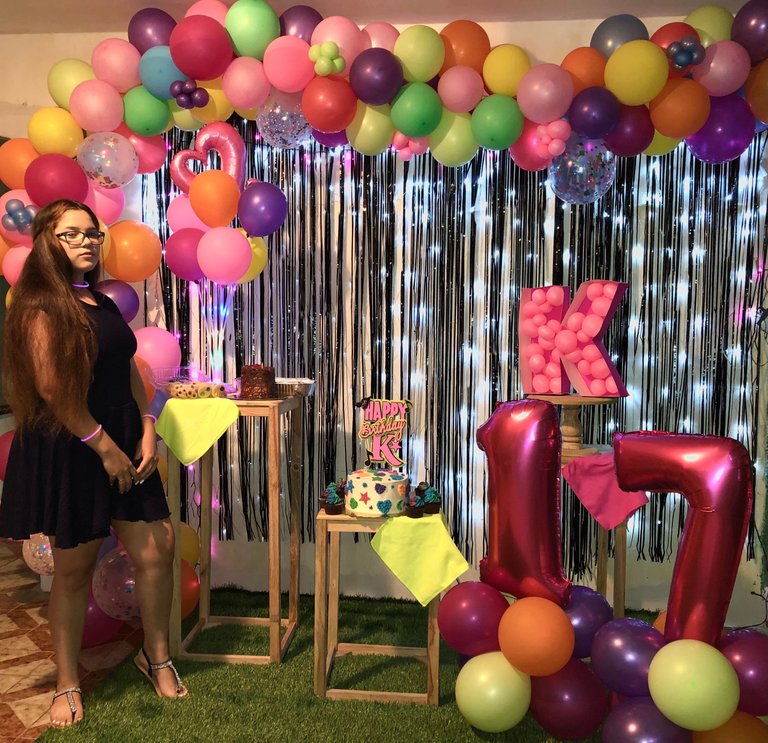 Hola amiguitos cómo están? Hoy estaba recordando mi cumpleaños número 17 fue exactamente hace un mes, estaba viendo las fotos y decidí compartir con ustedes lo que fue ese día ya que recordar es vivir, a pesar de que no pude invitar a mis amigas por el tema de la pandemia la pase muy bien, desde hace tiempo quería una fiesta con el motivo de Neon y mi mamá hizo lo posible por que así fuera.
Hello friends, how are you? Today I was remembering my 17th birthday was exactly a month ago, I was looking at the pictures and decided to share with you what was that day because remembering is living, although I could not invite my friends because of the pandemic I had a great time, for a long time I wanted a party with the Neon theme and my mom did everything possible to make it happen.


Me llama mucho la atención el motivo de Neon ya que son colores fuertes y llamativos, lo que más quería era apagar las luces y que todo quedara alumbrado, pero, mi mamá y yo no encontramos los globos de Neon hicimos lo posible pero se nos complicó, encontramos unos rosados que nos dijeron que era de Neon pero a la noche cuando lo inflamos no alumbraba entonces no nos quedó de otra que comprar otro tipo de globos, no les voy a mentir me puse triste en ese momento pero también sabía que mi mamá estaba haciendo lo posible así que solo quise disfrutar mi día.
I am very attracted to the Neon motif because they are strong and flashy colors, what I wanted most was to turn off the lights and everything was lit, but my mom and I did not find the Neon balloons, we did our best but it was complicated, We found some pink ones that we were told were Neon balloons but at night when we inflated them they didn't light up so we had no choice but to buy another type of balloons, I'm not going to lie I was sad at that moment but I also knew that my mom was doing her best so I just wanted to enjoy my day.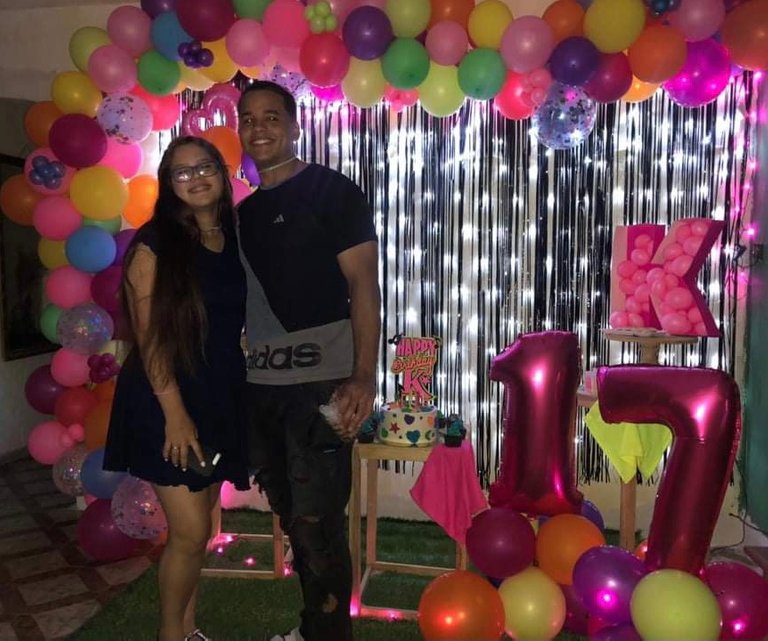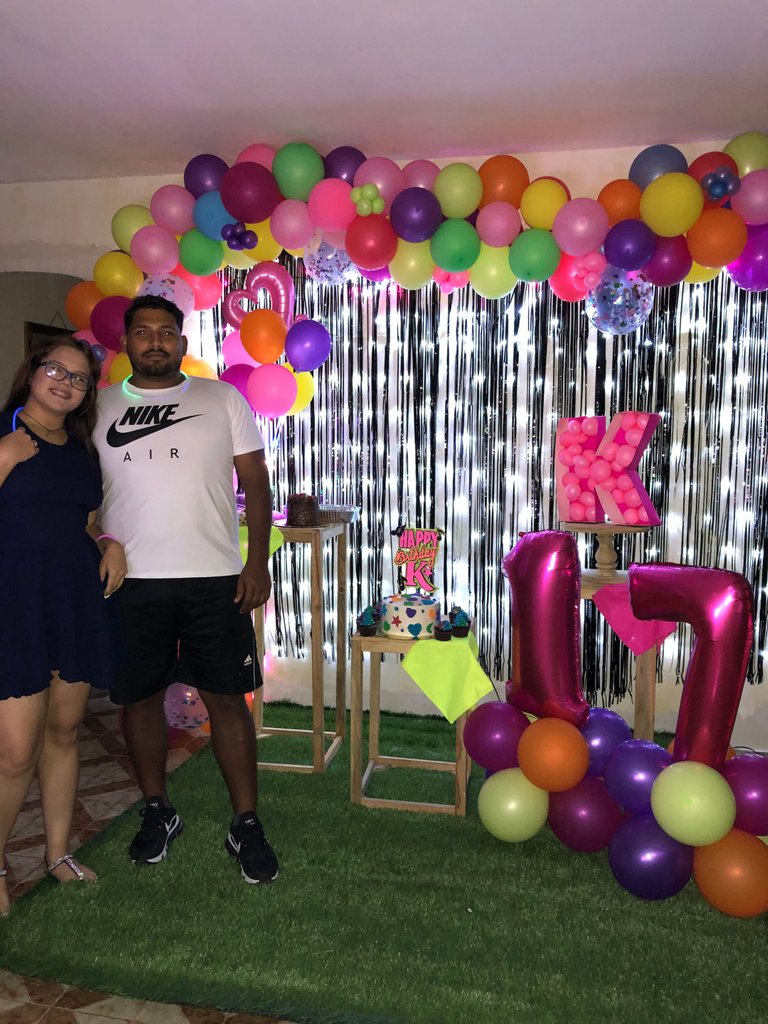 Mi torta se la encargamos a una vecina estaba rellena de marmoleada y terciopelo, los ponquesitos y pasapalos también lo hizo mi vecina todo estaba rico la verdad.
We ordered my cake from a neighbor, it was filled with marbled and velvet, the ponquesitos and pasapalos were also made by my neighbor, everything was delicious.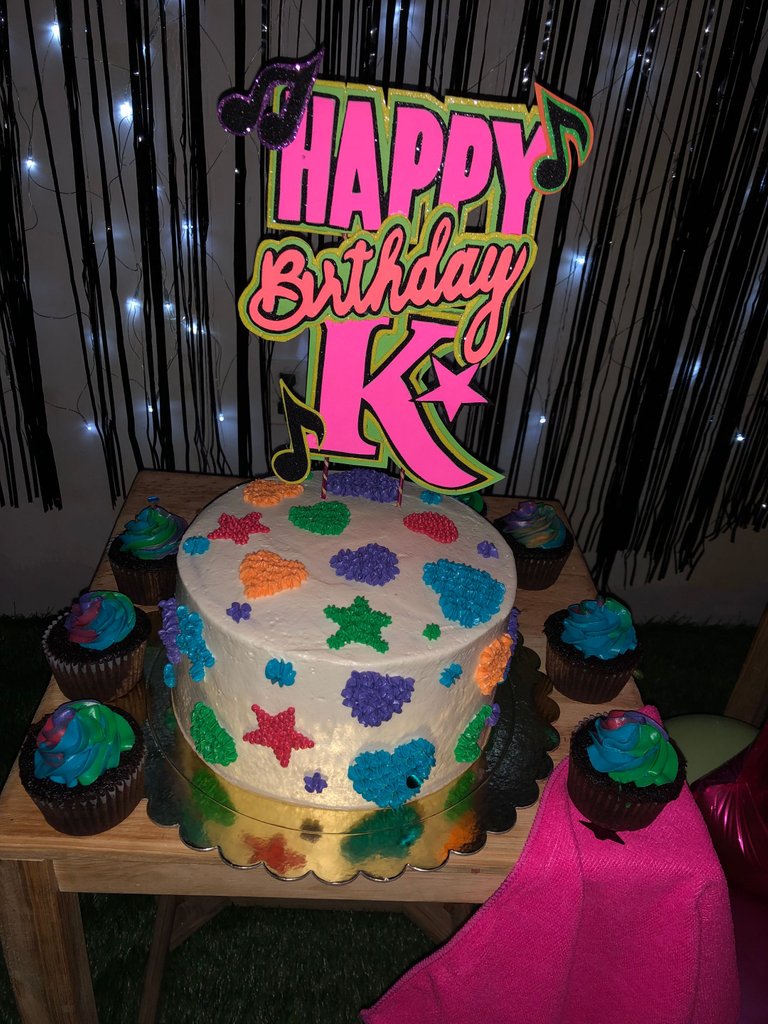 La decoración la hizo una amiga de mi mamá, ella puso las luces infló los globos todo estaba lindo gracias a ella.
The decorations were made by a friend of my mom's, she put up the lights and inflated the balloons, everything was beautiful thanks to her.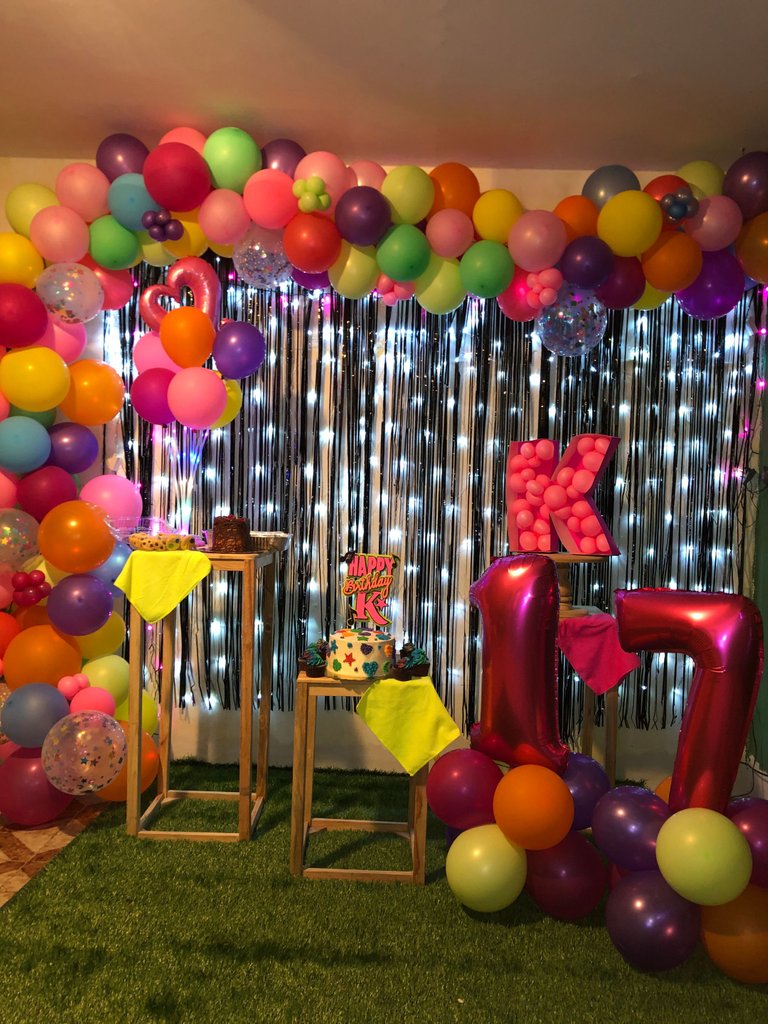 Mi mami compró unas pulseritas de neon fue lo único que alumbró, pero saben algo? Estaba feliz y agradecida con mi mamá y mi familia por que hicieron mi día especial y sobre todo estaba contenta, todo se veía exactamente como quería, gracias Dios por todo lo bueno que nos da♥️.
My mommy bought some neon bracelets was the only thing that lit up, but you know what? I was happy and thankful to my mom and my family because they made my day special and most of all I was happy everything looked exactly as I wanted, thank you God for all the good things he gives us♥️.
Les dejo estas foticos para que intenten hacer este motivo para un día especial , Gracias a ti por leerme y votarme, gracias.
I leave you these pictures so you can try to make this motif for a special day, Thank you for reading and voting for me, thank you.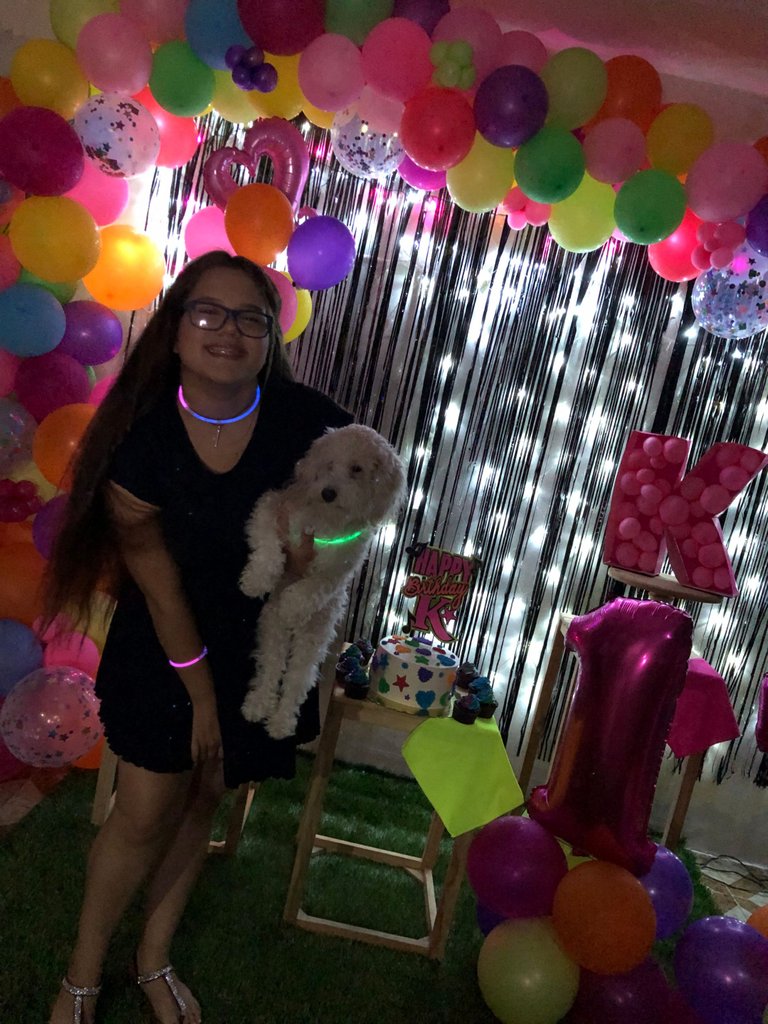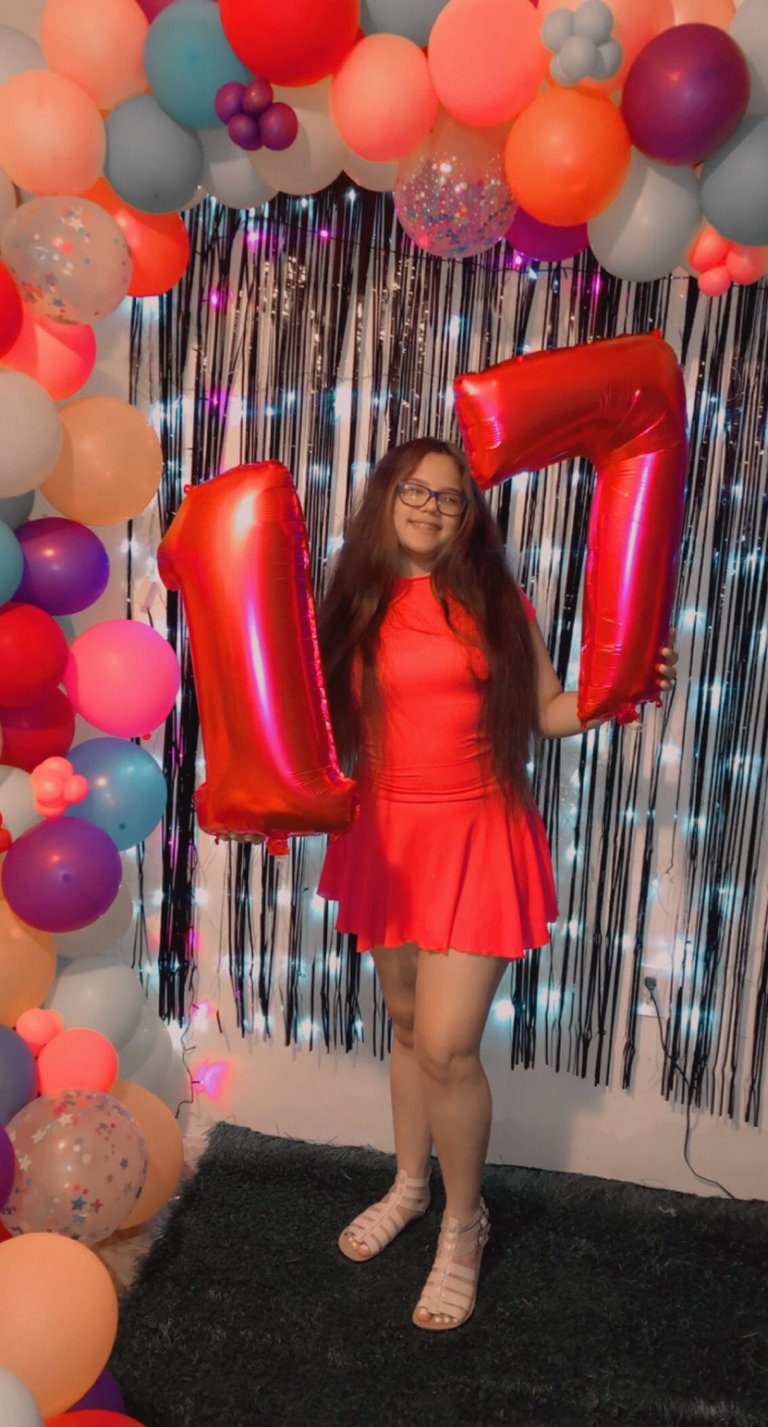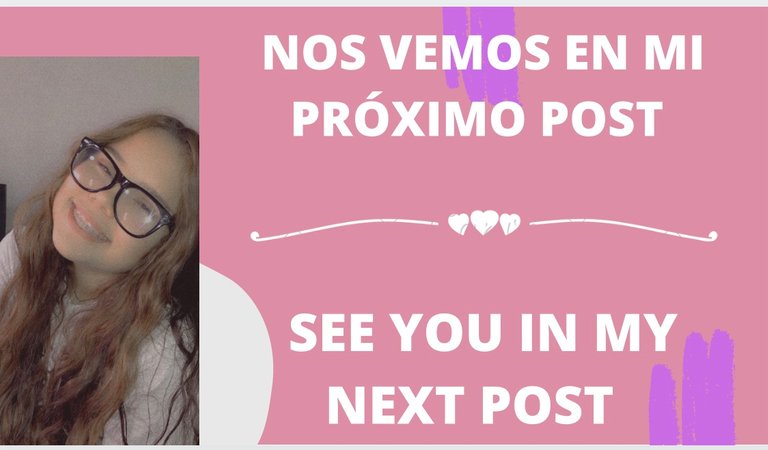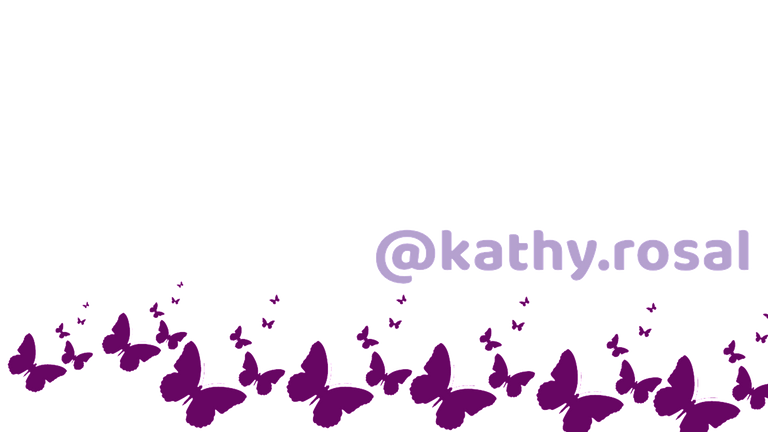 Todo el contenido es de mi Propiedad
All content is my Property
Traductor
DeepL