Story of a harassment / Based on real events
Fue en el 2013 cuando lo conocí, Allí estaba el, miradas iban y venían hasta que por fin se presentó, tenía unos meses en el país, pues vivió 5 años en el extranjero dónde dejó una hija y a su ex. Todo bien hasta allí, total, todos tenemos nuestro pasado. Habían quedado en buenos términos por el vínculo sagrado de un ser de luz de por medio, una hija, Que sin duda es, un vínculo de por vida.
Todo iba excelente. La conexión que hubo desde el principio era maravillosa. Conocí a sus padres y conoció a los míos. ¡Estábamos enamorados! Era lo que siempre había estado esperando... Bueno faltó que fuese millonario. ¡pero vaya! que yo tampoco soy Lady Di.
It was in 2013 when I met him, There he was, looks came and went until he finally showed up, he had a few months in the country, as he lived 5 years abroad where he left a daughter and his ex. Everything was fine until then, after all, we all have our past. They had been on good terms because of the sacred bond of a being of light in between, a daughter, which is undoubtedly a bond for life.
Everything was going excellent. The connection from the beginning was wonderful. I met her parents and she met mine, we were in love! It was what I had always been waiting for.... Well, he had to be a millionaire, but hey, I'm not Lady Di either!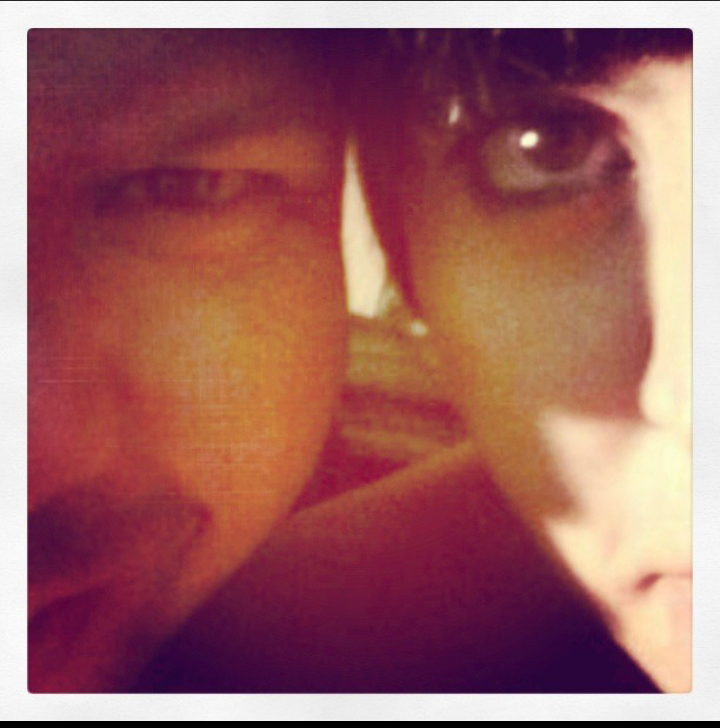 EMPIEZA LA PESADILLA
Me active en las redes sociales y alguien bajo el anonimato empezó a seguirme y escribirme mensajes para que "Me diera cuenta de la verdad" Cada día se hacía más intenso, y lo que empezó como unos mensajes extraños de la nada se empezó a convertir en mí peor pesadilla.
Se trataba de su ex, lo supe desde el principio, ese sexto sentido inevitable que llevamos y sabemos todo, sin saber nada. Un día coloque un "Tweet" que desato su furia, era una foto de él y mía a meses de empezar a salir y en el pie de foto le dedique una canción a mi amado... Esa canción llevaba un estrofa con el nombre de ella, era mi forma de hacerle saber que sabia quien estaba detrás de esa cuenta anónima.
THE NIGHTMARE BEGINS
I became active on social networks and someone under anonymity began to follow me and write me messages so that "I would realize the truth" Every day it became more intense, and what started as a few strange messages out of nowhere began to become my worst nightmare.
It was about his ex, I knew it from the beginning, that inevitable sixth sense that we carry and we know everything, without knowing anything. One day I posted a "Tweet" that unleashed his fury, it was a picture of him and me months after we started dating and in the caption I dedicated a song to my beloved.... That song had a verse with her name, it was my way of letting her know that I knew who was behind that anonymous account.
De mensajes "aconsejándome para que abriera los ojos" empezó un ataque voraz, siguió a mis amigos en Facebook y desde la misma cuenta que me escribía al principio colocaba fotos mías robadas de las cuentas de mis amigos, en esas fotos que publicaba ofrecía "SEXO GRATIS" Averiguo donde trabajaba, y colocaba el numero de teléfono de mi oficina para los "ofertantes" y del ataque de internet salto a mí día a día, llamaba TODOS LOS DIAS a mi oficina, a la recepción principal, día y noche, sin falta, colgaba si yo contestaba, empezó a escribirle a MI FAMILIA, A MI MAMA, A MIS AMIGOS, cada día, por un mes entero, sin falta. El teléfono sonaba incansablemente, me atacaba por todos los espacios virtuales posibles, burlas por mi peso, "GORDA" "ERES UNA PUTA" "PARECES UN TRANSFOR" "A QUIEN LE HACE FALTA UNA MAMADA GRATIS" "LESBIANA" y todo lo que se puedan imaginar escribía sin cesar acompañada de mis fotos y etiquetaba gente que pudiese conocerme, Tuve que pedir vacaciones en mi trabajo, de verdad logro desestabilizarme por completo. No entendía como podía atacarme a mí, y no a la persona que se supone que la traiciono, el papá de su hija.
From messages "advising me to open my eyes" began a voracious attack, he followed my friends on Facebook and from the same account that he wrote to me at the beginning he posted pictures of me stolen from my friends' accounts, in those pictures he offered "FREE SEX" He found out where I worked, and posted the phone number of my office for the "bidders" and from the internet attack he jumped to me day by day, he called EVERY DAY to my office, to the main reception, day and night, without fail, he hung up if I answered, he started to write to MY FAMILY, MY MOM, MY FRIENDS, every day, a whole month, without fail. The phone rang tirelessly, he attacked me through all possible virtual spaces, mocking my step, "LESBIAN" " FAT" "YOU ARE A WHORE" "YOU LOOK LIKE A TRANSFOR" "WHO NEEDS A FREE BLOWJOB" and everything you can imagine he wrote incessantly accompanied by my photos and tagged people who might know me, I had to ask for vacation from my job, he really managed to destabilize me completely. I didn't understand how she could attack me, and not the person who was supposed to betray her, her daughter's father.
Capturas reales de la red social twitter / Real screenshots of the twitter social network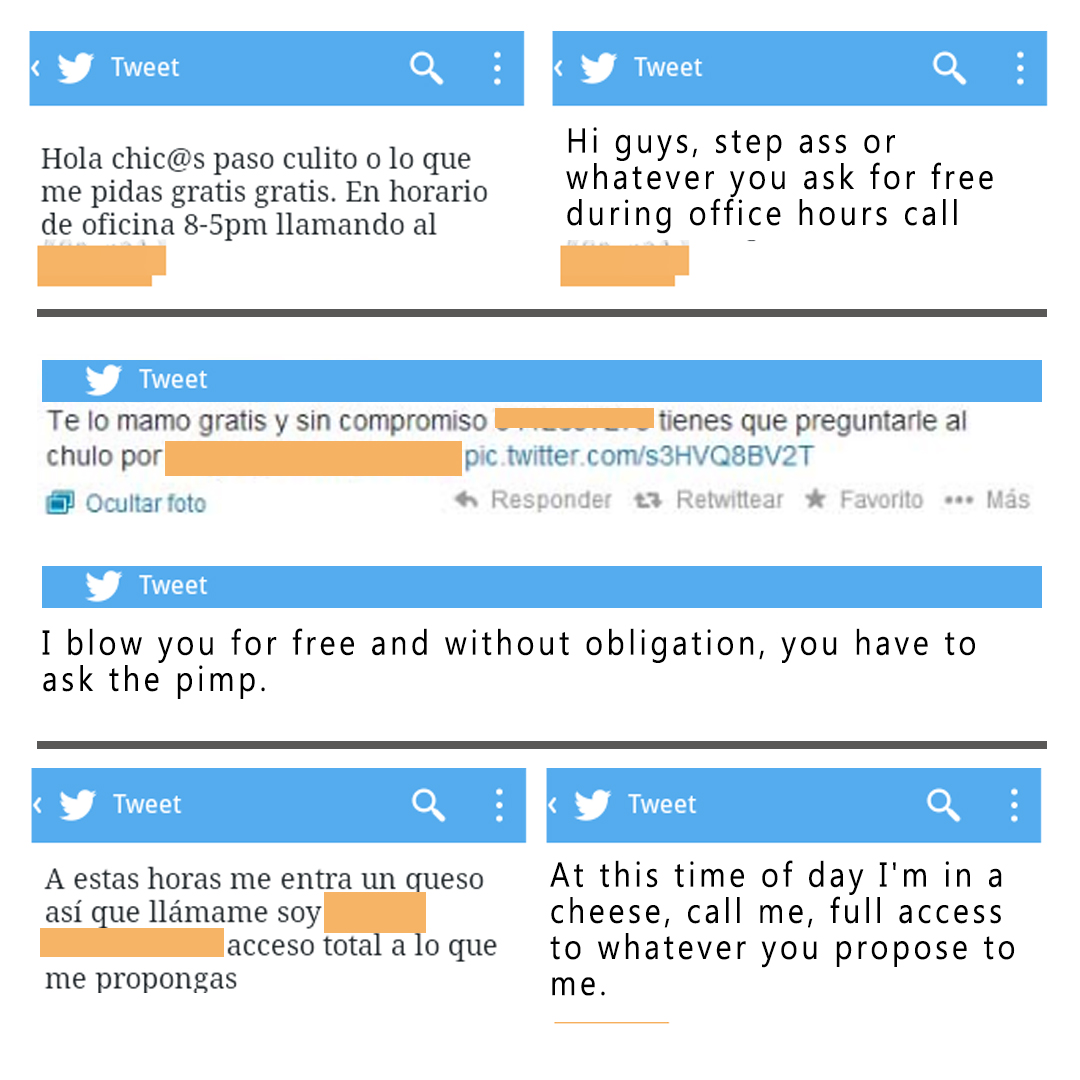 Resulta que efectivamente, ese amor bonito del que estaba feliz de haber encontrado finalmente y era "casi perfecto" empezó con una mentira de la que yo no tenia idea. No habían terminado del todo, el prometió trabajar y hacer vida para traerlas a ellas y seguir juntos como familia. Me destrozo por completo, era un torbellino de sensaciones que nunca en mi vida había sentido antes. No se ni como explicarlo.
COMO TERMINO EL ATAQUE
Después de que entero de todo eso intente hablar con ella, pues seguía llamando, escribiendo, publicando, ME ATACABA A MI, y por supuesto negaba completamente ser ella quien lo hacía, "YO NO TENGO TIEMPO PARA ESO" decía. "TENGO UNA HIJA DE LA ME TENGO QUE OCUPAR". "SOY Evangélica; NUNCA HARIA ALGO ASI"
Yo mientras denuncie el ataque por acoso en los entes en mí país y en el que se encontraba ella, pero me hicieron caso omiso, lo ciberataques en ese momento (2014) no se tomaban en cuenta, o dependía si eras la hija de un alcalde en Venezuela pues rapidito tomaban acciones, no logre si no frustrarme más, no había nadie que me ayudara, y esto me afectaba más de lo que había querido aceptar. La humillación era total.
It turns out that indeed, this beautiful love that I was happy to have finally found and was "almost perfect" started with a lie that I had no idea about. It wasn't over at all, he promised to work and make a life to bring them back and continue together as a family, it completely destroyed me, it was a whirlwind of feelings I had never felt before in my life. I don't even know how to explain it.
HOW THE ATTACK ENDED
After I found out about all that I tried to talk to her, she kept calling, writing, posting, ATTACKING ME, and of course she completely denied that she was the one doing it, "I DON'T HAVE TIME FOR THAT" she said. "I HAVE A DAUGHTER I HAVE TO TAKE CARE OF". "I'M AN EVANGELICAL; I WOULD NEVER DO ANYTHING LIKE THAT."
I denounced the attack for harassment in the entities in my country and in the one where she was, but they ignored me, cyber attacks at that time (2014) were not taken into account, or it depended if you were the daughter of a mayor in Venezuela because they quickly took action, I could only get more frustrated, there was no one to help me, and this affected me more than I had wanted to accept. The humiliation was absolute.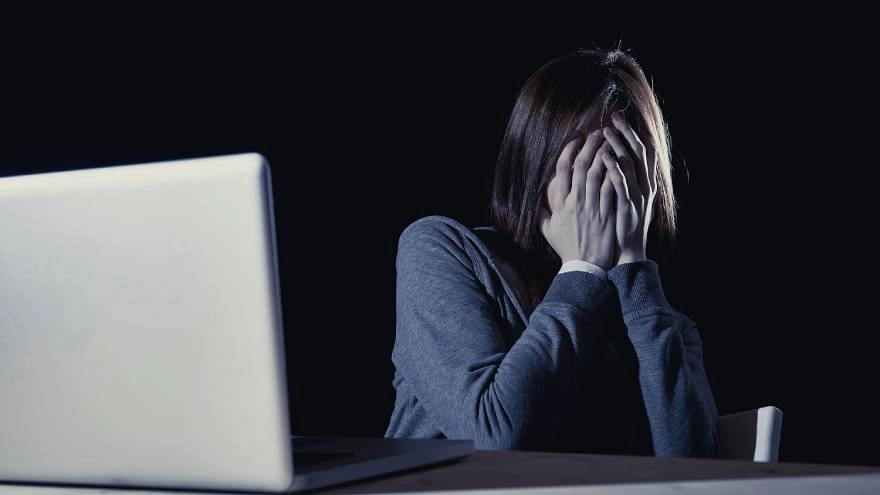 FOTO TOMADA INTERNET / PHOTO TAKEN FROM INTERNET // GOOGLE IMAGE
Irónicamente mi "Salvación" fue ponerme de tu a tu con su acoso, así que cree una cuenta con su cara, fotos, datos, que supiera que sabia que era ella aunque siguiera negandolo, un día encontré un disco duro ¡BINGO! tenia fotos "artísticas" de ella desnuda y aunque de verdad me dieron muchas ganas de hacer exactamente lo mismo que me hizo a mí, y vaya que yo si tenia material ... No pude, lo máximo que hice fue enviarle un correo con esas fotos, la amenace con publicarlas con textos igual o peor que los que ella me había hecho, a todas estas ella no me contestaba en su afán de negar que tenia algo que ver. Pero a partir de ese momento la cuenta fue eliminada. No me siento orgullosa de eso, pero fue la única manera de que parara de atacarme. De meterse con un persona que nunca la había visto, nunca supo de ella más allá que era la ex de mi pareja ni mucho menos tenia la intención de hacerle algún daño.
Ironically my "Salvation" was to get face to face with her harassment, so I created an account with her face, photos, data, so she would know that I knew it was her even though she kept denying it, one day I found a hard drive BINGO! it had "artistic" photos of her naked and although I really wanted to do exactly the same thing she did to me, and I had material .... I could not, the most I did was to send her an email with those photos, I threatened to publish them with texts equal or worse than the ones she had done to me, she did not answer me in her eagerness to deny that she had anything to do with it. But from that moment on the account was deleted. I am not proud of that, but it was the only way to stop her from attacking me. Of messing with a person who had never seen her, never knew about her beyond the fact that she was my partner's ex, much less had the intention of hurting her in any way.
LAS CONSECUENCIAS
Después de meses separados por toda esta situación, y ya destapada toda la verdad, encontré una conversación de el hacia ella pidiéndole perdón, que no esperaba enamorarse de otra persona pero que le había sucedido y no sabia como explicarlo ni a ella ni a mí, puede parecer inocente de mi parte pero me pareció una conversación honesta. Decirle algo así alguien y más sin saber que yo lo leería (¡es que hombre! después de lo que me paso uno se vuelve casi hacker) y la verdad es que me enamore, y me ha demostrado día a día que después de ese torbellino podemos con cualquier cosa juntos. Tenemos 8 años juntos.
Sin embargo y como no todo es color de rosa, desde que finalizaron los ataques ella le quito el acceso total y absoluto a su hija. El tiene 7 años sin hablar con la nena, viéndola solamente en fotos que le pasan amigos en común y por esa parte ha sido duro para el, pero estoy segura de que algún día se encontraran, que "CORAZON" sabrá las razones por lo que no supo de el en todo este tiempo, y espero lo pueda escuchar, porque, como dije desde el principio, es el vinculo más sagrado e inevitable de por vida.
Gracias por llegar hasta el final de esta historia. BASADA EN HECHOS REALES.
THE CONSEQUENCES
After months separated by this whole situation, and already uncovered the whole truth, I found a conversation from him to her asking for forgiveness, that he did not expect to fall in love with someone else but that it had happened and did not know how to explain it neither to her nor to me, it may seem innocent on my part but it seemed to me an honest conversation. To say something like that to someone and more without knowing that I would read it (it's that man! after what happened to me one becomes almost hacker) and the truth is that I fell in love, and she has shown me day by day that after that whirlwind we can with anything together. We have 8 years together.
However, since the attacks ended, she has taken away total and absolute access to her daughter. He hasn't spoken to her for 7 years, seeing her only in pictures that friends in common pass to him and for that reason it has been hard for him, but I am sure that someday they will meet, that "HEART" will know the reasons why she didn't hear from him all this time, and I hope she can listen to him, because, as I said from the beginning, it is the most sacred and inevitable link for life.
Thank you for making it to the end of this story. BASED ON REAL EVENTS.