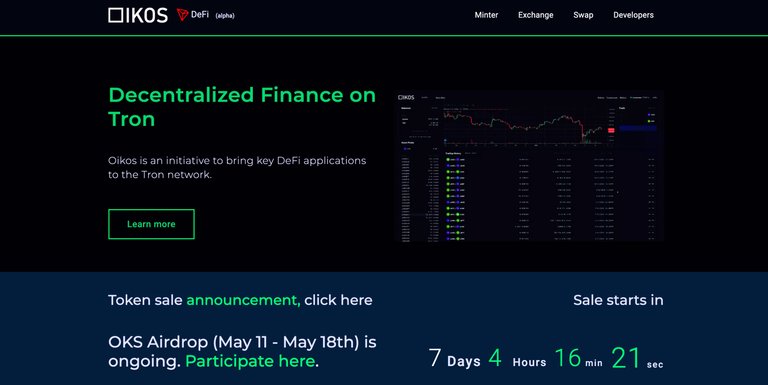 What up STACKERS!
I'm going to keep this post real simple. I've earned so many cryptos from Free Airdrops in the past few years and easily made thousands of dollars by just participating.
Yeah, I know there were lots of projects that failed but the ones the succeeded like Energi and Hex that currently made people fortunes.
Well, guess what? There is a new Free Airdrop by a new project called OIKOS!
What is OIKOS?
Oikos is an initiative to bring key DeFi applications to the Tron (TRX) network. )Yes, I still do own a few bags of TRX and Shit Coins haha). 🤷‍♂️
If you want to claim the OIKOS Airdrop, all you have to do is spend a few seconds and enter your information. The only thing you need is a tron address and a telegram username.
You can Claim Your Free OIKOS Airdrop Right Here...
What is the number of tokens you can get? It will depend on how many people will participate in the Airdrop and you earn lots more by telling your friends about it.
The Airdrop will end a few days and its first come, first serve kinda bases. Be sure not to miss out and get your tokens.
Once again, here is the link and good luck guys... and like always...
Keep on STACKIN! 😎
~ Charles Fuchs
For those who's interested in following my "Content" and "Daily" Posts... you can just follow me @stackin to get my updates.
You Can Follow Me Here:
➡️ UpTrennd: https://uptrennd.stackin.co
➡️ Facebook: https://facebook.stackin.co
➡️ Twitter: https://twitter.stackin.co
➡️ Instagram: https://instagram.stackin.co
➡️ Hive: https://hive.stackin.co
---
PI NETWORK: Pi is a new digital currency you can mine on your mobile phone for free without draining the battery or using data. Use The Referral Code: ( stackin ) to be on my personal team.
---
CRYPTO.COM: Get The World's First ELITE Cryptocurrency MCO Debit Card and we both get $50! NOTE: You must stake 50 MCO to get the $50 + 2% cashback on all purchases. Must use Ref code: ( mqanqykcym )
---
CLAIM YOUR FREE HEX TOKENS - The first high interest blockchain Certificate of Deposit (time deposit) that is designed to go higher, faster and retain its value.
---