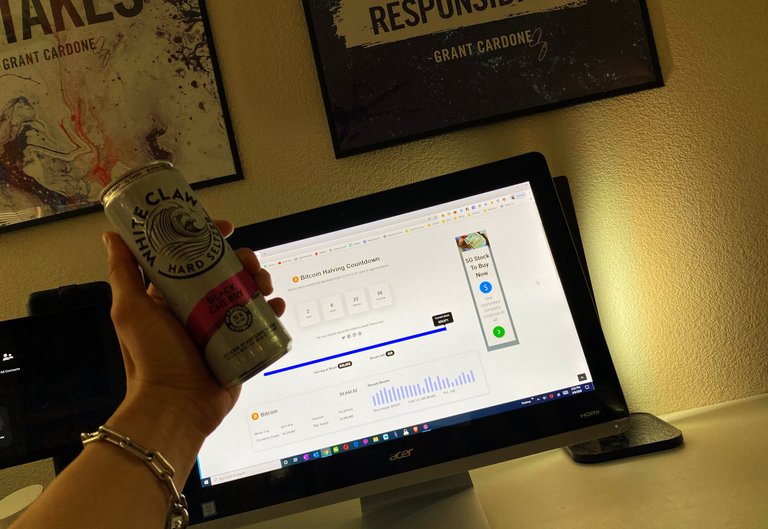 It's finally here, The Bitcoin Halving (when 12.5 BTC is reduced to 6.75 BTC per block) is just 24 hours away and the FOMO is here! 💁‍♂️
The main question is... will Bitcoin PUMP or Dump hard after the halving. No one knows for sure! It's all based on opinion and speculation. 🤷‍♂️
I'm a huge believer in Bitcoin (long term of course: 5-10 years) and whatever happens with the price ($8,817 as I write this) from here is anyones guess.
With the upcoming economic collapse (depression) rearing its dirty head onto the world, it may take some time before we see BTC going to the moon. 🚀 🌝
I can't see the "average joe" buying BTC anytime soon. How can they if most people are jobless, broke, hungry, in debt, can't pay rent, have no savings etc... etc... I don't think they will care about BTC, only for survival.
However, I can be completely wrong... and BTC can go hundreds of thousands of dollars and everyone will become filthy rich (I highly doubt it though) in the short and mid-term time frames (1-4 years).
The one thing that I can say about BTC is that it's an exciting asset that the world have never seen before and its potential is limitless.
What are your thoughts? Are we about to PUMP or Dump after the halving?
Keep on STACKIN! 😎
~ Charles Fuchs
For those who's interested in following my "Content" and "Daily" Posts... you can just follow me @stackin to get my updates.
You Can Follow Me Here:
➡️ UpTrennd: https://uptrennd.stackin.co
➡️ Facebook: https://facebook.stackin.co
➡️ Twitter: https://twitter.stackin.co
➡️ Instagram: https://instagram.stackin.co
➡️ Hive: https://hive.stackin.co
---
PI NETWORK: Pi is a new digital currency you can mine on your mobile phone for free without draining the battery or using data. Use The Referral Code: ( stackin ) to be on my personal team.
---
CRYPTO.COM: Get The World's First ELITE Cryptocurrency MCO Debit Card and we both get $50! NOTE: You must stake 50 MCO to get the $50 + 2% cashback on all purchases. Must use Ref code: ( mqanqykcym )
---
CLAIM YOUR FREE HEX TOKENS - The first high interest blockchain Certificate of Deposit (time deposit) that is designed to go higher, faster and retain its value.
---