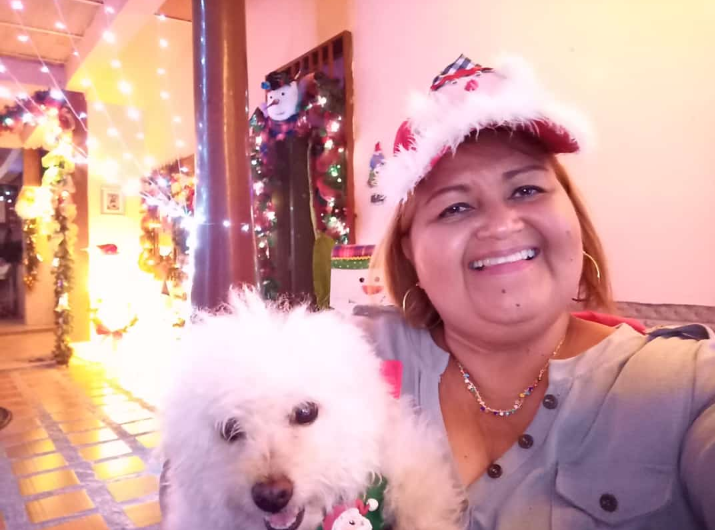 ---

---
Ayer fue un día muy especial estimados amigos de #Hive, celebramos la Navidad en familia. Otro año que se va, falta poco para culminar el 2021 y entrar al 2022. La alegría en cada hogar y de la mejor forma celebrar. Estoy acostumbrada a pasar el día en familia, allí comenzamos a realizar los preparativos todo para la noche. Aquí una foto con "Jade", la mascota de mi hermana, dulce y muy juguetona.
Yesterday was a very special day dear friends of #Hive, we celebrated Christmas as a family. Another year that is gone, there is little left to finish 2021 and enter 2022. The joy in each home and in the best way to celebrate. I am used to spending the day with my family, there we began to make preparations for the night. Here is a photo with "Jade", my sister's pet, sweet and very playful.



---

---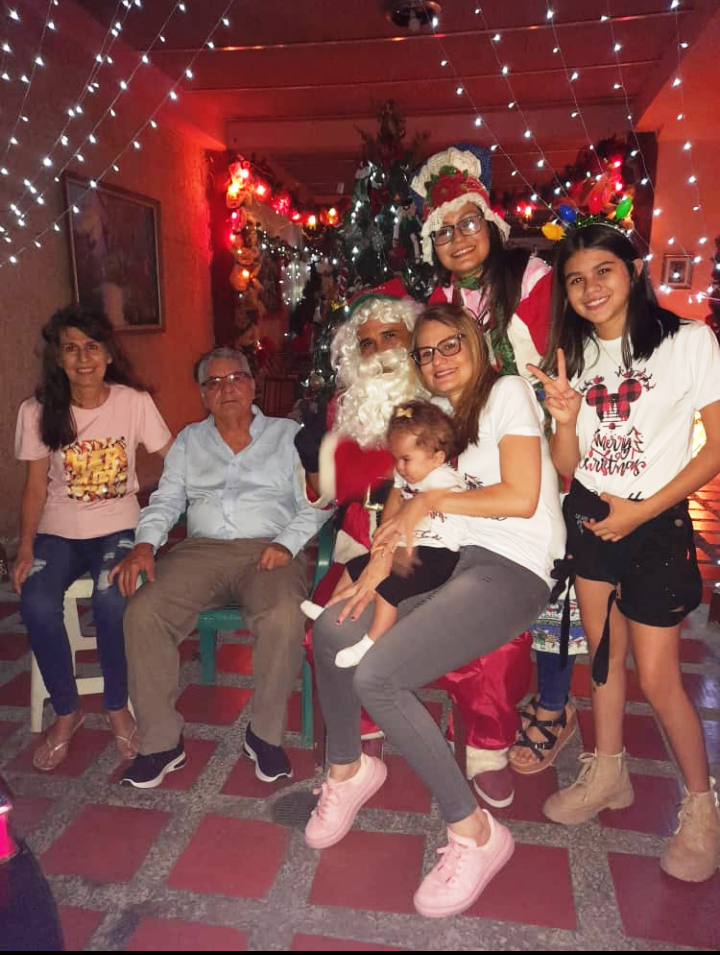 ---
Cada año nos reunimos con mi comadre y compadre, este año adorné la casa de la mejor forma posible, coloqué muchas luces y adornos, hasta Papá Noel nos acompañó anoche con mis ahijadas.
Every year we meet with my godmother and godfather, this year I decorated the house in the best possible way, I placed many lights and decorations, even Santa Claus accompanied us last night with my goddaughters.



---

---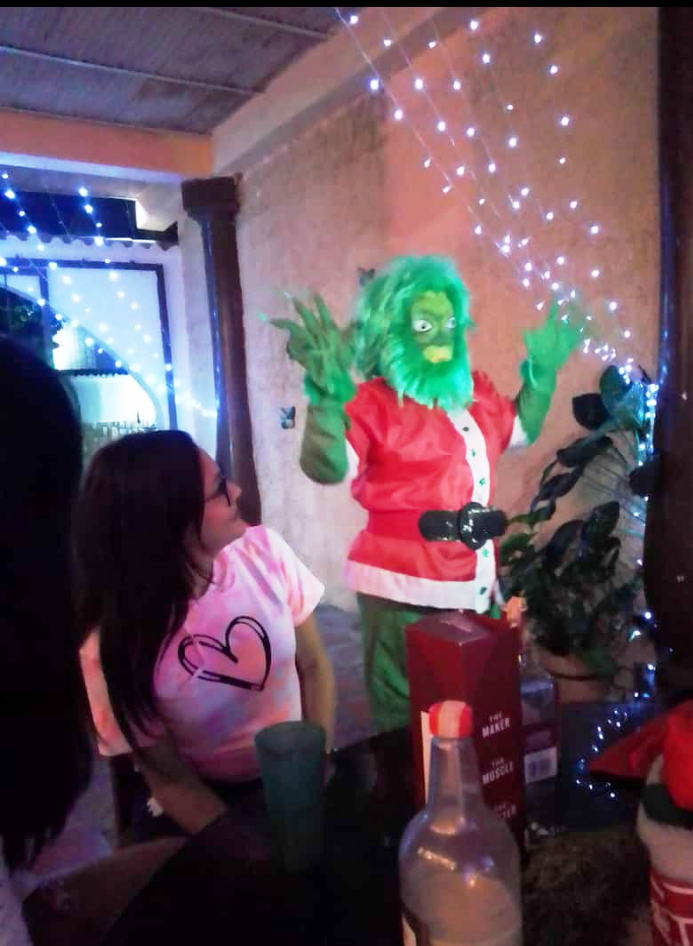 ---
Apareció mi disfraz del "Grinch", realmente el espectáculo de la noche, fue la diversión total, un 24 de Diciembre muy alegre, mucha diversión.
My "Grinch" costume appeared, really the show of the night, it was total fun, a very happy December 24, a lot of fun.



---

---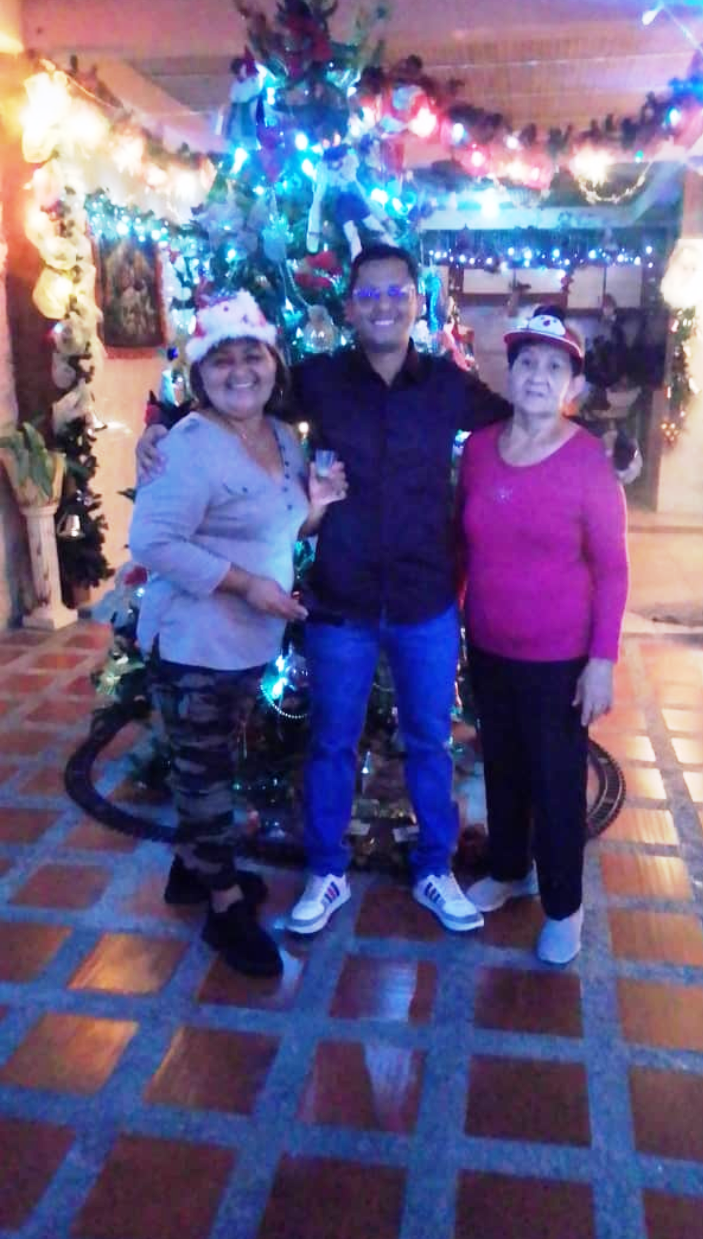 ---
Aquí con mi hijo menor y mi madre delante del arbolito, ya preparados y esperando la visita. A pesar de todo tenemos salud y eso es lo más importante y estar juntos.
Here with my youngest son and my mother in front of the tree, already prepared and waiting for the visit. In spite of everything we have health and that is the most important thing and to be together.



---

---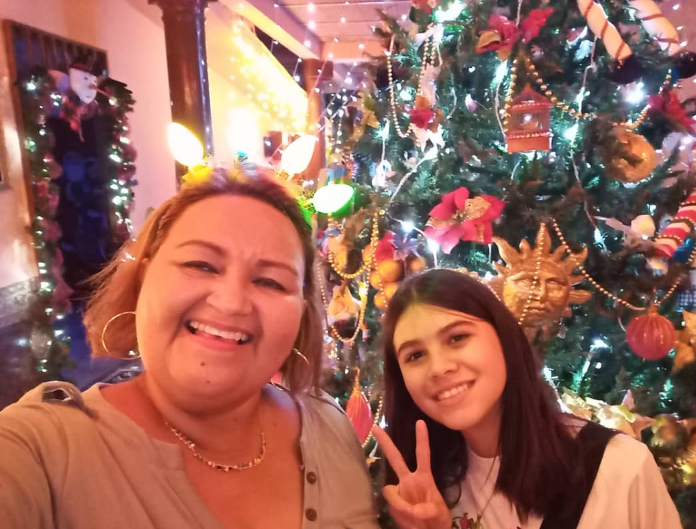 ---
Mi ahijada "Nicol" a la espera de Santa Claus y el Grich. El el fondo mi arbolito y sus luces que lo adornan.
My goddaughter "Nicol" waiting for Santa Claus and the Grich. The background is my little tree and its lights that adorn it.



---

---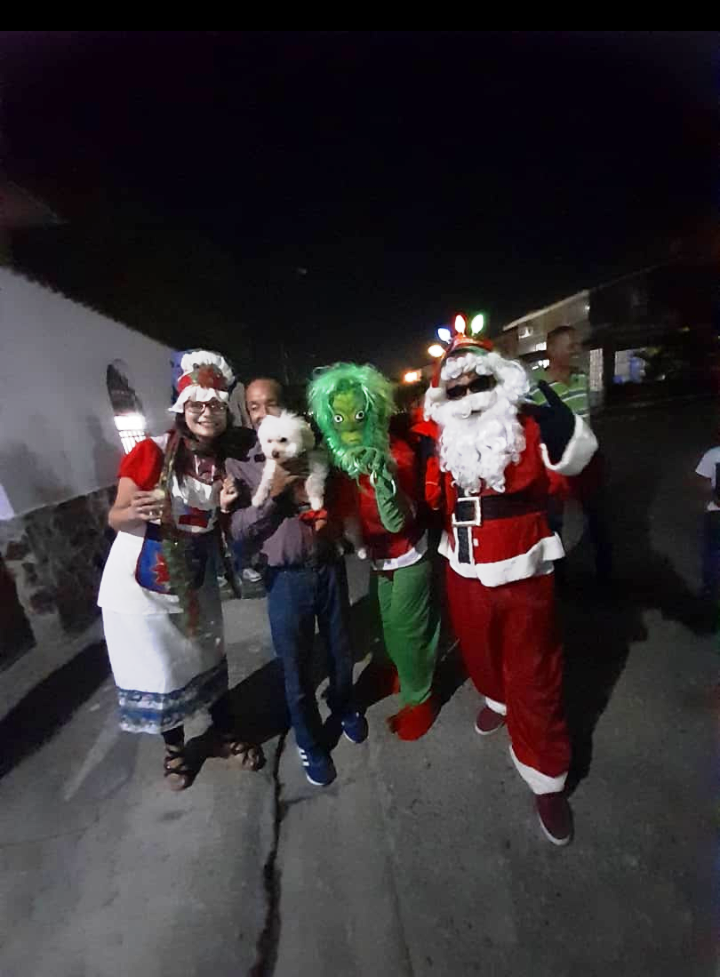 ---
Salimos a la calle a celebrar con los vecinos, mi ahijada "Andreina" vestida de la esposa de Santa Claus, mi cuñado "Ulises", el Grinch y Santa Claus.
We went out to celebrate with the neighbors, my goddaughter "Andreina" dressed as Santa's wife, my brother-in-law "Ulises", the Grinch and Santa Claus.



---

---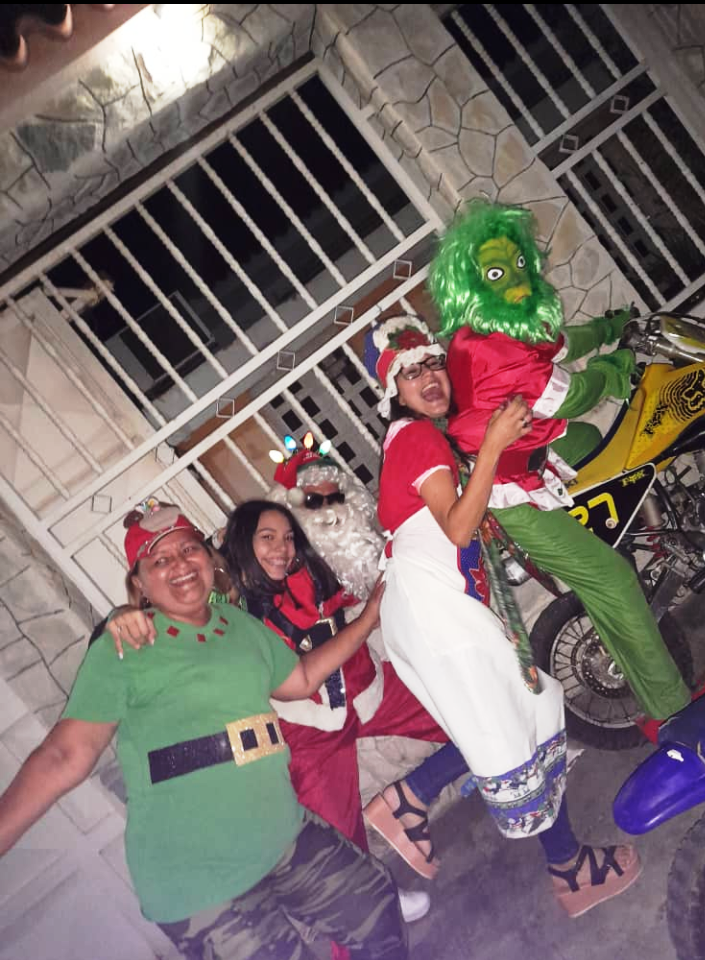 ---
Otro de los mejores momentos de felicidad de esté 24 de diciembre, muy agradable y divertido. A pesar de la Pandemia del Covid-19 y ya todos vacunados hace tener un poco más de confianza de parte de nosotros para estar juntos.
Another of the best moments of happiness of this December 24, very pleasant and fun. Despite the Covid-19 Pandemic and everyone already vaccinated, it makes us have a little more confidence to be together.



---

---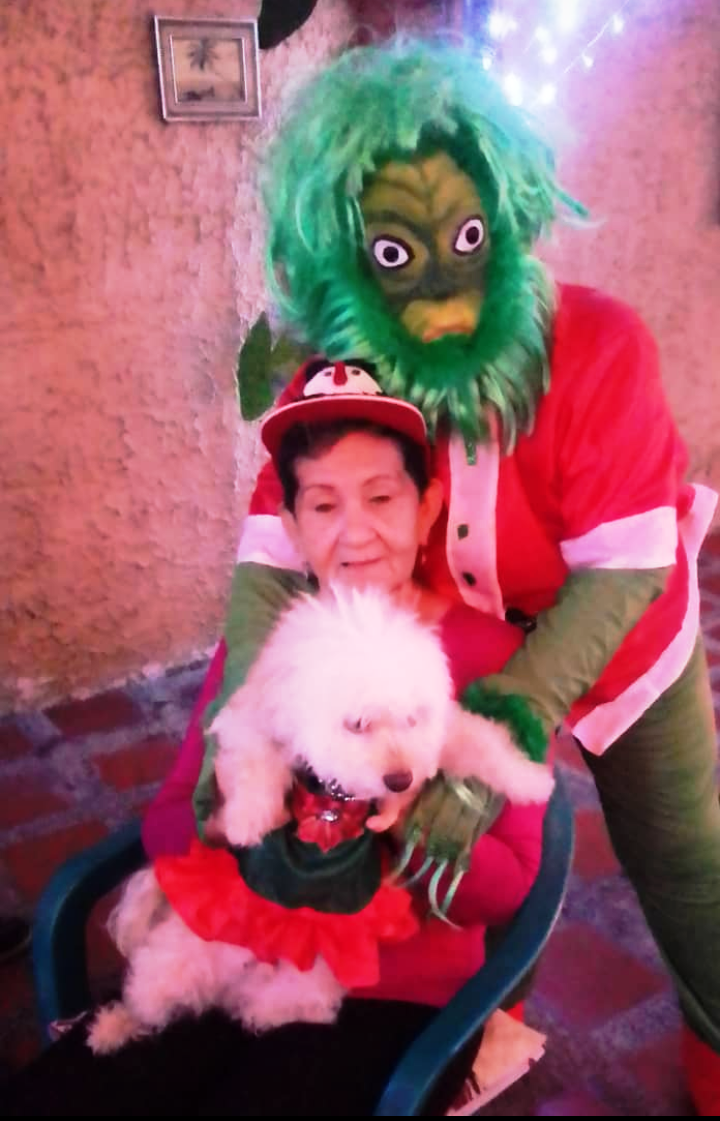 ---
Pero el "Grinch" fue la sensación de la noche, aquí sorprendiendo a mi madre y a Jade ya disfrazada.
But the "Grinch" was the sensation of the night, here surprising my mother and Jade already in disguise.



---

---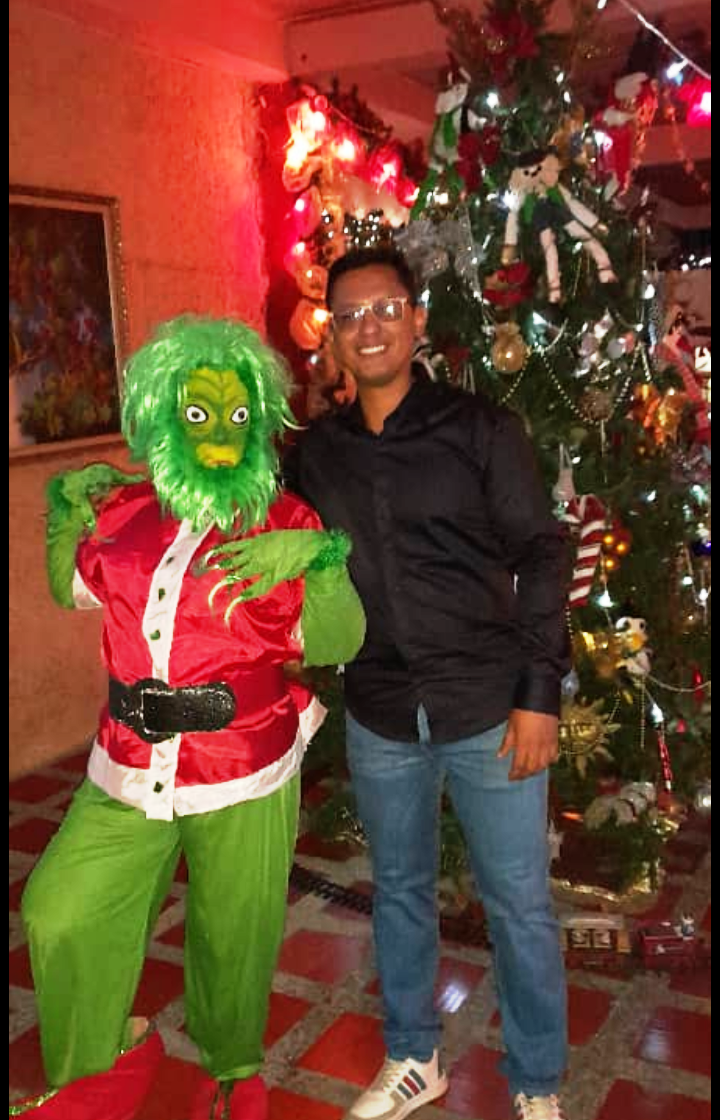 ---
Aquí con mi hijo menor y ya disfrazada, el disfraz del "Grinch" gustó tanto, que casi todos no los pusimos, recorrió la noche pura diversión.
Here with my youngest son and already disguised, the "Grinch" costume was so popular that almost all of us did not put them on, he went through the night pure fun.



---

---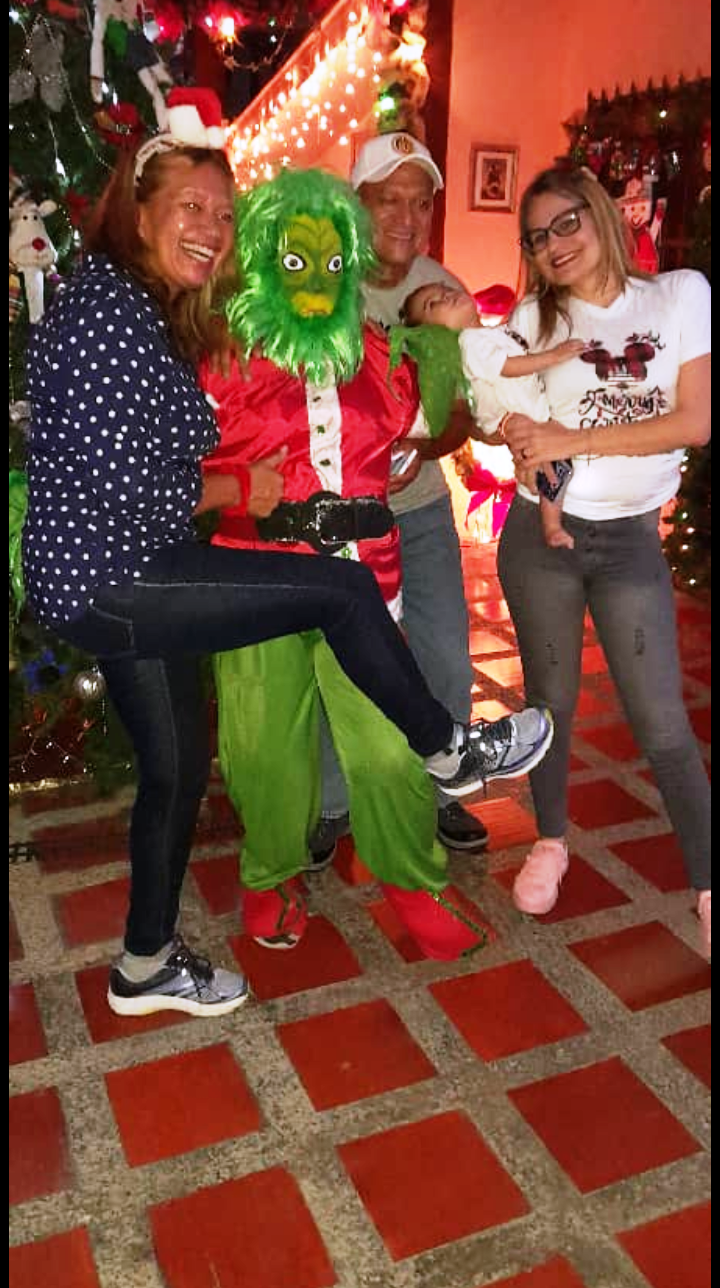 ---
Mi hermana Yadira, mi hermano Ali, mi ahijada Vanessa con su hija Zoe, en otra de las famosas fotos con el "Grinch". Quiero compartir con ustedes amigos de #Hive este momento tan especial que disfrute mucho y se paso de la mejor forma, sólo les deseo paz, amor y mucha salud, mucha felicidad.
My sister Yadira, my brother Ali, my goddaughter Vanessa with her daughter Zoe, in another of the famous photos with the "Grinch". I want to share with you friends of #Hive this special moment that I enjoy a lot and it happened in the best way, I only wish you peace, love and good health, a lot of happiness.



---

---
Otras de mis publicaciones/Other of my publications
---
---

---
Las fotos son de mi propiedad tomadas con mi celular Blu C5L
---
The photos are my property taken with my Blu C5L cell phone
---
CONTENIDO 100% ORIGINAL
100% ORIGINAL CONTENT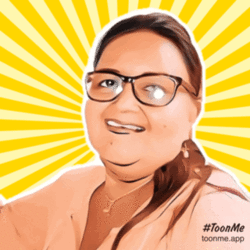 Los gif fueron creados por el programa ToonMe.app y EzGifMaker
The gifs were created by the ToonMe.app program and EzGifMaker