The same thing I'm thinking about. About money.
According to scientists, the average person has about 60,000 thoughts during the day - that is, one thought for every waking second.
95% of them are repetitive.
And most of them are thoughts about money.
How often do you think about money? How many times a day? Really?
It seems to me that most people have one main topic on their mind at all times. It's what a person starts thinking about when they let their thoughts flow freely. These are the thoughts that come into your head subconsciously, even when you're not trying to think purposefully.
I think a lot of people are not sure exactly what thought is going through their head right now. I myself am often mistaken about this. Often I take as the main idea the one I would like to see as the main idea, and not the one that is actually the main idea.
And if we look at our lives with an open mind, the first thing we see is our complete dependence on what we think.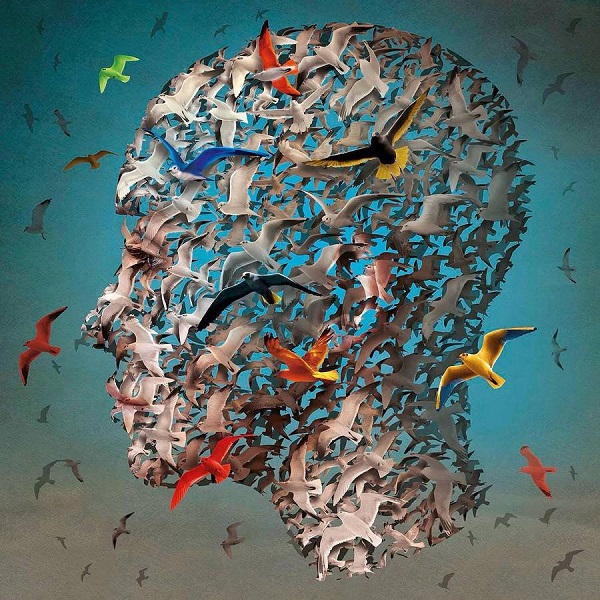 source
Some time ago, I noticed that the more I needed money, the more I thought about it, the more I felt dependent and devoted to it. Thinking about money largely determines my mood and guides most of my actions, and it brings constant tension, drains energy, deprives me of awareness, and brings constant frustration.
And this realization was a lesson to me: look closely at what you are letting become most important to you.
Money is undoubtedly very important to our lives. And we're not going anywhere from taking care of them. But any fixation on money is a source of tension and discomfort. Whether it's a fixation on trying to earn more or on trying to keep and increase what you already have. As Jean Paul Getty said, "If you don't have money, you think about money all the time. If you have money, all you think about is money."
Sooner or later money (thoughts of money) quietly supersedes all other thoughts and begins to own you. After all, the law of concentration says that the more you think about something, the deeper it enters your life. And the less you think about something else. And you stop developing in all the other areas and directions that also require attention. You lose the ability to notice what is going on in you and around you, to find new interests, to have unusual experiences, to realize your freedom, to develop and improve, to enjoy life to the fullest.
We're all thinking about money here. So do I. Why? It's trivial - we need money all the time in order to meet our needs and enjoy ourselves. As Mario Puzo said, "Not worrying about money is almost the same as not worrying about death."
But what place does thinking about money constantly occupy in your head? Who owns the "controlling interest," who has 51% of all our thinking? What creates our conditions for joy and happiness, for contentment and inner harmony?
Many studies claim that our happiness depends on genetics by 50%, only 10% depends on external circumstances, and the remaining 40% is a result of the right attitude to life, to the world, to ourselves. It is a way of thinking, mental attitude, life habits and behavior patterns. It is the ability to be content and grateful for what we have (instead of suffering for what we do not have), the ability to enjoy simple things. It's the ability to create something new, it's the work that gives meaning to life. It is faith and optimism, living in the present instead of worrying about the future. It's the right way to set your goals and the right attitude to the results.
I think our platform provides a unique combination of opportunities for each person to find themselves, using different ways of motivation - both financial (earnings and investments) and non-financial (communication, knowledge, creativity, self-improvement, recognition).
But most often we set goals-results, such as: "I need to earn 1000 ROB for a month," "I have to write one post every day," etc. Instead of formulating a goal as a process, like continuous self-improvement - learning how to find new topics, improving my writing art, getting more enjoyment out of the creative process, etc.
Have you ever caught yourself thinking, "Why am I sitting here doing nothing? I have to do something! I need to work more! I need to publish something! I need to reach my financial goals!"
It seems to me that when you read any post, it is very noticeable with what prevailing thought and motivation it is written, although the author may not notice it.
I understand that goal setting, self-motivation, pumping up willpower and perseverance, which many people do, is important and right. And I respect strong people who can always manage themselves and achieve their goals.
But that's not about me. I've made sure that goals defined in dollars, hive or POB are not the main thing for me. And I prefer quality over quantity of posts.
I classify myself as a "free artist" who defies planning and compulsion, creating mostly by inspiration and a favorable inner state.
And I don't want to write for ROB just for the money. I don't want to force myself to publish something every day. Set myself goals expressed in the number of tokens I receive by a certain date. As strange as it sounds, I can't force myself to publish something in a contest just because it has a big prize pool and good rewards, if I feel and understand that I can't add anything new to what's been said.
I want to write what I am interested in. I want to share something that can be useful to someone. I want to develop and improve, learn something new, communicate with interesting people. I want to get both pleasure from the process and satisfaction from the result.
And if I also get paid, it will increase my joy and happiness, because it will be a confirmation of the value that I was able to pass on, a manifestation of attention and gratitude. And I will appreciate it more than the money.
I understand that everyone has their own hierarchy of needs and values, their own desires and aspirations, their own level of need for money.
Yes, earning money should be on your list of top priorities, everyone needs money, but it shouldn't be number 1 in your thoughts.
A sincere passion should always come first.
If you don't like the process - the result won't make you happy either.
Our brain is always working, and it is extremely difficult for us not to think about anything. You can't directly influence the free flow of your thoughts. But you can control them indirectly by controlling what you think about. As the saying goes, "We can't stop the birds from flying over our heads, but we can stop them from nesting on our heads.
So try to replace your thoughts about money with other thoughts. Lift up your head and think about what is really valuable and important to you that you haven't noticed or haven't paid enough attention to before. Make room for something new and unexpected.
And let it make you a little happier, both in your mind and in reality)
---
Posted via proofofbrain.io