To my soul,
Are you ever going to achive goodness? Ever going to be simple, whole, and naked?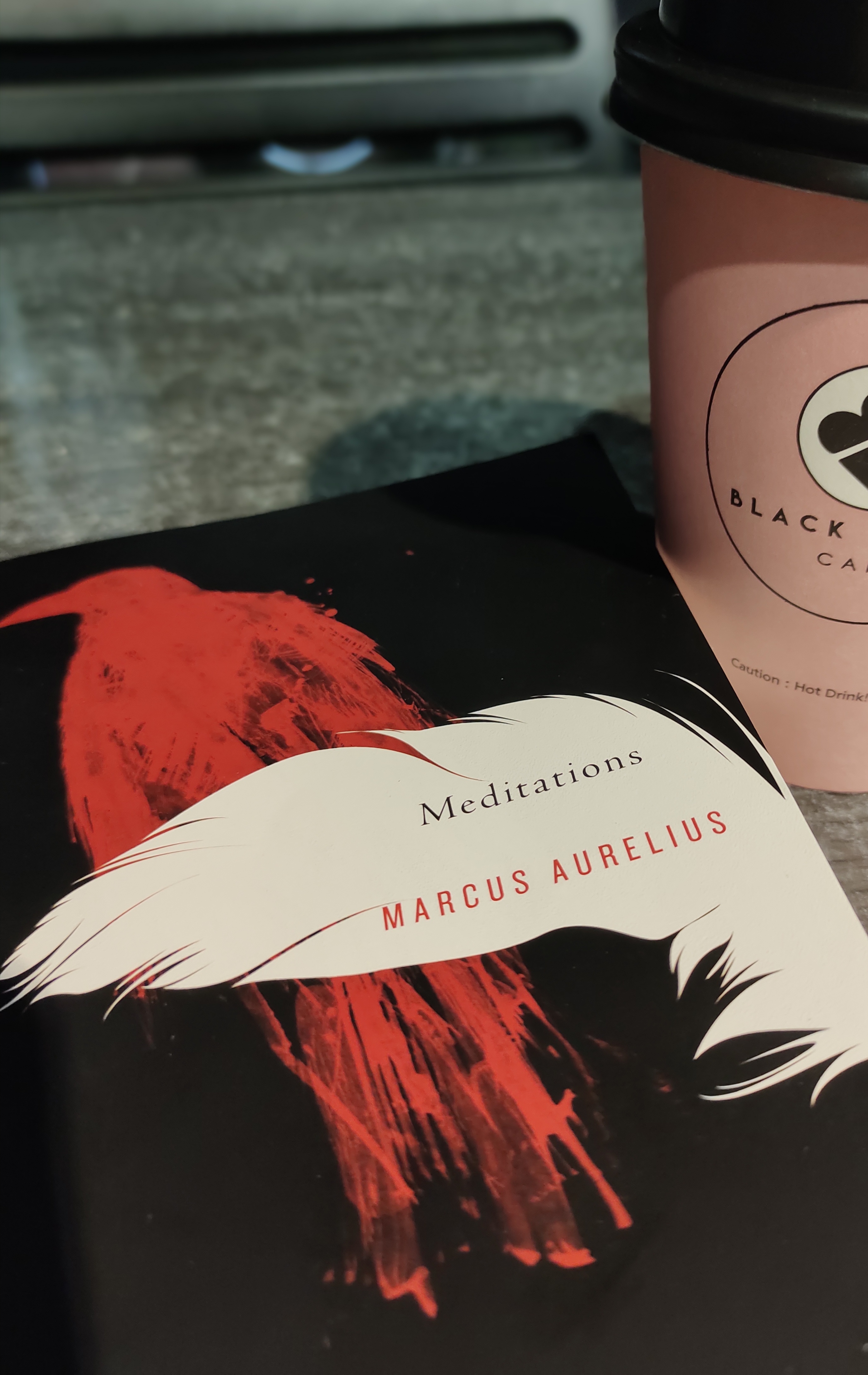 After much careful deliberation, I've finally decided that Stoicism should be my guide to life. The antidote to my tortured soul. Not that it's the most perfect way, as there are many ways to live our lives, I just deem this philosophy as the most applicable "Attitude to life". I can understand why Stoicism is popular amongst business men and leaders as the focus is more on discipline, self-control, and strength. There are a lot of critics out there as the teachings may feel like you're "numbing" yourself. There's a part where Marcus Aurelius say that we should not be overwhelm by pain and pleasure. As I read Meditations, I do find it like you're numbing yourself. "To master your pain". It makes perfect sense, because to be honest, I'd rather be numb at this point. Especially when there's no choice but to live. I mean what else could be more appealing and more appropriate to my condition and situation. When all of this becomes too much, you'll desperately find a way to live life while insulating yourself from all the pain and anxieties.
I tried religion and realized that it just doesn't work for me. I want something with more focus on inner self and not all about sacrificing myself for others and doing absurd religious things. I've also tried reading a lot of self-help books but I thought most are crap and are just repeating or paraphrasing the same stuff over and over. These books can actually be shortened into an article, blog or essay. It turns out most of the authors prefer to capitalize on our vulnerabilities and unhappiness because selling shiny thick books are more profitable in this day and age.
I came to a point where I need to limit what I read in terms of Philosophy and Self-Help as all can be confusing and it feels like I am being pulled into different directions. As I get older, I don't read books just for the sake of reading or as a hobby, unlike when I was younger. What I read these days are usually based on my current circumstances or whatever adversity I am experiencing. I read because I want to get something out of it like a moral lesson or something relatable. And hopefully it will improve my wellbeing and perception of the world.
Like for example, when my mother passed away, I bought some existentialist books as I felt like my life was devolving into nothingness at the time. I wanted to recreate some meaning in my life so bad. But I learned that being "too free" is not that good for me and that these books just made me even more nihilistic and unmindful of the consequences of my actions.
"Imagine Sisyphus happy" is all I can say.
I just want to limit my mind into learning two philosophical teachings, Existentialism and Stoicism. There are differences for sure. Existentialism is more about recognizing your freewill to create meaning in your own existence, because of course, everything else in this world is meaningless. Pointless. In a nutshell, it's all up to you, kiddo. Deal with it. Well, at least that's how I understand it. Where as Stoicism is more like following the logos or not resisting what nature has assigned you to do, being a rational and ethical person, and practicing self-control. I know both are conflicting but I need them both. I love my freedom but I still need some rules.
There's this popular author or self-proclaimed Stoic guy called Ryan Holiday who I think just rewrote and reworded "Meditations". I mean why I would confuse myself even more with extra books from yet another self-help guru. As Marcus Aurelius say, "only do what is necessary". "Do less - better". I'll just go straight to the emperor himself. The Man.
Marcus Aurelius also said to stop talking about what a good man should be(this means all humans of course and obviously not limited to male species literally) and just be one. So yeah, I'm not here to talk about how to be Stoic. I'm just here to just share this "healing" and "bettering myself" journey and hopefully I can apply my chosen teachings in order to combat the stresses and confusion of my daily life.
To my tortured soul: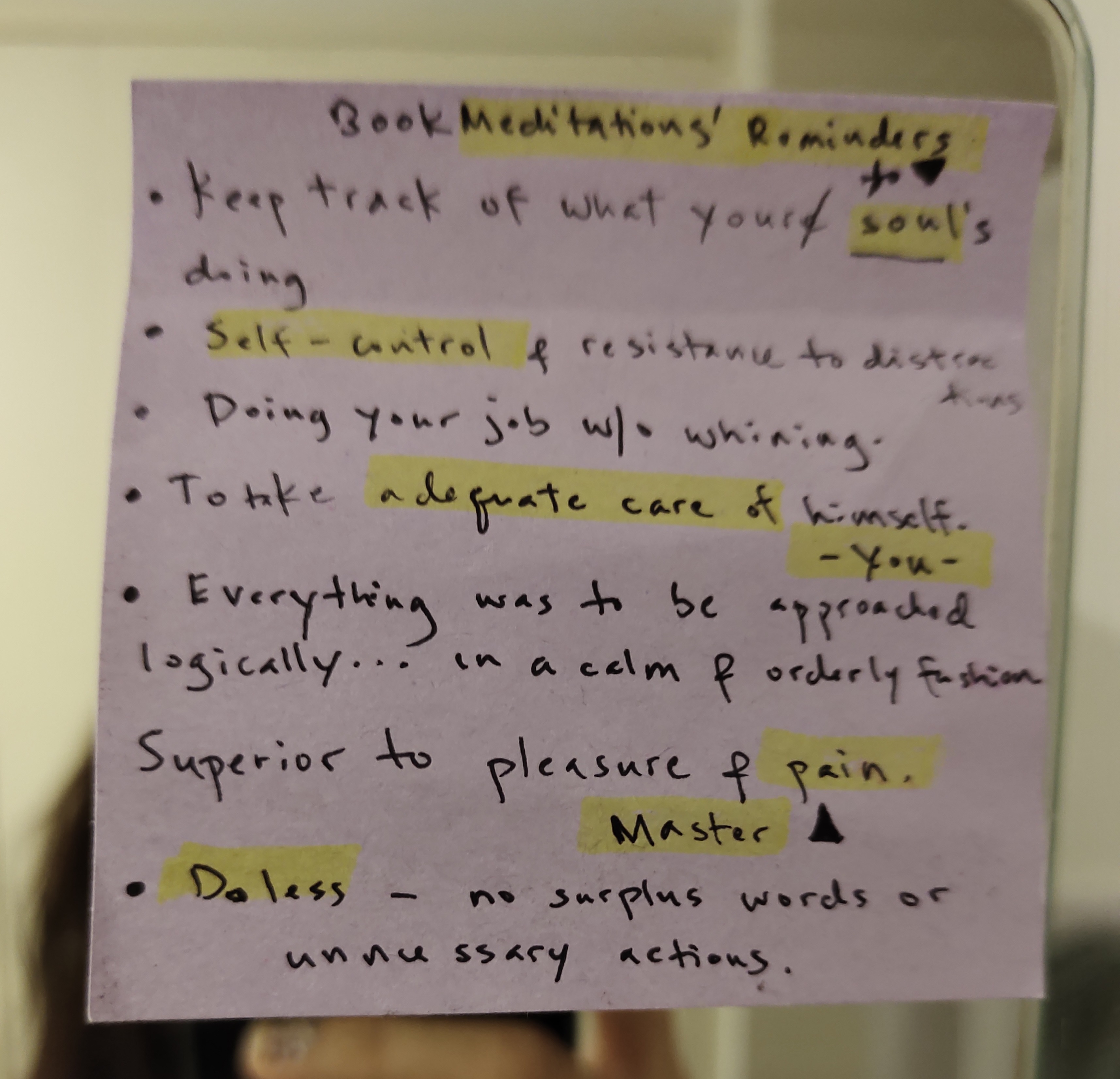 🖤