When it comes to upgrading, I am frugal and loose sleep over it.
I have spent over 1 year now watching closely as the supply chains and logistics issues caused MSRP issues not only on tech, but much more globally.
For the first time in over a year, I found a AMD Ryzen 5950X for under $1100 CAD. This much computing power for $1000 is just simply a bargain I couldnt turn up.
This is a 16 Core fucking beast with 32 threads, AMD has been making 32 core, 64 threadrippers, but i went with the Ryzen 9 instead.
The AM4 motherboard has much more diversity than the STRX4 used by the Threadripper. I also watched a few tech videos where the host was concerned about Threadripper being discontinued, thats speculation based on SKU's though.
---
Specifications
CPU: AMD Ryzen 9 5950X
MOBO: ASUS TUF Gaming X570 ATX
RAM: Trident NEO 3200mhz 2x8gb 16gb
GPU0: XFX AMD RX VEGA 64 8gb HBMII
GPU1: AMD VEGA Frontier Edition 16gb HBMII
PSU: ANTEC 1000w Platinum Rated (4 12V Lines)
CASE: Fractal Design Define XL R2 Black Silent
Memory: Crucial P2 1tb
Monitor: Sony Bravia 55" X720E
Keyboard: Razer Ornata Chroma
Mouse: Razer Viper Ultimate
This is a huge upgrade from my FX-4300 I was usibg from 2014, wheb i first entered the crypto mining game and had 3 R9 290 cards, so many things have changed, but AMD still has captured my attention over the competition.
The performance of the 5950X is unmatched, i have never had the opportunity to run high resolutions over 120 Frames per second and I am very excited to do so.
My old build had started to spontaneously crash, and it was time to go big or go home because i am not buying Intel who had to lower their prices on the I-9 and I-11 the second the benchmarks were in on the 5950X.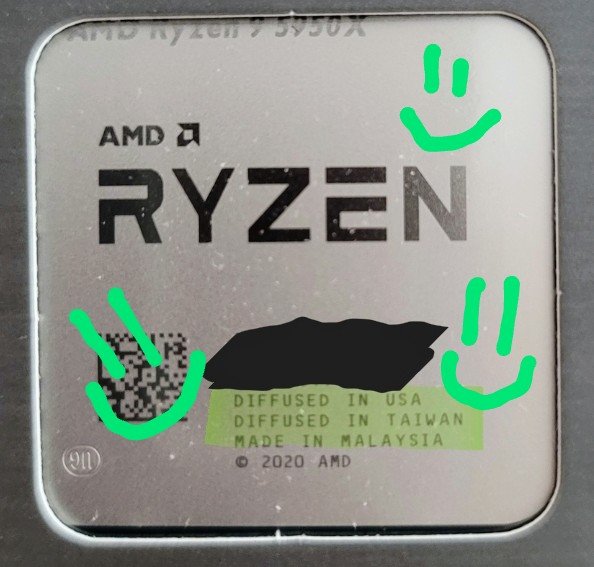 Taiwan is a country and I dont give a fuck about china, thanks for what you do, but if the money isnt enough and you need more soft power, ill kindly remind you I dont need China to power compute... Dont make me return the ASUS board, lol Russia can make silicon now too.
Diffused in USA
Diffused in Taiwan
Made in Malaysia
The Crucial memory was assembled in Mexico, i thought that was really cool and I support Mexican assembly of chips. There was Canadian jobs outsourced to Mexico by General Motors, although I denounce that, i have not seen any sacrifices made in Canada to support this mexican assembly of the Crucial Memory.
I bought the hard drive locally because there is the least markup on hard drives at the local shop, Compusoft in Red Deer, AB.
As usually I was grunted at when i asked if they price matched New Egg, but eh, Im just trying to save coins.
I will be returning to Compusoft to acquire a liquid cooling solution for this God Tier AMD PC. This will be the most extravagantly planned build of my life, as every part was hand picked and assembled by yours truly.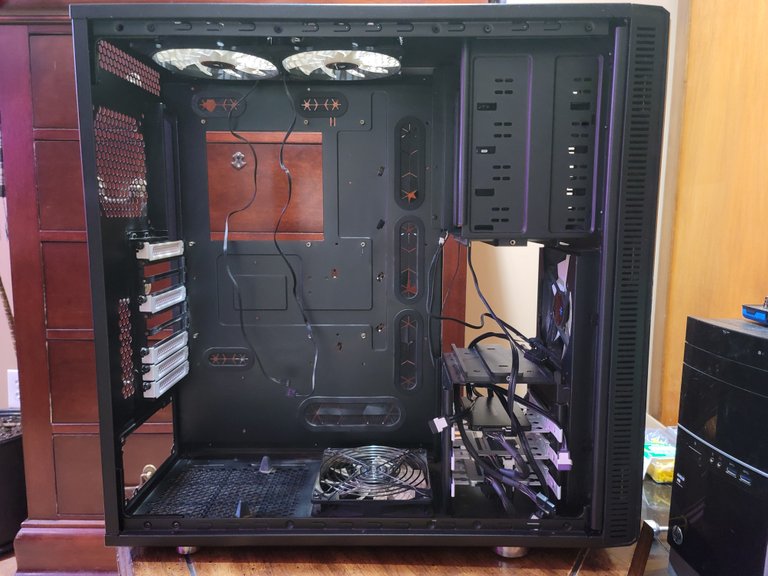 The case is slightly dated now, USB 3.0 on the front, so 2 generations out, but the back of the Motherboard has all the 3.2 Ill need.
Its crazy to think about how 7 years ago, i was going all in on crypto and making a machine like this on a budget. Yet, now I am paying the same price again, for over 16x the computing power.
| 2014 | 2021 |
| --- | --- |
| | |
Significant Improvements that do not look much different at, if i felt like unmounting the CPU in the 2014 build, id show you, but the heat sink is silver and white. All the same colors, same manufacturers, just 7 years later.
I had to go with more expensive DDR4 to make sure I got the stuff Optimized for Ryzen.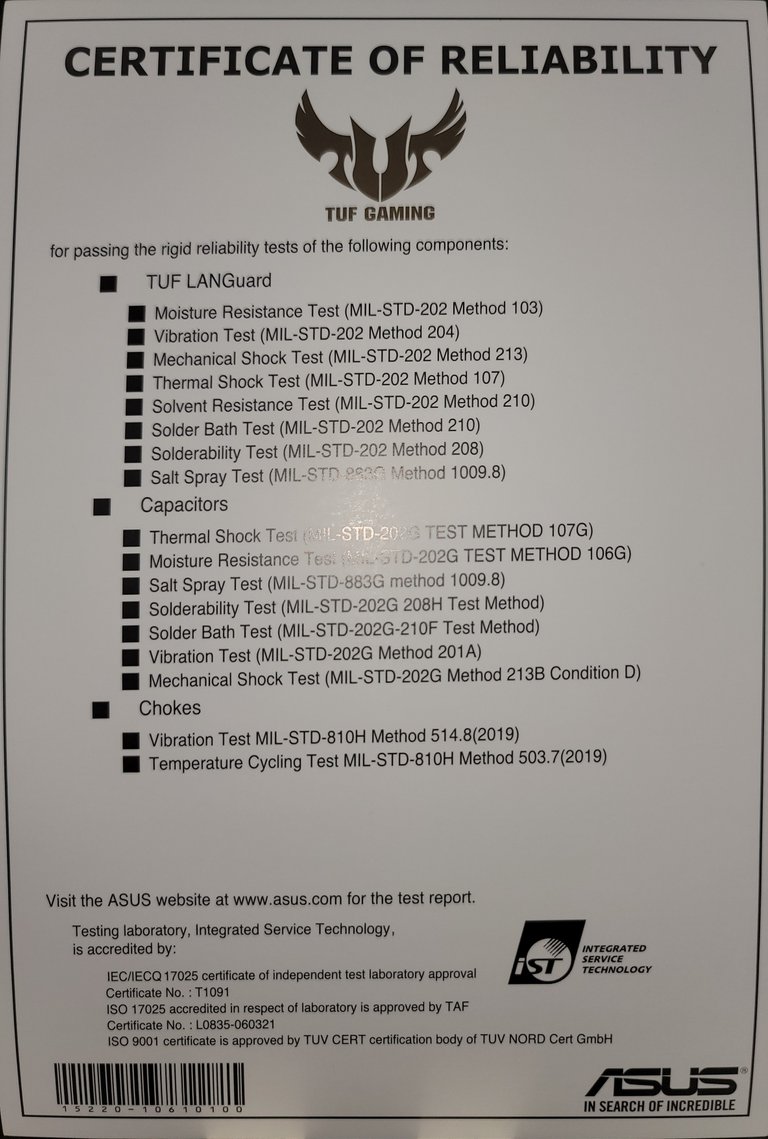 I have received no endorsement to say this, but I love working with ASUS motherboards.
Time to Get Trolled
I used strictly this set of pliers to install everything. If you just force the tip into any screw and fucking send er shell eventually go, you all know that, stop your bitching.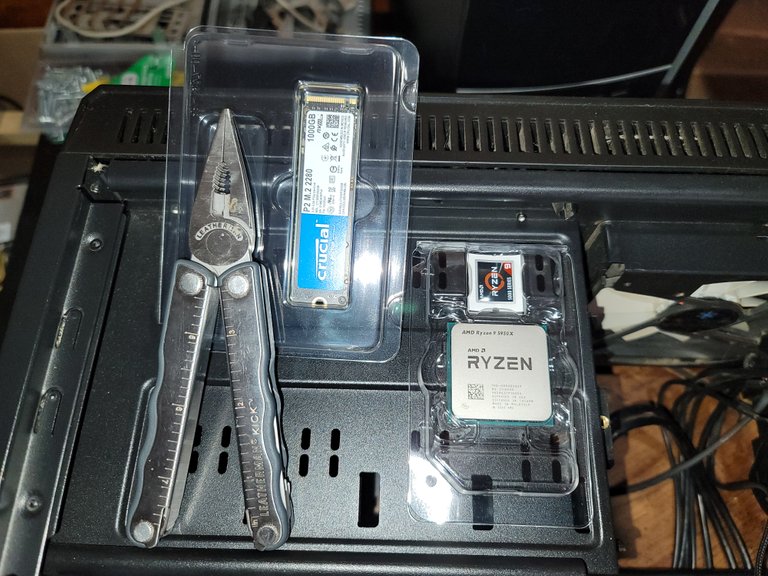 Have a good day!
I am now going to study this Noctua Passive Cooler.