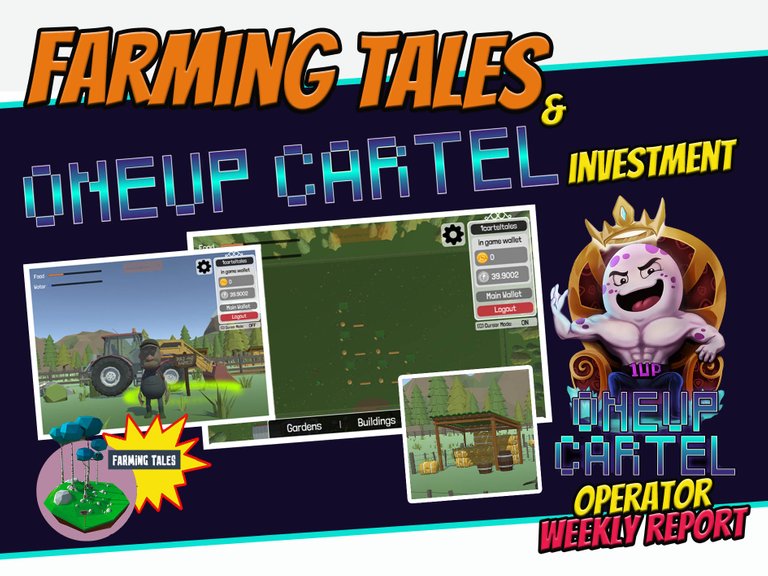 Logo Farming Tales owned by @farmingtales Logo Oneup Cartel owned by @oneup-cartel - Edit by @libertycrypto27 - Font used is Open Source

La versione in italiano è subito dopo la versione in inglese - The Italian version is immediately after the English version

Farming Tales and OneUp Cartel Investment

- Operator Cartel's Weekly Report -
---
Farming Tales is an NFT-based farming simulator built and developed on the WAX blockchain.
On Farming Tales I play two roles:
I am a player who has invested in the purchase of NFTs and tokens
OneUp is a community of Hive's blockchain focused on blockchain games and NFT games
OneUp Cartel is:
- a Meta Gaming Guild
- a Meta Curation
- a Meta Dividend Token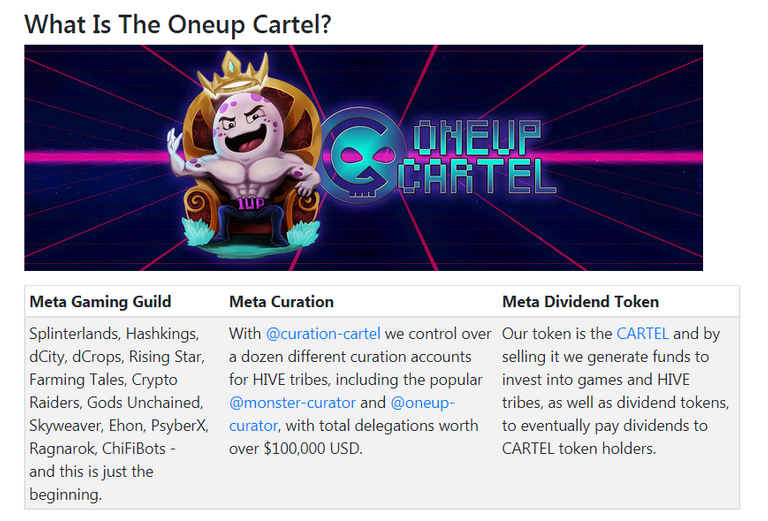 Screenshot from: https://www.1up.zone/@flauwy/1up-cartel-is-exploding-over-30k-usd-cartel-issued-only-4-days-left-for-base-price
---
As operator of the Oneup Cartel project, I am tasked to publish a weekly report on the progress of the Farming Tales investment that Oneup Cartel has given me to manage, and this post is my second weekly report.

Initial Budget
---
OneUp CArtel has decided to invest 500 HBD in the game of Farming Tales.
Thanks to a bit of luck and thanks to BID offers I was able to convert 500 HBD into 1583 WAX whose value on the day of conversion was $501 (January 29, 2022).

So my OneUp Cartel operator activity on Farming Tales started on January 29 and today February 9, 11 days have passed.
In these 11 days the value of HBD tokens has remained almost the same (-0.809%) while the value of WAX tokens has increased (+17.949%).


Purchased Assets
---
CPU
To perform operations on the WAX blockchain, you need to have a minimum of resources (NET, CPU, RAM).
Initially I had used 23 WAX to increase the CPU resource (WAX stacked) in order to perform Harvest operations.
In this week I found myself in the condition of not being able to perform a Harvest operation and for this reason I added 14 WAX tokens to the CPU resource for a total of 37 WAX.

---
NFT
Farming Tales is not a free game and in order to play and earn in-game rewards, an initial investment must be made.
The initial investment consists primarily of purchasing at least one of the following card combinations (NFT):
Hen + Coop
Goose + Shelter
Goat + Stable
Cow + Stable
Sheep + Stable
Pig + Stable
Garden
Lumberjack
Fishing Pier
Hive
All Farming Tales NFTs can be purchased:

I have always chosen the NFTs to buy only after calculating the estimated annual ROI for each NFT combination on the market so as to have an advantage over players who buy NFTs without doing the proper calculations.
Up to February 2, I had purchased 11 NFTs and spent a total of 908.92 WAX.
In the following days I bought 4 more NFTs.
So far I have purchased a total of 15 NFTs:
3 NFT Harlequin Cow
3 NFT Harlequin Goat
1 NFT Silo Raro
6 NFT Stable
1 NFT Water Tower Rare
1 NFT Garden
You can see all the details of my purchases at the following address:
https://wax.atomichub.io/profile/1carteltales#buyHistory

To purchase 15 NFT I spent a total of 1106.42 WAX (+197.5 WAX compared to the previous report).
In the table below you can see the purchase prices and current market prices of all the cards I have purchased so far.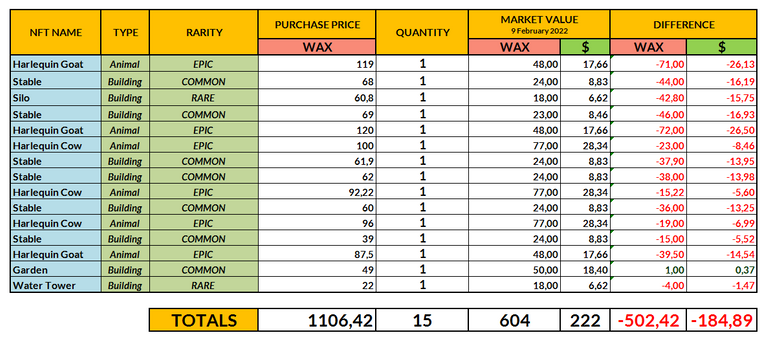 Except for the Garden card that I purchased at 49 WAX all other NFTs have lost value in the last seven days.
In the last week some players have put cards from their collections up for sale at really low prices compared to the average prices that were on the market in the past few months.
The value of the card collection I built for OneUp Cartel has decreased and the difference in value is negative: -184.89$.
---
Token SEST
In the game of Farming Tales, players who perform Harvest operations get SEST tokens as a reward.
To perform the Harvest operation you need to have food and water.
Food and water are consumable game items and can be purchased using CBIT tokens (utility tokens).

SEST tokens can be staked for a daily CBIT token reward.
In order to have a self-sustaining farm that can collect rewards without having to cyclically purchase the CBIT tokens needed to make food and water refills, I purchased 14970 SEST tokens that I staked all within the Wallet section of Farming Tales.
To purchase 14970 SEST tokens I used the Alchor exchange (https://wax.alcor.exchange/) and spent 195 WAX (Jan 30, 2022).



The game rewards
---
In 11 days of playing/investing on Farming Tales I have obtained:
3414 SEST tokens.
39.9 CBIT tokens
3414 SEST tokens are the result of the game activity (Harvests)
39.9 CBIT tokens are the result of stacking SEST tokens
I have continued to increase the amount of SEST tokens in staking by adding from time to time the SEST tokens obtained from the harvesting activity.
Today, February 9, OneUp Cartel has a total of 18384 SESTs in stacking which provides a reward of 7.739524 CBIT tokens per day = $0.341 per day
Since my last report and in seven days the amount of daily rewards in CBIT tokens has increased by +0.275 CBIT (7,739 - 7,464).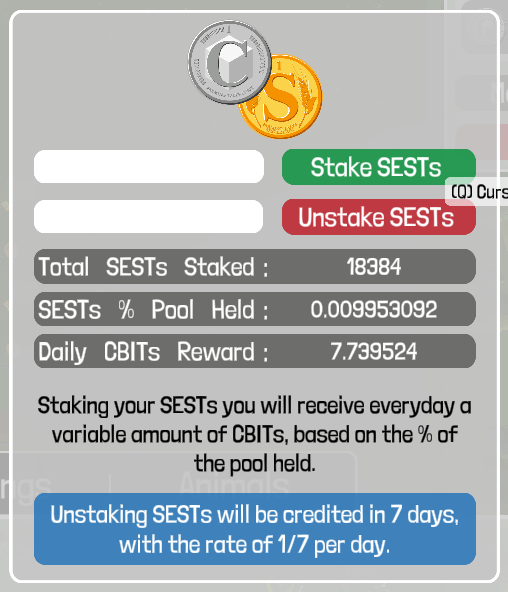 The total value of rewards earned in 11 days is $10.84 (29.46 WAX)


Profit and ROI
---
It's time to do some calculations and compare costs and revenues.
I created a prospectus to show and track the financial results of the Farming Tales investment I manage for OneUp Cartel.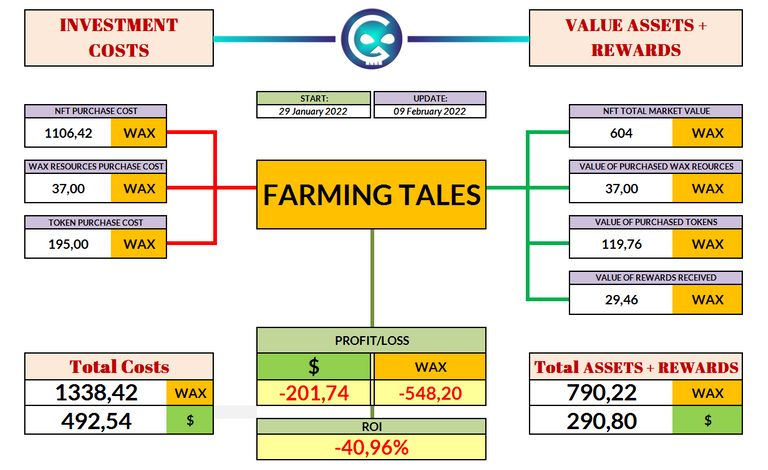 As you can see from the calculations in the prospectus the financial results are not positive but negative:
Profit: - 548.20 WAX = - 201.74S
ROI: - 40.96%.
The previous financial results however only take into consideration the investments made using WAX tokens and do not take into consideration:
the dollar value of the initial investment
the change in dollar value of WAX tokens
the amount of WAX tokens present in the wallet and not yet invested.

Considering the dollar value of the initial investment (500 HBD) and the current dollar value of the investment the financial results are negative but smaller in value than in the previous prospectus:
Profit: - 106.41S
ROI: - 21.85%


A negative ROI always needs a deeper analysis
---
The investment on Farming Tales by OneUp Cartel has only 11 actual days of activity but has already produced negative financial results.
In any type of investment a negative profit and ROI should always lead to a deeper evaluation.
I asked myself the following questions:
Could the negative ROI and Profit values be temporary or lasting?
Are the very low prices of some types of NFTs a buying opportunity or a wake-up call?
In order to answer the above questions, I have deepened my understanding of the biggest and most negative influence: the loss of market value of some NFTs.
All Farming Tales assets have lost value in the last two weeks.
If the loss of value of SEST tokens and CBIT tokens can be justified by the increase of value of WAX tokens the loss of value of the NFTs I have purchased is very large and cannot find the same explanation or justification.

One of the cards that has lost the most value in the last seven days is the common type Stable card.
In 11 days I purchased 6 NFT Stable of common type.
I spent an average of 59.98 WAX for each Stable card purchased while today a Stable card is on sale for 24 WAX on the AtomicHub marketplace.

I went to check the number of Stable cards for sale on the marketplace right now: 154
I went to check the total number of Stable cards in circulation: 6411
Out of 6411 common type NFT Stable in circulation only 2.40% of the cards are for sale.
Out of 154 NFT Stable for sale only 43 NFTs have a selling price of less than 60 WAX.
Out of 154 Stable cards for sale only 27.9% have a market price below 60 WAX.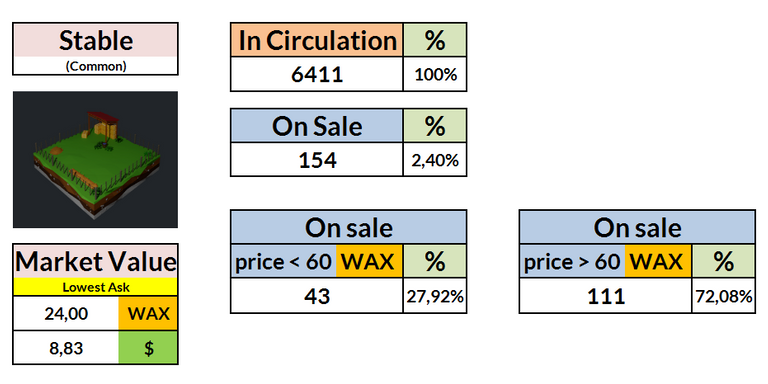 This data shows an important valuation aspect: 97.60% of Stable cards in circulation are not for sale but are used or kept by their owners.
This is why the negative result (ROI) I recorded today loses much of its negative value after this in-depth study.
I don't know if on WAX there is a way to know the number of players who own a Stable card but this would also be a data to be considered.
In my personal investment on Farming Tales I will continue to invest in this particular time when there are very low prices for some NFTs.
In managing the investment for OneUp Cartel I will proceed in the same way but only after I receive the ok from OneUp Cartel.
If the values of the SEST, CBIT and WAX tokens should remain the same as today also in the future I would have to reach the break-even point in 107 days and only considering the estimated gain I will receive from the rewards.
At that point the investment would become 0 risk.

Obviously the calculation of the number of days to break even is only a prediction, an estimated calculation based on the current values of the assets of Farming Tales and could vary positively or negatively depending on the value of the assets in the future.
I hope you liked my second operational report for OneUp Cartel and if you like follow me to read my future reports and posts about Farming Tales and OneUp Cartel.


Important Note:
---
Blockchain-based games that allow people to buy and sell tokens are not just games but are also investments and should be treated as such!
In any type of investment there is always a
risk factor
to evaluate and consider.
I am not a financial advisor and the information contained in this post is not financial advice
.
Before investing in a blockchain-based game you should always do your own research and personal evaluations.
My advice is to always only invest what you can afford to lose with a light heart!

The images in this post are screenshots taken from the sites:
https://farmingtales.io/
https://play.farmingtales.io/
https://wax.atomichub.io/market
https://ft.cryptospace.ro/
https://peakd.com/
https://wax.alcor.exchange/
The images containing calculations, tables and formulas are my property
The font I used in my images or in the images edited by me is Open Source
The dividers with the Hive logo in this post were created by me and if you like them you can use them too, the Hive logo is property of https://hive.io/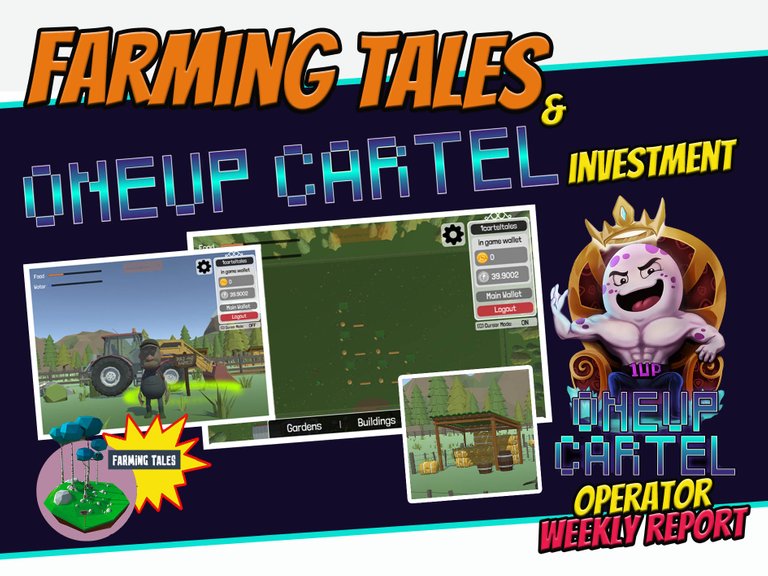 Logo Farming Tales owned by @farmingtales Logo Oneup Cartel owned by @oneup-cartel - Edit by @libertycrypto27 - Font used is Open Source

Farming Tales è un simulatore di farming basato su NFT costruito e sviluppato sulla blockchain WAX.
Su Farming Tales rivesto due ruoli:
sono un giocatore che ha investito nell'acquisto di NFT e tokens
OneUp è una comunità della blockchain di Hive focalizzata sui blockchain games e sugli NFT games
OneUp Cartel è:
- una Meta Gaming Guild
- una Meta Curation
- un Meta Dividend Token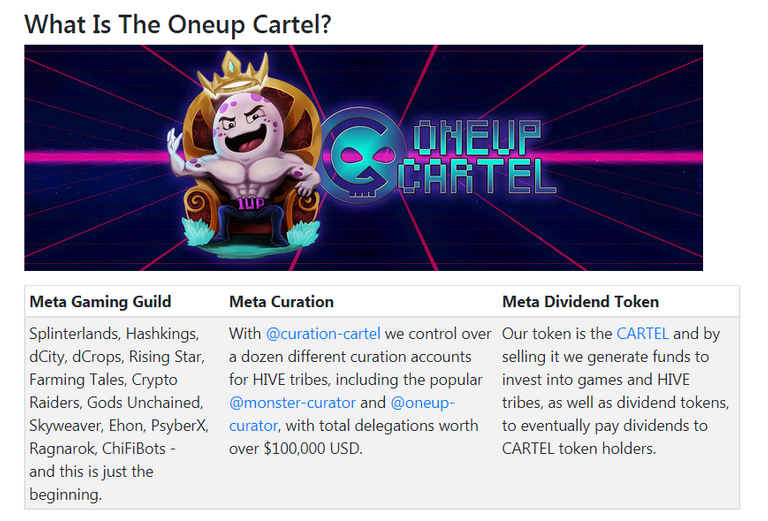 Screenshot from: https://www.1up.zone/@flauwy/1up-cartel-is-exploding-over-30k-usd-cartel-issued-only-4-days-left-for-base-price
---
Come operatore del progetto Oneup Cartel ho il compito di pubblicare un report settimanale sull'andamento dell'investimento su Farming Tales che Oneup Cartel mi ha dato in gestione e questo post è il mio secondo report settimanale.

Farming Tales and OneUp Cartel Investment
Budget Iniziale
---
OneUp CArtel ha deciso di investire 500 HBD nel gioco di Farming Tales.
Grazie a un pò di fortuna e grazie alle offerte BID sono riuscito a convertire 500 HBD in 1583 WAX il cui valore il giorno della conversione era di 501$ (29 gennaio 2022).

La mia attività di operatore di OneUp Cartel su Farming Tales è quindi iniziata il 29 gennaio e oggi 9 febbraio sono passati 11 giorni.
In questi 11 giorni il valore dei token HBD è rimasto quasi uguale (-0.809%) mentre il valore dei token WAX è aumentato (+17.949%).


Gli Assets acquistati
---
CPU
Per effettuare le operazioni sulla blockchain di WAX è necessario avere un minimo di risorse (NET, CPU, RAM).
Inizialmente avevo utilizzato 23 WAX per aumentare la risorsa CPU (WAX stacked) per poter effettuare le operazioni di Harvest.
In questa settimana mi sono trovato nella condizione di non poter effettuare un'operazione di Harvest e per questo motivo ho aggiunto 14 token WAX alla risorsa CPU per un totale di 37 WAX.

---
NFT
Farming Tales non è un gioco gratuito e per giocare e per guadagnare le ricompense di gioco è necessario effettuare un investimento iniziale.
L'investimento iniziale consiste principalmente nell'acquisto di almeno una delle seguenti combinazioni di carte (NFT):
Hen + Coop
Goose + Shelter
Goat + Stable
Cow + Stable
Sheep + Stable
Pig + Stable
Garden
Lumberjack
Fishing Pier
Hive
Tutti gli NFT di Farming Tales possono essere acquistati:

Ho sempre scelto gli NFT da acquistare solo dopo aver calcolato il ROI stimato annuale per ogni combinazione di NFT presente sul mercato in modo da avere un vantaggio rispetto ai giocatori che acquistano NFT senza fare i dovuti calcoli.
Fino al 2 febbraio avevo acquistato 11 NFT e avevo speso in totale 908.92 WAX.
Nei giorni successivi ho acquistato altri 4 NFT.
Fino ad ora ho acquistato in totale 15 NFT:
3 NFT Harlequin Cow
3 NFT Harlequin Goat
1 NFT Silo Raro
6 NFT Stable
1 NFT Water Tower Raro
1 NFT Garden
Puoi vedere tutti i dettagli degli acquisti da me effettuati al seguente indirizzo:
https://wax.atomichub.io/profile/1carteltales#buyHistory

Per acquistare 15 NFT ho speso in totale: 1106.42 WAX (+197.5 WAX rispetto al report precedente).
Nella tabella seguente puoi vedere i prezzi di acquisto e i prezzi di mercato attuali di tutte le carte che ho acquistato fino ad ora.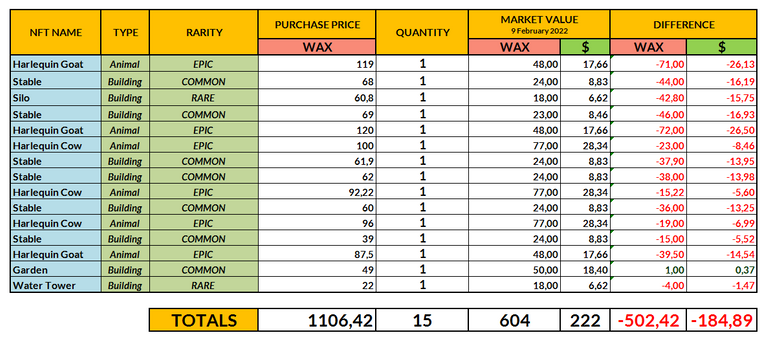 Tranne la carta Garden che ho acquistato a 49 WAX tutti gli altri NFT hanno perso valore.
Nell'ultima settimana alcuni giocatori hanno messo in vendita le carte delle loro collezioni a prezzi davvero bassi rispetto ai prezzi medi che erano presenti sul mercato nei mesi scorsi.
Il valore della collezione di carte che ho costruito per OneUp Cartel è diminuito e la differenza di valore è negativa: -184.89$.
---
Token SEST
Nel gioco di Farming Tales i giocatori che effettuano le operazioni di Harvest ottengono come ricompensa i token SEST.
Per effettuare l'operazione di Harvest è necessario avere cibo e acqua.
Il cibo e l'acqua sono elementi di gioco consumabili e sono acquistabili utilizzando i token CBIT (utility tokens)

I token SEST possono essere messi in stake per ottenere una ricompensa in token CBIT giornaliera.
Per avere una fattoria autosufficiente in grado di raccogliere ricompense senza dover acquistare ciclicamente i token CBIT necessari per effettuare le ricariche di cibo e acqua ho acquistato 14970 token SEST che ho messo tutti in stake all'interno della sezione Wallet di Farming Tales.
Per acquistare 14970 token SEST ho utilizzato l'exchange Alchor (https://wax.alcor.exchange/) e ho speso 195 WAX (30 gennaio 2022).



Le ricompense di gioco
---
In 11 giorni di gioco/investimento su Farming Tales ho ottenuto:
3414 token SEST
39.9 token CBIT
3414 token SEST sono il frutto dell'attività di gioco (Harvests)
39.9 token CBIT sono il frutto dello stacking dei token SEST
Ho continuato ad aumentare il quantitativo di token SEST in staking aggiungendo di volta in volta i token SEST ottenuti dall'attività di raccolta.
Oggi 9 febbraio OneUp Cartel ha un totale di 18384 SEST in stacking che garantiscono una ricompensa di 7.739524 token CBIT al giorno = 0.341$ al giorno
Dal mio ultimo report e in sette giorni il quantitativo delle ricompense giornaliere in token CBIT è aumentato di +0.275 CBIT (7.739 - 7.464).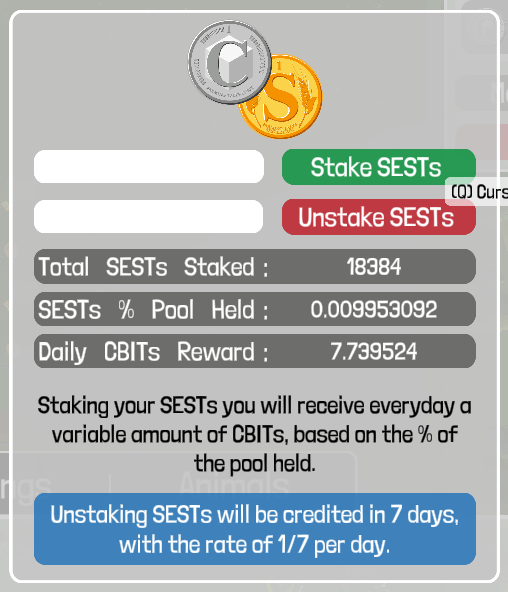 Il valore totale delle ricompense ottenute in 11 giorni è di 10.84$ (29.46 WAX)


Profit e ROI
---
E' arrivato il momento di fare un pò di calcoli e di confrontare costi e ricavi.
Ho creato un prospetto per mostrare e monitorare i risultati finanziari dell'investimento su Farming Tales che gestisco per OneUp Cartel.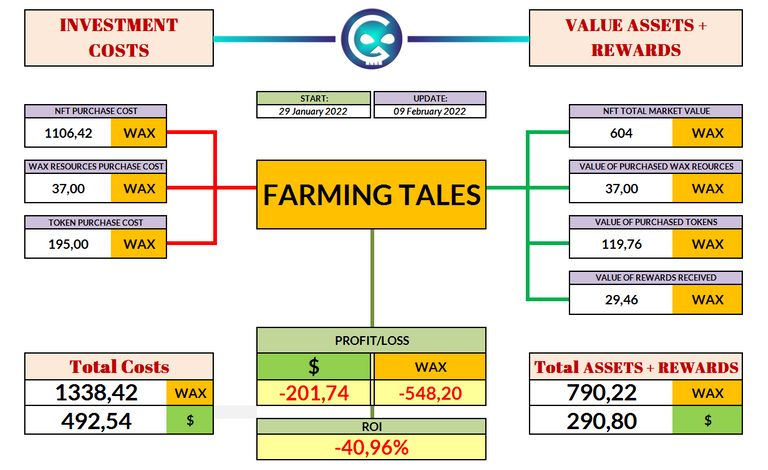 Come puoi vedere dai calcoli presenti nel prospetto i risultati finanziari non sono positivi ma negativi:
Profit: - 548.20 WAX = - 201.74S
ROI: - 40.96%
I risultati finanziari precedenti però tengono conto solo degli investimenti effettuati utilizzando i token WAX e non tengono conto:
del valore in dollari dell'investimento iniziale
della variazione del valore in dollari dei token WAX
del quantitativo di token WAX presente nel wallet e non ancora investiti.

Considerando il valore in dollari dell'investimento iniziale (500 HBD) e il valore in dollari corrente dell'investimento i risultati finanziari sono negativi ma più piccoli di valore rispetto a quelli del prospetto precedente:
Profit: - 106.41S
ROI: - 21.85%


Un ROI negativo richiede sempre un approfondimento
---
L'investimento su Farming Tales da parte di OneUp Cartel ha solo 11 giorni effettivi di attività ma ha già prodotto risultati finanziari negativi.
In qualsiasi tipologia di investimento un profitto negativo e un ROI negativo dovrebbe sempre portare ad un approfondimento di valutazione.
Mi sono posto le seguenti domande:
I valori negativi di ROI e Profitto potrebbero essere temporanei o duraturi?
I prezzi molto bassi di alcune tipologie di NFT sono un occasione di acquisto o un campanello di allarme?
Per rispondere alle domande precedenti ho approfondito la conoscenza dell'elemento che ha influito maggiormente e negativamente: la perdita del valore di mercato di alcuni NFT.
Tutti gli assets di Farming Tales hanno perso valore nelle ultime due settimane.
Se la perdita di valore dei token SEST e dei token CBIT può essere giustificata dall'aumento di valore dei token WAX la perdita di valore degli NFT che ho acquistato è molto grande e non può trovare la medesima spiegazione o giustificazione.

Una delle carte che ha perso più valore negli ultimi sette giorni è la carta Stable di tipo comune.
In 11 giorni ho acquistato 6 NFT Stable di tipo comune.
Ho speso in media 59.98 WAX per ogni carta Stable acquistata mentre oggi una carta Stable è in vendita al prezzo di 24 WAX sul mercato di AtomicHub.

Sono andato a controllare il numero di carte Stable in vendita in questo momento sul mercato: 154
Sono andato a controllare il numero totale di carte Stable in circolazione: 6411
Su 6411 NFT Stable di tipo comune in circolazione solo il 2.40% delle carte è in vendita.
Su 154 NFT Stable in vendita solo 43 NFT hanno un prezzo di vendita inferiore a 60 WAX.
Su 154 carte Stable in vendita solo il 27.9% ha un prezzo di mercato inferiore a 60 WAX.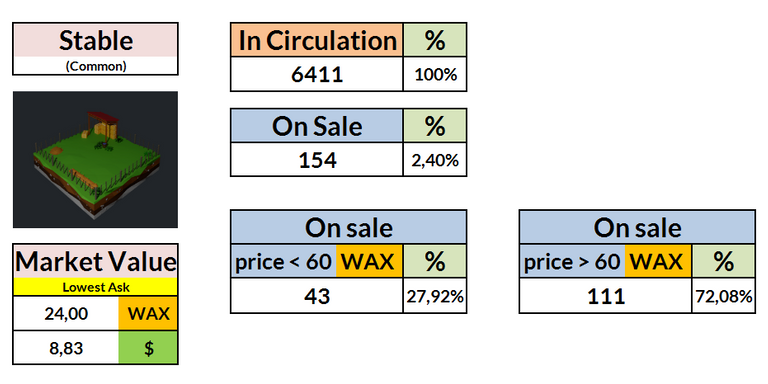 Questi dati mostrano un aspetto di valutazione importante: il 97.60% delle carte Stable in circolazione non sono in vendita ma sono utilizzate o conservate dai possessori.
Per questo motivo il risultato negativo (ROI) che ho registrato oggi perde gran parte del suo valore negativo dopo questo approfondimento.
Non so se su WAX c'è un modo per conoscere il numero dei giocatori che possiedono una carta Stable ma anche questo sarebbe un dato da considerare.
Nel mio investimento personale su Farming Tales continuerò ad investire in questo momento particolare in cui ci sono prezzi molto bassi per alcuni NFT.
Nella gestione dell'investimento per OneUp Cartel mi confronterò con @flauwy per decidere e valutare insieme come procedere.
Se i valori dei token SEST, CBIT e WAX dovessero rimanere gli stessi di oggi anche in futuro dovrei raggiungere il punto di pareggio in 107 giorni e solo considerando il guadagno stimato che riceverò dalle ricompense.
A quel punto l'investimento diventerebbe a rischio 0.

Ovviamente il calcolo del numero dei giorni per arrivare al punto di pareggio è solo una previsione, un calcolo stimato ottenuto in base ai valori attuali degli assets di Farming Tales e potrebbe variare in modo positivo o negativo in base al valore che avranno gli assets in futuro.
Spero che il mio secondo report operativo per OneUp Cartel ti sia piaciuto e se hai piacere seguimi per leggere i miei futuri report e post su Farming Tales e OneUp Cartel.


Nota Importante:
---
I giochi basati su blockchain che permettono di acquistare e vendere token non sono solo giochi ma sono anche investimenti e come tali devono essere trattati!
In ogni tipologia di investimento c'è sempre un
fattore di rischio
da valutare e considerare.
Io non sono un consulente finanziario e le informazioni contenute in questo post non sono consigli finanziari
Prima di investire in un gioco basato su blockchain devi sempre fare le tue ricerche e le tue personali valutazioni.
Il mio consiglio è di investire sempre e soltanto quello che puoi permetterti di perdere a cuor leggero!
---
The images in this post are screenshots taken from the sites:
https://farmingtales.io/
https://play.farmingtales.io/
https://wax.atomichub.io/market
https://ft.cryptospace.ro/
https://peakd.com/
https://wax.alcor.exchange/