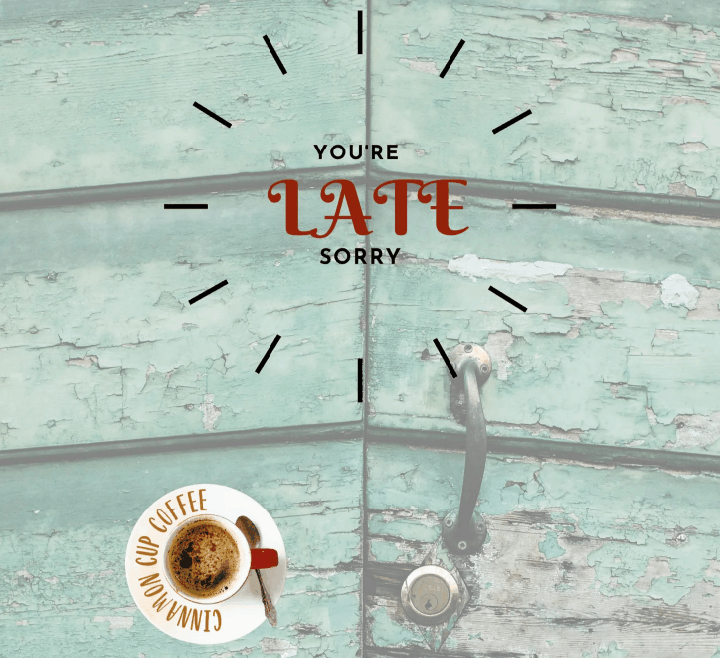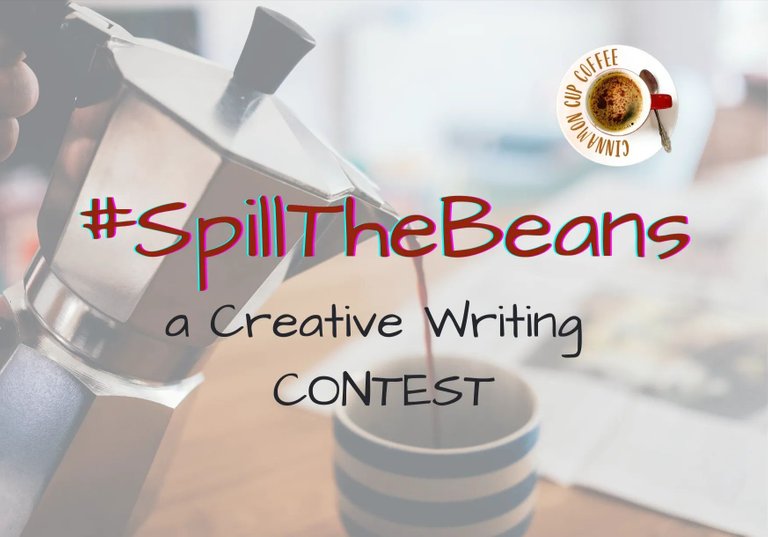 Enter for a chance to win Hive
---
Hello Everyone,
It's @millycf1976 here; Welcome to week 4 of #SpillTheBeans, a creative writing contest.
Please see writing prompts below, and create a story based on any of the options presented.
This week's theme: Coffee Shops.
---
Rewards and Benefits of Entering
First Place 8 Hive
Second Place 5 Hive
Third Place 3 Hive
Quality posts will be promoted for upvotes.
A chance for you to interact with other authors, as engagement counts.
Top post will be highlighted in the Winners Announcement Post, which will give exposure to the author.
Rules and Guidelines
Be creative and base your post on any of the topics announced.
Post in Cinnamon Cup Coffee community, no self cross-posting, and first tag MUST be #spillthebeans to qualify as an entry.
⚠️Please post within the Countdown.
Please post in English ONLY. You can use a translator, but only English must be presented.
Title of post can be your own, however, please quote in post, the relevant topic.
One entry per person.
Engagement in English contributes.
Subscribe to Cinnamon Cup Coffee community
Invite at least two persons to enter.
Minimum 250 words.
---
Please select a topic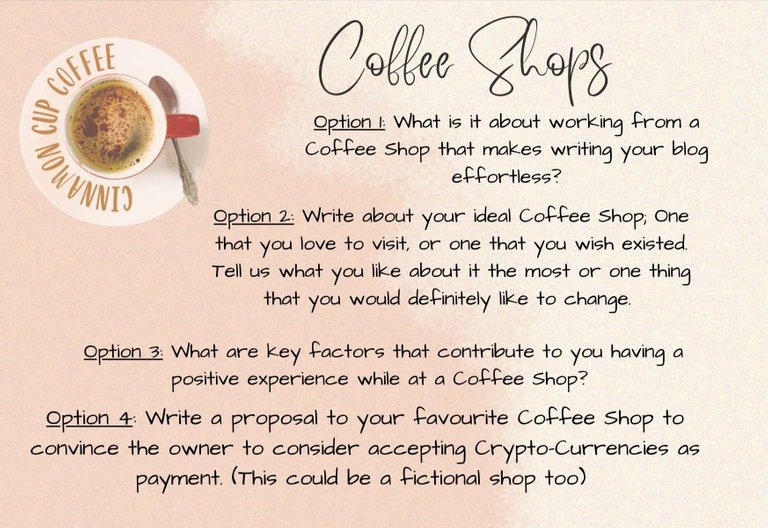 ---
Criteria for Winning Post
Creativity in writing
Post must be based on writing prompt
Quality of post
Authenticity - Individual voice, tone, and style
Clarity of story
Captivating and interesting
No plagiarism
No bullet points or list; this is a great opportunity to develop your creative writing skills
Great photos, your own work, and properly sourced photos if not your own
Adhere to general community posting guidelines.
An announcement post of winner and mentions will be made after countdown expires, indicating the amount of hive submitted.
---
Have fun, be creative.
⚠️ Use the first tag #spillthebeans to be eligible.
Also, take another look at the guidelines, criteria, and general community rules; if you tick all the boxes, hit publish.
The Countdown has begun...
❌ Please DO NOT post an entry to this contest after the countdown has expired.
C'mon, don't just sit there, get brewing creative and spill the beans to us.
---