Hello everyone, how are you doing today? Hope you are having a great time. This is going to be Week 47, Edition 02 of our Weekly Featured Content.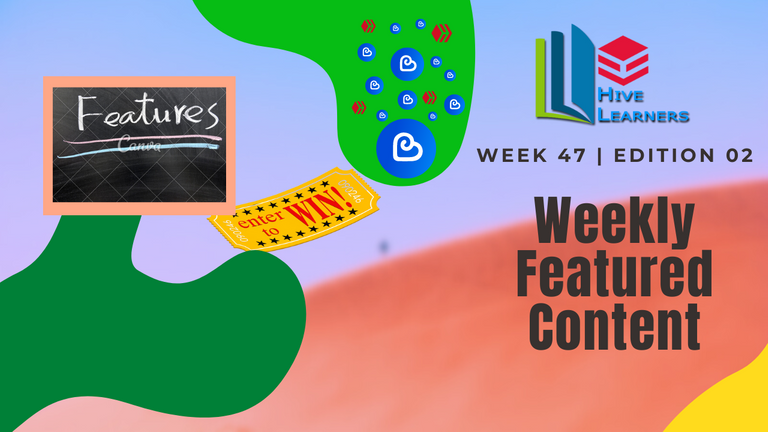 Made With Canva
So, last week Saturday we had our hangout as usual, and it was just so much fun we did not want it to come to an end. We are currently on our second topic for this week which is, "DEJA VU".
But before we proceed with the details of the topic, let us take a look at the winners of the last one which was "AN AMATEUR". This topic was geared toward each member of the community telling us about one thing they were previously a newbie at and eventually became proficient.
We got to see the different ways people were able to get better over time at something they previously had no idea of or something they knew very little about. It was an enlightening topic indeed.
---
For this topic, we went through every entry post, and that is every post with the #hl-exclusive & #hl-w47e1 tags. And with the number of wonderful posts out there it was quite difficult to make a selection. But eventually, we did just that. And so, the posts that will be featured not just for their exceptional content, but also for their level of engagement with other authors will be listed below:

Featured Contents
FROM GRASS TO GRACE: THE STORY OF MY REVIEW WRITING JOURNEY by @didiee


This author told us about how she started writing book reviews back when she was in her first year in the university. She started off as an amateur but over time she became very good, and she now hopes to do it every week. It is a great step indeed.
NOT AS DIFFICULT AS I IMAGINED by @rahmatandesti


This author told us about how he ventured into the art of printing and photo editing. He was always around someone that could do it so well, and that was how he was able to learn. At first he assumed it was a difficult thing to do, but once he started, he realized it was actually easier than he had thought.
TIME AND EXPERIENCE MAKE US BETTER by @vikar
For this author, he shared his beautiful story of how he got into animal farming. From fish to other types of animals, he shared about how he started, and how far he had come since then. It was not easy at all, but because he was persistent, he has come this far. I'm sure that he still has a long way to go, and he will have no problem getting there.
---
All of the above contents were supported by our official curation account @lazy-panda with an extra amount. And first 3 authors will receive 100 ECENCY Points [ Sponsored By Ecency Team (@melinda010100) ] and 1 Hive SBI each as a reward next Monday. These posts were selected because of their special attention to detail and how they followed the topic. There were a lot of good ones out there, but we just could not pick them all.
But then, we have some honorable mentions which are listed below:
Honorable Mention
AMATEUR WRITER WHO WANTS TO BECOME PROFESSIONAL by @joelibra
ON MY WAY TOWARDS BEING A PROFICIENT TRUMPETER by @ovey10
These are posts that were also found to be quite exceptional as well.
---
---

AND NOW, WE MOVE ON TO THE NEW TOPIC!
---
Week 47 - Edition 02 Topic
DEJA VU
"Have you ever experienced a case of Déjà vu before? How was it for you? Can you tell us about it? Did it make any significant impact on that moment for you?"
---
---

RULES & REGULATIONS
Must be a verified member in our community to participate.
You have to use #hl-exclusive tag in your featured edition participation post. Also, you must use another tag according to the week & edition number. If you are making content for Week 01 Edition 01, you will use #hl-w1e1. If it is Week 02 Edition 03, then you will have to use #hl-w2e3. (Abusing these tags will cause severe punishment)
Must share participation post's link in #featured-post-promotion channel in our discord server.
Members must interact & engage in each other's participation posts.
Submission Deadline:-
Edition 01:- Monday-Tuesday (11.59 PM UTC)
Edition 02:- Wednesday-Thursday (11.59 PM UTC)
Edition 03:- Friday-Saturday (11.59 PM UTC)
Prize Distribution:- Each Sunday
Topic Description:- The topic description given in the announcement must not be included/copy-pasted in the participation post.

All of the above rules are mandatory for participating. A big congrats to the authors whose posts made it to today's featured edition, and as we have gotten to the next topic, we look forward to reading more posts from you.
If you are wondering what is Weekly Featured Edition. You can get Basic Knowledge about it from This Post. If you are a new member in our community, complete Verification Process from our discord server to get support from us. To know more about our community, please go through our Rules & Guidelines



---
Thank You

---