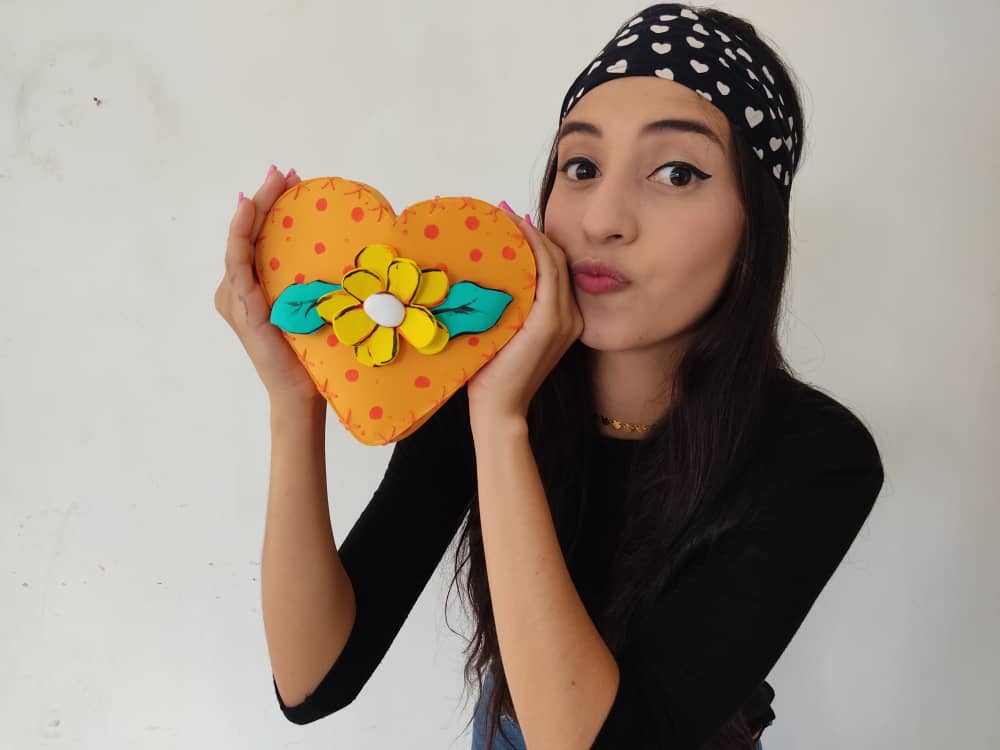 Español
Hola queridos amigos ❣️ Este lindo día les traigo un hermoso paso a paso dónde les mostrare como elaborar un lindo y delicado cofre en forma de corazón, este lindo cofre está hecho de materiales muy económicos y fáciles de conseguir, y además de ser muy lindo es bastante útil a la hora de organizar nuestras herramientas de trabajo, pues, podemos darle distintos usos, puede servir de guarda prendas, o hasta de costurero, así que manos a la obra.
English
Hello dear friends 💓 This beautiful day I bring you a beautiful step by step where I will show you how to make a beautiful and delicate chest in the shape of a heart, this beautiful chest is made of very cheap and easy to get materials, and besides being very cute it is quite useful when organizing our work tools, then, we can give it different uses, it can serve as garment storage, or even as a sewing kit, so let's get to work.
---
¿Qué están esperando?

Using these beautiful materials to transform them into a beautiful heart-shaped chest is a very original and inexpensive idea to decorate our surroundings and give a touch of creativity and personality to our little things. Before we start, let's not forget to wash our hands.
What are they waiting for?

Using these beautiful materials to transform them into a beautiful painting is a very original and inexpensive idea to decorate our surroundings and give a touch of creativity to our walls. Before we start, let's not forget to wash our hands.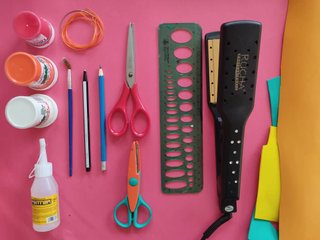 [Materiales | Materials]
Para hacer este hermoso cofre necesitaremos:
Moldes
Foami o goma eva.
Aguja e hilo.
Pincel.
Pinturas.
Tijeras.
Pegamento o silicon.
To make this precious chest will need:
Molds
Foamy or EVA foam.
Needle and thread.
Brush.
Paintings.
Scissors.
Glue or silicone.
---
Procedimiento (paso a paso)
Process (step by step)
---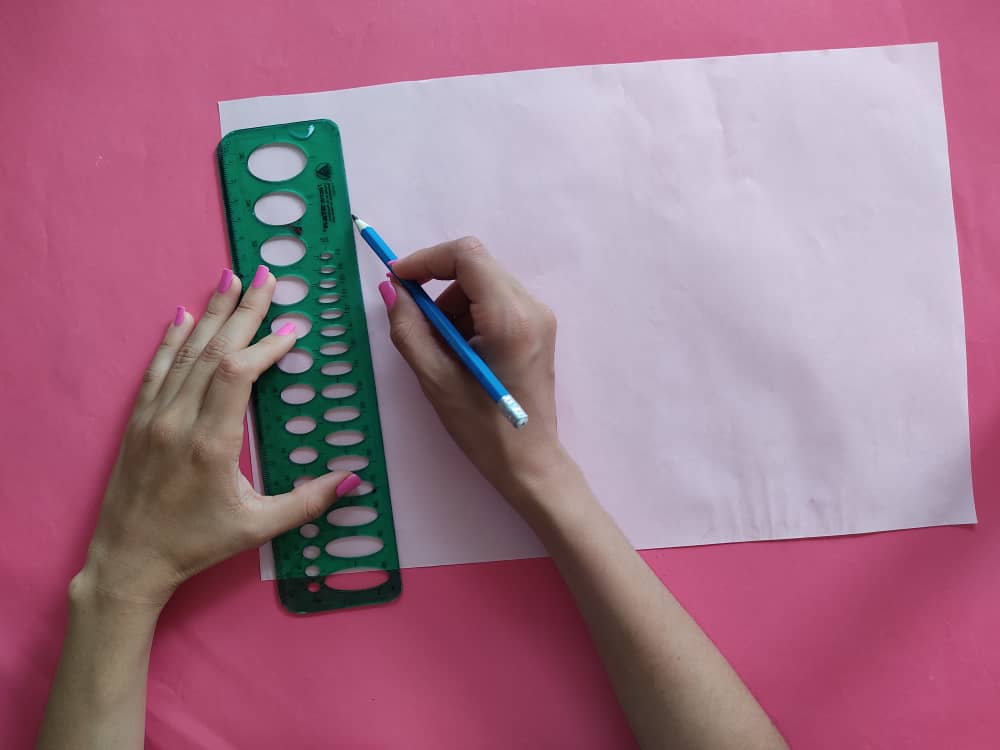 Primero, elaboramos los moldes del cofre que serán 2 corazones, uno será la base, y el otro la tapa, los haremos utilizando una genial técnica dónde marcamos una línea recta, y la mitad de un corazón, luego doblamos el papel en la línea dibujada, y recortamos dejando intacta la línea recta, de manera que nos quede un corazón perfecto, con sus dos partes iguales, genial no?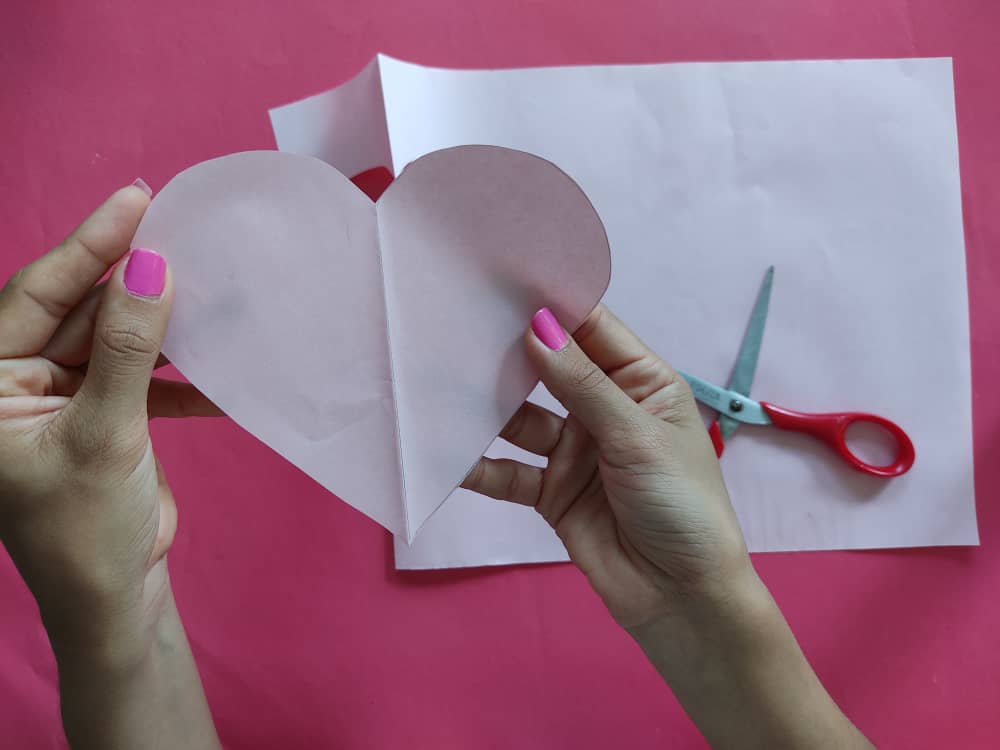 First, we make the molds of the chest that will be 2 hearts, one will be the base, and the other the lid, we will make them using a great technique where we mark a straight line, and half a heart, then we fold the paper on the drawn line, and we cut leaving the straight line intact, so that we have a perfect heart, with its two equal parts, great right?
---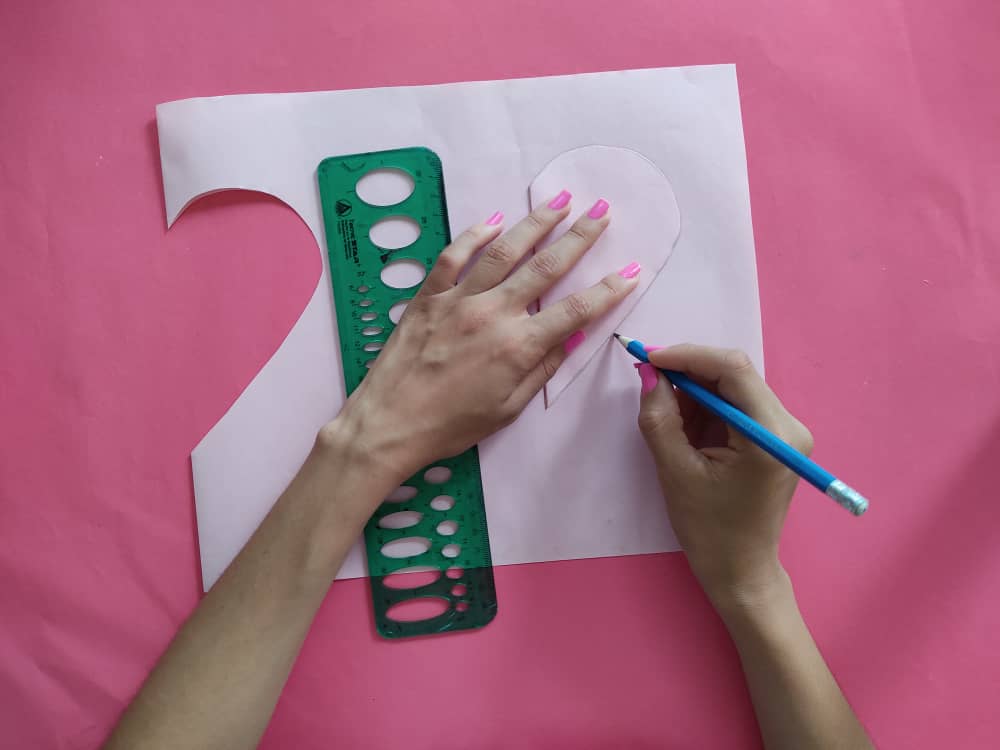 Seguidamente, repetimos el paso anterior pero está vez haciendo un corazón 0,5 cm más grande que el primero, y recortamos cuidadosamente. Este corazón será la tapa.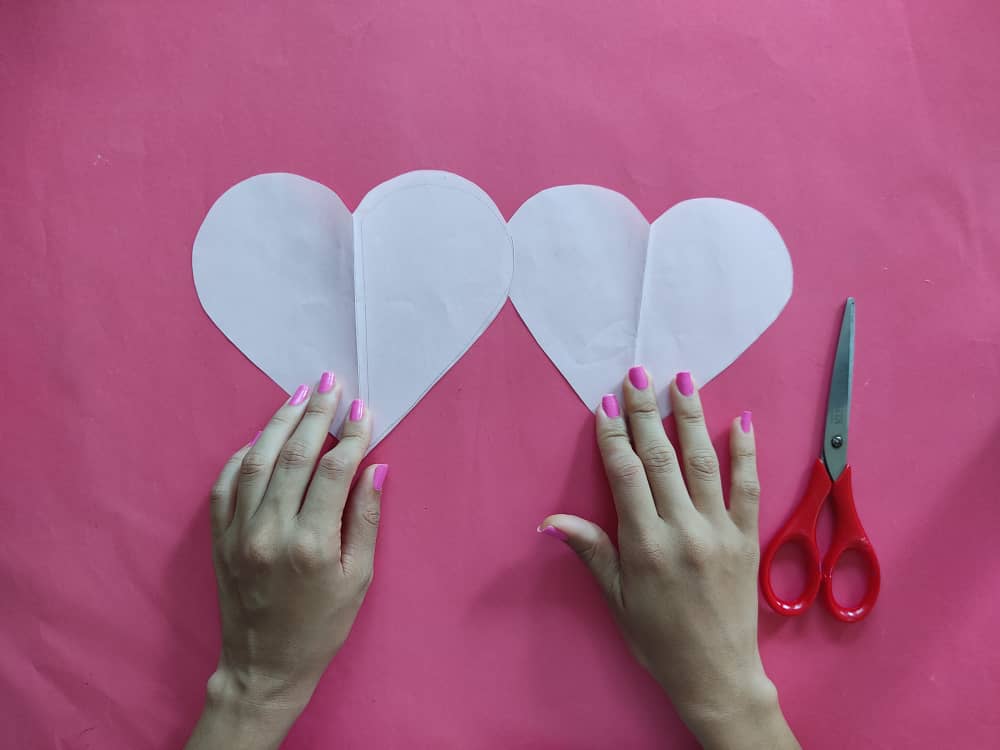 Next, we repeat the previous step but this time making a heart 0.5 cm larger than the first, and carefully cut out. This heart will be the lid.
---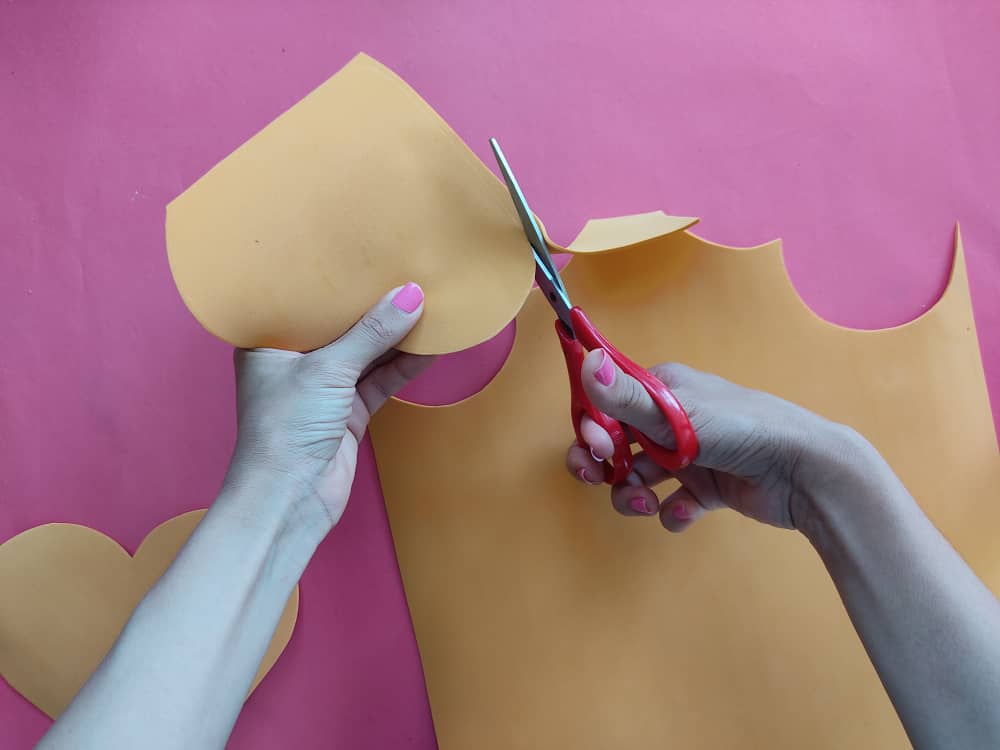 Una vez obtenidos nuestros moldes, los transferimos al foami manteniendo sus medidas, y seguidamente, elaboramos dos tiras rectangulares, una de aproximadamente 3 x 37cm, y la otra de 7 x 37cm, y recortamos, cuidadosamente para que se vean muy rectas, en este caso opte por recortar una de las orillas de cada ambas tira con la ayuda de una tijera decorativa.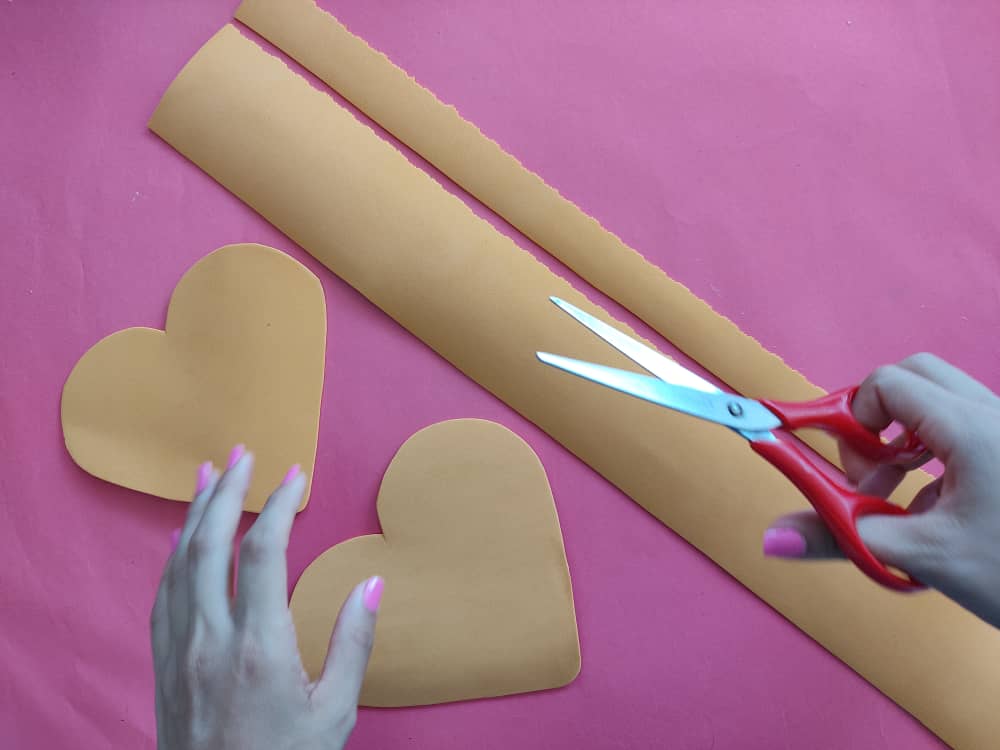 Once our molds are obtained, we transfer them to the foamy keeping their measurements, and then we make two rectangular strips, one of approximately 3 x 37cm, and the other of 7 x 37cm, and we cut, carefully so that they look very straight, in this If so, choose to cut one of the edges of each strip with the help of decorative scissors.
---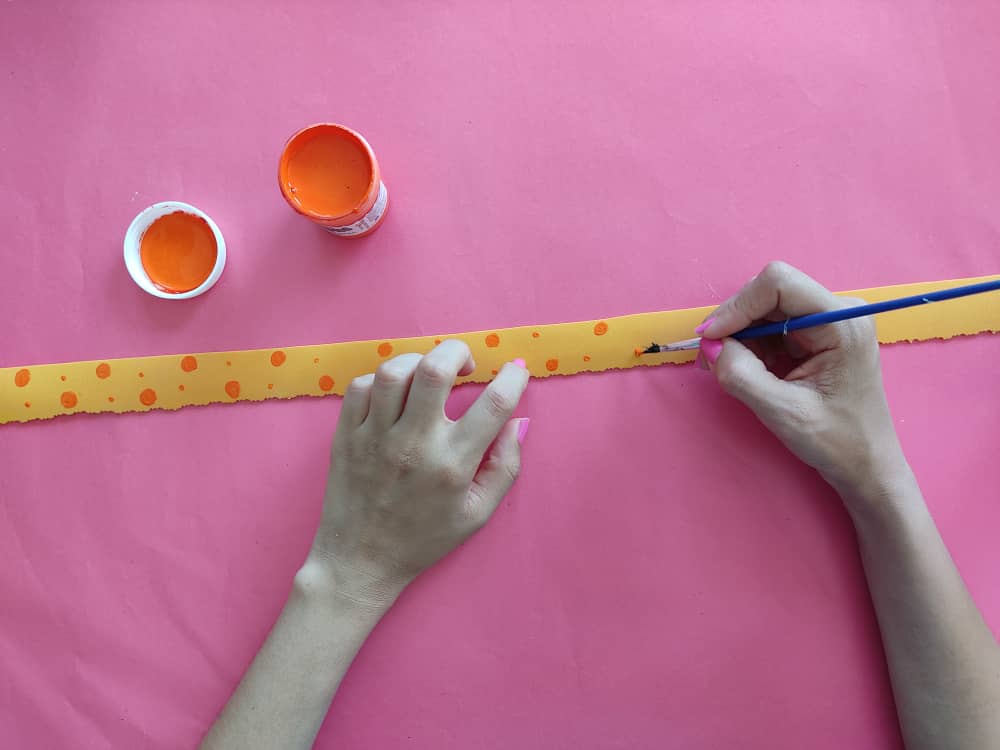 Luego, le damos unos lindos toques de pintura a la tapa, y las tiras, en este caso decidí pintar algunos puntos en color naranja para hacer mi cofre muy original y hermoso.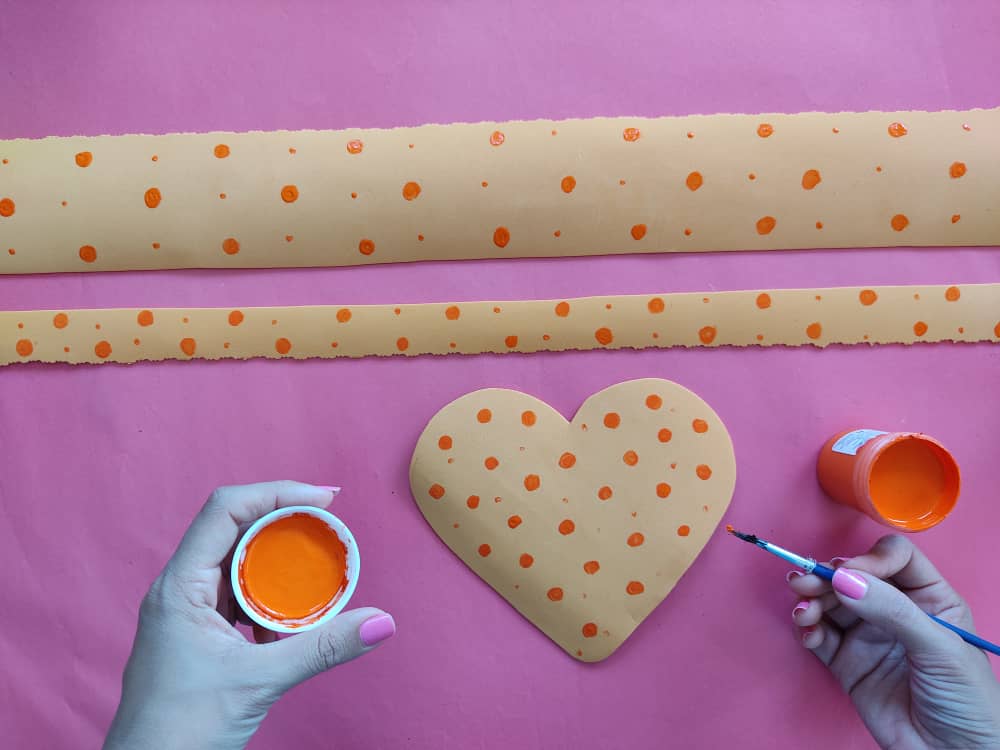 Then, we give the lid some nice touches of paint, and the strips, in this case, I decided to paint some spots in orange to make my chest very original and beautiful.
---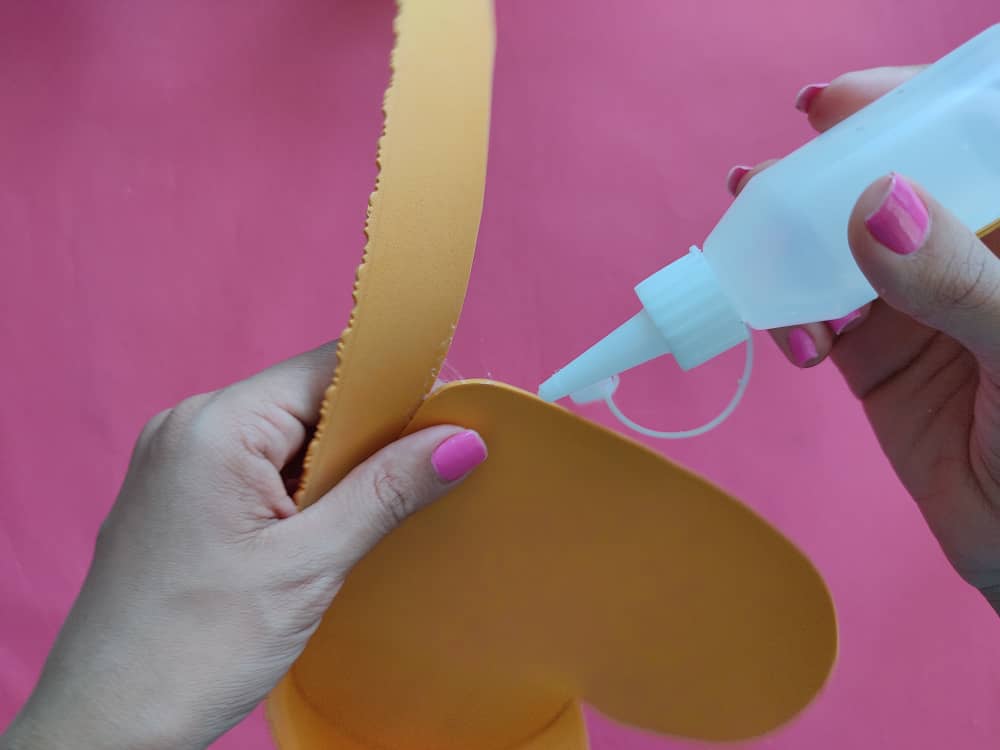 Ahora, armamos la tapa de nuestro cofre uniendo la tira más delgada con el corazón mas grande con la ayuda del pegamento o silicón frio, y sin olvidar, pegar por el lado liso de la tira, de manera que el borde decorativo quede a la vista.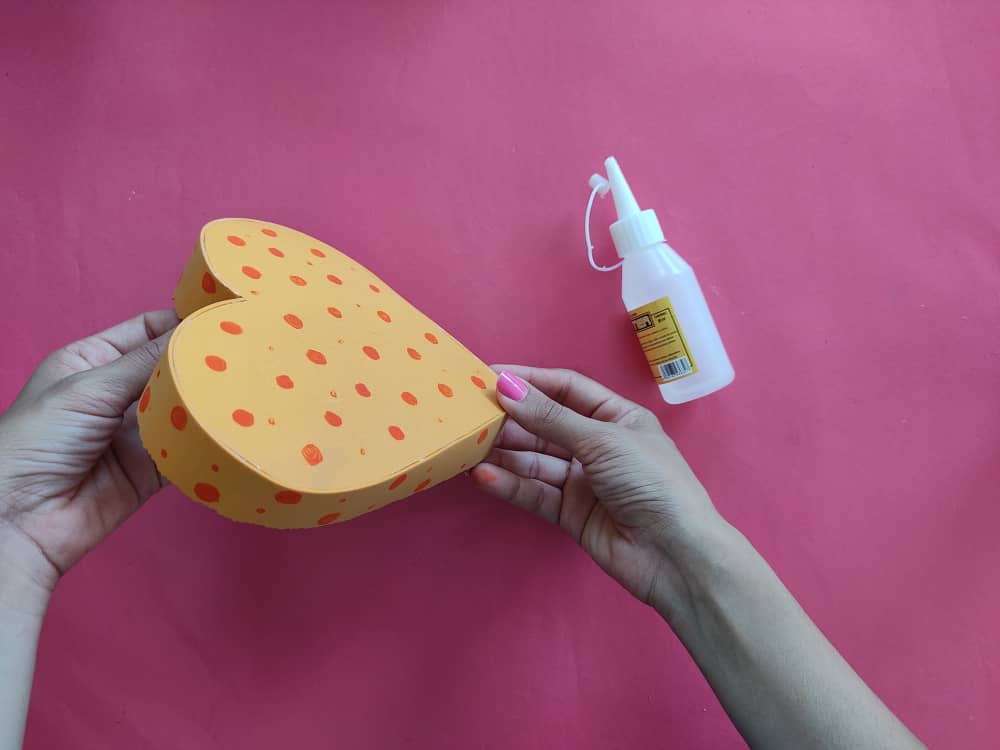 Now, we assemble the lid of our chest by joining the thinnest strip with the largest heart with the help of glue or cold silicone, and without forgetting, stick on the smooth side of the strip, so that the decorative edge is visible.
---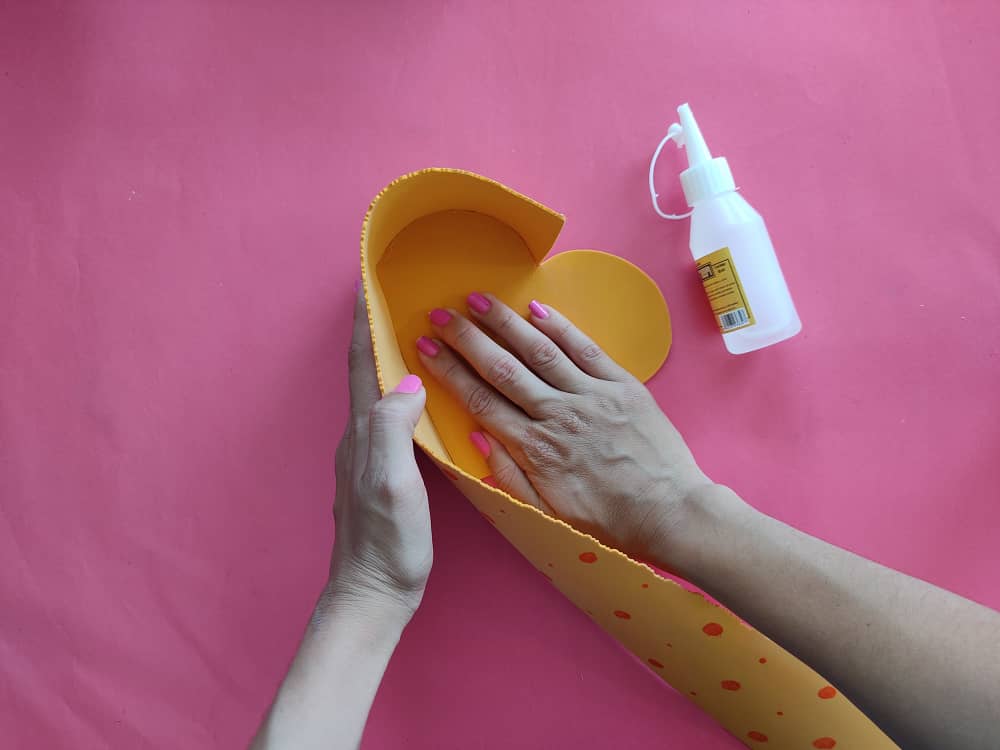 Seguidamente, armamos el cuerpo de nuestro cofre uniendo la tira mas gruesa con el corazón más chico, asegurándonos de que todo quede bien pegado, e igual que en el paso anterior unimos las piezas por el extremo liso de la tira, de manera que el borde decorativo quedé hacia arriba.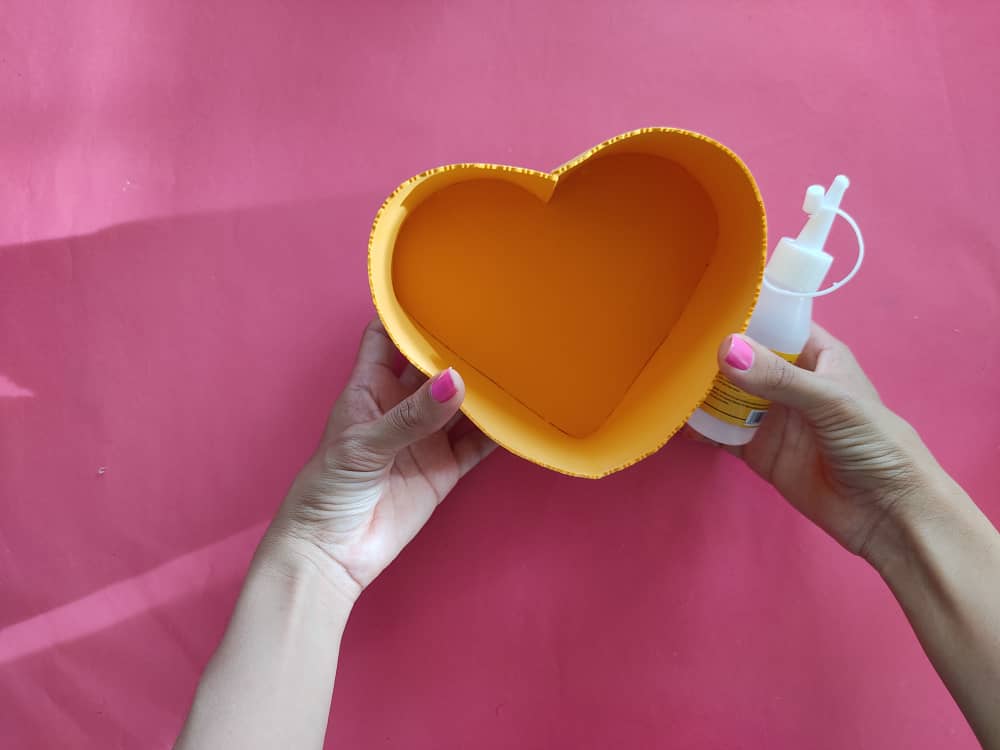 Next, we assemble the body of our chest by joining the thickest strip with the smallest heart, making sure that everything is well glued, and as in the previous step we join the pieces at the smooth end of the strip so that the edge decorative was up.
---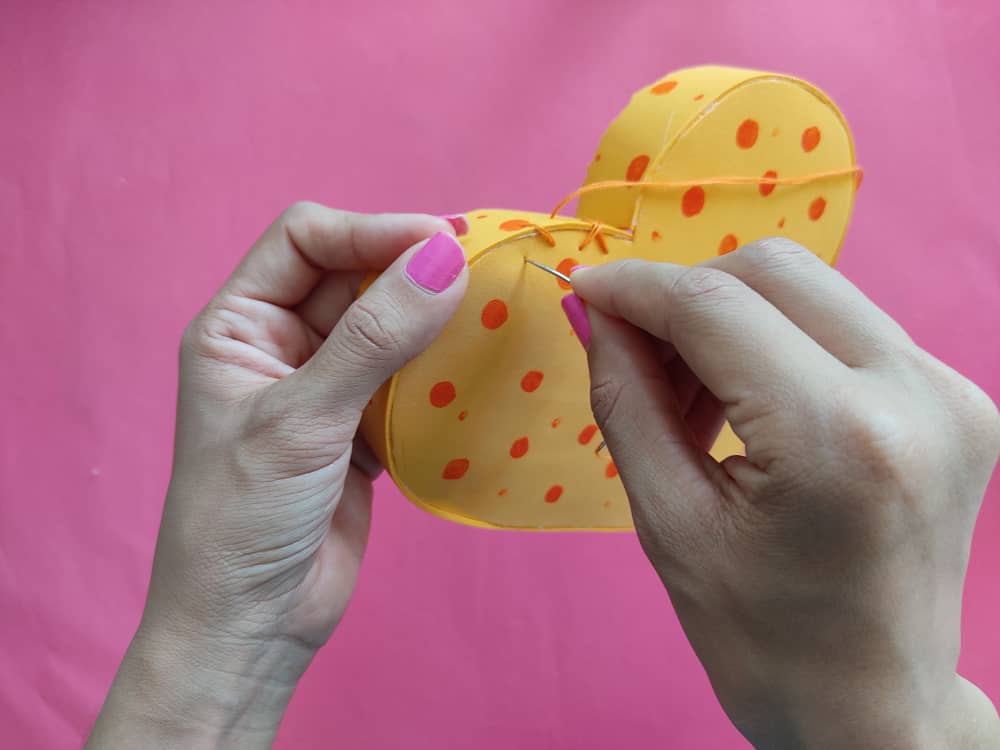 Luego, elaboramos una linda costura en la unión de la tapa, haciendo pequeñas puntadas en forma de equis "X", y repetimos con la base.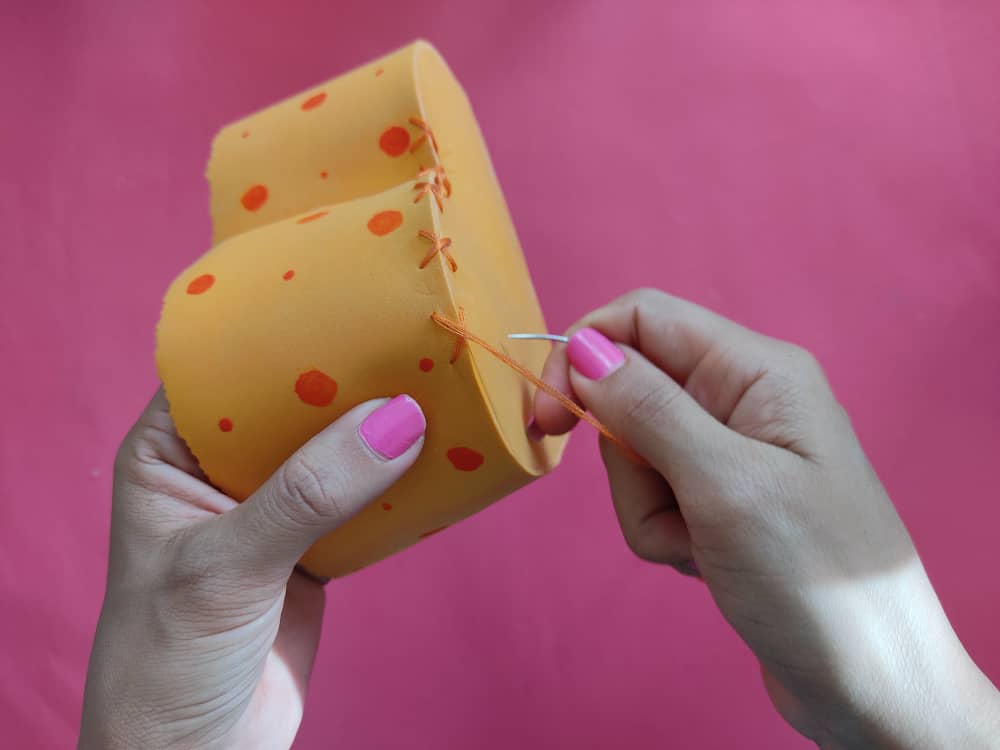 Then, we make a nice seam at the joint of the cover, making small stitches in the shape of an X "X", and repeat with the base.
---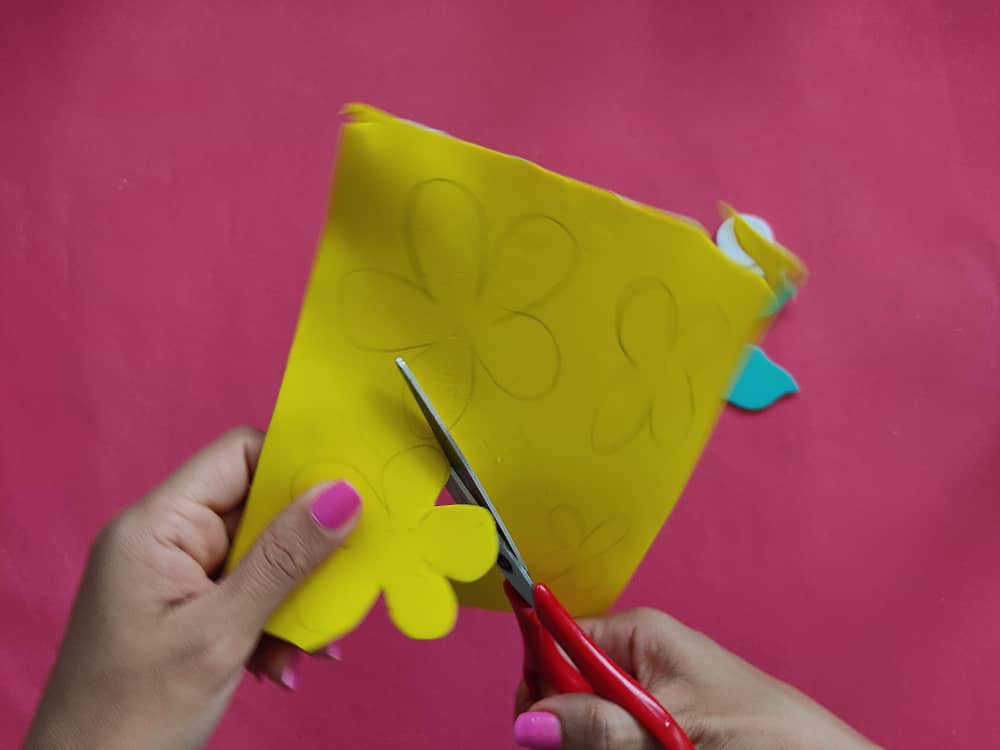 Ahora, elaboramos una linda flor, para decorar la tapa del cofre, recuerden que pueden decorar de la manera que más les guste, lo importante es que lo hagan con mucho amor para que luzca genial.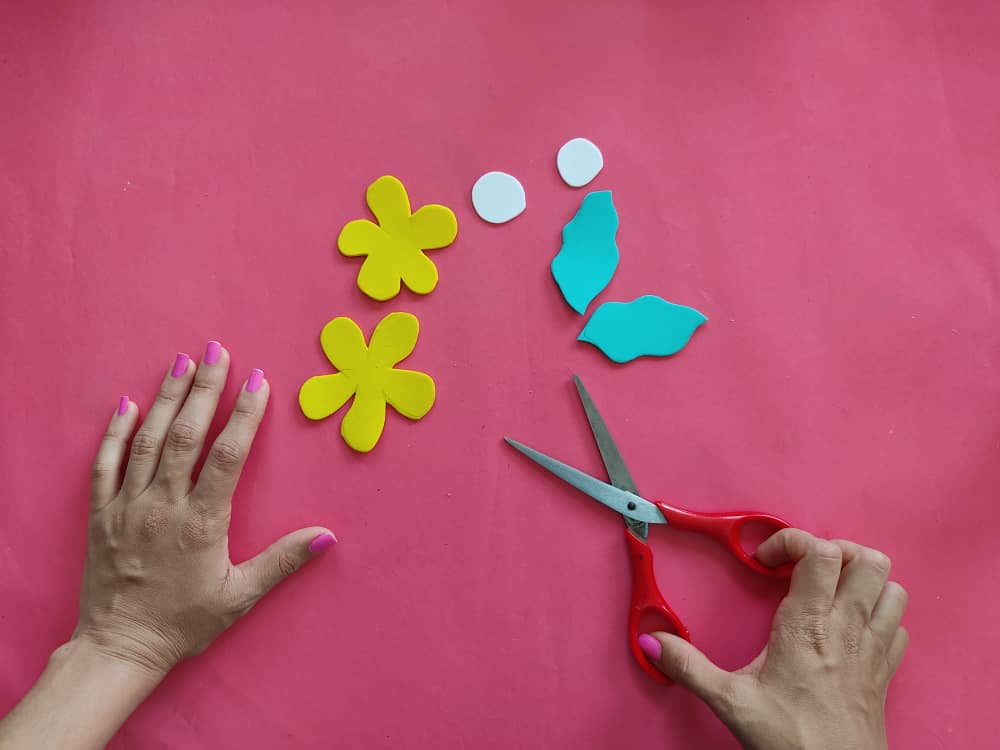 Now, we make a beautiful flower to decorate the lid of the chest, remember that you can decorate the way you like the most, the important thing is that you do it with a lot of love so that it looks great.
---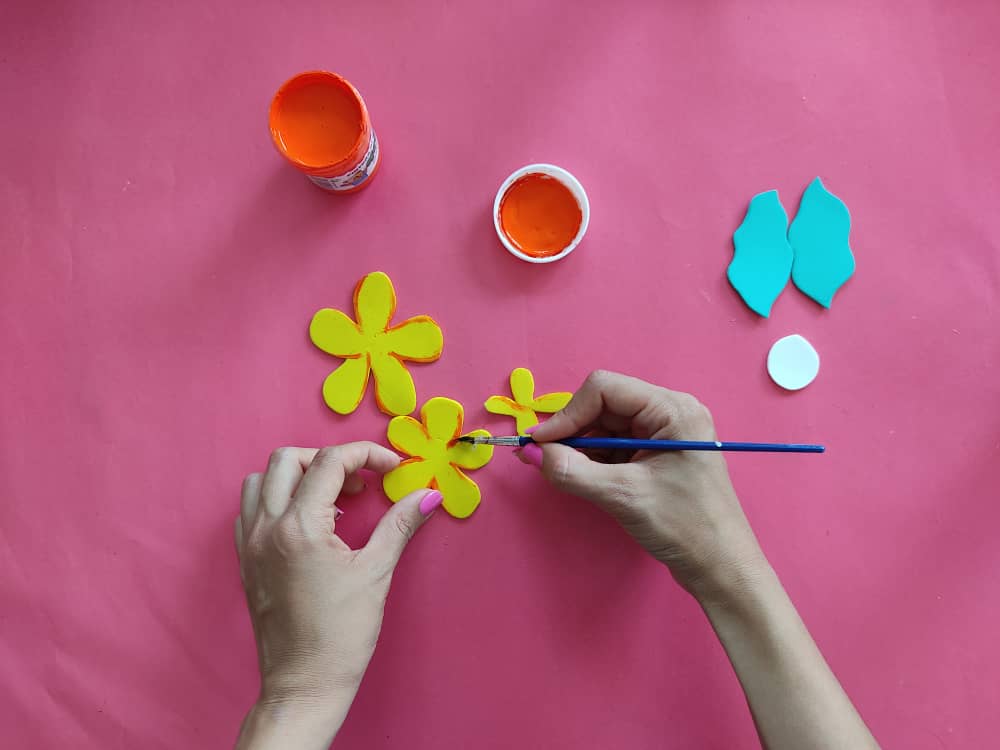 Luego de haber obtenido las partes de la flor, le damos pequeños toques de pintura, y bordeamos cada parte con pintura negra con la ayuda de un pincel fino.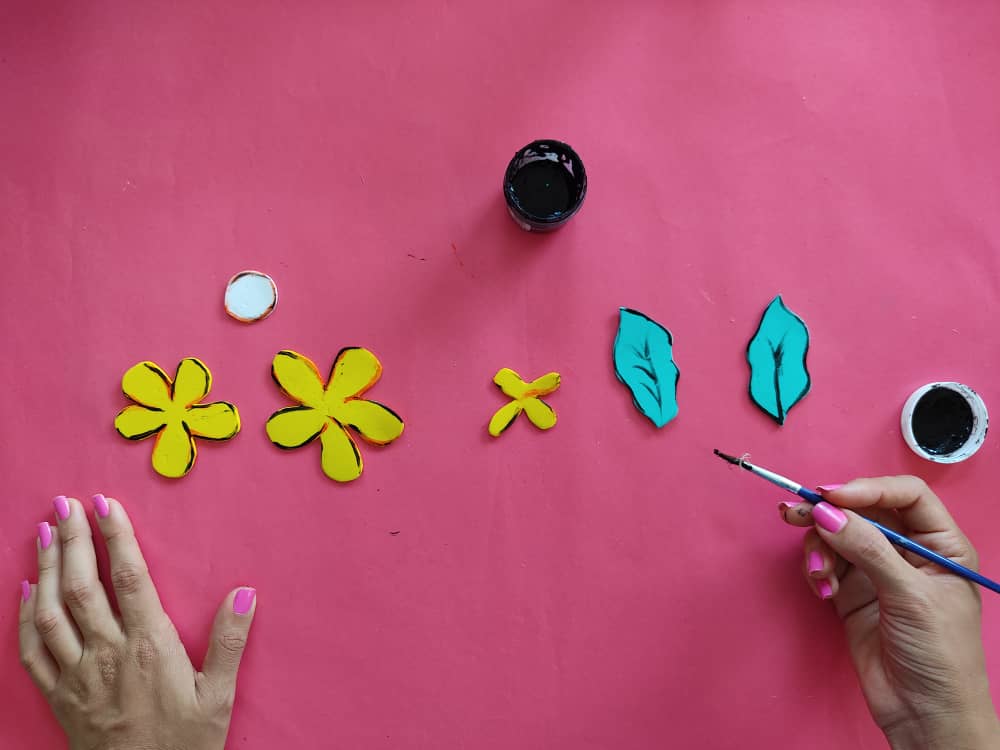 After having obtained the parts of the flower, we give it small touches of paint, and we border each part with black paint with the help of a fine brush.
---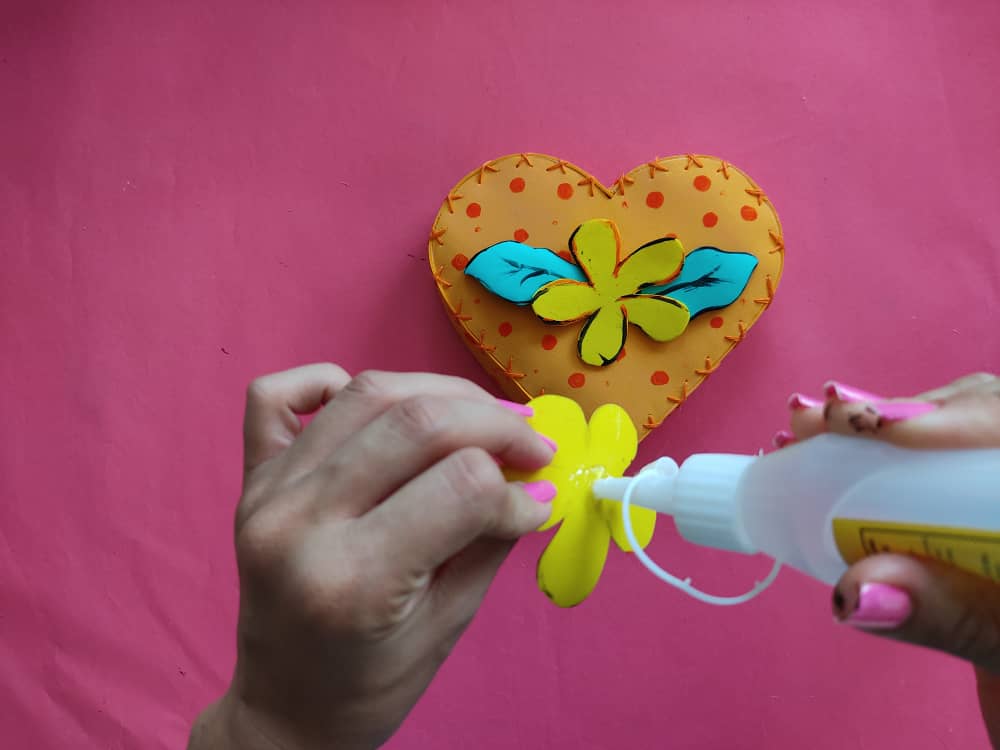 Finalmente, pegamos las partes de esta linda flor sobre la tapa de nuestro cofre corazón y listo, hacemos presión por unos segundos para que todo quede bien pegado.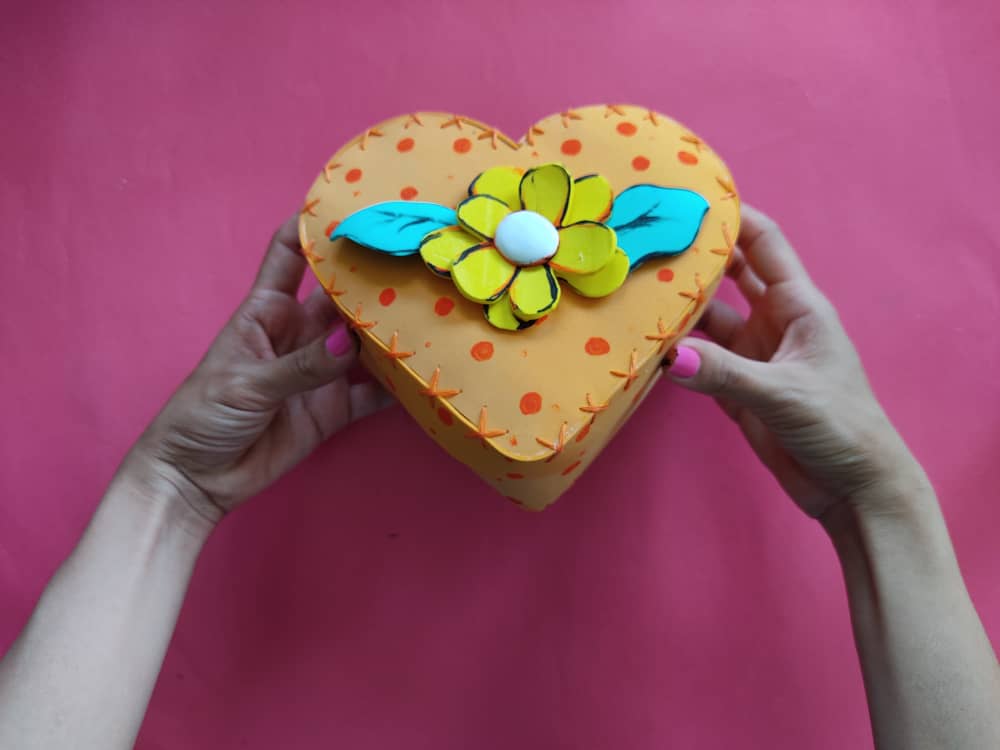 Finally, we glue the parts of this beautiful flower on the lid of our heart chest and voila, we press for a few seconds so that everything is well glued.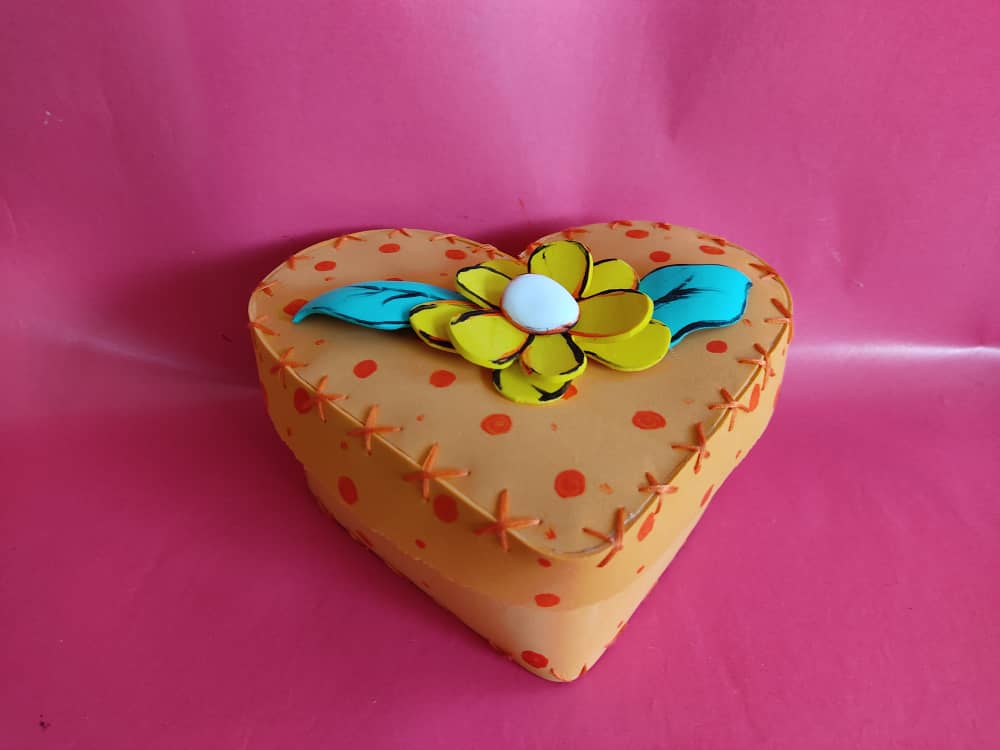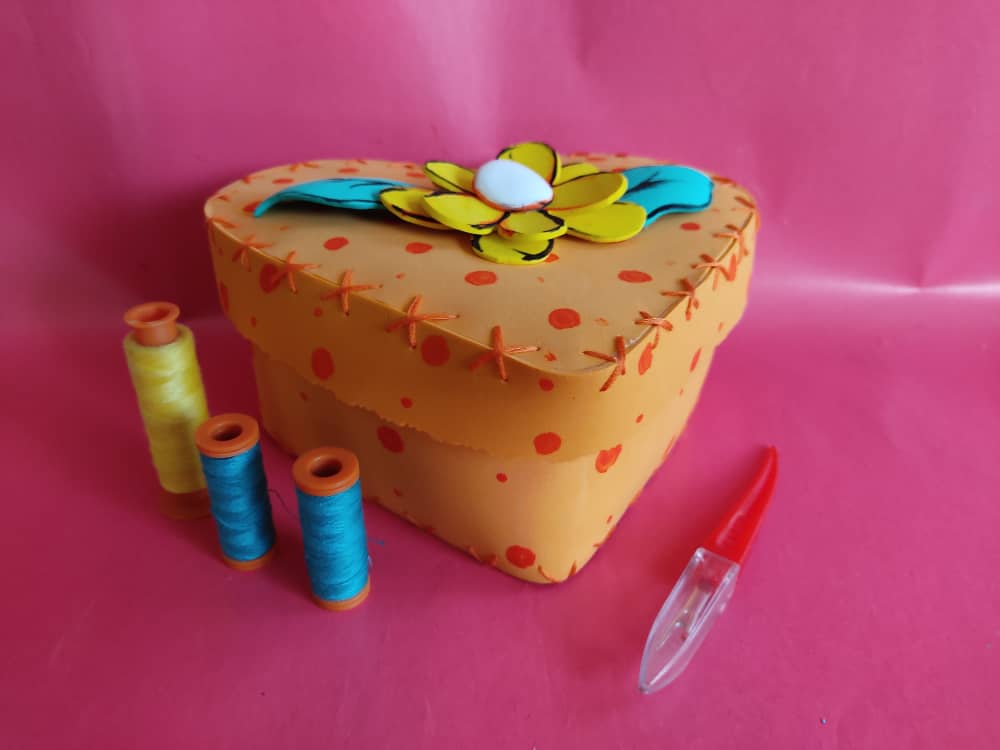 Este original y creativo cofre es muy fácil de hacer, y perfecta para decorar y ordenar nuestras cosas preferidas, llenándolas de estilo y personalidad. Sin duda es una manera muy económica de darle un gran toque de magia a nuestro entorno e incluso podemos utilizar este tutorial como material de emprendimiento, y así, reproducir muchas cestas para su venta. Recuerda que esta es una actividad maravillosa y perfecta para compartir con nuestros tiempos de cuarentena que necesitamos distraer nuestra mente en algo divertido.
This original and creative chest is very easy to make, and perfect for decorating and ordering our favorite things, filling them with style and personality. It is undoubtedly a very inexpensive way to give a great touch of magic to our environment and we can even use this tutorial as entrepreneurship material, and thus, reproduce many baskets for sale. Remember that this is a wonderful and perfect activity to share with our quarantine times that we need to divert our mind to something fun.
---
Gracias por acompañarme y espero que lo hayan disfrutado. ❤️
Thanks for joining and I hope you enjoyed it.❤️
---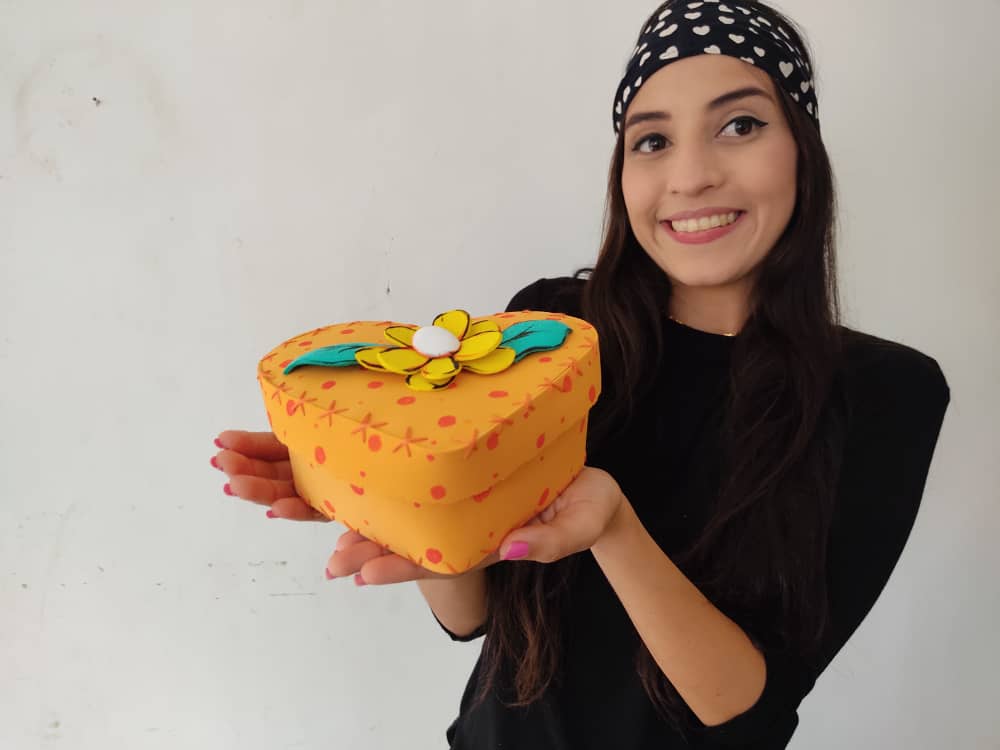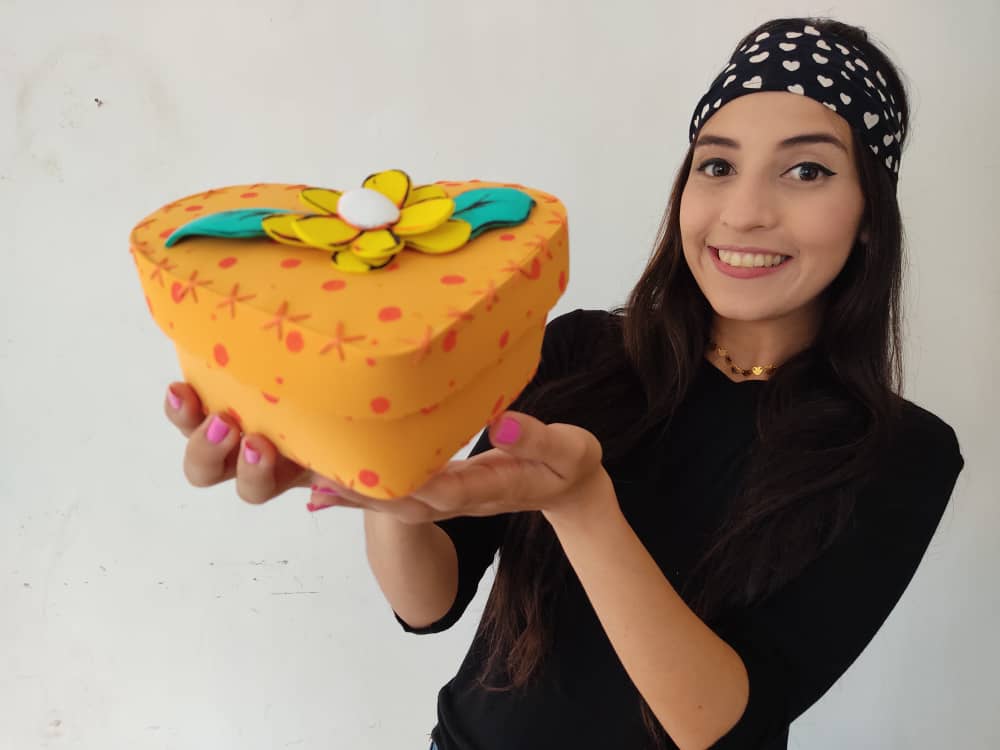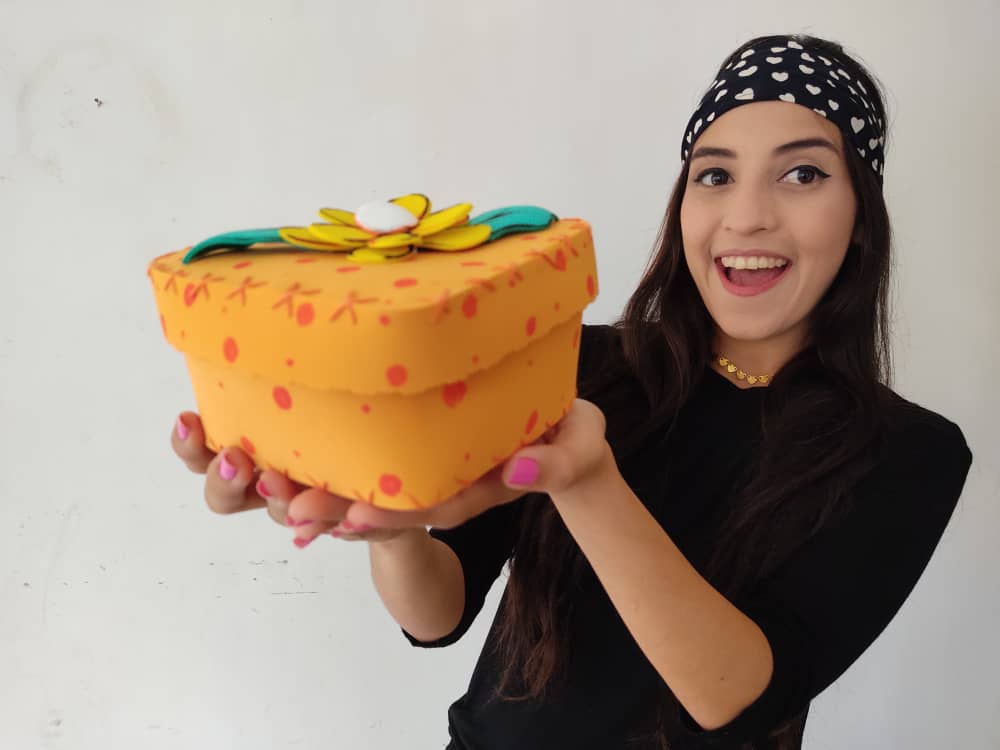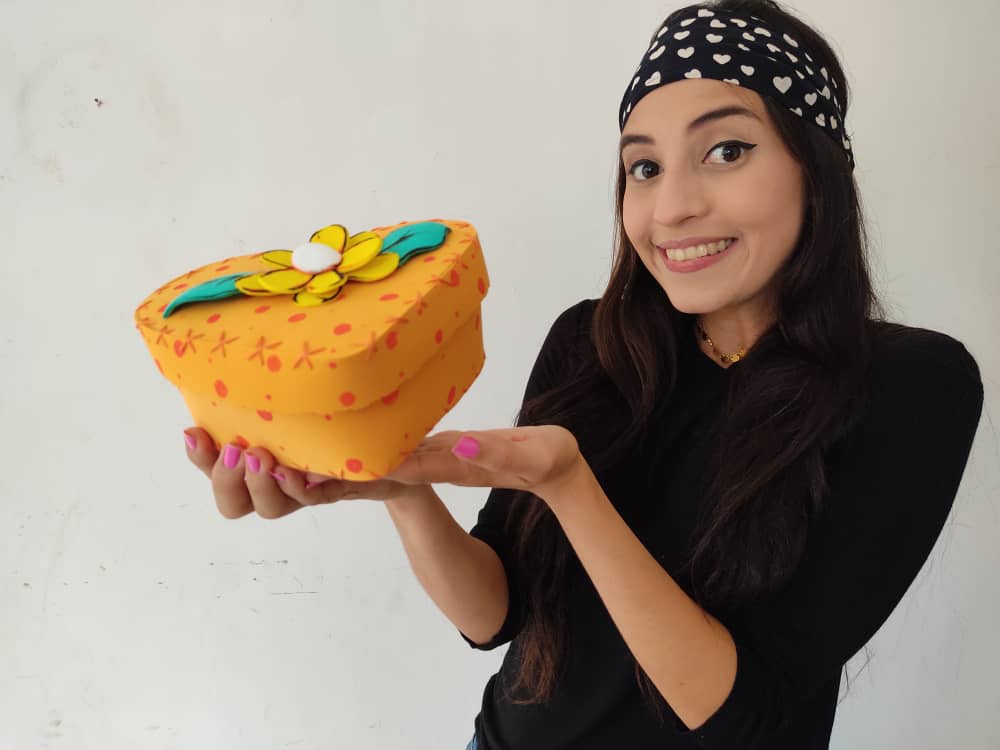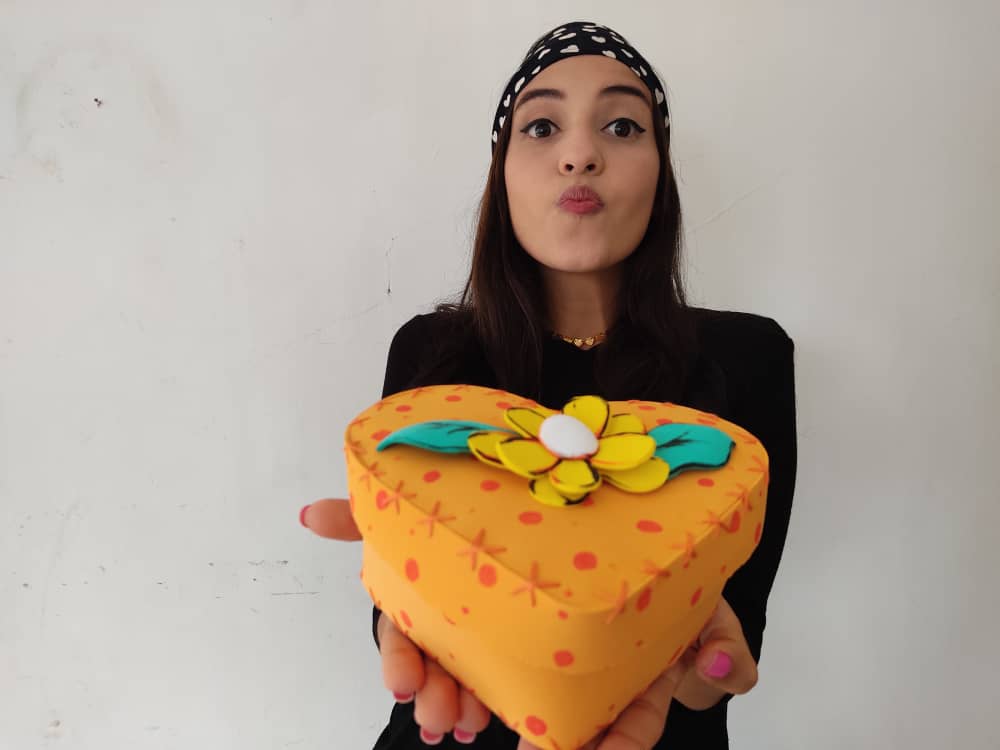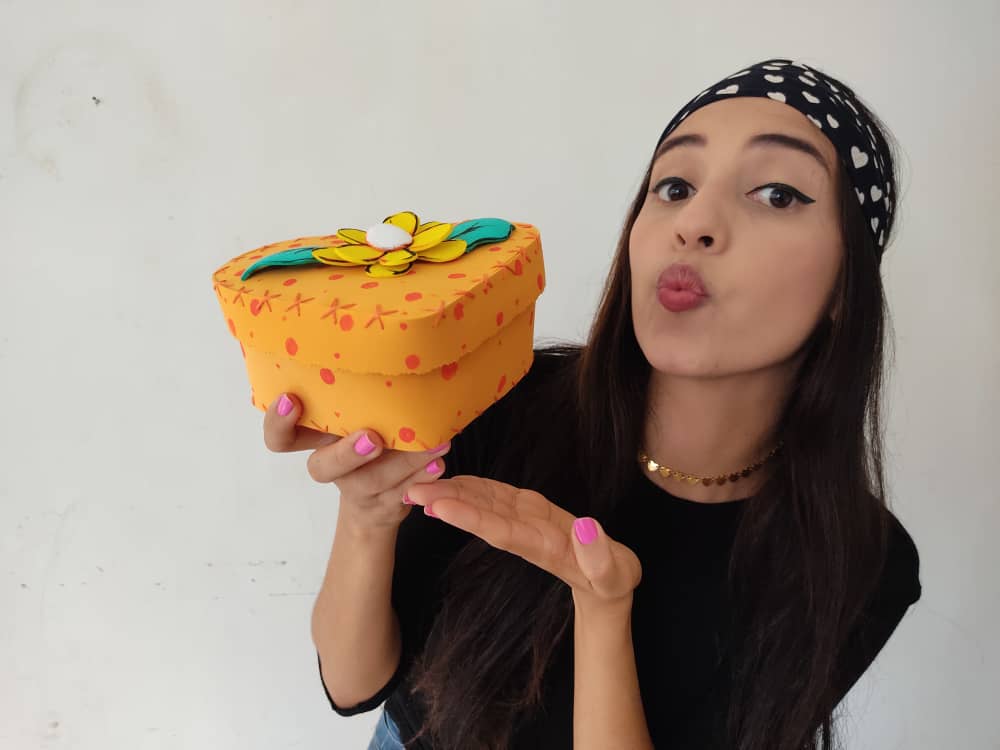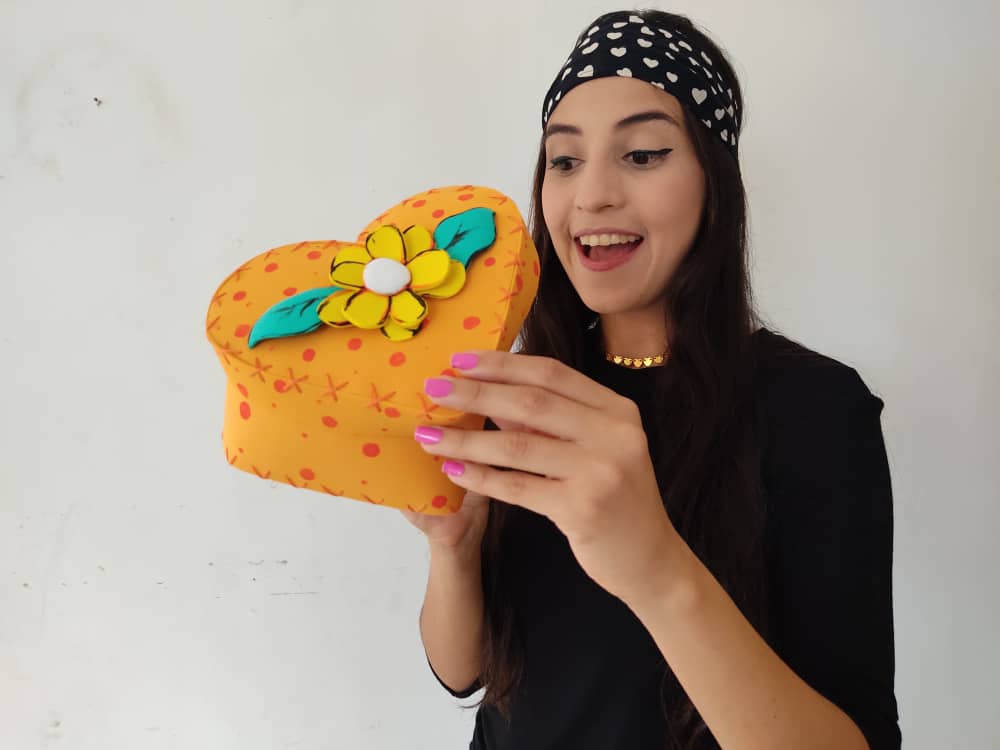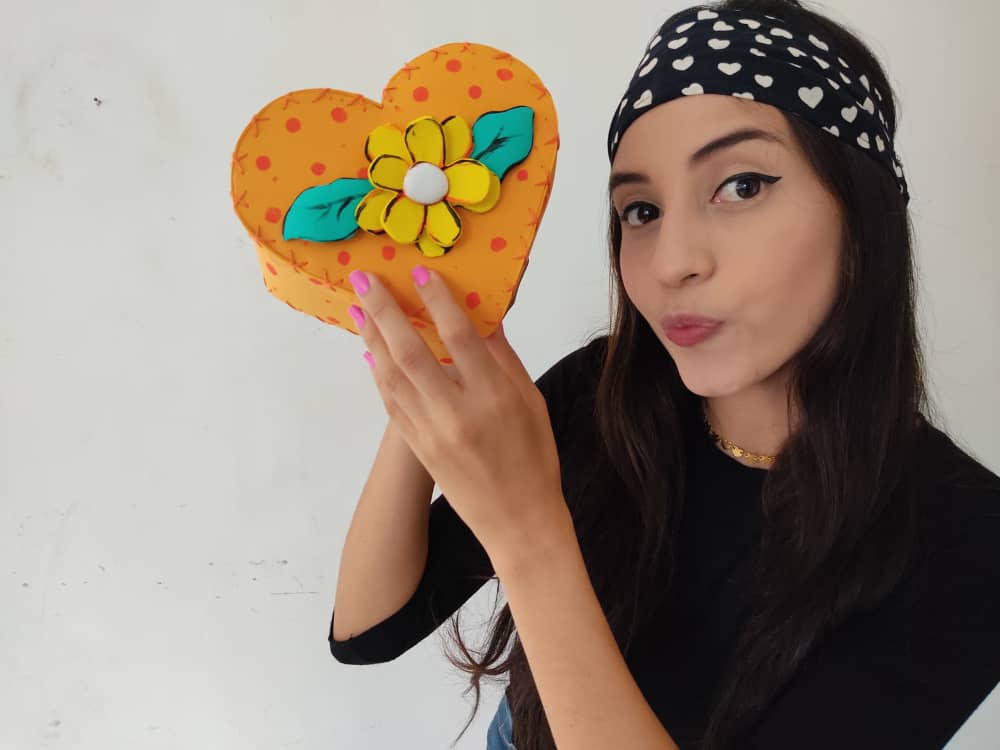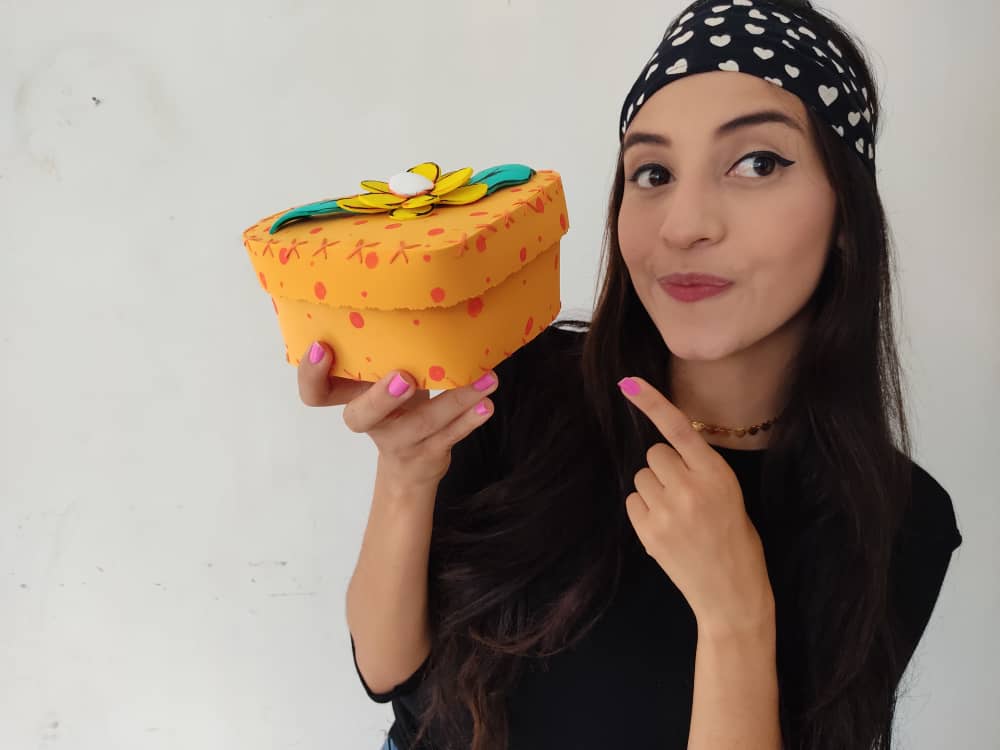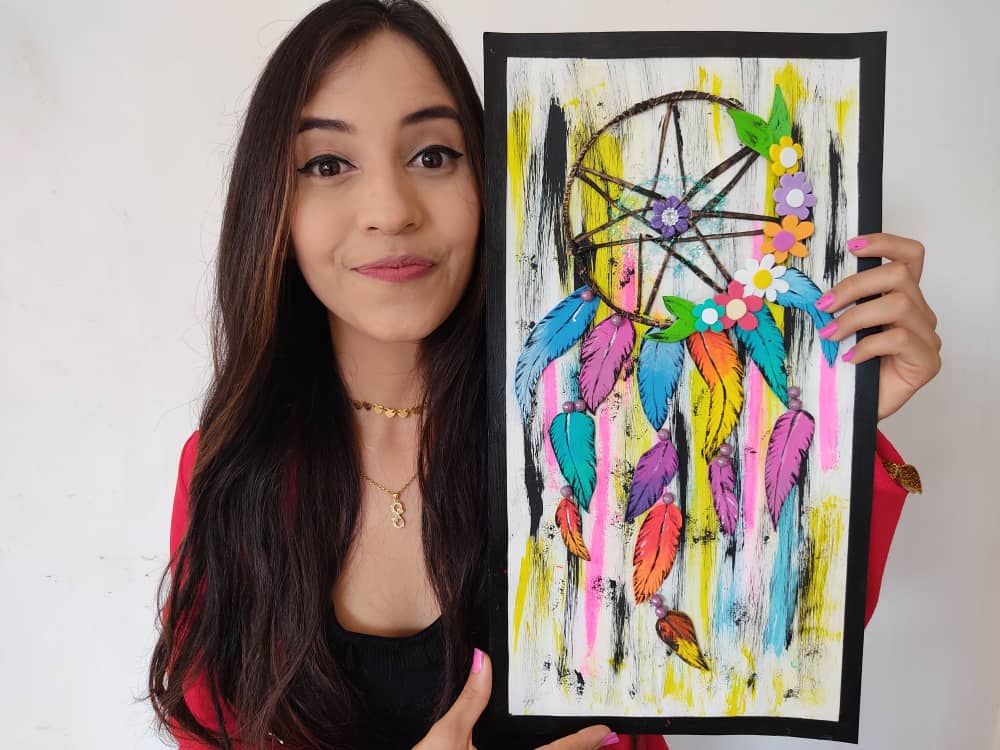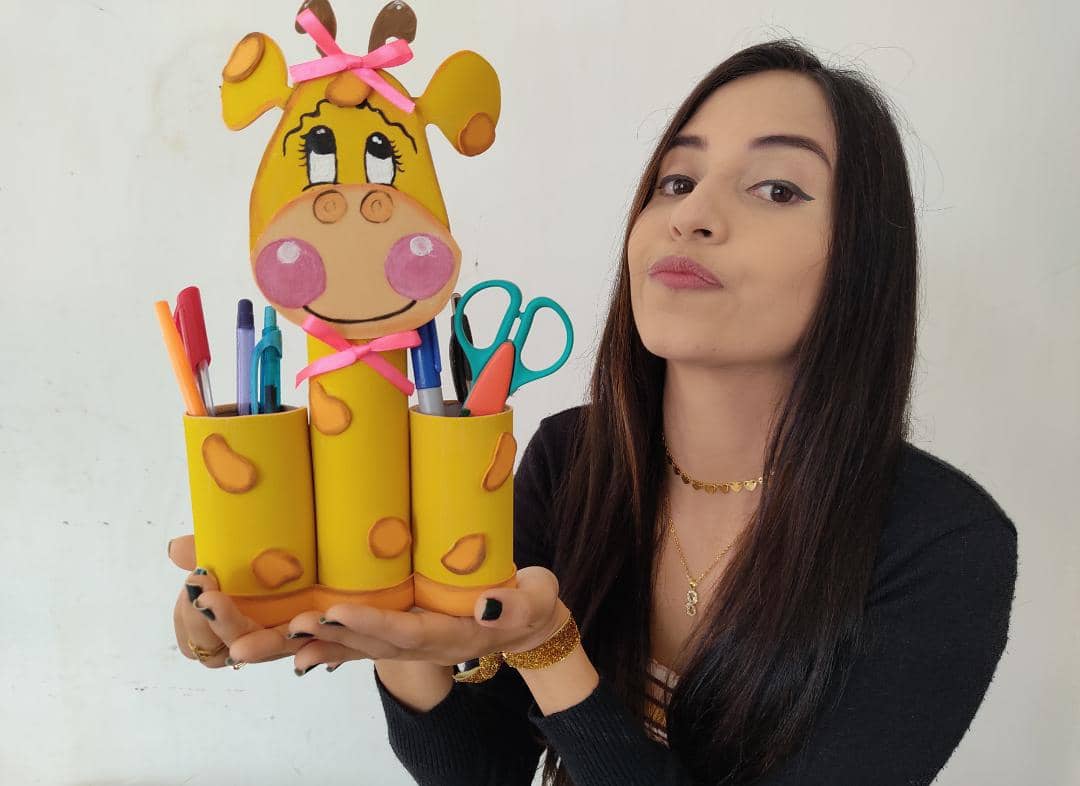 ---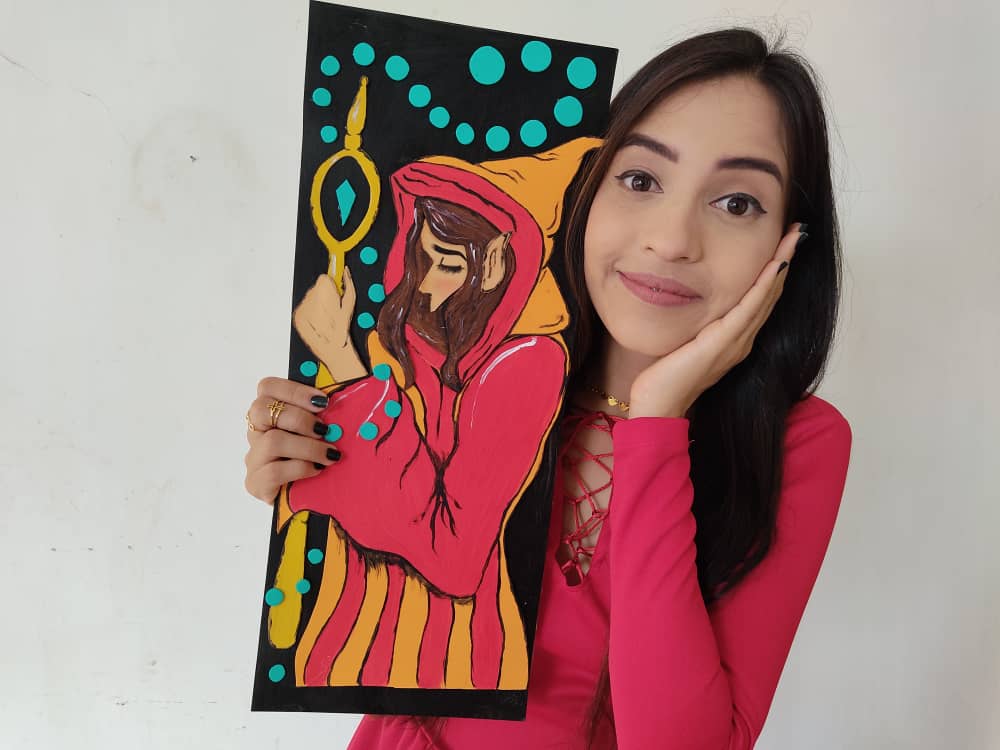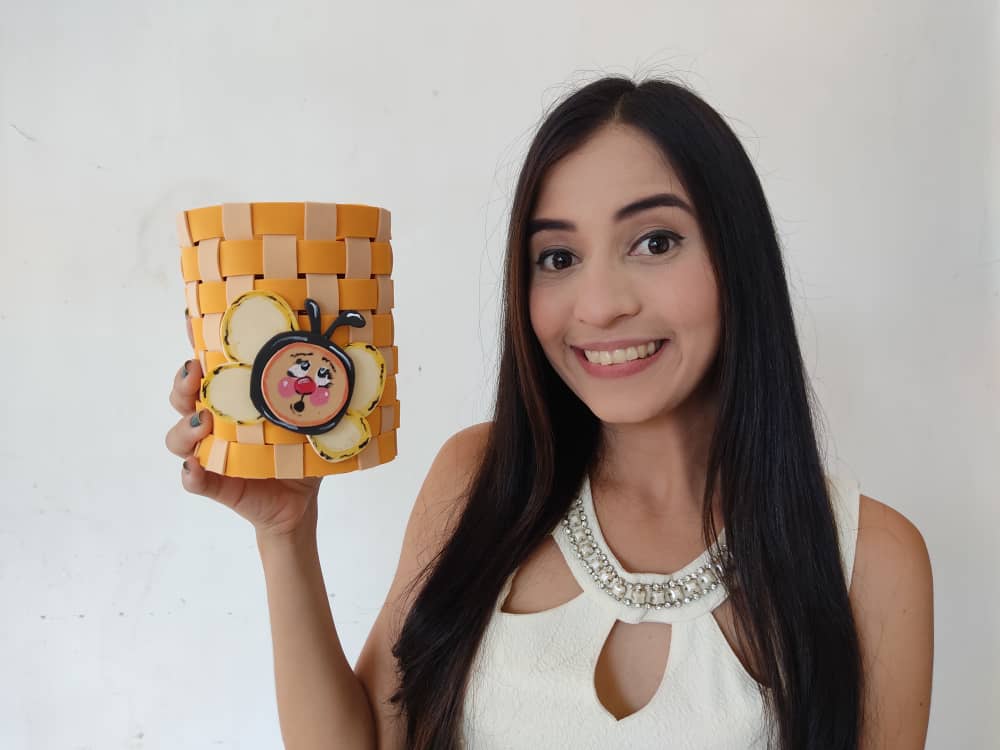 ---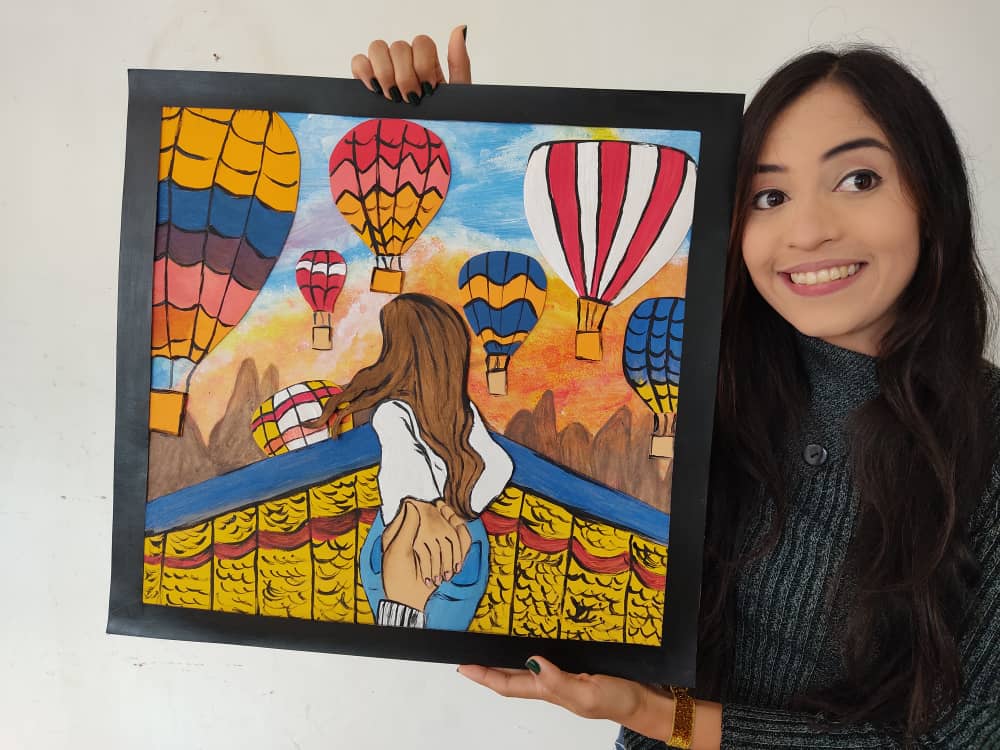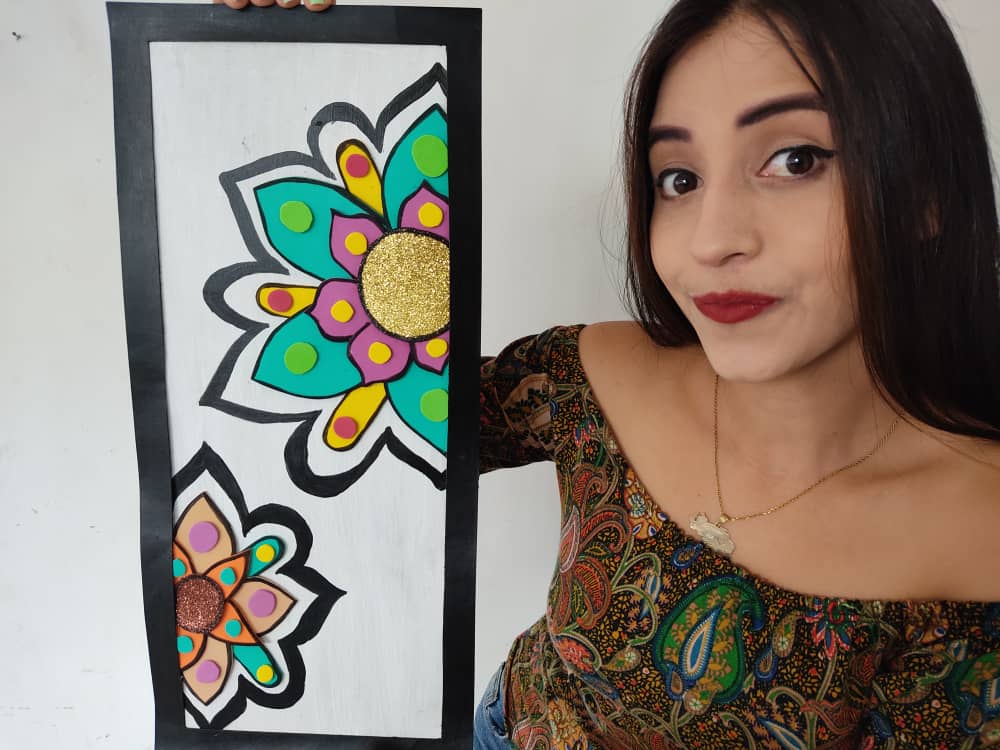 ---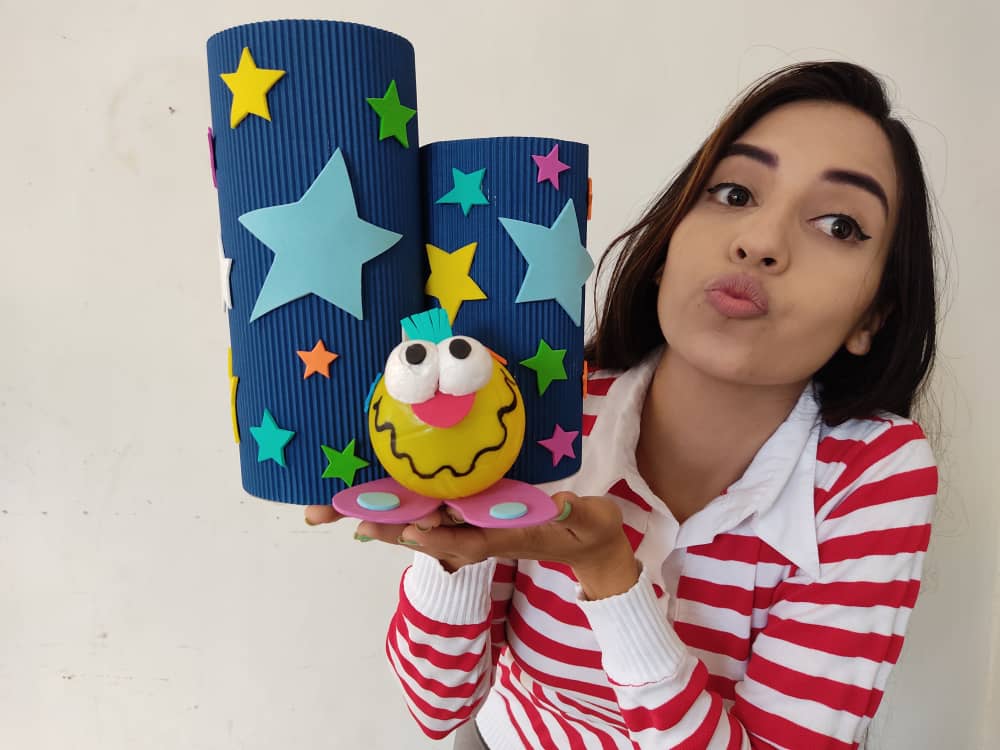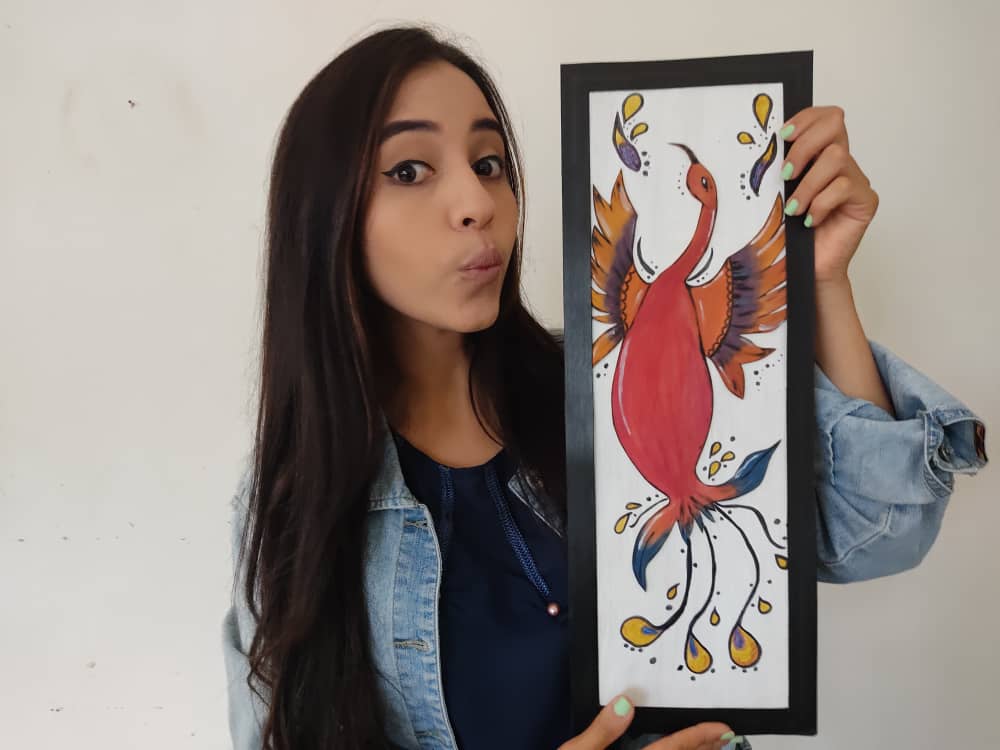 ---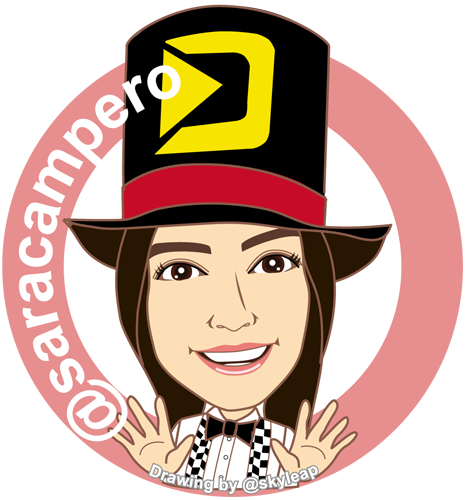 @saracampero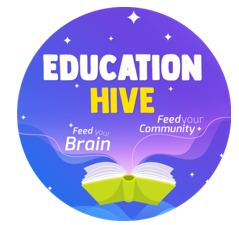 @educationhive


Click the banner to go to our Discord Server!