English
Hello to all the community of The Anime Realm, after leaving some work and being able to see the posts of the community I saw with much enthusiasm that our colleague @lqch proposed a very interesting initiative and is that My 3 Favorite Openings is an idea not only pretty cool but also quite difficult to filter and is that for some members of the community who have seen many anime (like me hahaha) find only 3 that deserve to be in this top is not at all an easy task plus they will not be in a specific order as they are too good and could not choose one over another, but well since this initiative seemed so epic to me here is my top 3.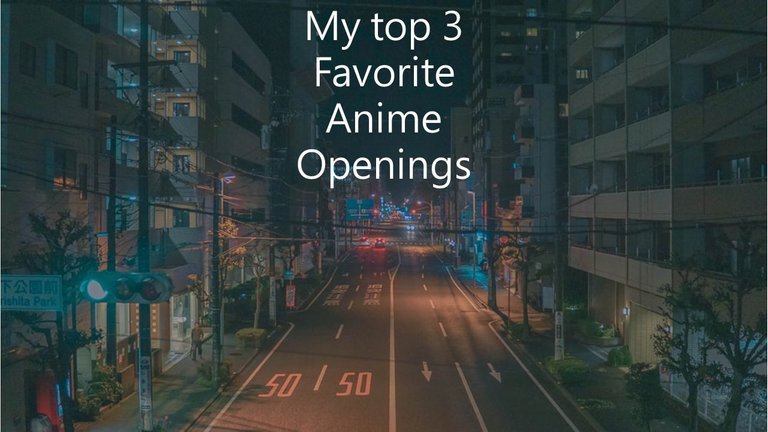 Source
Before starting the top I want to make clear that something that for me makes an anime epic is its opening, and if you start a chapter and its entrance does not entertain you is very difficult for the rest of the chapter to achieve it also the opening must manage to convey feelings of what will be the work or what the protagonists feel, so for me it is something fundamental for the work to be good, without anything else to add let's start with the top.
Unravel de TK from Ling Tosite Sigure
What I can't say about this amazing artwork that hasn't been said before, this song perfectly defines Kaneki's feelings in his transition and acceptance of leaving being a human to become a Ghoul, of accepting what he really is in reality and what this condition will bring him besides being epically used in different parts of the anime (like the battle against Jason). I'm a fan of Tokyo Ghoul since practically the beginning of the manga and when I heard about its adaptation to anime I was very happy and for more joy when I heard this Opening I thought it would be the perfect adaptation, of course we all know the mistakes that had the adaptation both in the first season and those that followed, but the impact that had this opening was such that you can not think of Tokyo Ghoul without hearing in your head Unravel; seriously a masterpiece.
Dark Crow from Man With a Mission
Man With a Mission has not brought us only one epic opening, but an incredible amount of them, going from Nanatsu no Taizai to Inuyashiki (the opening of this anime almost managed to take the place of Dark Crow hahaha) and Dark Crow I think it has been one of the most successful openings in terms of giving that style of what Thorfinn thinks and the enemies he will have to face to finally achieve his revenge and the sequence of images that has this opening is brutal, plus the style of this band I really like.
Shinzo Wo Sasageyo from Linked Horizon
This opening has everything necessary to be something epic, not only presented us with a brutal song but also a choice of incredible images and being the most important thing it transmitted us that feeling of wanting to fight that Eren felt, that feeling of wanting to finish with the Titans and that decision of the recognition brigade to give his heart, this anime marked my love for this work and also when I read chapters of the manga I did it listening to it in the background, although I must admit that it could be in a tie with Guren no Yumiya of the same band.
I must admit that I resisted the temptation to put honorary places because this post would have never ended hahaha, but at least Peace Sign by Kenshi Yonezu (second op of BNHA) and The Hero!!! by JAM project (first op of OPM) are also in my top haha, I hope many members of the community join this great initiative and I hope to see them in another opportunity.
Español
Hola a toda la comunidad de The Anime Realm, luego de salir de algunos trabajos y poder ver los posts de la comunidad vi con mucho entusiasmo que nuestra compañera @lqch propuso una iniciativa bastante interesante y es que Mis 3 Openings Favoritos es una idea no solo bastante genial sino también bastante difícil de filtrar y es que para algunos miembros de la comunidad que han visto muchos animes (como yo jajaja) encontrar solo 3 que merezcan estar en este top no es para nada una tarea fácil además no estarán en un orden específico ya que son demasiado buenos y no podría elegir uno sobre otro, pero bueno ya que está iniciativa me pareció tan épica aquí está mi top 3.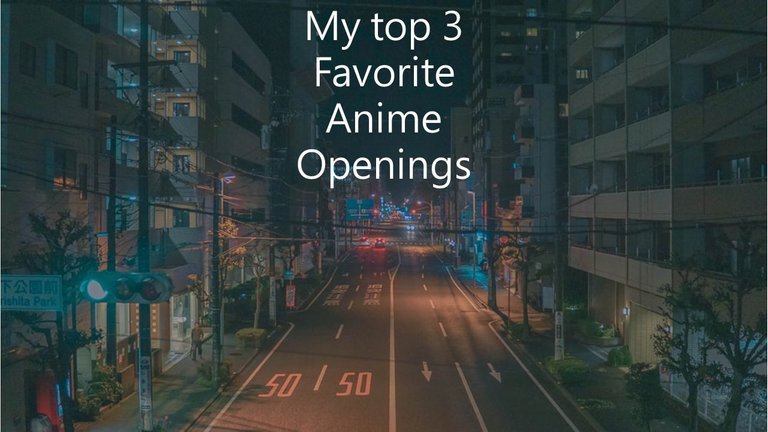 Source
Antes de empezar el top quiero dejar en claro que algo que para mí hace que un anime sea épico es su opening, y es que si empiezas un capítulo y su entrada no te entretiene es muy difícil que el resto del capítulo lo logré además el opening debe lograr transmitirte sentimientos de lo que será la obra o de lo que sienten los protagonistas, así que para mí es algo fundamental para que la obra sea buena, sin nada más que agregar empecemos con el top.
Unravel de TK from Ling Tosite Sigure
Que no puedo decir de esta increíble obra de arte que no se haya dicho antes, está canción define de forma perfecta los sentimientos de Kaneki en su transición y aceptación de dejar de ser un humano para volverse un Ghoul, de aceptar lo que realmente es en realidad y de lo que está condición le traerá además de ser epicamente usado en diferentes partes del anime (como la batalla contra Jason). Soy un fanático de Tokyo Ghoul desde prácticamente los inicios del manga y cuando supe de su adaptación al anime fui muy feliz y para mayor alegría cuando escuché este Opening pensé que sería la adaptación perfecto, claro está todos sabemos los errores que tuvo la adaptación tanto en la primera temporada como las que siguieron, pero el impacto que tuvo este opening fue tal que no se puede pensar en Tokyo Ghoul sin escuchar en la cabeza Unravel; en serio una obra maestra.
Dark Crow de Man With a Mission
Man With a Mission no nos a traído un solo opening épico, sino una cantidad increíble de ellos, pasando desde Nanatsu no Taizai hasta Inuyashiki (el opening de este anime casi casi logra quitarle el puesto a Dark Crow jajaja) y Dark Crow creo que ha sido uno de los openings más acertados en cuanto a darle ese estilo de lo que piensa Thorfinn y los enemigos que tendrá que enfrentar para por fin lograr su venganza y la secuencia de imágenes que tiene este opening es brutal, además que el estilo de esta banda en serio me gusta.
Shinzo Wo Sasageyo de Linked Horizon
Este opening tiene todo lo necesario para ser algo épico, no solo nos presentaba una canción brutal sino también una elección de imágenes increíbles y siendo lo más importante nos transmitía esa sensación de querer pelear que sentía Eren ese sentimiento de querer acabar con los Titanes y esa decisión de la brigada de reconocimiento de entregar su corazón, este anime marco mi amor por esta obra y además cuando leía capítulos del manga lo hacía escuchándola de fondo, aunque debo admitir que podría encontrarse en un empate junto a Guren no Yumiya de la misma banda.
Debo admitir que resistí la tentación de poner lugares honoríficos porque este post no hubiese terminado nunca jajaja, pero por lo menos Peace Sign de Kenshi Yonezu (segundo op de BNHA) y The Hero!! de JAM project (primer op de OPM) también están en mi top jaja, espero que muchos miembros de la comunidad se unan a esta genial iniciativa y espero verlos en otra oportunidad.