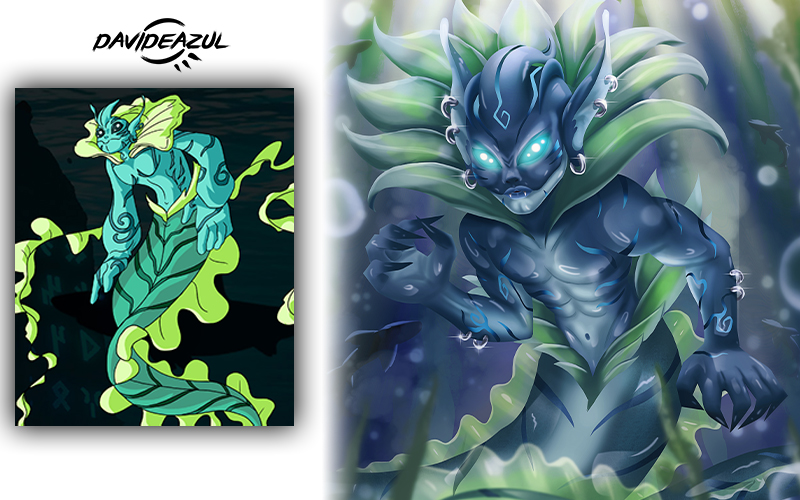 Kelp Initiate! ♥



¡Hola a todos! Espero que estén muy bien. Decidí volver a participar en el concurso de arte de @splinterlands, esta vez quería probar dibujando criaturas fantásticas, una de las que me fascinó fue: Kelp Initiate. Así que lo transformé a mi estilo, ¡acompáñame a ver el proceso!
Hello everyone! I hope you all are doing great. I decided to participate again in @splinterlands art contest, this time I wanted to try drawing fantastic creatures, one of the ones that fascinated me was: Kelp Initiate. So I transformed it to my style, join me to see the process!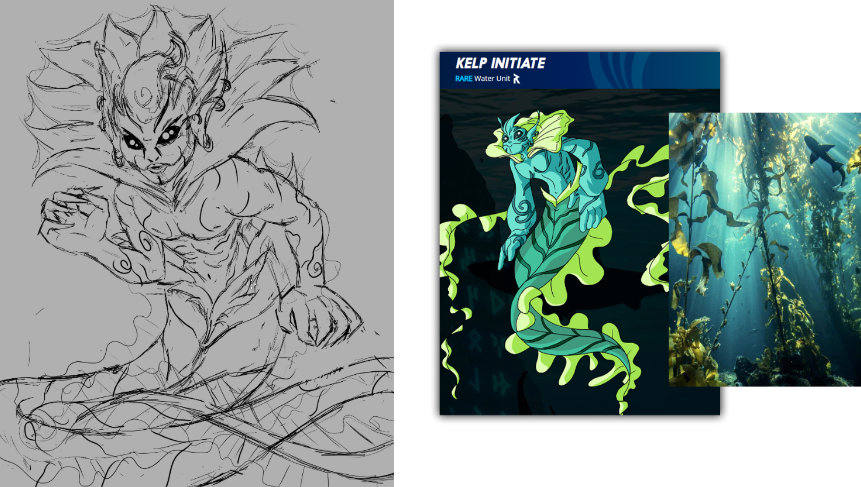 Al ser un monstruo marino, decidí buscar una imagen de referencia para hacer el sitio donde viviría: entre tinieblas, tiburones y algas. El diseño que hice a mi estilo sobre este personaje me encantó, pero no me gustó la boca. Creo que la pude haber hecho mejor. De resto, la pose, forma y demás, me encantó demasiado.
Being a sea monster, I decided to look for a reference image to make the place where he would live: among darkness, sharks and seaweed. The design I did in my own style on this character I loved, but I didn't like the mouth. I think I could have done it better. Otherwise, the pose, shape and so on, I loved it too much.
REFERENCE 1
REFERENCE 2
ENTER SPLINTERLANDS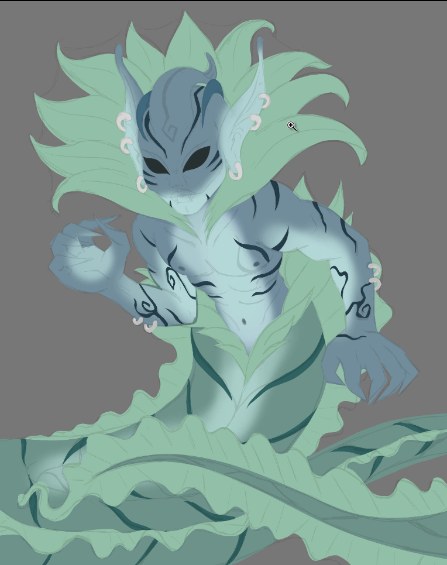 Comencé agregando el color base, para luego partir de allí pintando las sombras y luces. Los colores no podían ser muy saturados porque estaba en la oscuridad del mar. Me tomé la libertad de humanizarlo un poco más, dándole un toque más agresivo que el de la ilustración original. De cierta manera mantengo todos los elementos del personaje, pero con algunos toques de mi estilo.
I started by adding the base color, and then from there painting the shadows and highlights. The colors could not be too saturated because it was in the darkness of the sea. I took the liberty of humanizing him a little more, giving him a more aggressive touch than the original illustration. In a way I keep all the elements of the character, but with some touches of my style.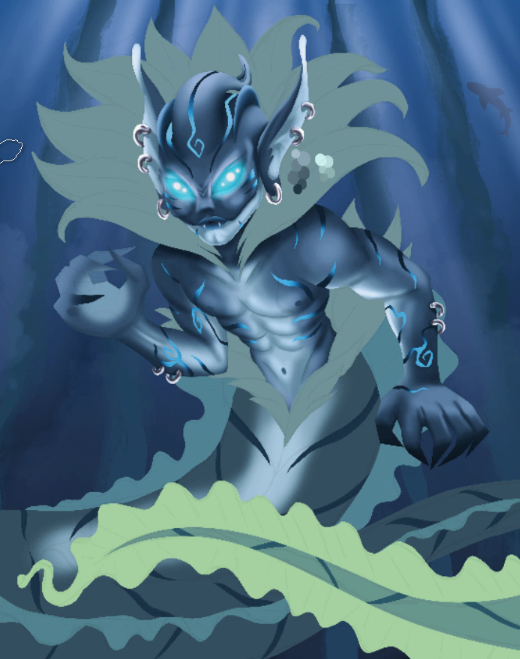 Varié un poco los colores verdosos del personajes y jugué con tonalidades azules. Le di una textura en la piel similar a un tiburón, aunque mantenía ciertos elementos de alien. Hasta este momento la ilustración se sentía muy bien integrada con el fondo oscuro del mar. Quería que este personaje representara el miedo de estar en la oscuridad del mar, es una criatura que goza de cazar a sus presas y asustarlas.
I varied a bit the greenish colors of the character and played with blue tones. I gave him a skin texture similar to a shark, although I kept certain alien elements. Up to this point the illustration felt very well integrated with the dark background of the sea. I wanted this character to represent the fear of being in the darkness of the sea, it is a creature that enjoys hunting its prey and scaring them.

♥ ILLUSTRATION FINISHED! ♥



ENTER SPLINTERLANDS
DURATION: 8 hours.
PROGRAM: Adobe Photoshop.
I used a graphic tablet: Kamvas 20"
Estoy especialmente enamorado de este personaje, pensé hacerlo más tétrico, pero creo que de esta forma también puede asustar mucho, más si te encuentras algo similar en la profundidad del mar. Creo que empezaré a dibujar más criaturas de @splinterlands en mi estilo, me lleva a experimentar cosas que nunca había hecho, y eso para un artista es muy bueno.
I'm especially in love with this character, I thought to make it more creepy, but I think this way it can also be very scary, more so if you come across something similar in the depth of the sea. I think I'll start drawing more @splinterlands creatures in my style, it leads me to experiment things I've never done before and that's very good for an artist.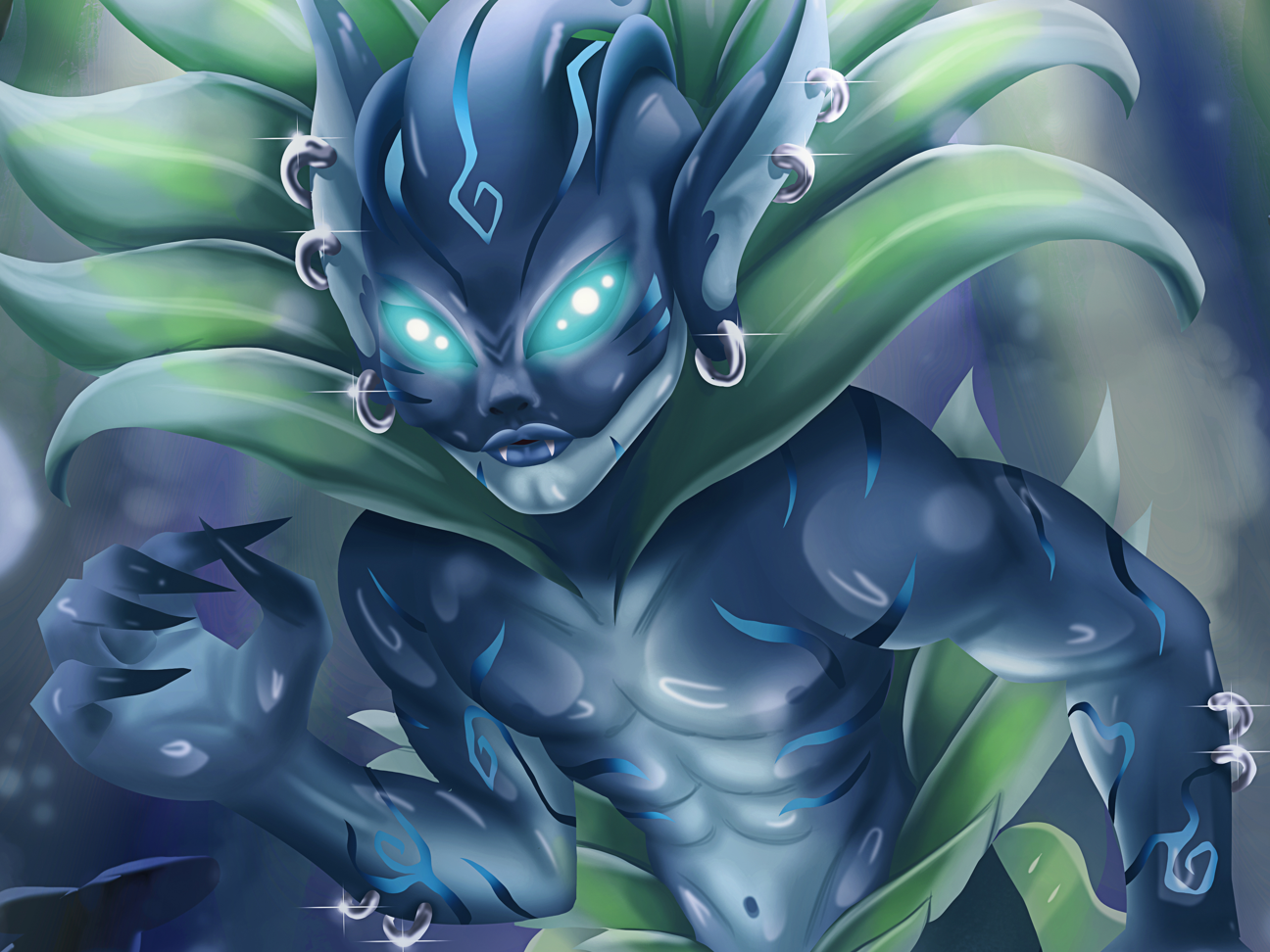 THANK YOU AGAIN FOR TAKING THE TIME TO APPRECIATE MY ART! ♥

YOU CAN ALSO VISIT MY OTHER PUBLICATIONS:
MY ILLUSTRATIONS AVAILABLE ON FOUNDATION! 💎




Click to buy my NFT
---

My social networks:
| About Davideazul... 💎 | INSTAGRAM! |
| --- | --- |
| Roger Duran, Venezuelan. He is a digital artist, his style is based on cartoons with semi-realistic painting. He is also a 2D animator, an element present in some of his artistic works. / Roger Durán, venezolano. Es un artista digital, su estilo se basa en caricaturas con pintado semi-realista. Además es animador 2D, elemento presente en algunos de sus trabajos artísticos. | |
HAVE A GOOD DAY / AFTERNOON / NIGHT. SEE YOU IN THE NEXT ILLUSTRATION! ♥