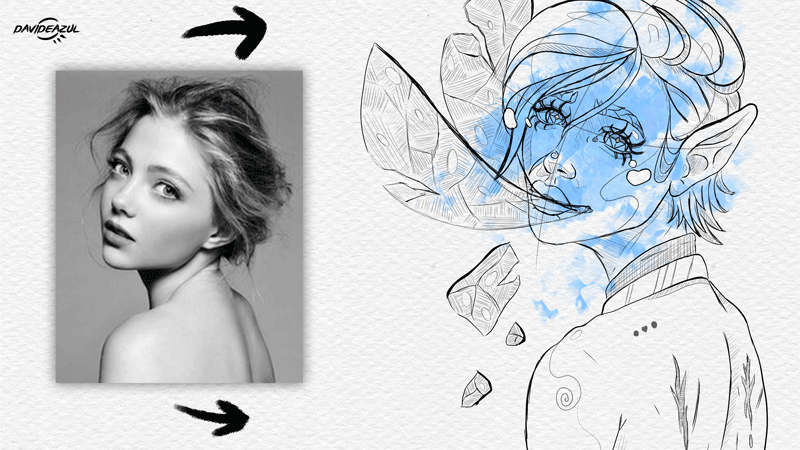 FACE PRACTICE #17 (Pain)



¡Hola a Todos! Quise participar en el concurso de arte de @splinterlands, así que tomé uno de sus personajes y lo dibujé a mi estilo. Para ello tomé 2 referencias:
Hello Everyone! I wanted to participate in the @splinterlands art contest, so I took one of their characters and drew it in my style. For this I took 2 references:
ENTER SPLINTERLANDS

BEGIN THE PROCESS! ♥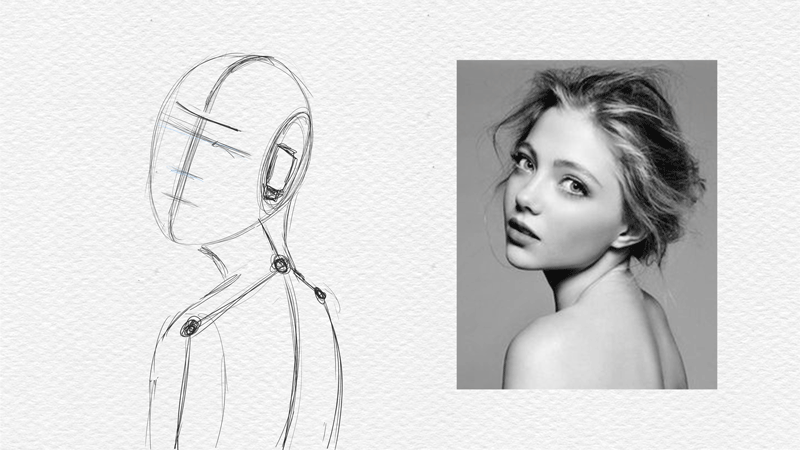 Como siempre, formo una estructura con rayas para las articulaciones y puntos para las zonas de división del cuerpo. Así ubico el esqueleto del personaje y luego le doy el grosor que quiero en su cuerpo. También lo hago para captar la forma en que está posicionado.
As usual, I form a structure with stripes for the joints and dots for the division zones of the body. This way I place the skeleton of the character and then I give him the thickness I want on his body. I also do this to capture the way he is positioned.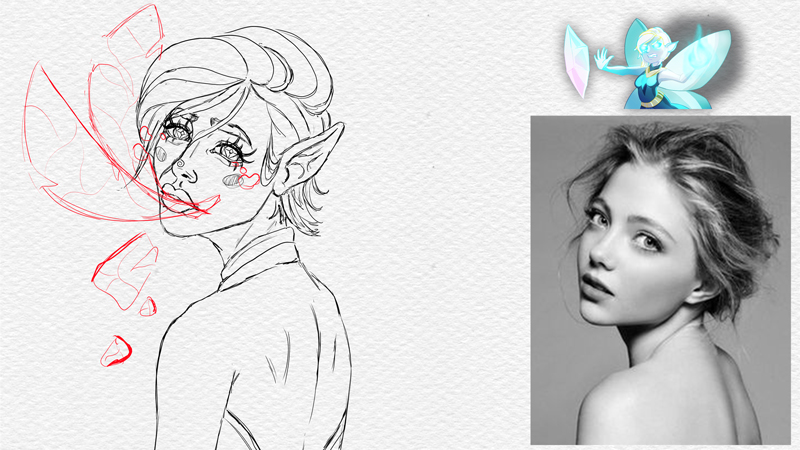 Esta vez quise ir más allá y tomé un personaje de @splinterlands y decidí unirlo a este trabajo. Tengo mucho tiempo sin participar en este increíble concurso de arte y me parece que ya es hora de volver. Para los que son lectores constantes en mis publicaciones, sabrán que tengo una serie titulada: Gran Azul. Así que pienso integrar este trabajo en esa colección ♥
This time I wanted to go further and I took a character from @splinterlands and decided to join him to this work. I have a long time without participating in this amazing art contest and I feel it's about time to come back. For those of you who are constant readers of my posts, you will know that I have a series titled: Big Blue. So I plan to integrate this work into that collection. ♥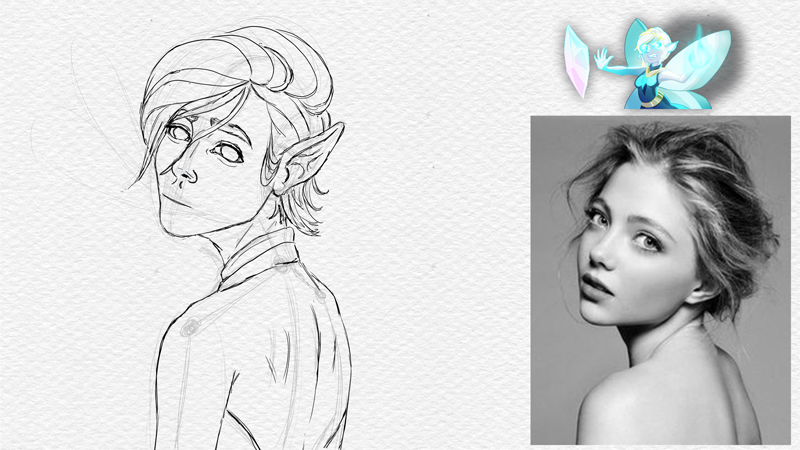 Una vez tengo la estructura hecha con trazos sucios, bajo la opacidad de esa capa para hacer otro lineart con trazos más pulidos y artísticos, sin dejar el efecto de boceto, ya que esas líneas marcadas cada cierto tiempo le da un toque expresivo.
Once I have the structure done with dirty strokes, I lower the opacity of that layer to make another lineart with more polished and artistic strokes, without leaving the sketch effect, since those lines marked every so often give it an expressive touch.
Luego de terminar el dibujo comienzo a plasmar las sombras. Aquí me sirve de tramas para generar esta profundidad en el dibujo. Obviamente identifico las sombras según la referencia que tomé, incluso también del personaje.
After finishing the drawing I begin to shape the shadows. Here I use frames to generate this depth in the drawing. Obviously I identify the shadows according to the reference I took, even from the character.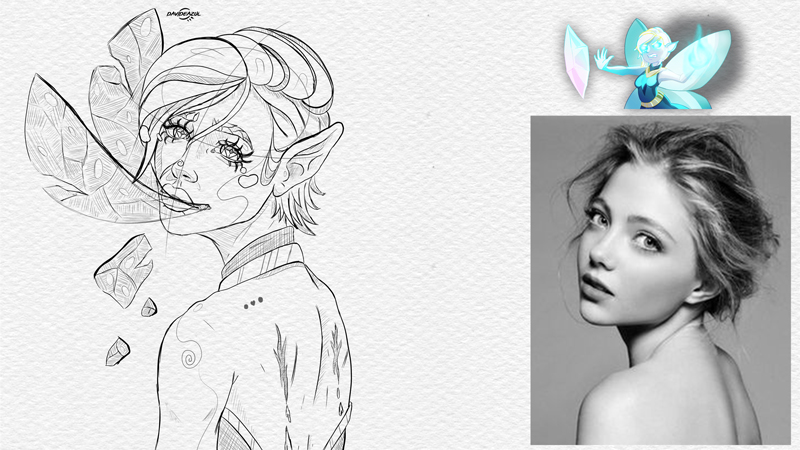 ♥ ILLUSTRATION FINISHED! ♥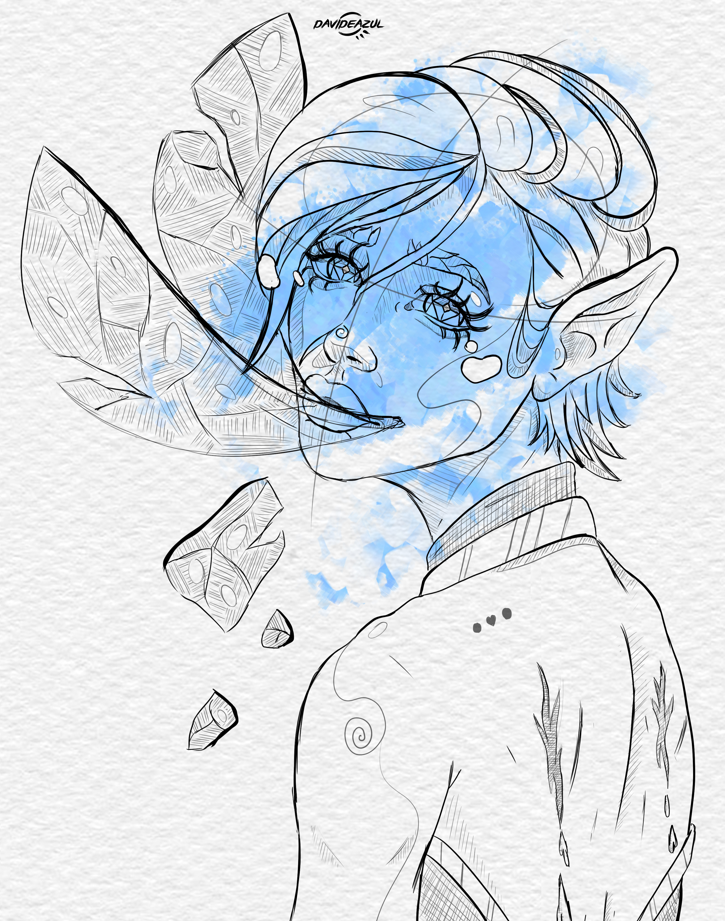 ENTER SPLINTERLANDS
DURATION: 3 hours.
PROGRAM: Adobe Photoshop.
I used a graphic tablet: Kamvas 20"
Se preguntarán: ¿por qué dibujó a esa hada en ese aspecto? Narrativamente dentro de @splinterlands, pienso que fue un hada exhiliada de su clan por algun error imperdonable que cometió. Dentro de mi mente me imaginé un clan de hadas con fuertes reglas, tanto que para desterrar a un hada tendrías que quitarle sus alas, perdiendo sus poderes también.
You may wonder: why did he draw that fairy in that aspect? Narratively within @splinterlands, I think she was a fairy exiled from her clan for some unforgivable mistake she made. Inside my mind I pictured a fairy clan with strong rules, so much so that to banish a fairy you would have to remove her wings, losing her powers as well.
Ahora, metafóricamente también podría significar que a veces nos hacemos tantas ilusiones sobre algo que nos hace daño, que para tener una paz mental y emocional, debemos cortar esos pensamientos y sentimientos. Creo que todos en algún momento tuvimos que forzar a cerrar un ciclo de pensamientos e ilusiones sobre algo o alguien que nos hacía daño... de cierta manera esta hada lo hizo, cortó sus alas para dejar de volar en esas ilusiones que le hacían daño.
Now, metaphorically it could also mean that sometimes we get so many illusions about something that hurts us, that in order to have a mental and emotional peace, we must cut those thoughts and feelings. I think we all at some point had to force to close a cycle of thoughts and illusions about something or someone that was hurting us... in a way this fairy did it, she cut her wings to stop flying in those illusions that were hurting her.
THANK YOU AGAIN FOR TAKING THE TIME TO APPRECIATE MY ART! ♥

YOU CAN ALSO VISIT MY OTHER PUBLICATIONS:
MY ILLUSTRATIONS AVAILABLE ON FOUNDATION! 💎




Click to buy my NFT
---

My social networks:
| About Davideazul... 💎 | INSTAGRAM! |
| --- | --- |
| Roger Duran, Venezuelan. He is a digital artist, his style is based on cartoons with semi-realistic painting. He is also a 2D animator, an element present in some of his artistic works. / Roger Durán, venezolano. Es un artista digital, su estilo se basa en caricaturas con pintado semi-realista. Además es animador 2D, elemento presente en algunos de sus trabajos artísticos. | |
HAVE A GOOD DAY / AFTERNOON / NIGHT. SEE YOU IN THE NEXT ILLUSTRATION! ♥