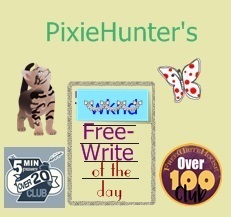 Take off your coat
lock the front door.
Walk to hall
and see Buster
peed on the floor.
Give a sigh, to no ends meet.
Buster wags his tail
while licking your feet.
Clean the mess
take him outside.
4 months of potty training,
at least you tried.
He will learn,
everyone says.
In your mind,
his piddles become
a major turn off.
Buster wags his tail
and gives a happy yap.
Follows you back in
and jumps in your lap.
Hugging him close
the tears begin to well.
Your heart is melted,
that much you can tell.
Buster is all
that you have.
For even with his peeing
you know you are glad.
He give comfort
in a time of loss.