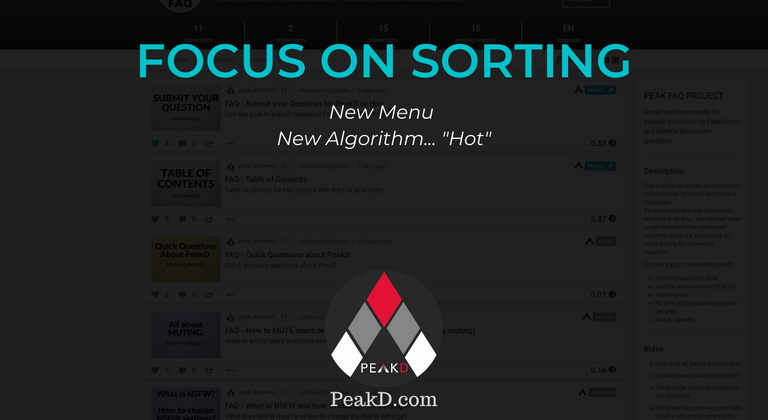 ---
We have reworked and reordered the sorting methods for topic feeds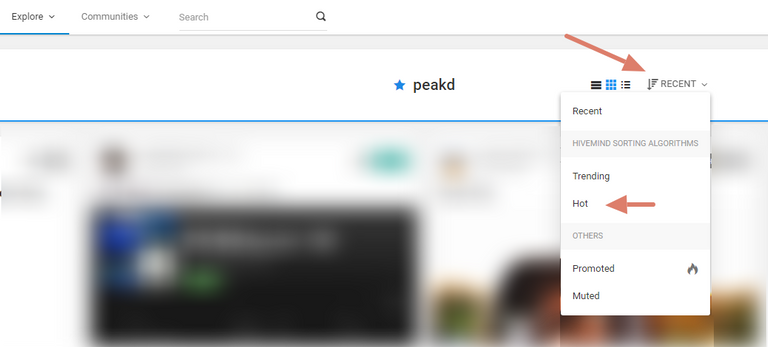 "HOT" ALGORITHM
We have also added the sorting algorithm that goes by the name of "Hot"
It is technically not new... but it's new to PeakD.
This sorting algorithm was created by developers at the company Steemit INC many years ago and we had the pages for this algorithm available on steempeak and peakd but with the re-organization of the menu we added it for quick access.

Users should understand some things about these sorting methods
They are algorithms designed by people and they were designed a long time ago
The names were given by developers years before peakd existed and do not represent what we would consider a "TREND" or "HOT" ... they are just names of an algorithm.
More algorithms could be made... and implemented if they prove to be really solid.
We are looking into other sorting methods and if anyone else wants to provide APIs to test we will consider it at least on the beta site.
REVERSE OF COURSE WITH TRENDING POLICY?
Yes for a couple years we resisted the usage of the term TRENDING.
We decided that as long as it was refered to as "Trending Algorithm" or the "Algorithm known as trending" that we're ok with this.. and that people recognize that we didn't name the algorithm that way and that there is no such thing as "The Trending Page" there are tens of thousands of topic pages that use the trending algorithm. But there is one particular page that happens to often be called "the trending page"... that's not really the case. It's simply a page that includes ALL TOPICS... We just call that the "ALL TOPICS" page and you can sort it like normal. Recent, Trending, hot and the special use case options Promoted and muted.
---

The purpose of TOPICS (Tags, Keywords) are
To identify a topic of your post
Some people and projects use them as action type tags... where they don't identify a topic of the post but they help projects to identify those that are part of that project.
No one can really stop you from misusing topic tags... but we are just asking nicely that people use topics to actually identify the topics of their posts.
BTW did you know that only the first 5 tags are used by Hivemind? You can add 10 tags but they won't be part of topic pages. So if you're using a project tag like for hive-engine maybe consider using it after #5.
So what we're saying is please don't use #peakd unless the topic of your post is actually peakd... there is no project for that tag and there are other ways to see which posts were made with peakd.com. Same with #hive there is no reason to use that tag unless it's actually about some aspect of Hive.
---

Wallet Page Changes - You can already see these updates on Beta
Cross-post changes - We jumped the gun a couple days ago and mistakenly posted a cross-post but beta site cross posts aren't fully functional on the main site.
Of course there will be plenty of other small upgrades including a bunch on our recent TIP feature.
PROMOTED POSTS COMING SOON
The old system of promoting wasn't fully brought over to PeakD.com because our plan was to launch a much improved system. We are finalizing some work on Wallets and Cross-posts and then hope to jump into finishing promoted posts.
Choice of how many days to promote
More intuitive interface
More control of where to promote
---