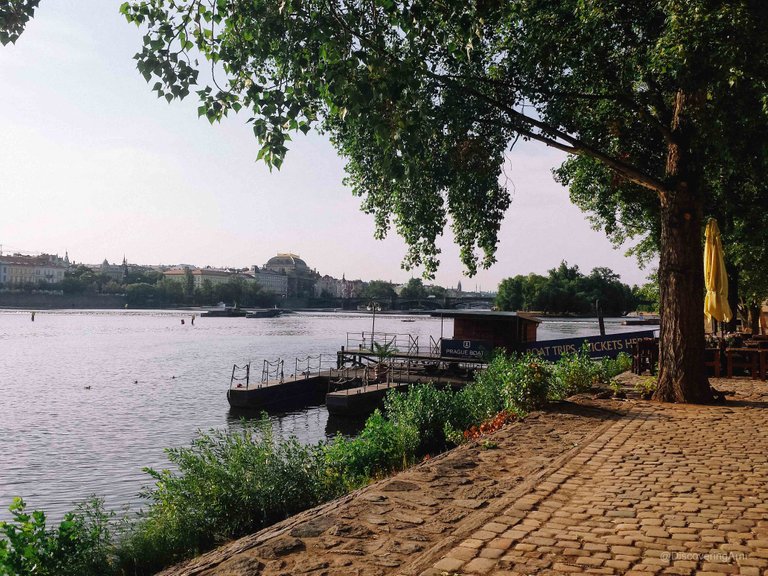 Have you ever had the weirdest and the loveliest morning at the same time?
The morning summer breeze greeted my cheeks that reminded me of the French's bisous. I heard my own footsteps marching enthusiastically on the pavement. 7 AM and the street of Jecna was quiet. I walked towards the waterfront and paused a few times to wait for the pedestrian light to turn green. I smiled within and clutched the straps of my backpack wondering if I had everything I needed for the day. Happy to have Prague all to myself that morning.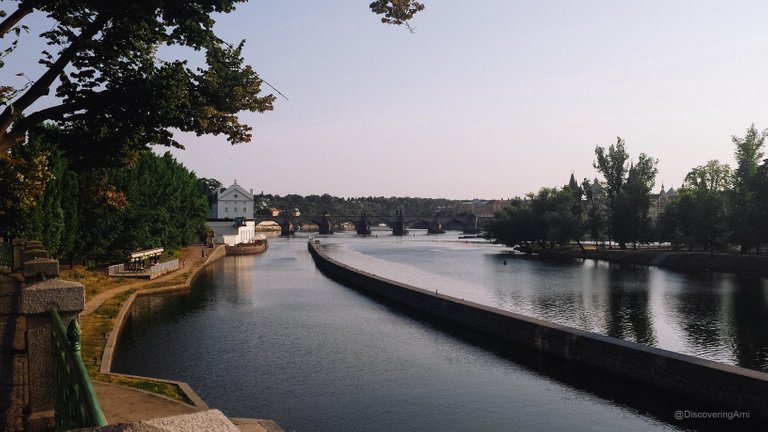 Kampa Island in Lesser Town
I looked up to admire a church surrounded by old buildings along Resslova. Out of nowhere, World War II vintage cars and military trucks filled up the ancient streets. Men in sleek Nazi uniforms were everywhere rifles in hand. For a moment, I thought I was having a nightmare. Where was everybody? It appeared as though I have gone back in time.
Wondering what was going on, I went for a closer look. Relief extinguished a creeping fear when I saw men in t-shirts carrying cameras, boom microphones, and filming equipment.
"Oh okay, they're shooting a war film." I wondered which one it was.
I continued walking and crossed Jiraskuv Most, a bridge over the Vltava River. I paused and admired this breathtaking view. I stood there for a few minutes until two men waved and cat-called at the opposite side of the bridge. I looked around wondering which lady it was addressed to and then realized I was alone on that bridge.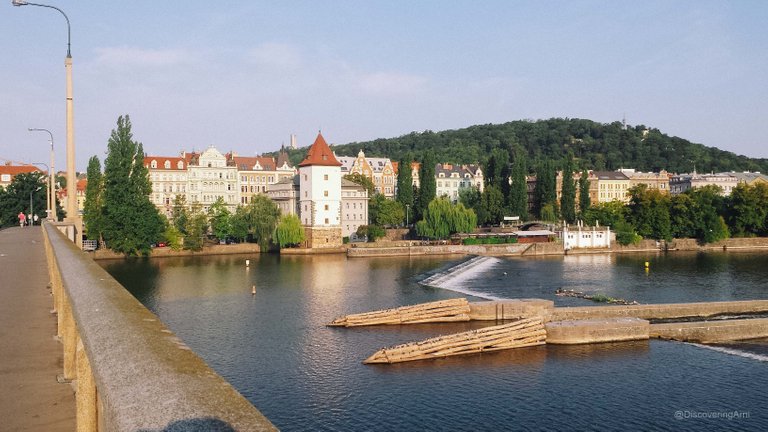 Crossing Jiraskuv Most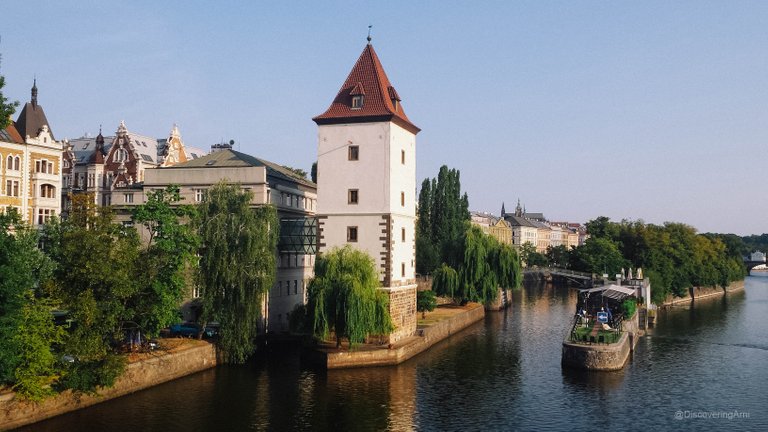 Petržilkovský ostrov, smallest island in the Vltava River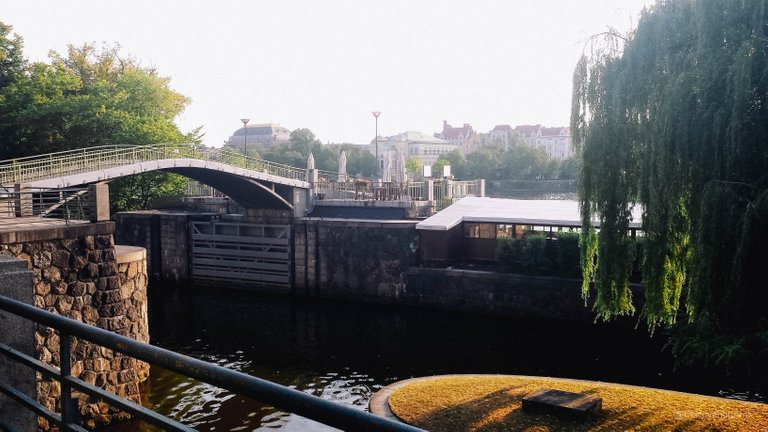 I quickened my pace and re-directed my attention to the real stunner that was in front of me. Ah, this landscape! There were guards stationed at every street corner. It was definitely safe.
Joggers occasionally whipped past me. From time to time, there were mothers with strollers and I thought of my then-baby daughter. Was she already awake? Would she be excited to discover this place someday?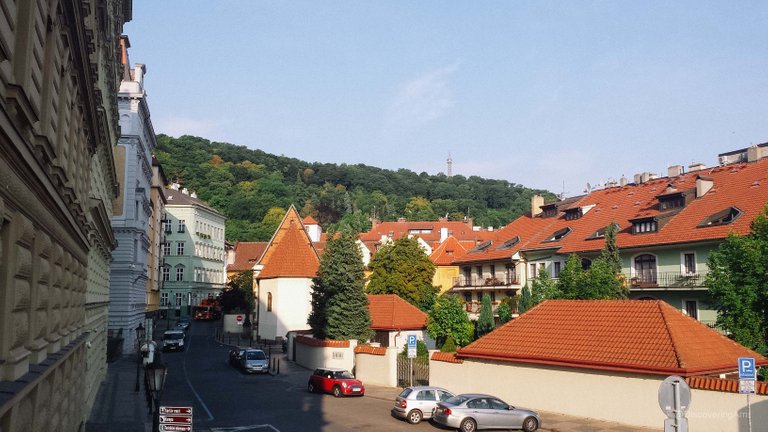 Malá Strana, also known as Lesser Town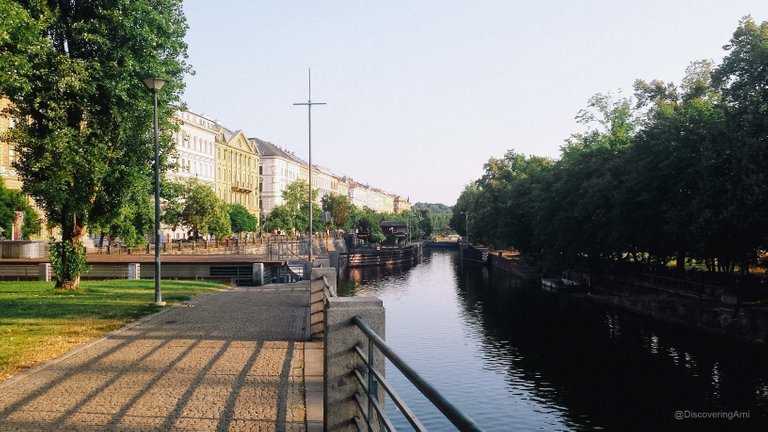 Left Bank of the Vltava River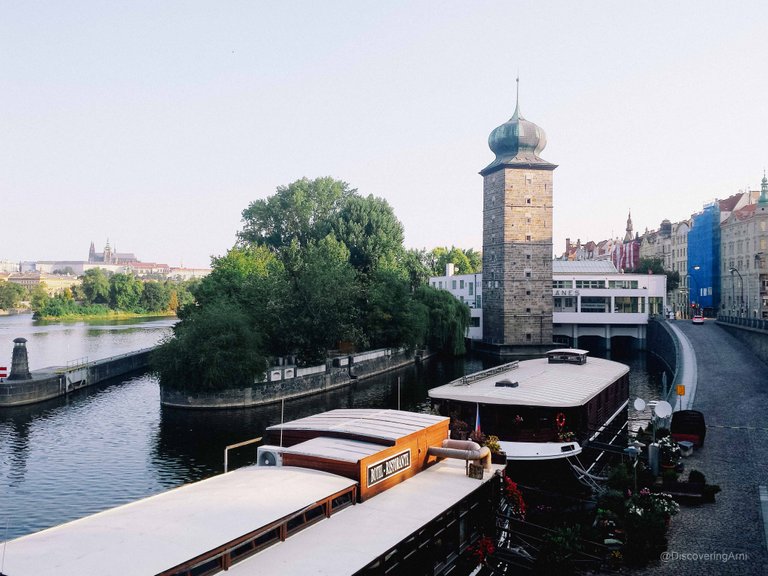 Smíchov Canal Lock is a floodgate and the busiest lock on the Vltava River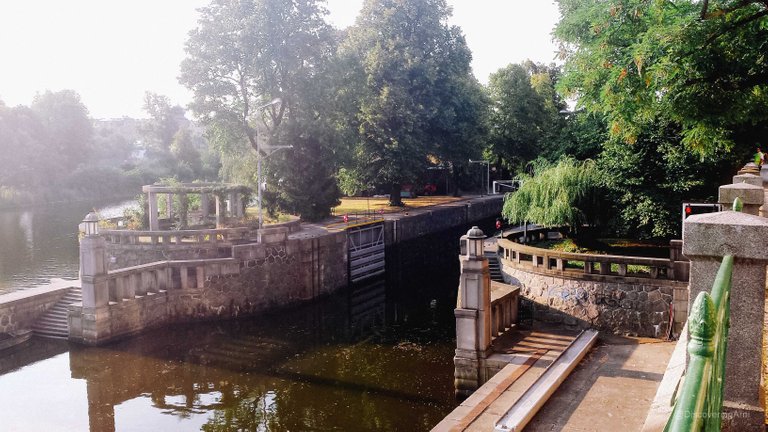 Smíchov Lock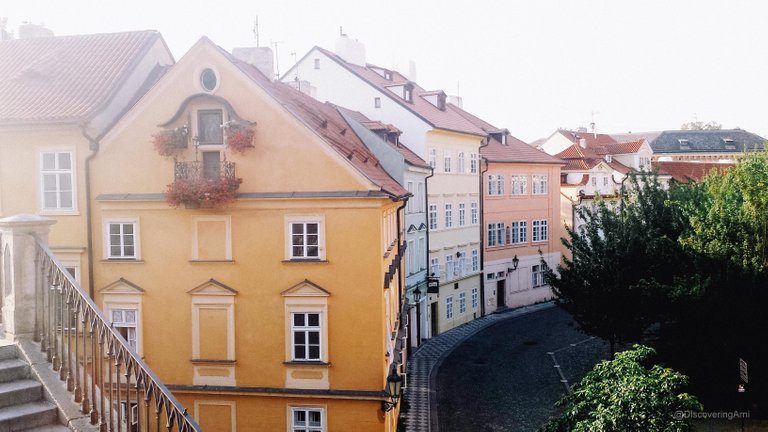 Quiet Streets of Kampa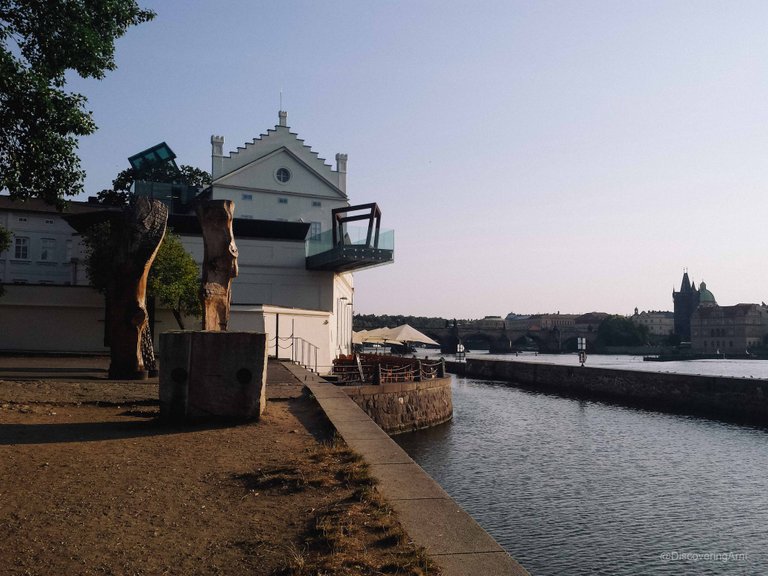 Kampa Museum of Modern Art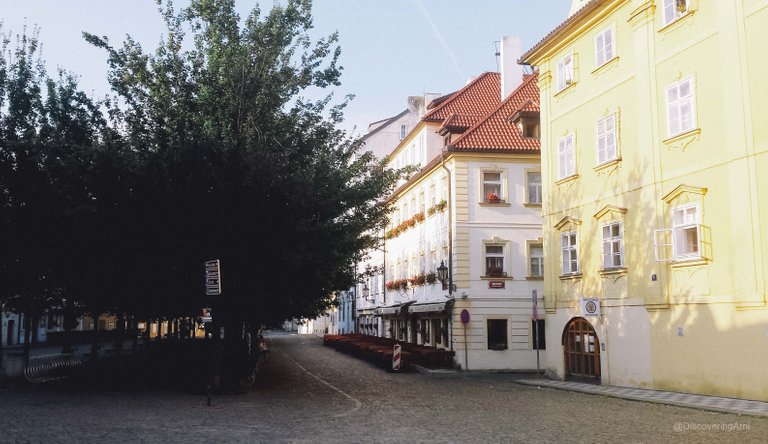 A Street in Kampa in Lesser Town, also known as Little Quarters
The silence of that morning was uplifting and empowering. Here I was, alone and happy, a feeling that had eluded me for quite a while until that very moment.
Before I end this post, let me delight you in a building designed by Croatian-Czech Architect Vlado Milunić in collaboration with the Canadian- American Architect, Frank Gehry called Dancing House. It is a modern, whimsical office building also referred to as Ginger & Fred or Dancing Building.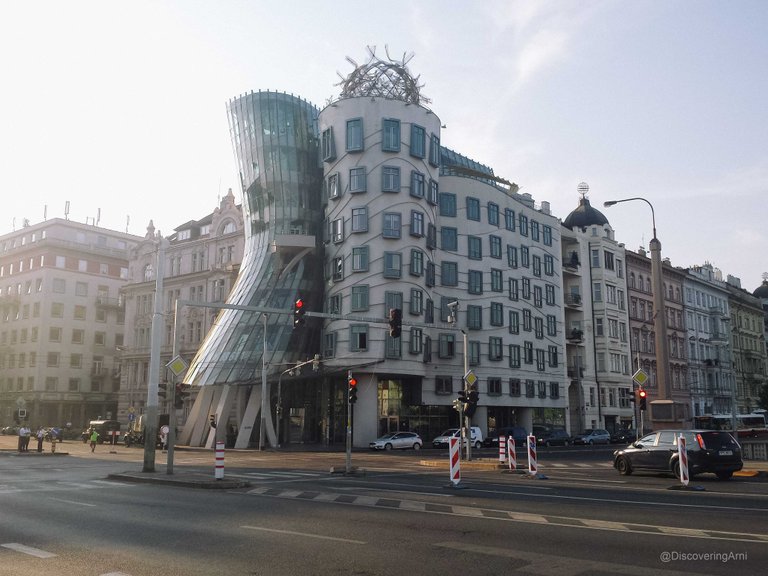 Did you see the sensual curved lines on the facade and embossed window frames that made them appear like picture frames?
This is the third part of my Prague Series. Thank you for reading and my next post would be the final part when I watched a 3-hour long opera on my own.
Do check out the previous posts below in case you might be interested:
Explore Prague on Foot in 4 Days
A Date with Myself in Vyšehrad

This is a memory that I will always keep with me.
Do you like morning walks?
Which place did you encounter that meant something to you and why?
---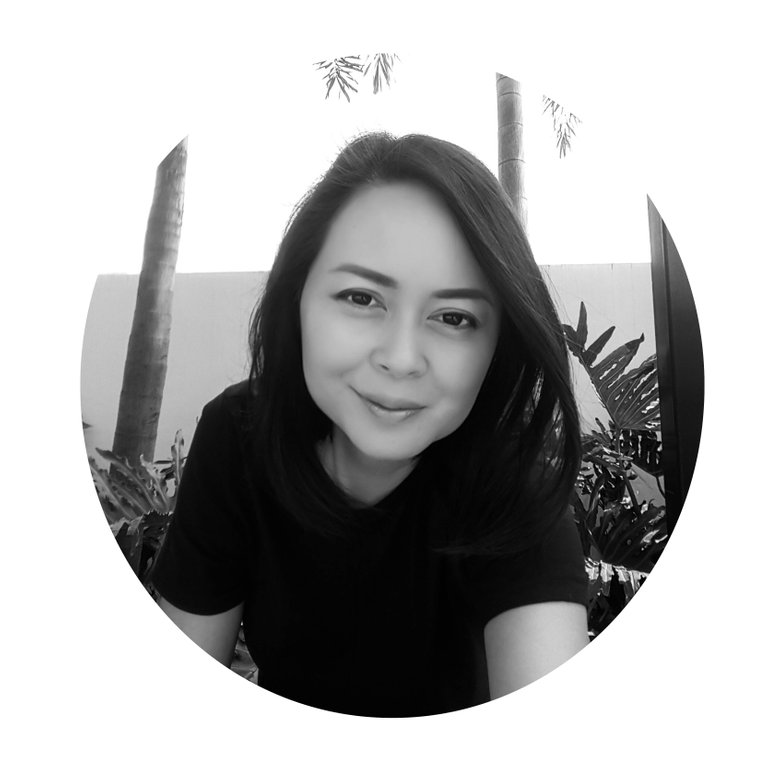 "I create spaces that tastefully marry function and aesthetics. I intend to immerse myself in beauty not only by tangible objects but also by the unseen." -
Curiosity and imagination lead to unexpected experiences. Interested in Nature, Places, anything French, International Cuisine, and Architecture + Interior Design. Co-founder of Architecture + Design Community. Feel free to follow her, re-blog, and upvote if you enjoy her content.

---
Inspired by my original post