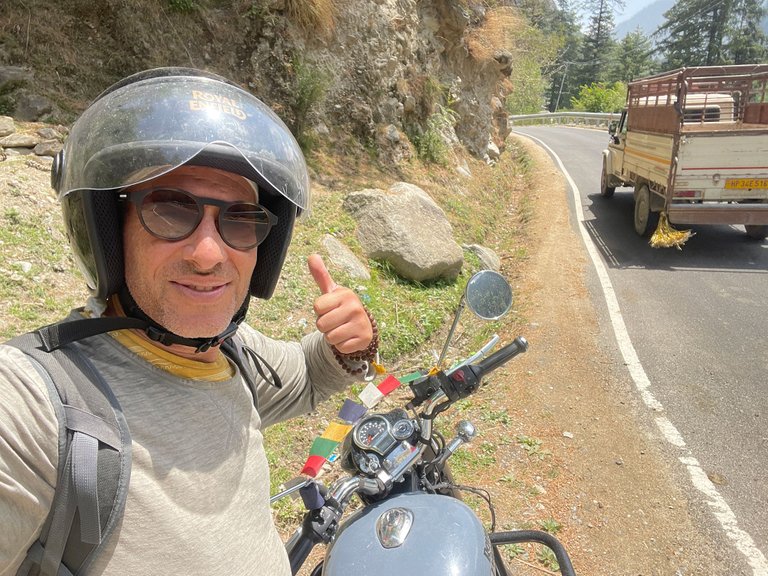 It has been a very long time indeed since i got on a bike, so i was very much looking forward to getting on my rented Enfield Bullet for a very relaxed ride through the valleys of Kasol and Tosh. I was just a little bit hesitant getting on as this was an almost brand new bike, just run in and chugging just like an Enfield should. This bike is the mountain king of India, one of the most revered and loved bikes.. and one day on the road and it was very clear why!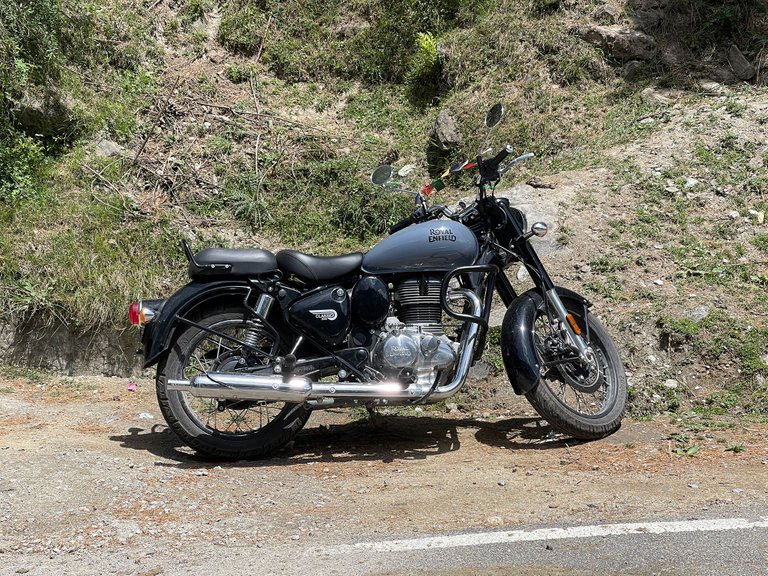 This bike can go all day through just about any terrain without breaking a sweat. Its engine is a powerful beast that has its unique chugging like sounds that are oh so familiar sounds of all India. When you ride an Enfield you feel like a king because the bike is that much of an iconic machine.. not that it could in anyway compete with any of the super-bikes on the market, but no one would want to drive a super-bike around here. The Enfield lets you sit up straight whilst enjoying incredible suspension and the most comfortable seat they know how to make.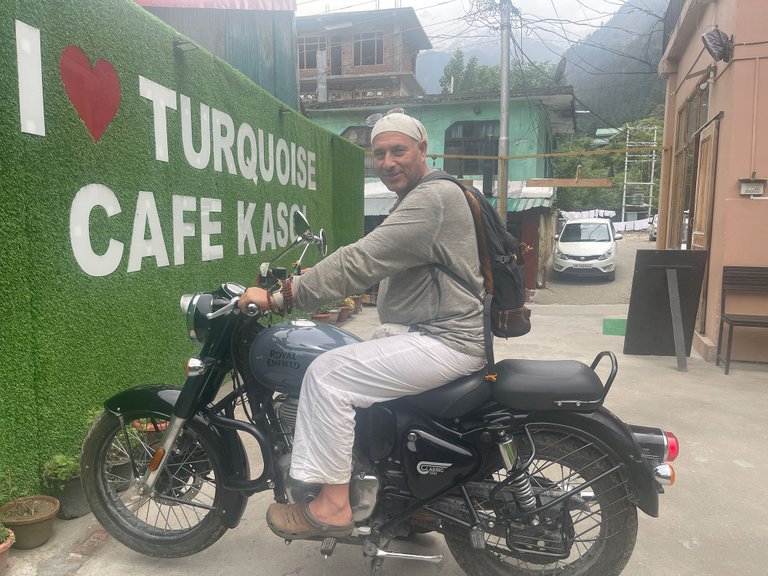 I rode super slow the whole way, cruising very gently on a perfect day, the temperature was just right and the roads were mostly clear. Most of the roads were very narrow, winding through beautiful and often breathtaking panoramas, and those snow capped peaks just looked delightful. I haven't seen them before in India, and despite the snow in the horizon, it was around 28 degrees Celsius outside. Going slow on these roads is a great idea for many reasons. i had some soothing liquid drum and bass playing, with goggle maps navigator in the background.. that makes navigation a breeze, and i fully appreciate how the system nicely fades down the music whenever a direction comes so you don't miss it.. Not that there were very many turns, it was more or less the same road all the way, along the parvathi river and winding the steep mountain roads. There are no side safety barricades on these roads, and often you are driving very close to the edge with gravel and dirt all over.. on a bike that is one to be careful of as its pretty easy to go skidding when you turn on a loose surface.. but when going slow its all good, and i think my average speed was just 35mph! lol.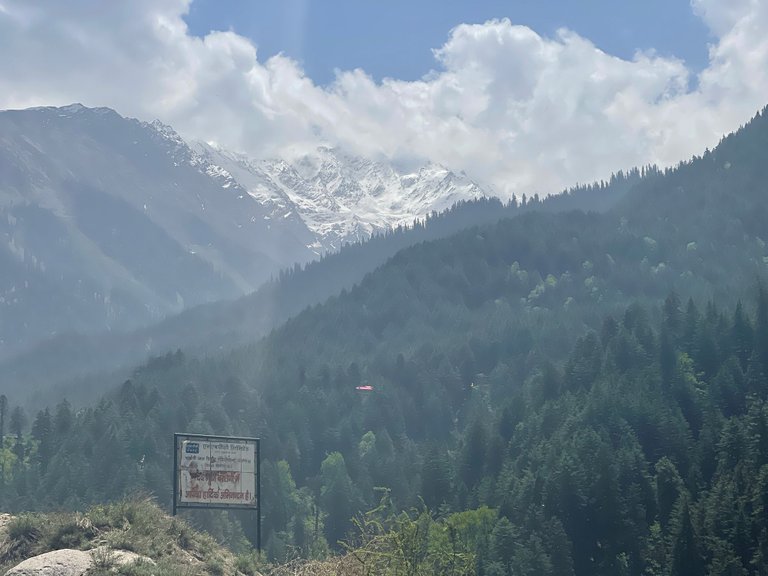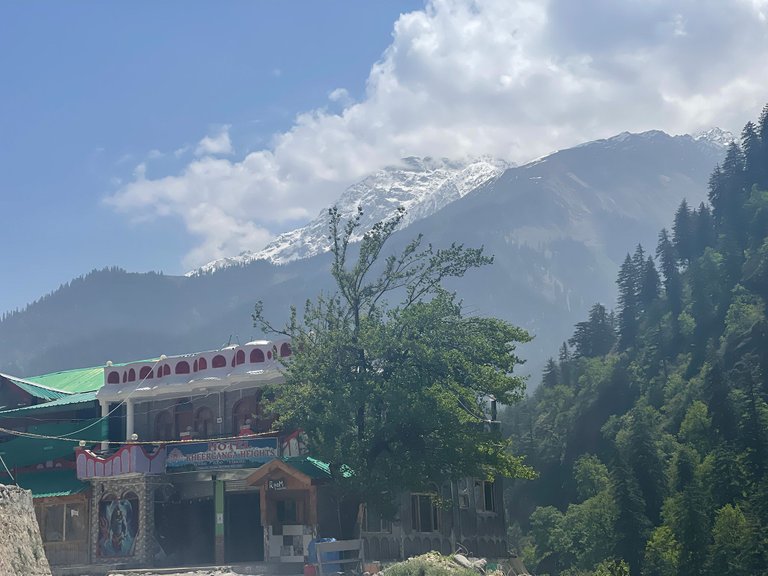 It can be fun to open the engine up and power through some of these roads, but this is no European highway, and there was an extra mellow mood in the air, if you know what i mean. The culture here is so different, so relaxed, and very very simple. Its almost a culture shock after so many weeks in Thailand staying in stunning hotels, these villages are like they were 100s of years ago.. almost unchanged if it weren't for the huge tourist trails that filter through .. but these villages are the same, with ancient architecture and people going about their daily lives as they always have done.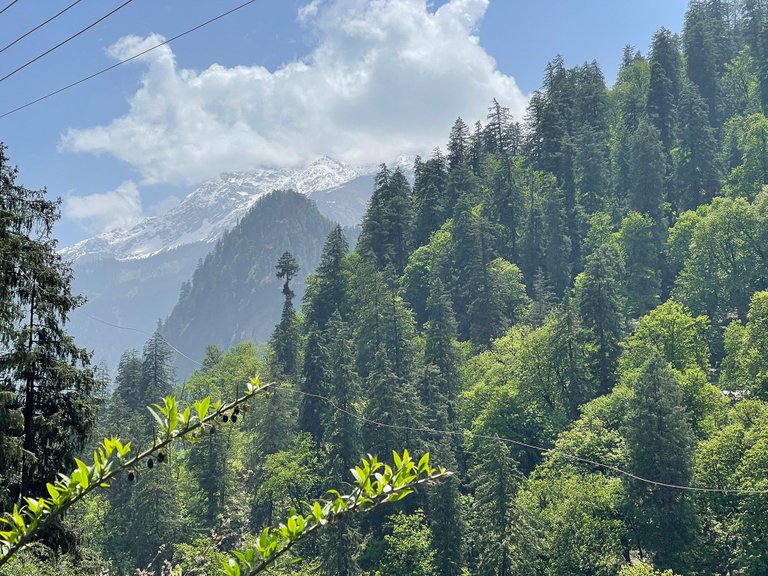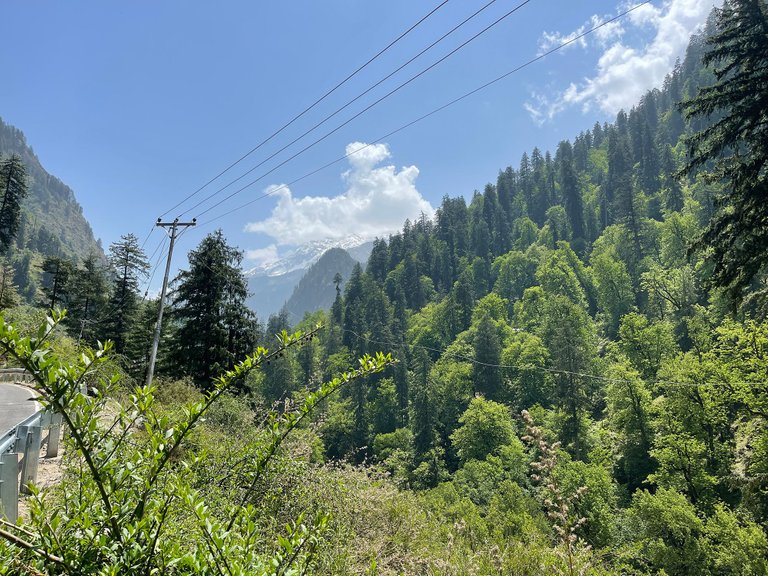 I reached Kasol in what felt like a blink of the eye... time passed effortlessly and i felt free, just free, in a way i never do on foot or by bicycle.. there is something about a motorbike that feels like a breaking through to freedom. I think i was born to ride, and i can remember so many long journeys way back with sometimes 14 hours on the bike driving almost hypnotised by the never-ending roads and beautiful scenery.
A small school!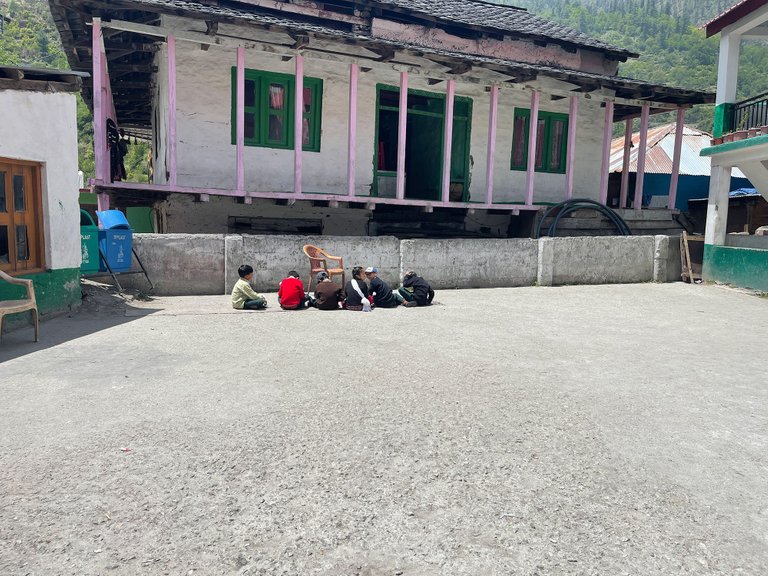 I stopped at Tosh and had a little walk around and found a nice spot for lunch. I had a small picnic prepared, my favourite tahini which i had with some aloo parotha (stuffed potato flat bread).. they go so well together, and i ate well and finished just before a herd of donkeys surrounded me ready to poo and pee all over the place. Looks like this nice flat plateau is also where they keep the donkeys, so i packed my things and continued my way back home.
The ride home was perfect, and went even faster than going there.. I stopped just a few times, once at a peculiar cafe in a stream on the edge of a small waterfall. It looked a bit odd having the tables and chairs in the water, and you had to watch where you put your feet or they would get nice and wet and cold! If you drop something its also probably going to get taken downstream with the current. Nevertheless, i had a nice little chai and was amused at this seemingly silly cafe in the stream. Clearly there's a lot of smoking going on around here :)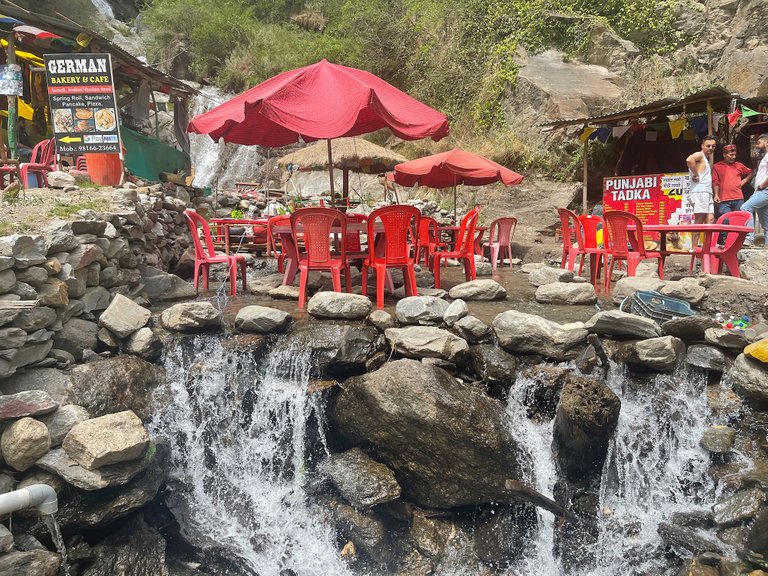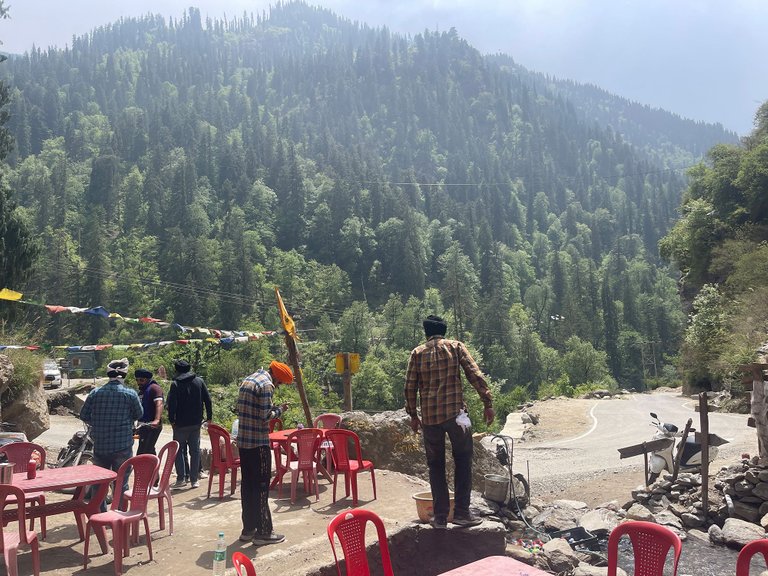 In what felt like 20 minutes and i was back! It all went so fast, and all went so perfectly. Tomorrow is my last day in this area before i had back down the mountain and finally back to my base and current home in the South Of India. Its going to be hot down there, damn hot, so im slightly questioning my plans to return home, but it feels like its time.. I mean, how bad can 40 degrees be, right? Lol! Its bad!
Thanks for stopping by! If you've ever ridden a bike somewhere interesting let me know in the comments..
I leave you with a few more nice pics!