City days are celebrated now worldwide and those few days are a very good occasion to visit cities, enjoy the activities they are offering, taste every dish, listen to music and party till dawn. I love these events and even though it can be tiring and expensive, I suppose everyone deserves a few days of fun and recreation. This year I decided to attend the events organized in Târgu Mureș or Marosvásárhely, the Hungarian name of the city.
The event is hosted in several locations, among which one can never be missing and that is the medieval fortress next to the city center. Târgu Mureș or Marosvásárhely being a medieval city, what better place to celebrate the city, then the medieval fortress, that is spread on 4.5 hectares and has 7 bastions. (The other location is the city center, where the craft market is usually held. Check out my post about the market that I wrote yesterday.)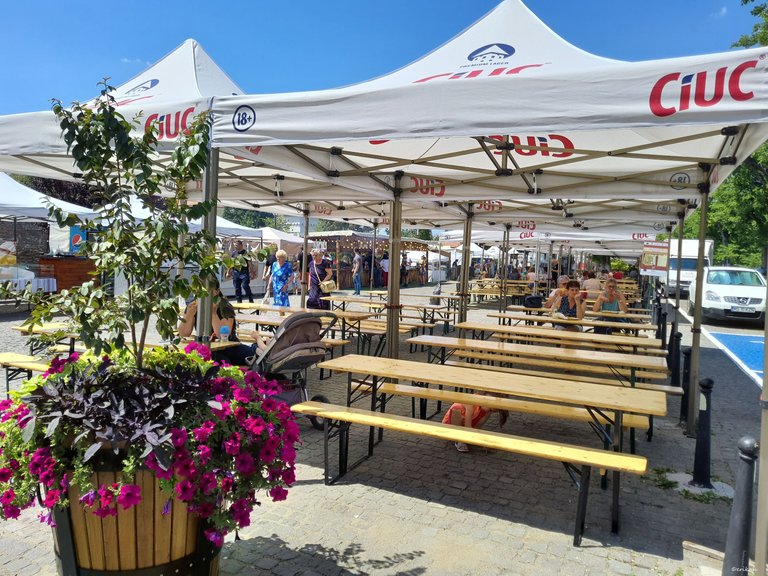 Food
Right in front of the gate, it's the street food area, which is big enough to host every hungry visitor. There are these huge umbrellas that can shelter you from the rain as well from the sun. In case you're wondering what Ciuc means, first of all, it's the name of a Transylvanian city Miercurea Ciuc (Csíkszereda in Hungarian) and also the name of a good quality beer that was named after the city.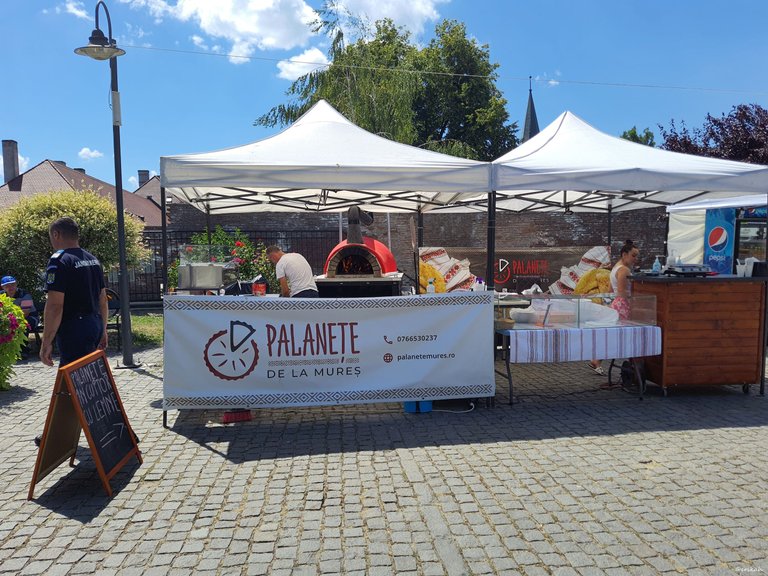 From what I saw this year, it looks like the licenses have been given in a smart way. I mean there was one vendor of every type of food and not ten of the same kind, which is smart in my opinion as space is limited. Palaneț is a type of pie, very popular in Romania. It's mostly salty, filled with cheese, cabbage, meat and so on.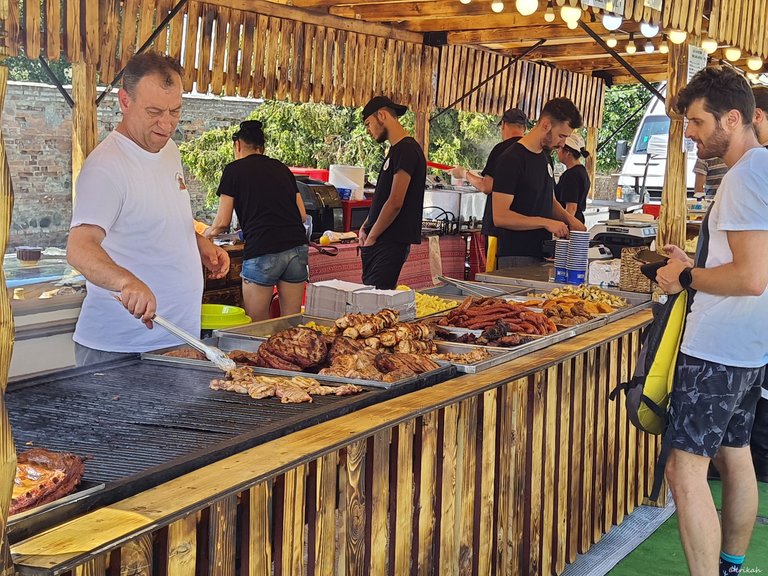 The smell of the food made here was detectable from a mile, so all you had to do was follow the smell. Everything looked great and I bet tasted great as well, but the prices ... When the bill came out, you had the sensation that they have transferred the ownership of the whole business to your name for that price. These guys were trained by the best as takeaway boxes were always filled to the max, regardless of the request.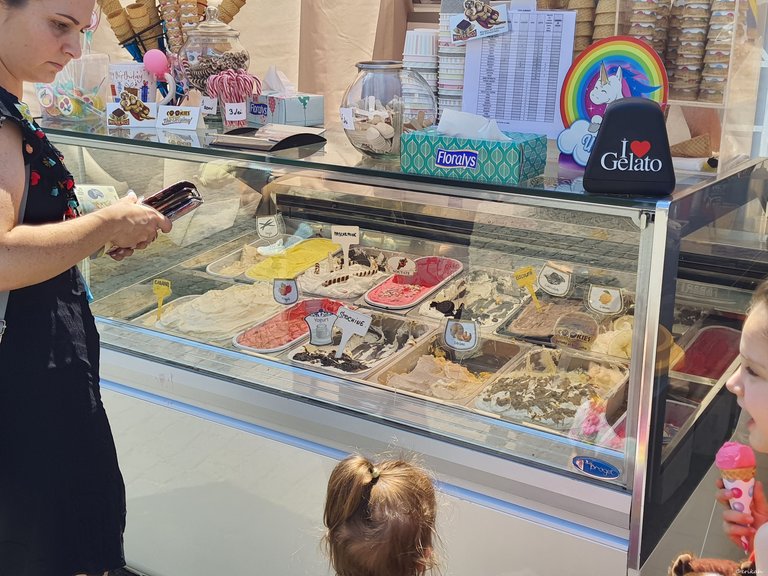 Ice cream can't be missing from any event!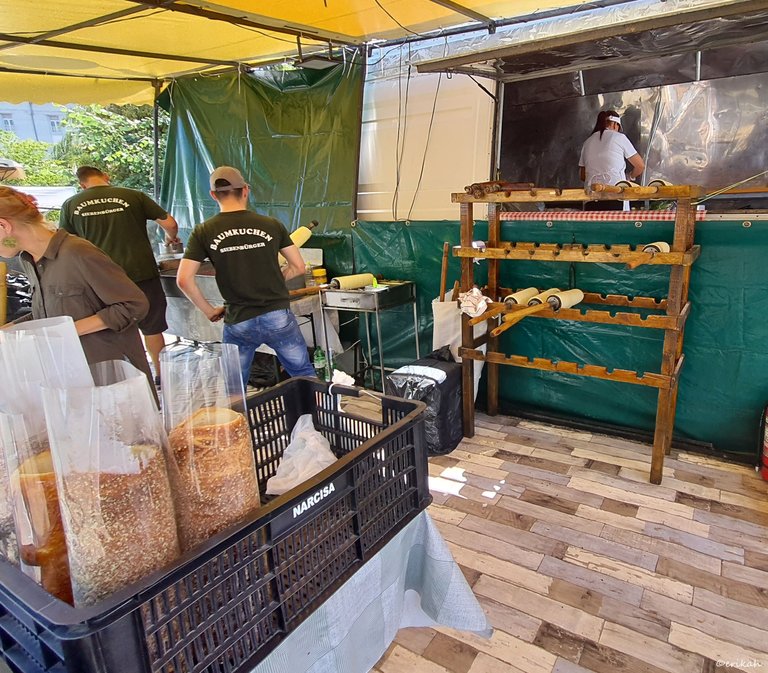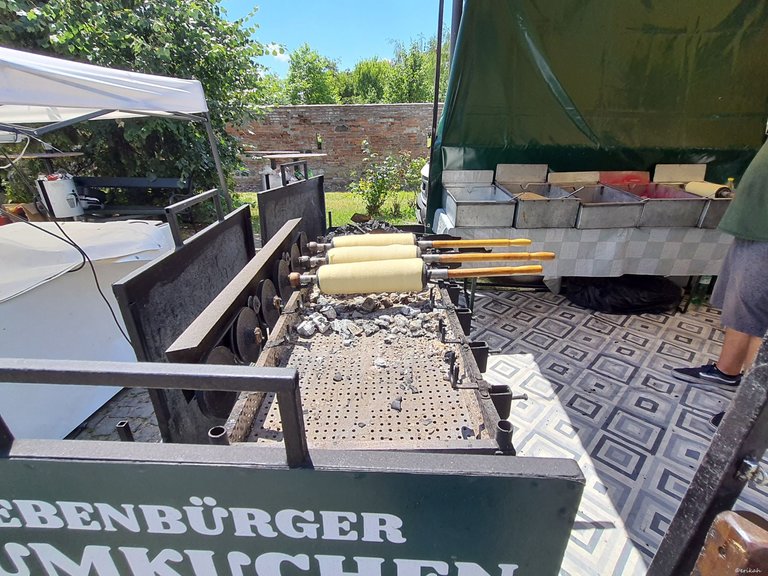 And there's no fair without kürtüskalács (horn cake)! End of discussion! @mipiano is going to laugh again and unfollow me, even mute me for tagging her again 😂 I was wondering, but I think you can buy kürtüskalács in most of the parts of Romania, not only in Transylvania, it is that widespread.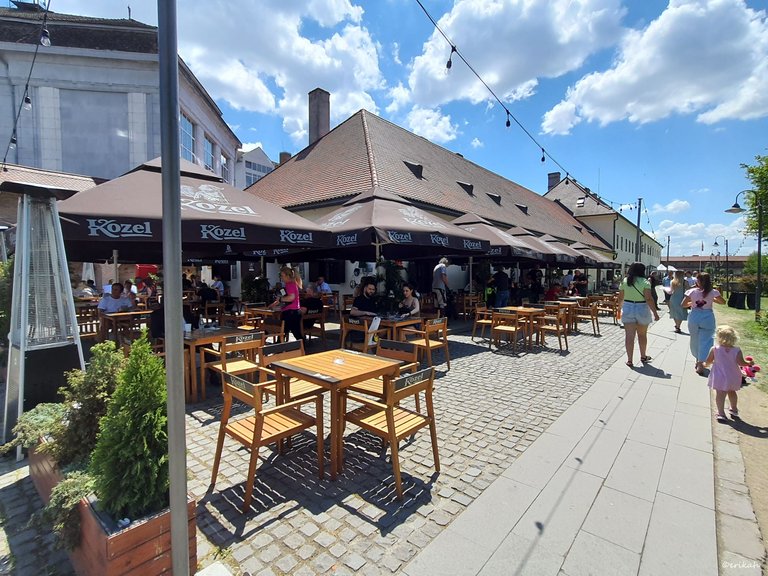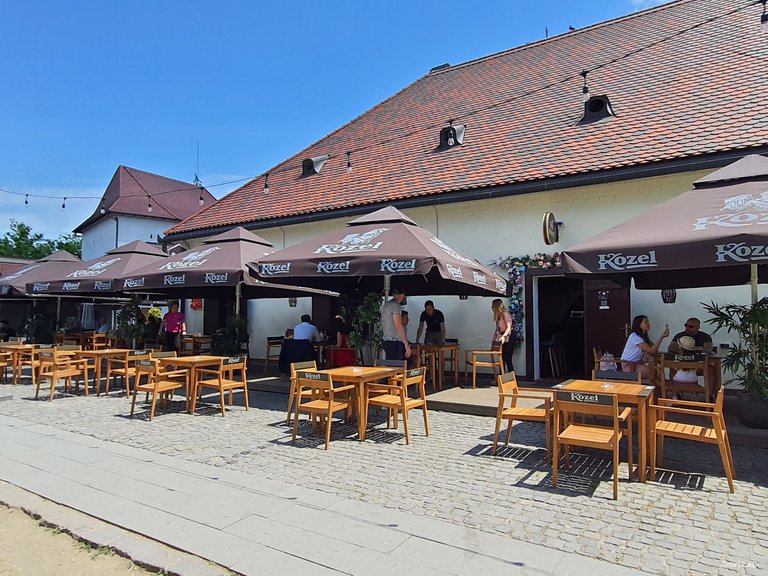 Inside the walls, there's a restaurant, that is open all year round, not just during the festival. In case you're wondering, Kozel is a Czech beer.
No matter where you go, what event you are visiting, food is part of it, that's why giving out licenses to the right vendors is important.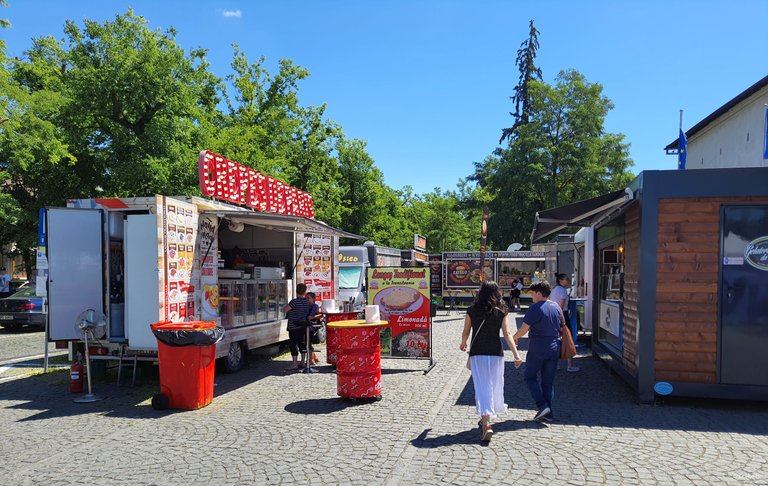 Lángos is another dish that can't be missing from any event.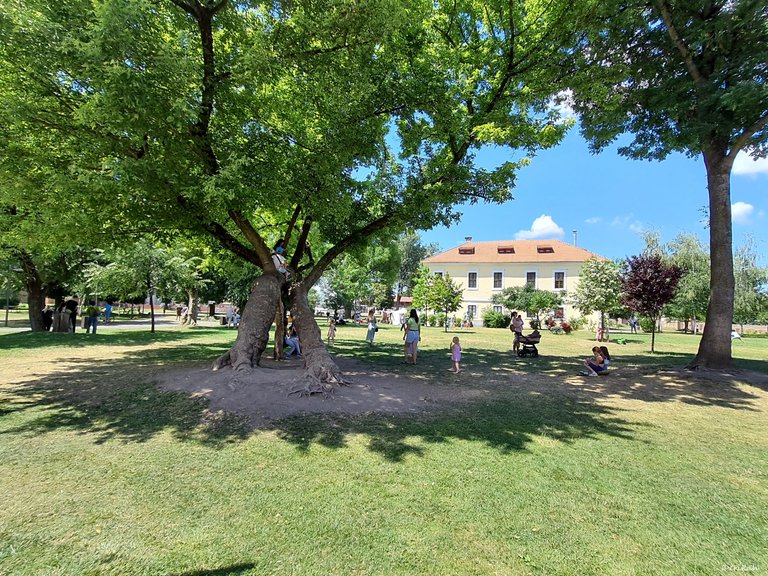 Activities
This event is for every age, therefore you can see people of every age group, from the youngest, to the oldest.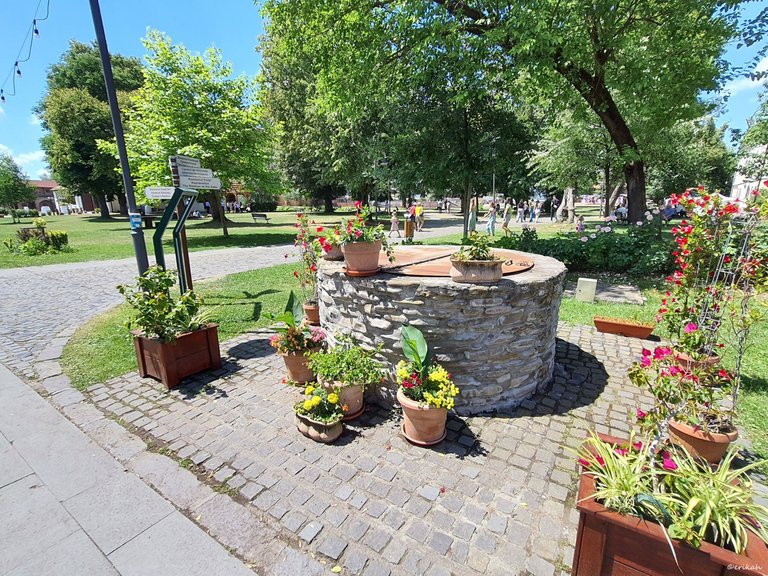 The whole place is a beauty as the municipality has been investing in upgrading it. There are flowers and benches everywhere, even on the top of this well, which is a symbol of those days, when tap water was unknown and the only source of water was a well. This is most likely a fake, I suppose there's no water in it, there may not even be a hole under the cover, but all that doesn't matter as it looks nice.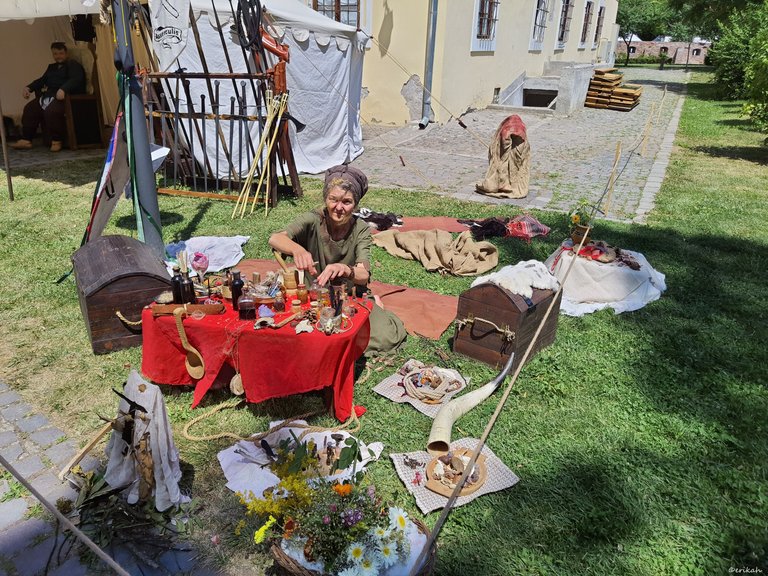 Now comes the fun part for several reasons. When I saw this woman, I was thinking of my dear friend @traciyork 😂 I thought this woman is a witch for mixing those drugs and I'm often teasing Traci, telling her she's a witch.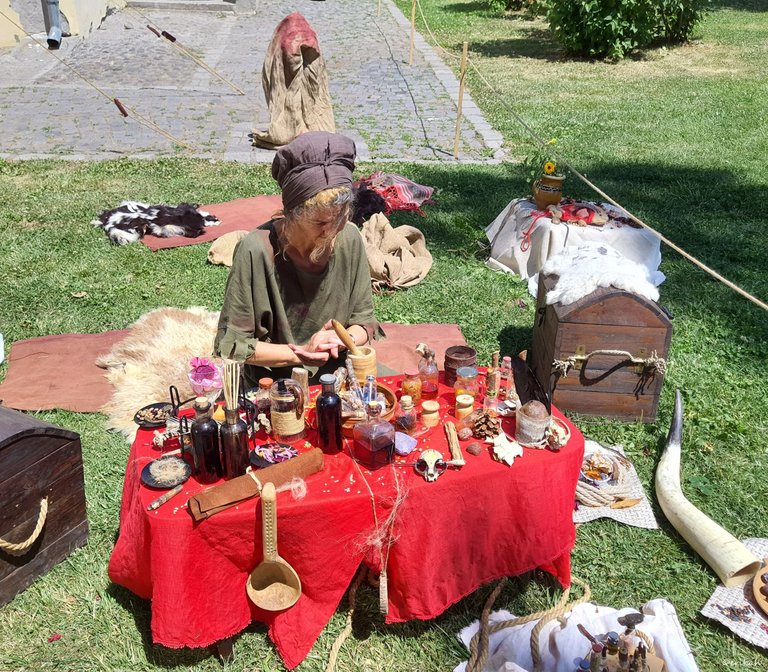 I would be afraid of this woman and this is no joke! Can you see the skull pierced with a long pin? I would not joke with her. Ok, jokes aside, I was thinking of the times, when this was how 'healing' was done. With oils, plants, powders as there was nothing else and medicine was in the very early stage.
I really appreciate to see such an initiative as it's important to see this for the younger generation. The cloths, the tools they were using during medieval times are all nice to see in real life. The witch is genuine, you're going to see why, a bit later.
This section and activity was called Asserculis.
The Jesuit priest Martin Szentiványi provides the first known written reference naming the city; in his work Dissertatio Paralipomenonica Rerum Memorabilium Hungariae (written in 1699) he records the name as Asserculis by stating, in Latin, Asserculis, hoc est Szekely Vasarhely, meaning, Asserculis, here is Szekely Vasarhely. He provides the year 1230 for the reference. source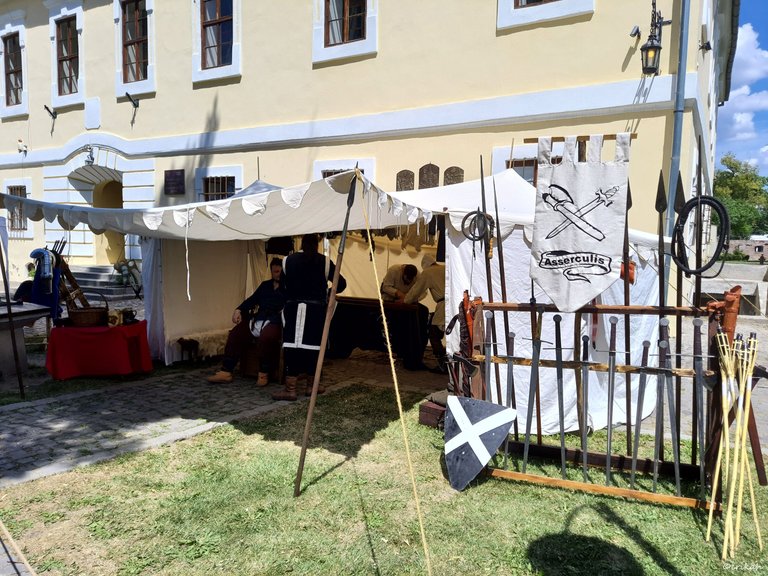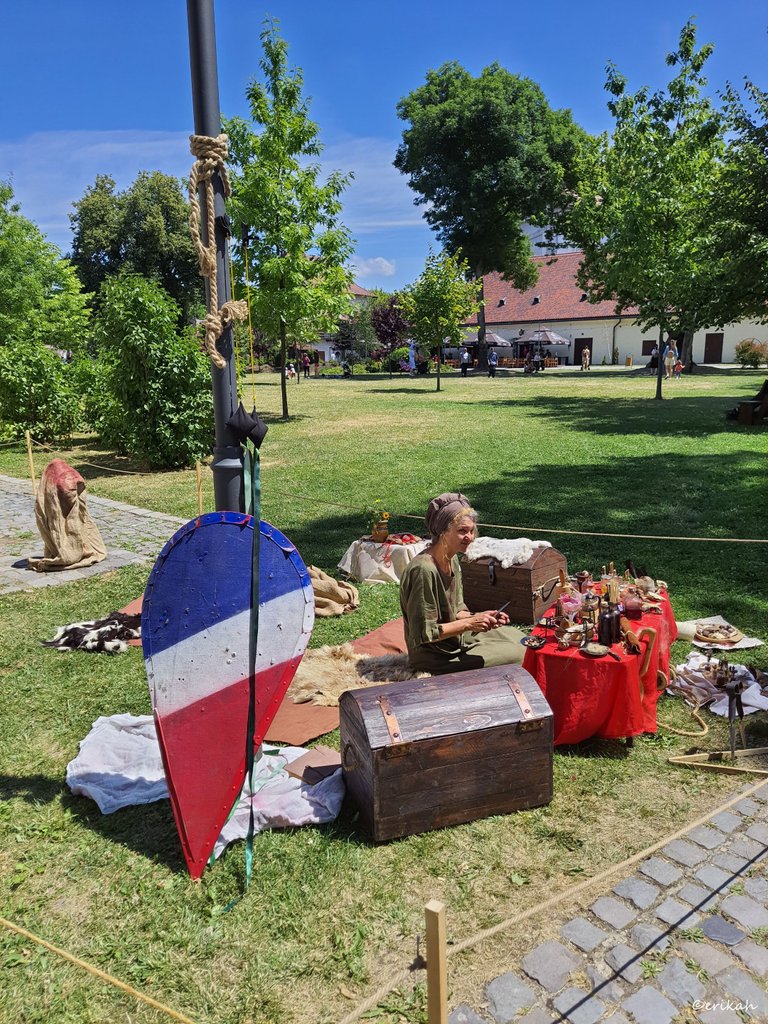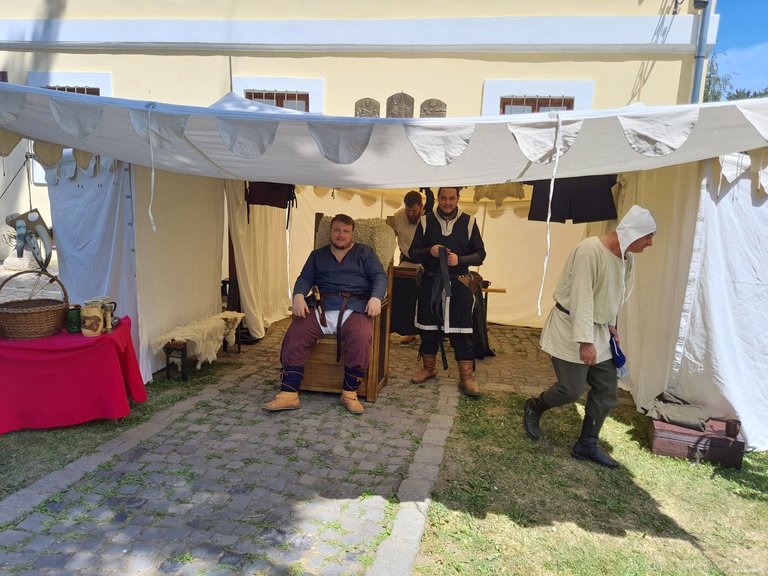 In this photo, the emperor on his throne, his servant next to him and a peasant just exiting the tent. They were smiling at me as they previously invited me to sit on the throne and take a photo, which I politely refused 😁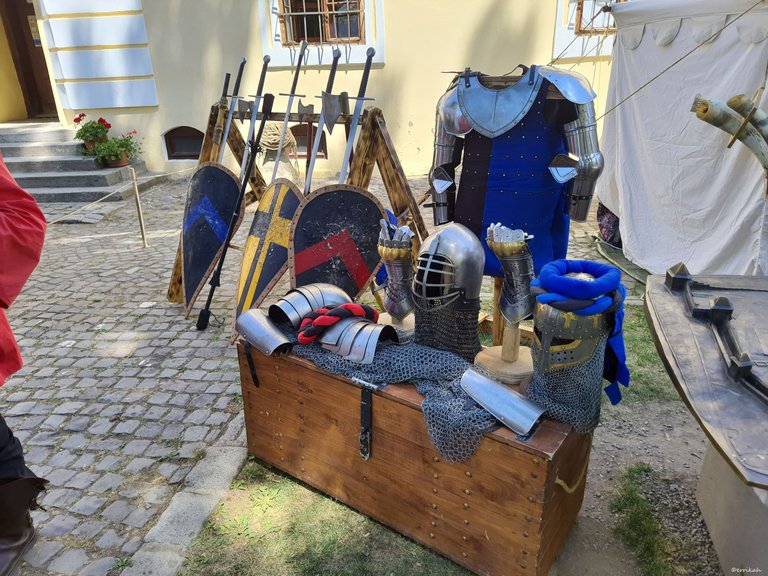 This is the combat gear of the army in medieval times. My whole body was aching just by looking at the gear and imagining how it felt like wearing that heavy equipment all day, every day.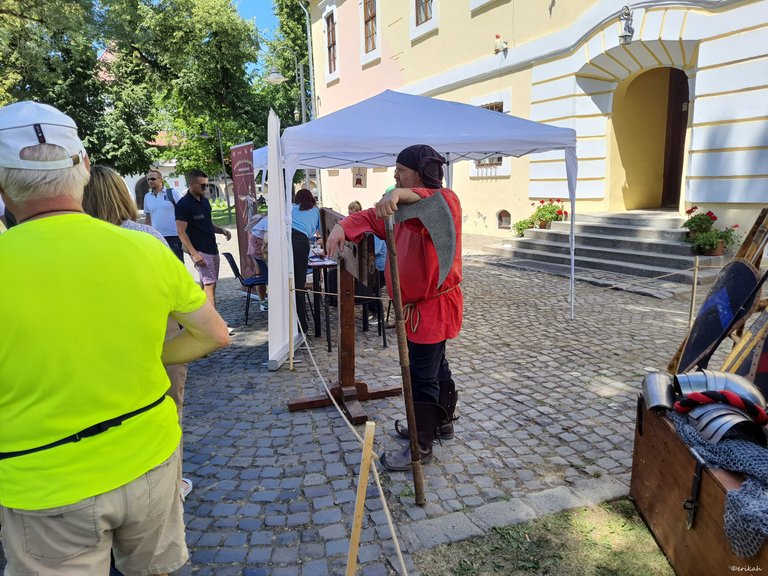 And this is where the real fun happened.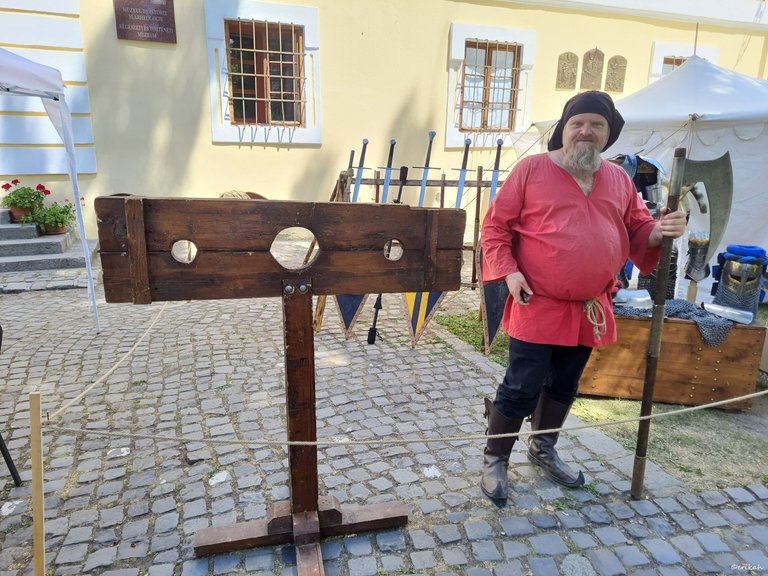 Do you know what this is? It's a torturing device which, unfortunately has been widely used on the less fortunate. You must have seen in the movies.
Back in those days pickpockets caught in action were locked up in that device at the marketplace and put to shame for three days. Can you imagine a similar device in use today?
That nice man was standing next to it was the executioner, smiling. But not for long.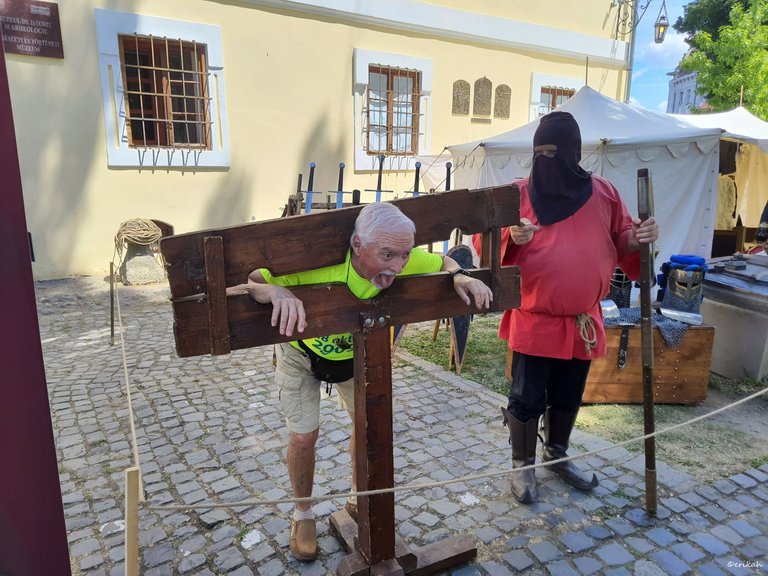 There was a granddad in front of me with his daughter and two grand kids. The man must have been a real adventurer, as he asked the executioner if he could try the device out and the executioner said yes. Now imagine my luck as I was at the right place, the right time!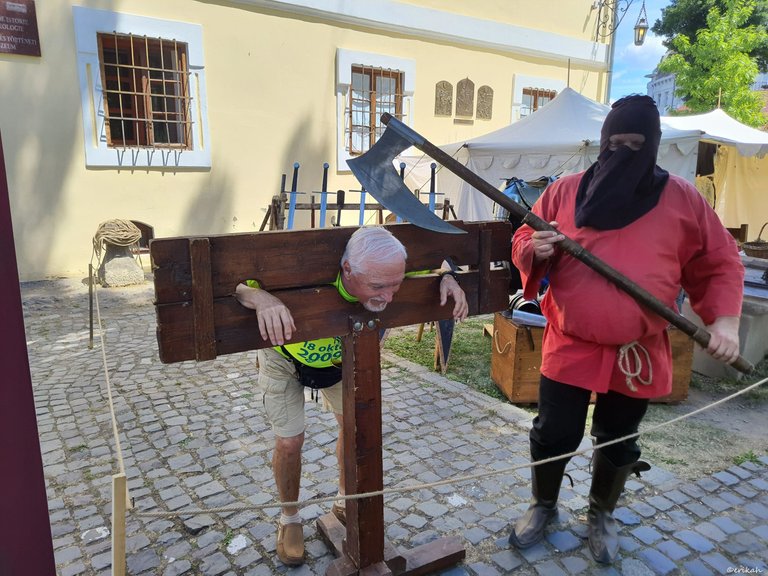 And here's, the perfect scene! Just for me 😁 You already may have guessed, I was pushing the button of my camera like crazy as this was a moment not to miss.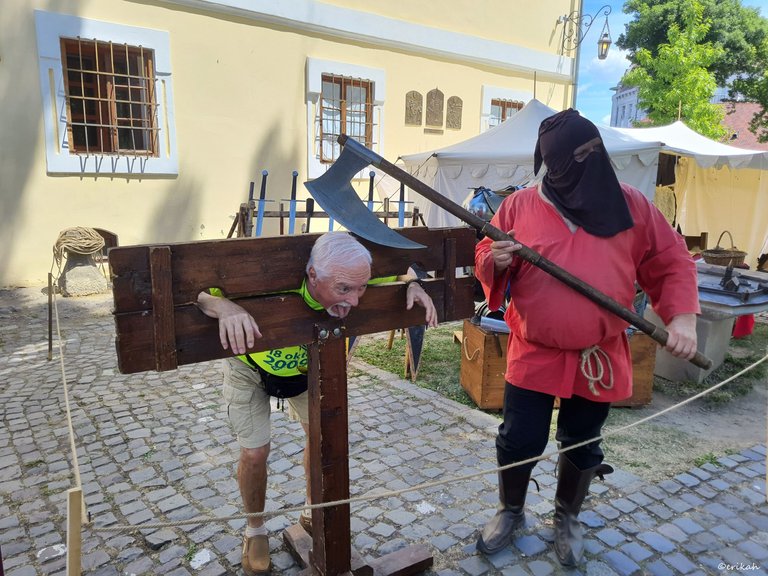 At the end, granddad did not get decapitated ans the executioner showed mercy and let him go but this was the highlight of the day.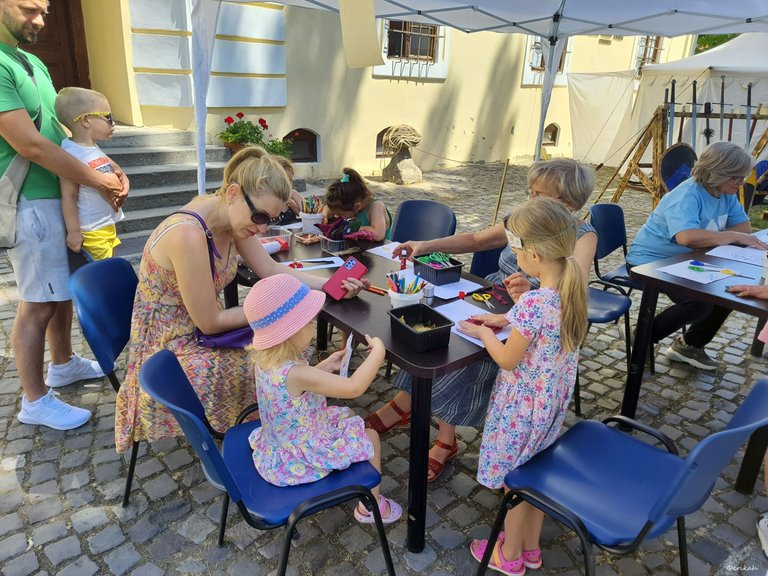 Next there was a workshop for the little ones, which can be a real blessing for several reasons. One is they get to do something they don't do at home. Drawing, coloring, modeling with clay and so on.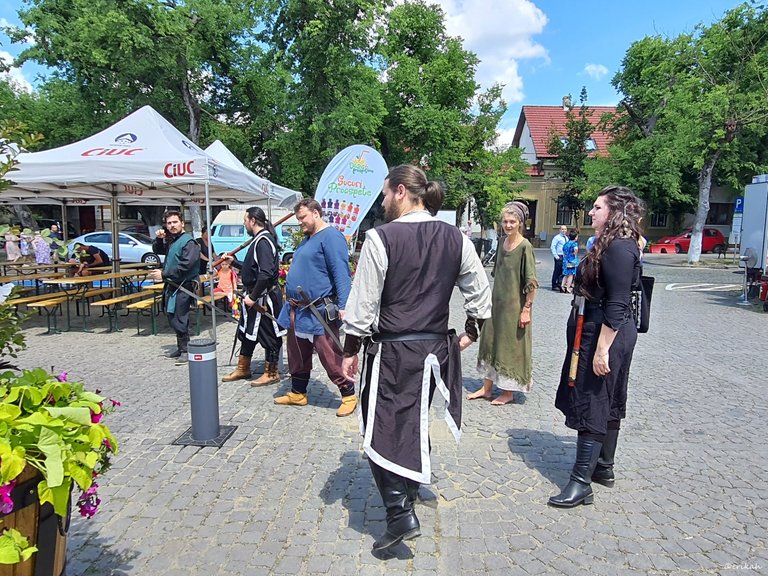 On my way out I spotted the medieval crew, among which the witch was barefoot. I don't think she could be more original. It was fun to watch, however, those cobblestones must have been hot as hell as there was 30°C outside, so I appreciated her gesture even more.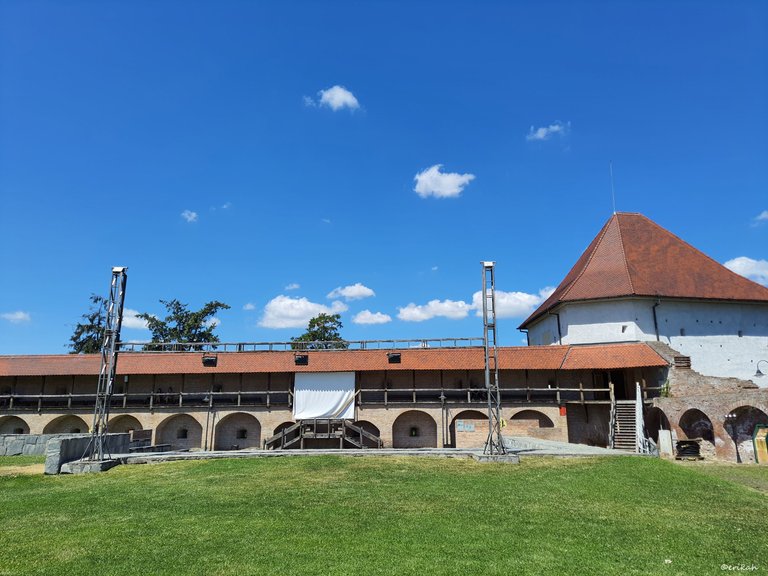 There are two stages set up inside the fortress and another two I think, in the city center, for concerts tonight.