Hey everyone!! The long awaited Pinmapple Thousand Contest results are out!!! It's taken us such a long time to make the announcement as we had over 90 awesome entries to the two writing contests and nearly 1900 entries to the Raffle draw. The quality of the entries were extremely high and it was very difficult to nail down the winners. We wish we could award more winners but we got there in the end.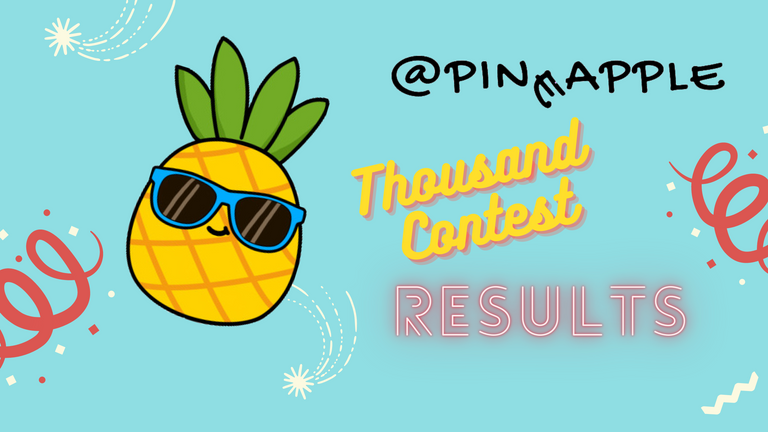 Before we announce the winners, we'd like to thank our sponsors for their generosity and supporting the Hive travel community. They are @ausbitbank, @c0ff33a, @crimsonclad, @eturnerx, @martibis and @roelandp
And now without further ado, here are the winners........
---
If I had $1000 writing contest
First place
The winner is @gabrielatravels with her post Living the American Dream: All the way down to Utah! @gabrielatravels is no stranger to the travel community and consistently produces awesome content taking us to around her home country Romania. Congrats to @gabrielatravels on coming first in the contest and winning 200 Hive!


Second Place
In second place is @storiesoferne where he revisits a previous trip Travel to the Taj Mahal and Agra in India with US$1,000. @storiesoferne joined Hive only a few months ago and it's great to see more high quality content creators coming on board Hive. Congratulations on coming second and winning 150 Hive.

Third Place
In third place is @lizelle, she entered this writing contest twice and the judges really enjoyed her entry Walking in the Footsteps of my Ancestors - The Scottish Highlands. @lizelle is an all rounded content creator and often takes us on some of the most amazing places in South Africa. Congratulations on coming third and winning 100.

---
Honourable Mentions
We have five honourable mentions who's entries were also of very high quality, a couple of them just missed the top 3 position by a little bit. These five winners each win 50 Hive. Congratulations to....
@greddyforce for his entry "This is my entry to the Pinmapple If I had $1000 Contest" - Iceland
@discoveringarni for her entry If I Had $1000 Contest Entry: Join a Writer's Retreat in Tagaytay
@ybanezkim26 for his entry If I Had $1000, I Would Have Visited Batanes... Solo
@sharker for her entry Swimming with Whales - "If I had $1000" Writing Contest
@kayceeports2020 for her entry If I Had $1,000 (and the Confidence), I'd Pack My Bags to The Emerald Isle
---
User Experience writing contest
It was very interesting to read people's experience with Pinmapple and haveyoubeenhere and learn how the project has been part of your Hive journey. Quite a few of you have been here since we first started out over three year ago, so thanks for sticking with us. The judges favourite entries, in no particular order, are
@ammonite for his entry Pinmapple User Experience Writing Contest


@josejirafa for his entry My Pinmapple and Haveyoubeenhere Experience


@ladybug146 for her entry My Pinmapple and Haveyoubeenhere User Experience


Congratulation guys and gal, you have each won 100 Hive.
---
Raffle Draw
We recognised that not everyone creates travel content, but supports Pinmapple and haveyoubeenhere, therefore we created a raffle draw so everyone could enter. In total we had nearly 1900 valid raffle entries and we drew ten lucky winners. Here's an explanation from @martibis on how we did the draw:
For the techies under us, I wanted to explain how the raffle draws happened. Each completed action has been stored in a MySQL database, with the amount of awarded entries for that action (which could be between 0 - 6 depending on the base entries you get and the multiplier for being featured in one of the digests). So I created a UNION ALL query adding all entries, which I then ordered randomly and limited to 10 winners.
SELECT iduser FROM (SELECT * FROM contestentries WHERE entries > 0  UNION ALL SELECT * FROM contestentries WHERE entries > 1   UNION ALL SELECT * FROM contestentries WHERE entries > 2  UNION ALL SELECT * FROM contestentries WHERE entries > 3 UNION ALL SELECT * FROM contestentries WHERE entries > 4 UNION ALL SELECT * FROM contestentries WHERE entries > 5) as allentries ORDER by RAND() LIMIT 10;

All entries were verified as well to make sure there was no cheating going on.
Congratulations to the following ten lucky winners who has each won 100 Hive:
---
The team would like to thank everyone who took part in the Pinmapple Thousand contest and for everyone else who's been supporting us all along! We hope we can count on your continued support towards the Pinmapple 2000. Cheers!!