My Daily Blog.
Tent Camp in the Bosphorus.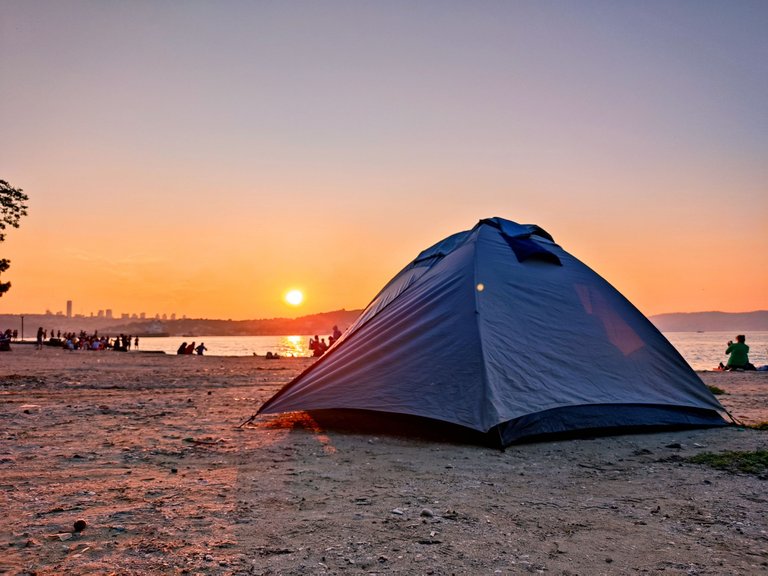 Hello everyone,
Those who want to cool off in extreme heat, come with me. Because today I went swimming and camping in the Bosphorus in Turkey/Istanbul to cool off. I will share with you what I did during the day and the beautiful landscapes I saw.
I came here before noon. I've been here many times before. But there were rocks here. The municipality turned this place into a beach by landscaping. It was pretty good compared to the old one. They have a shower, a dressing room and a toilet. After walking on the beach, we arranged a nice place to pitch a tent.
Herkese merhaba,
Aşırı sıcaklarda serinlemek isteyenler benimle gelsin. Çünkü ben bugün serinlemek için Türkiye/ İstanbul'da bulunan boğaza yüzmeye ve kamp yapmaya gittim. Gün içerisinde yaptıklarımı ve gördüğüm güzel manzaraları sizinle paylaşacağım.
Öğleden önce buraya geldim. Daha önce buraya birçok kez gelmiştim. Fakat burada kayalıklar vardı. Belediye çevre düzenleme yaparak burayı plaj haline getirmiş. Eski haline göre oldukça iyiydi. Duş alma yeri, soyunma kabini ve tuvalet koymuşlar. Kumsalda ilerledikten sonra çadır kurmak için güzel bir yer ayarladık.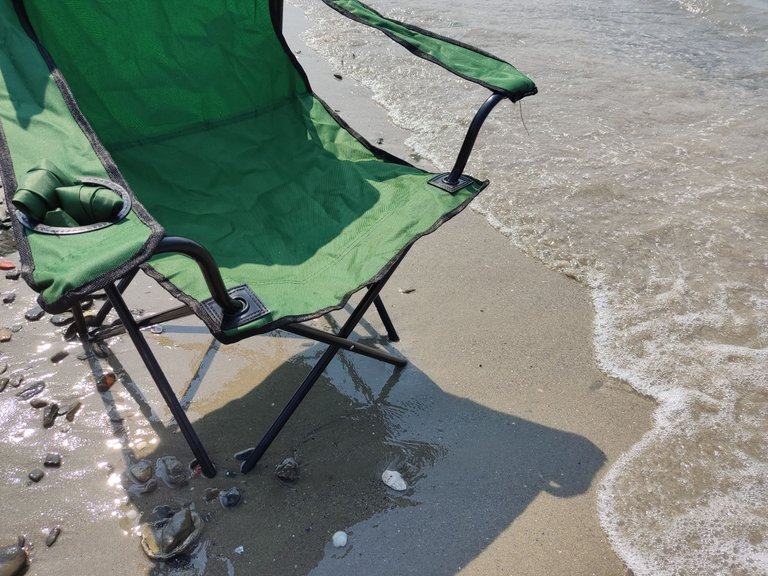 Swimming in the Bosphorus is actually difficult. Not like in normal seas. Because there is an incredible current here. While swimming, the current is dragging you fast. Even if you swim very little, you get very tired. If your feet are on the ground on the shore, what I have said does not apply.
I also love sitting on the beach while spending time at the sea. I usually put my folding chair on the beach. When the wave comes, water hits my feet. I can say it has a massage effect.
Boğazda yüzmek aslında zordur. Normal denizlerdeki gibi değil. Çünkü burada inanılmaz bir akıntı var. Yüzerken akıntı sizi hızlı bir şekilde sürüklüyor. Çok az yüzseniz bile çok yoruluyorsunuz. Kıyıda ayaklarınız yere basıyorsa bu söylediklerim geçerli olmuyor.
Denizde vakit geçirirken kumsalda oturmayı da çok seviyorum. Genelde katlanır sandalyemi kumsala koyuyorum. Dalga geldiğinde ayaklarıma su vuruyor. Masaj etkisi yapıyor diyebilirim.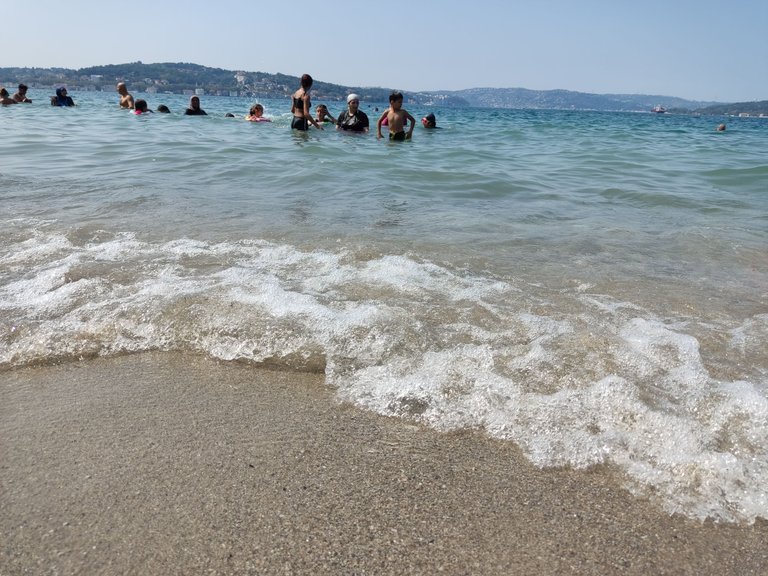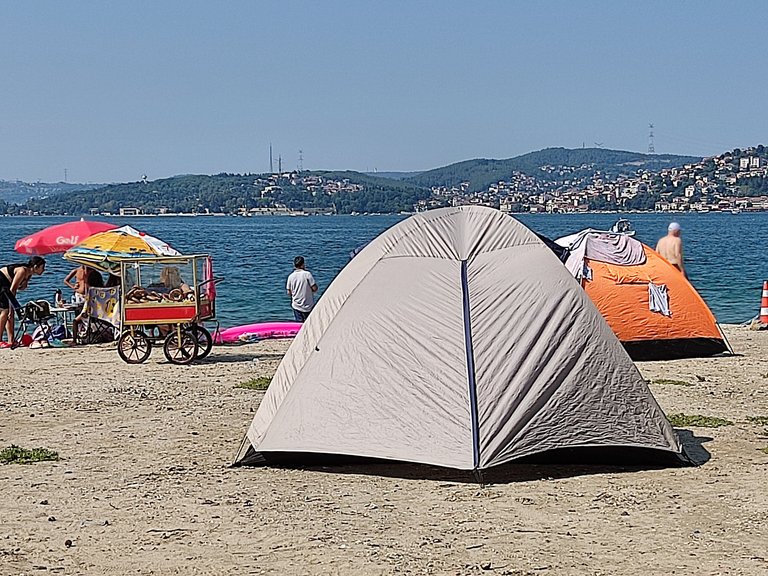 Swimming in the Bosphorus is very different and enjoyable. Because while you are swimming, many ships pass by you. Since all kinds of ships pass through this obligatory direction, it gives you the pleasure of cruising. You can also see people swimming in the photos I took, waving to those on the ferry. Small fishing boats come and go. It adds a very different atmosphere.
Boğazda yüzmek çok farklı ve keyif verici. Çünkü siz yüzerken yanınızdan birçok gemi geçiyor. Her türlü gemi mecburi bu istikametten geçtiği için size de seyir zevki yaşatıyor. Çektiğim fotoğraflarda yüzen insanların vapurdakilere el salladıklarını da görebilirsiniz. Küçük balıkçı tekneleri sağa sola gidip geliyorlar. Çok farklı bir hava katıyor.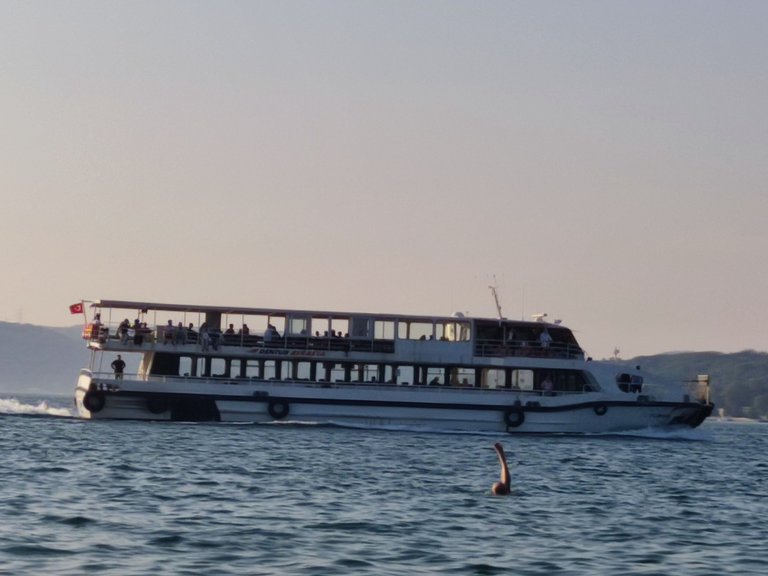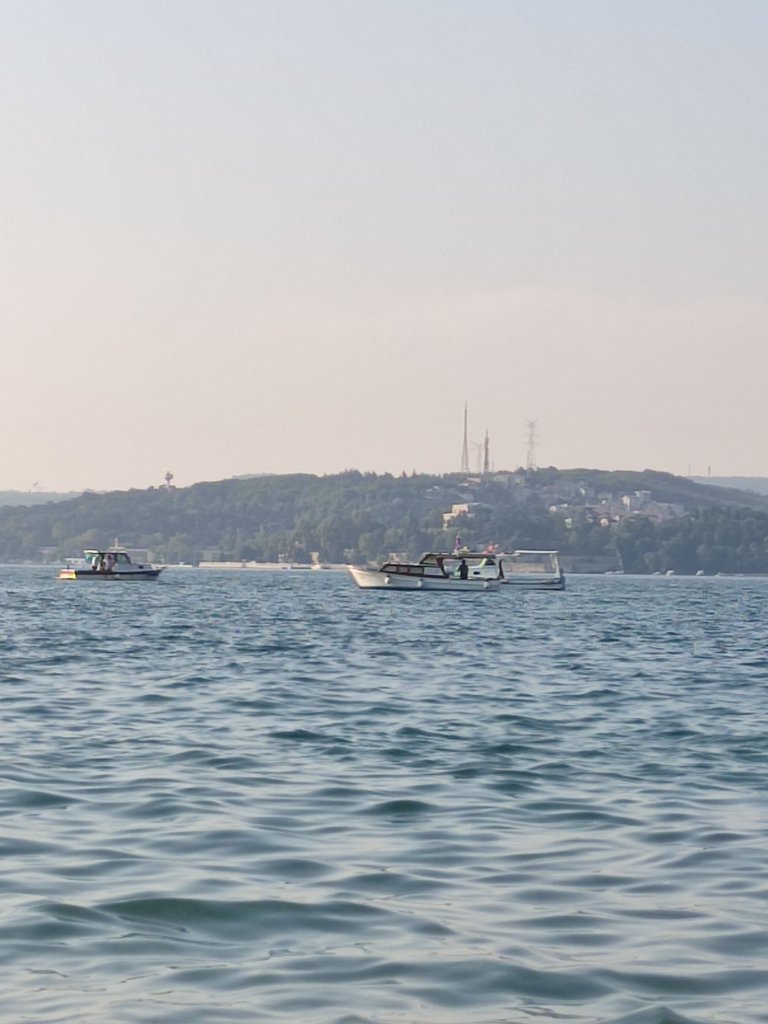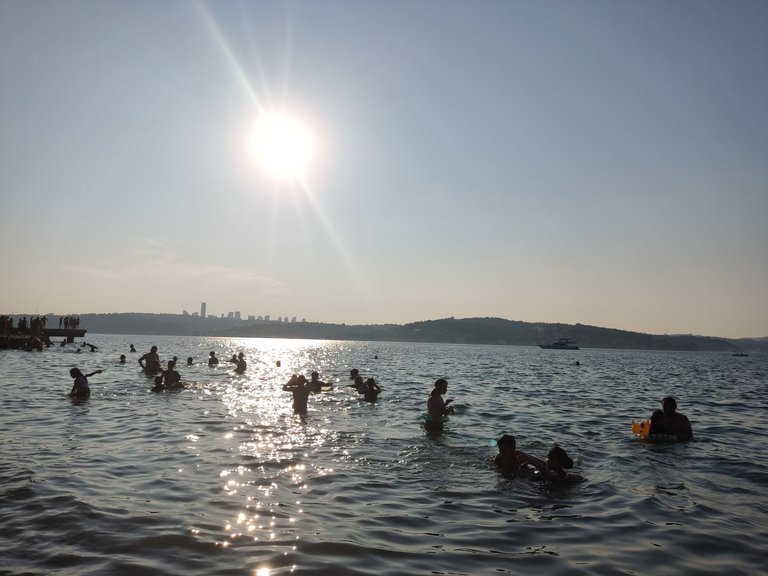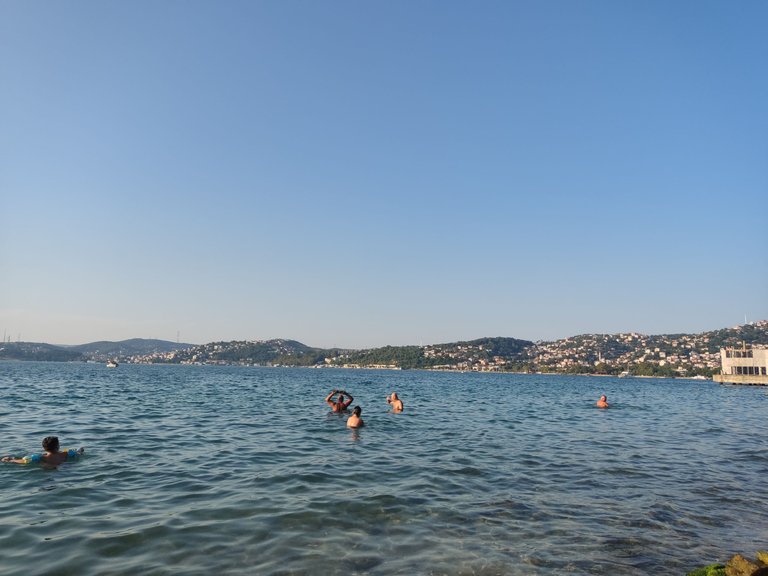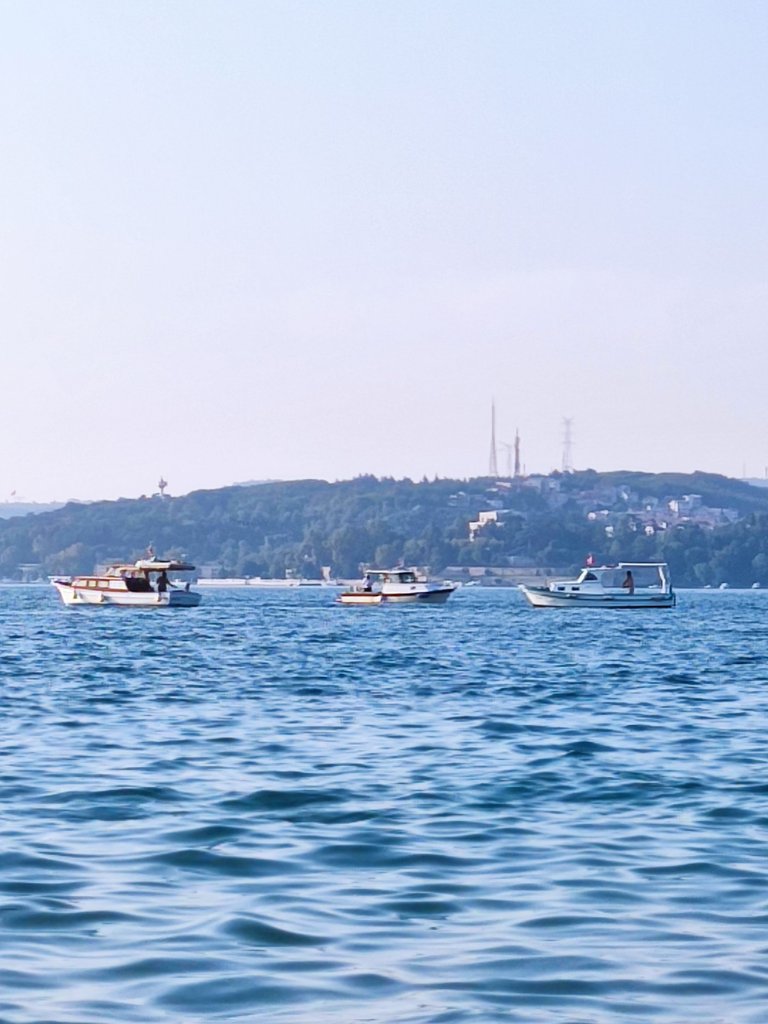 In the scorching heat, street vendors roam to cool and feed us. We ate ice cream here to cool off. It was also one of the flavors we preferred in corn. This type of snack goes very well in tiring times.
There were two children on the beach that caught my attention. They were building sand castles with pots in their hands. When I was a kid, I used to make castles many times in different shapes. To put it bluntly, mine were more professional. 😊 Still, I wanted to share them and their castles in this post. Hard work should be rewarded.
Kavurucu sıcaklarda bizleri serinletmek ve doyurmak için sokak satıcıları geziyor. Burada serinlemek için dondurma yedik. Ayrıca mısırda tercih ettiğimiz lezzetlerden oldu. Bu tip atıştırmalıklar yorucu zamanlarda çok iyi gidiyor.
Kumsalda dikkatimi çeken iki çocuk oldu. Ellerindeki kaplarla kumdan kaleler yapıyorlardı. Çocukken bende birçok kez farklı şekillerde kaleler yapıyordum. Açıkça söylemek gerekirse benimkiler daha profesyonel oluyordu. 😊 Yine de onları ve yaptığı kalelerini bu paylaşımda yer ayırmak istedim. Emek varsa ödüllendirilmelidir.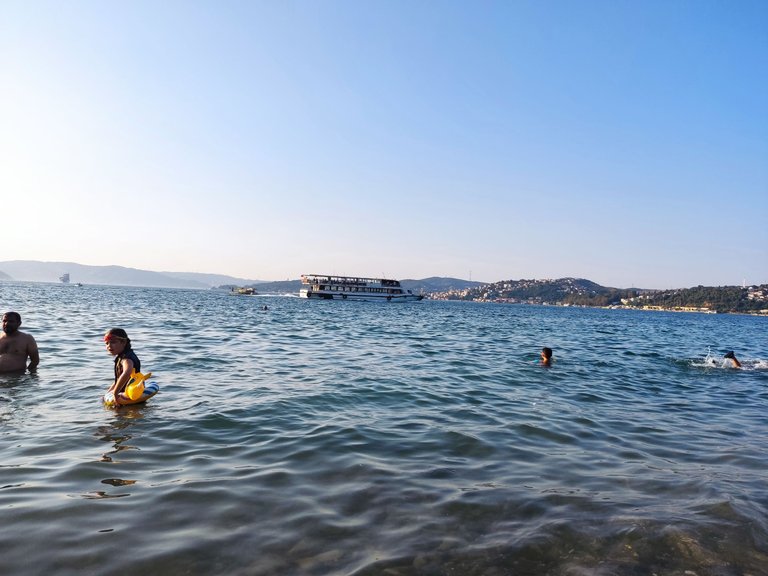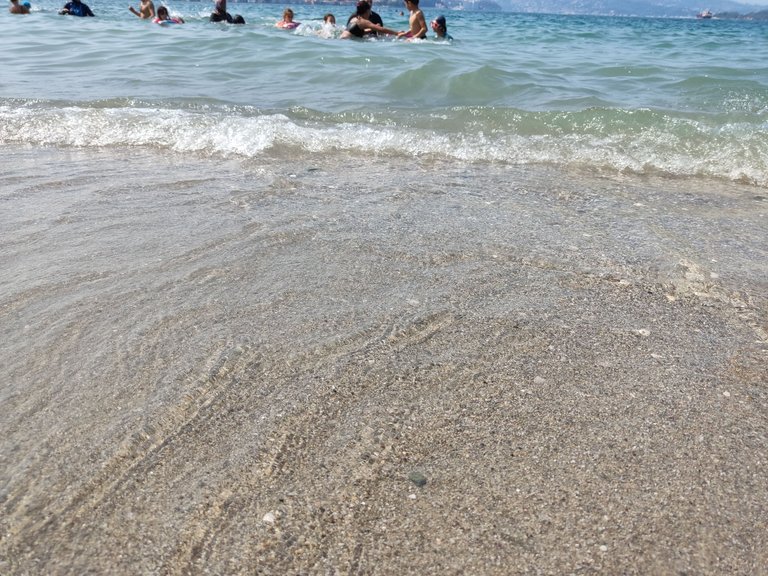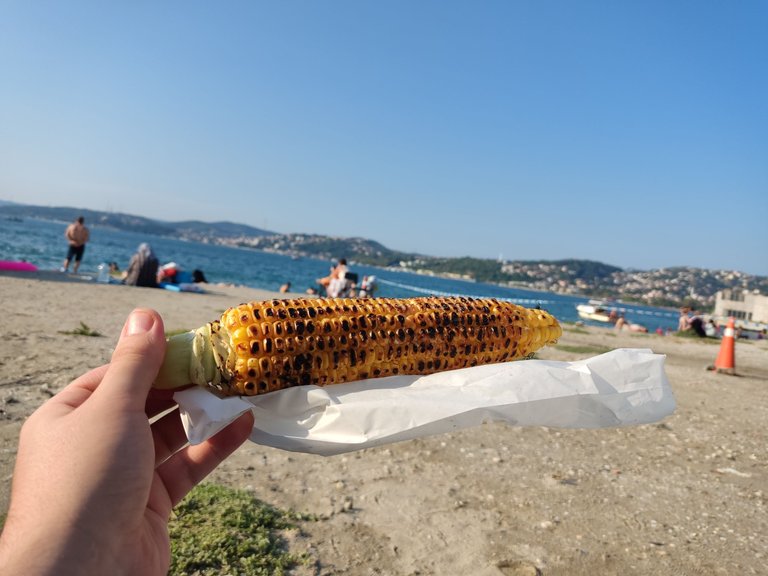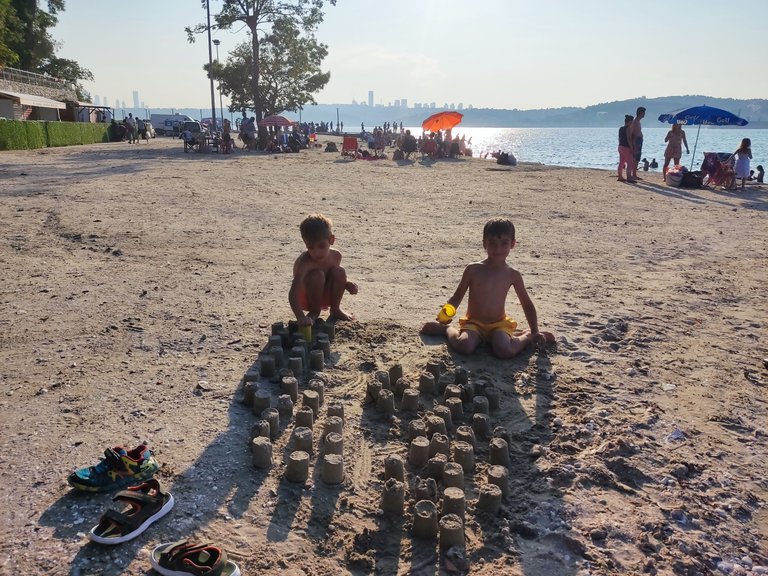 At the beginning of my post, I mentioned that I came here to cool off. But things weren't like that at all. Because the sun made me crimson. There is no need for a lot of sun, it is enough to show yourself to the sun for five to ten minutes.
Slowly the sun advanced. The sun loses its influence in the evening. A nice coolness takes its place. In the meantime, I can say that I felt a little cooler and relaxed.
Paylaşımımın başında serinlemek için buraya geldiğimden bahsetmiştim. Fakat işler hiç de öyle olmadı. Çünkü güneş beni kıpkırmızı yaptı. Çok fazla güneş olmasına gerek yok beş on dakika güneşe kendinizi göstermeniz yetiyor.
Yavaş yavaş güneş ilerledi. Güneş akşamüzeri etkisini kaybediyor. Yerini güzel bir serinlik alıyor. Bu sırada biraz daha serinledim ve rahatladım diyebilirim.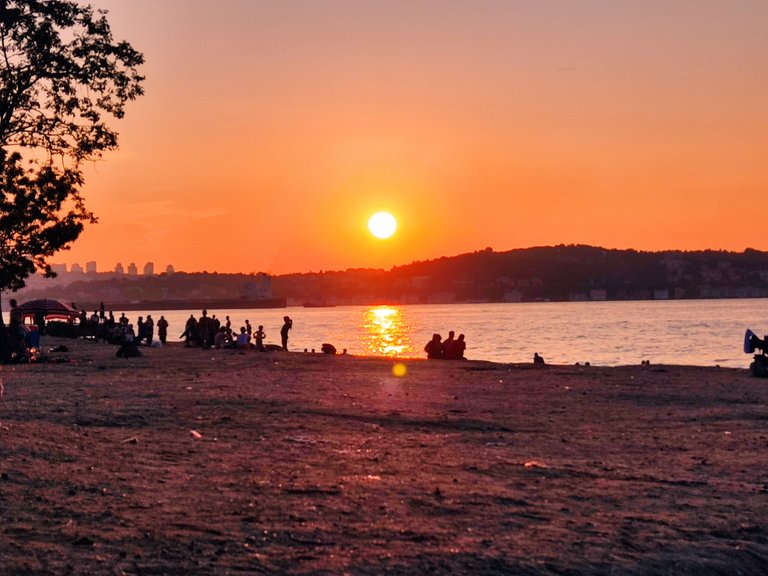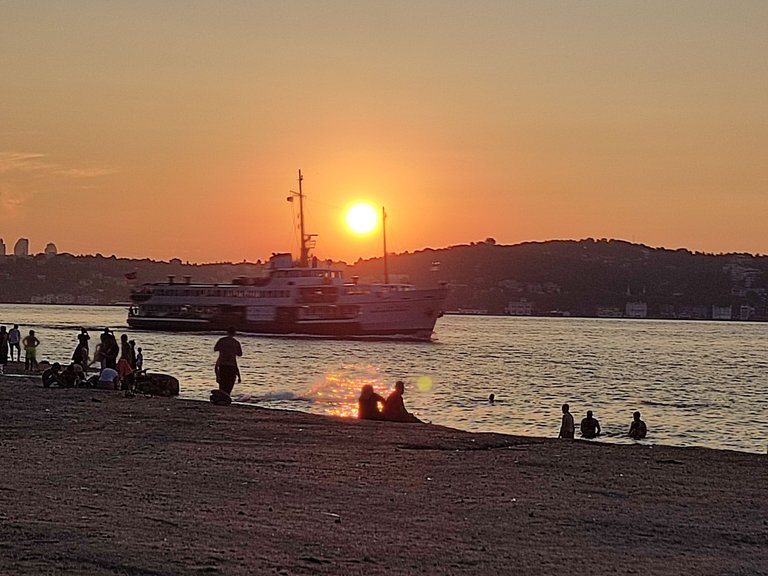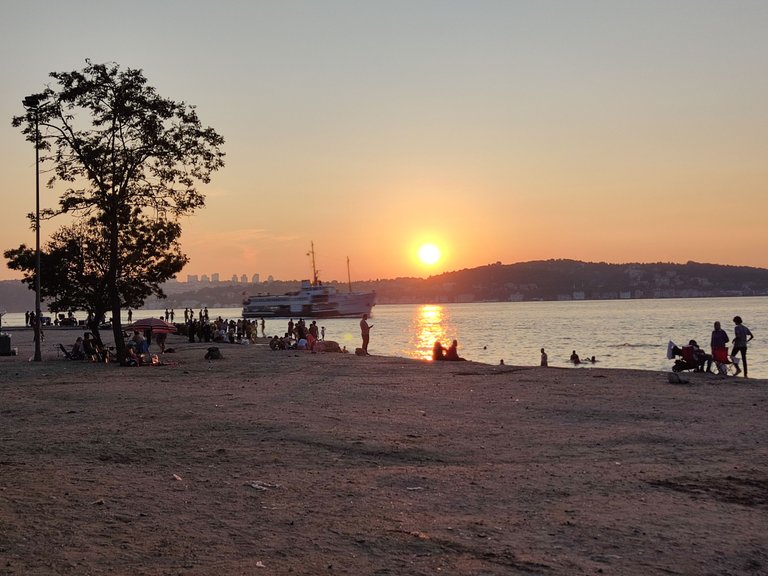 We waited here to watch the sunset. Because as I always say, when the sun goes down, it creates magnificent views. Of course, I did not want to miss these images. I tried to capture the best shots with my phone.
And the sun went down. The sea took on the orange color of the sky. The air has cooled. Many people have returned to their homes. It was quiet and calm. I took a few more pictures from inside the tent and looked around. It was a pleasant but not very cool day for me. 😊
Gün batımını burada izlemek için bekledik. Çünkü her zaman dediğim gibi güneş batarken muazzam manzaralar ortaya çıkarıyor. Tabi ki bu görüntüleri kaçırmak istemedim. Telefonumla en iyi kareleri yakalamaya çalıştım.
Ve güneş battı. Deniz gökyüzünün turuncu rengini aldı. Hava serinledi. Birçok kişi evlerine döndü. Ortalık sessiz ve sakinleşti. Çadırın içinden birkaç fotoğraf daha çekerek etrafı seyrettim. Benim için keyifli fakat pek serin olmayan bir gündü. 😊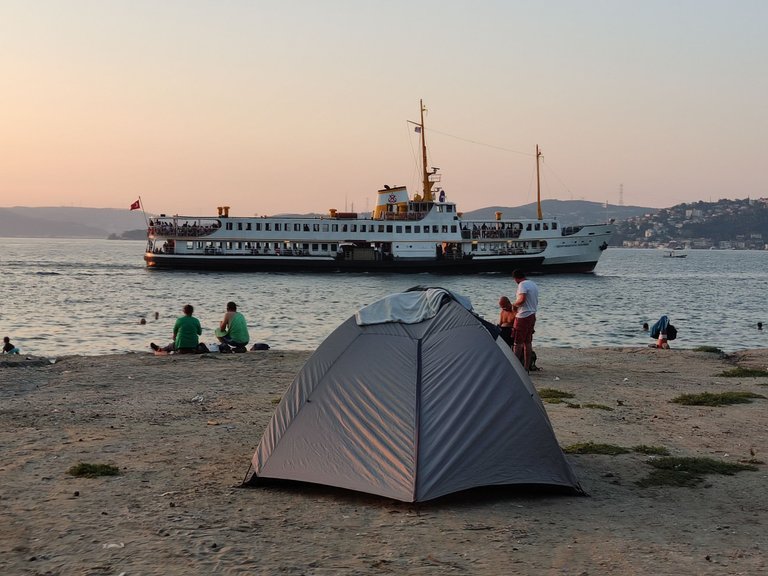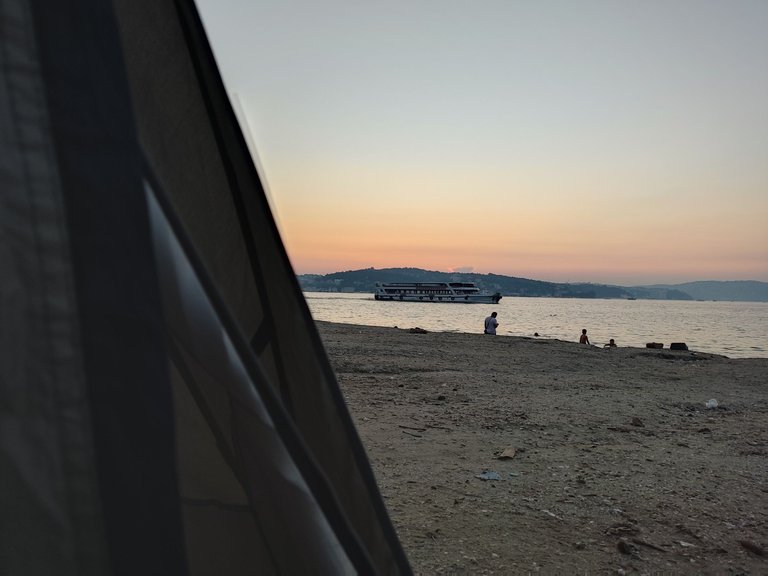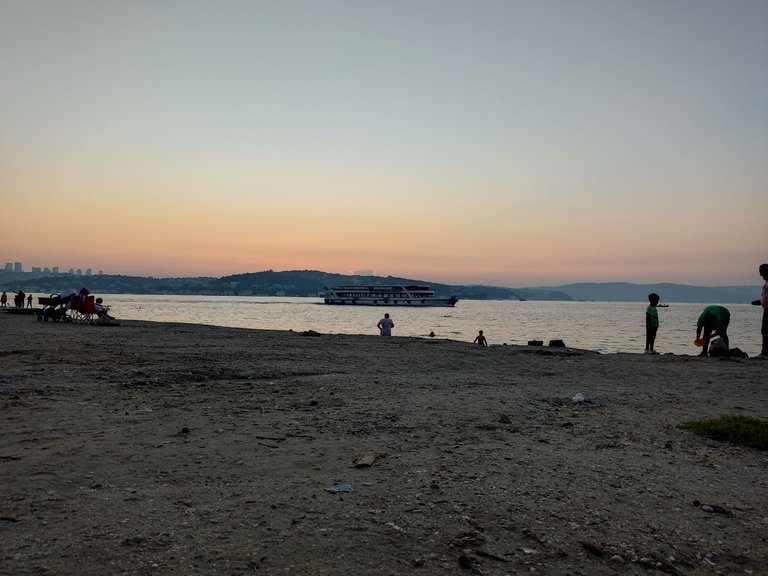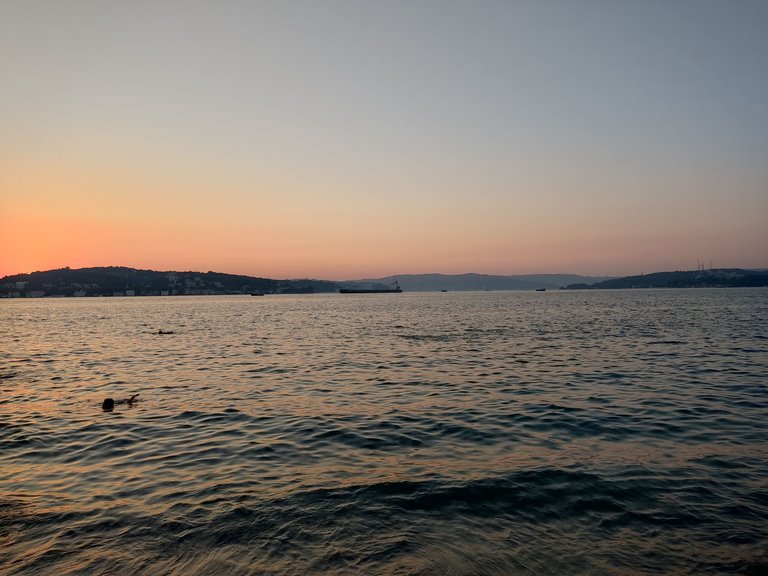 I told you about a pleasant day I spent here. I hope you liked my post. Thanks for your visit. See you on my next blog.
Sizlere burada geçirdiğim keyifli bir günden bahsettim. Umarım paylaşımımı beğenmişsinizdir. Ziyaretiniz için teşekkürler. Bir sonraki günlük bloğumda görüşmek üzere.
Stay Healthy. Goodbye.