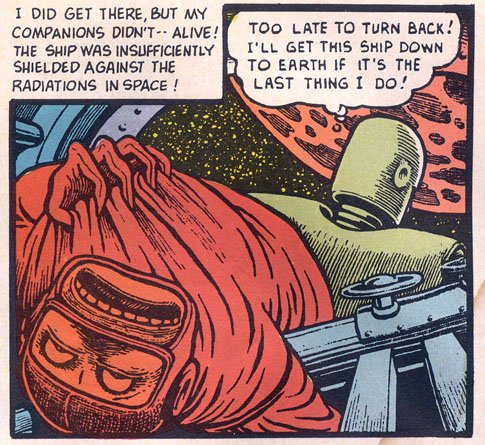 With most comic books stores still closed and the distributor not shipping it's not exactly "new comic book day" #ncbd
So,let's once again look at some older stuff worth tracking down or better yet having your local comic book shop track it down for you.
This one is a selfless recommendation indeed, because while the other stuff I've brought up recently can have little to no comparison made to my work, nor even be close enough to fear anyone's possible purchase ending up as a choice between my work and that. "should I get the dark humor comic with zombie fetuses, or the one with Captain America fighting Doctor Doom" is a question that would only be asked by a complete lunatic.
But this work here...in illustration and charm perhaps, could be comparable.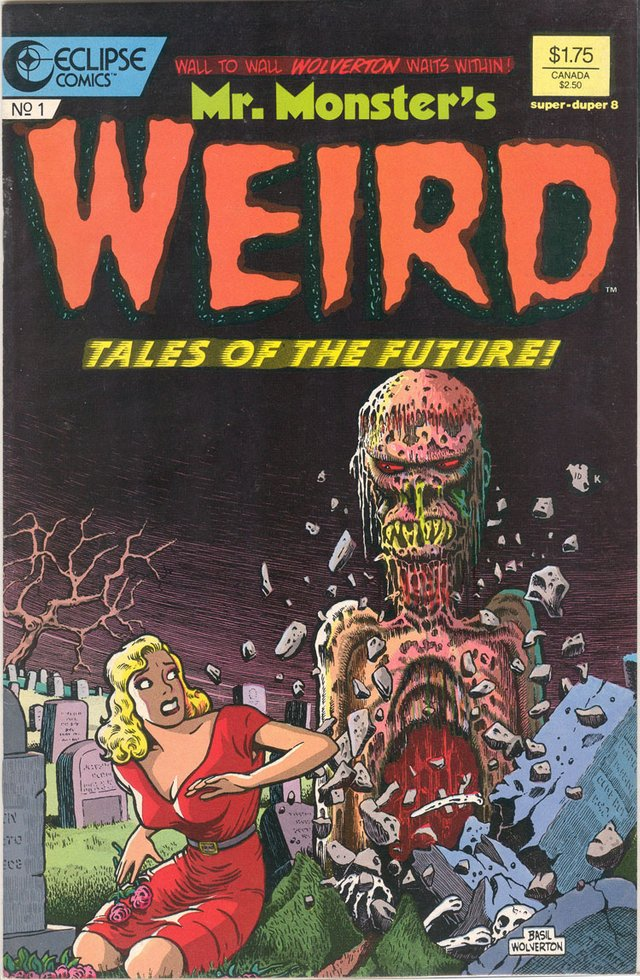 This issue here, a reprint of work from the early 1950's, caught my eye one day and may be partially responsible for my ever getting this far. At the time my knowledge and interest in comic books was what I liked as a kid- Marvel Super heroes. I knew nothing of Flamming Carrot, Reid Flemming the World's Toughest Milkman, or any other indy books I've grown to have great admiration for. To be honest, I wasn't even aware of Robert Crumb or any of the 70's underground stuff, which I loathe ( for reasons I can't quite put my finger on). I didn't know jack squat about any of that stuff until sometime later. I considered ( and still do) myself to be a comedian. Comics had little to nothing to do with the writing I wanted poison the world with.
But this, the look of it...put a light bulb over my head.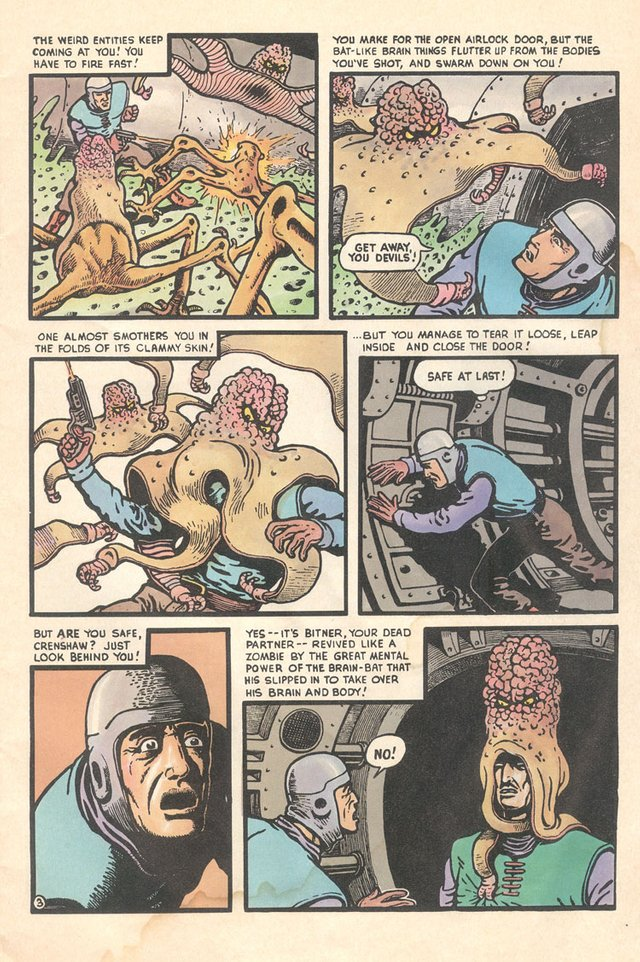 This wasn't capes and tights, or even crime fighting in a trench coat and fedora. It wasn't realistic or even trying to be. It was drawn by someone who drew the way I did...uhm...is what I thought to myself. Which I will freely admit was an absurd thought with (then) no basis in reality. More accurate would have been- this guy draws how things look in my head before I try to draw them. By that I mean it was cartoonish, but precise, refined, existing in a tangible world. Not like say The Far Side or Snoopy, or even Casper. This was detailed and fleshed out.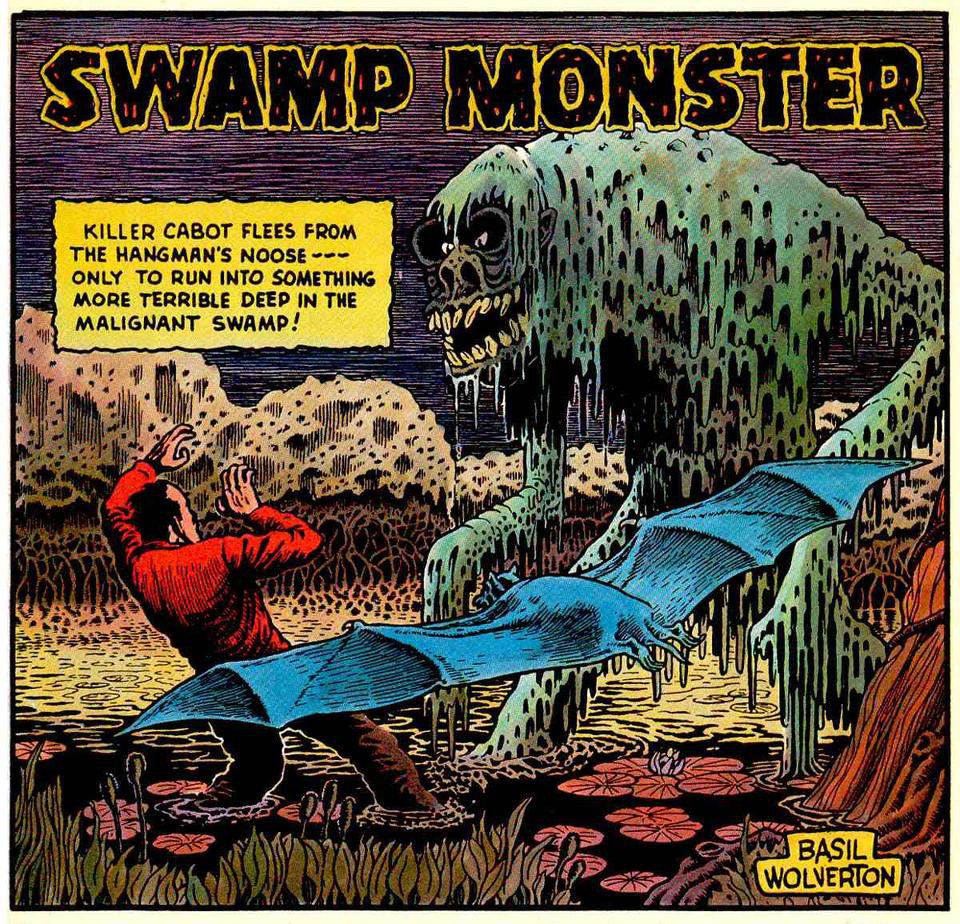 Basil Wolverton, I would soon discover, is legendary among those knowledgeable of the history of comics. His early stuff "SpaceHawk" was a bit of Flash Gordon and Buck Rodgers and lasted a long time.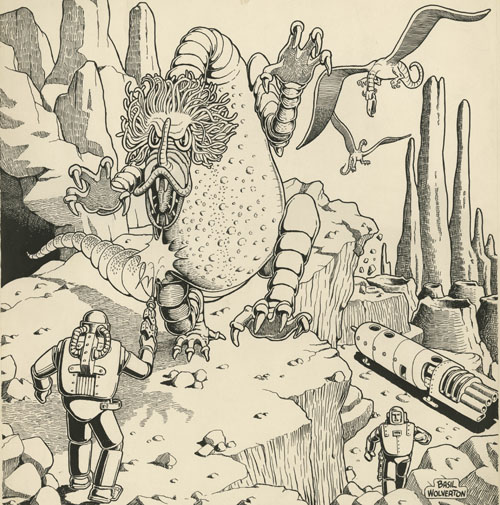 his later work in Mad magazine involved a lot of characters and wild, goofy, fun, juvenile, stuff.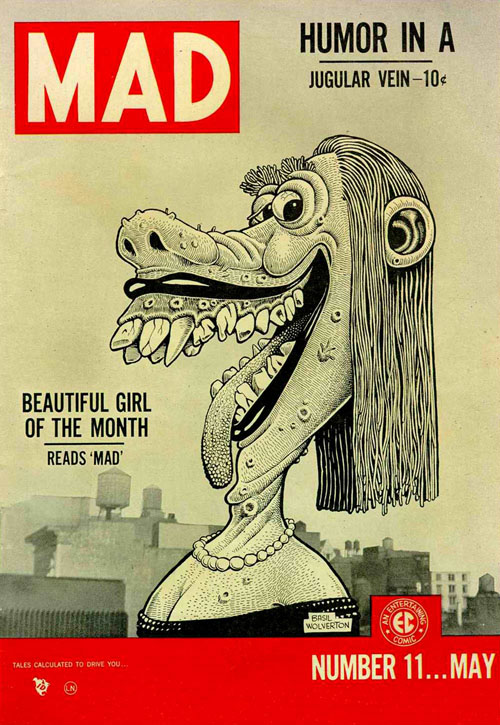 But the sweet spot if his work was the early 50s sci-fi and horror stories he contributed to different titles. Weird Tales of the Future is the best example of them all, and has been reprinted a number of times. You can find them is single issues ( like this one) or larger collections.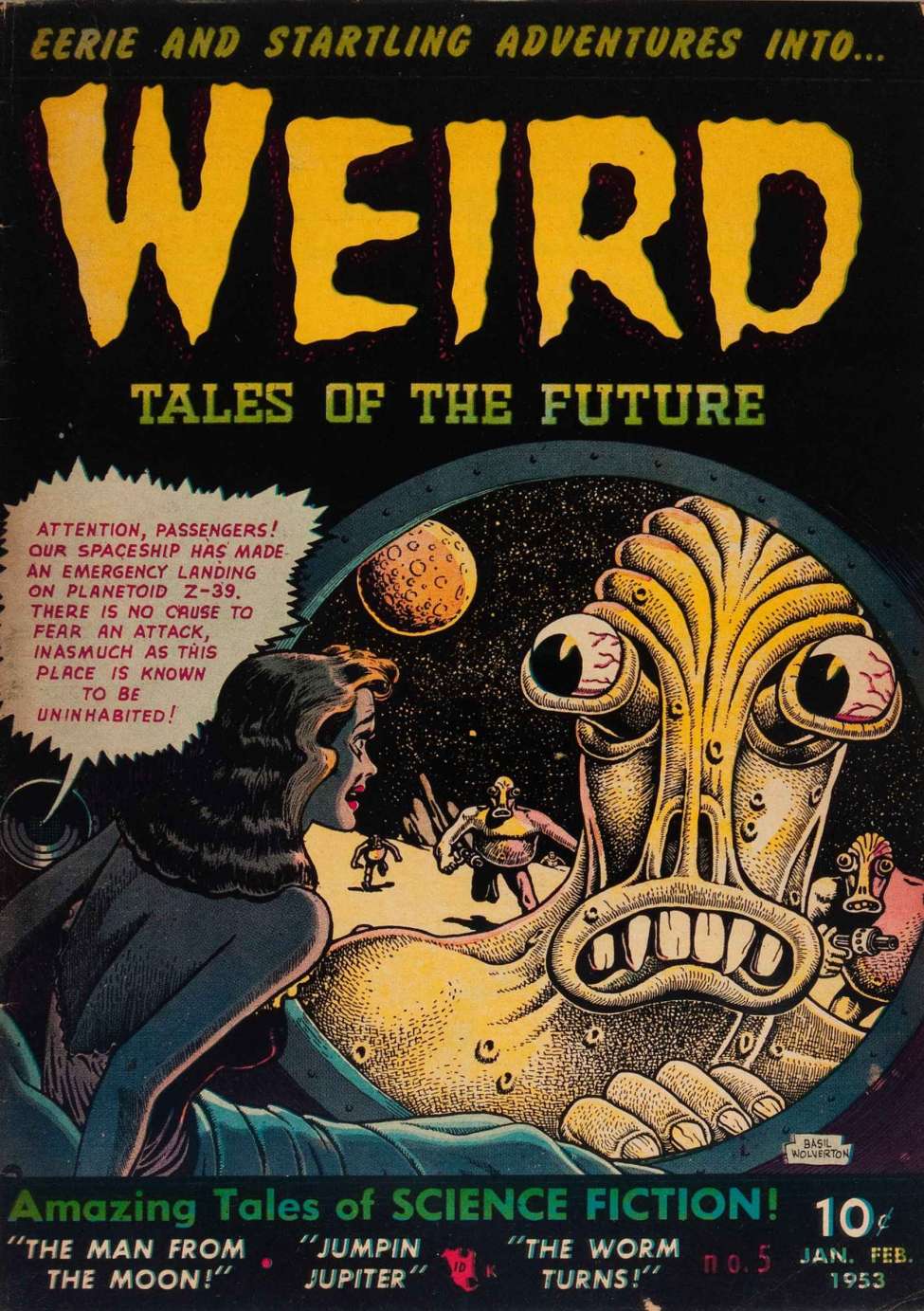 The illustrations are amazing and pull you right into a world outside our own. I can't say enough about them or the skill in which he inked them...the vexing part for me, as a illustrator, is how well the stories flow and keep your attention despite the fact that ...technically...a lot of his page layouts SHOULD be a visual mess. He often makes choices or mistakes in his layout that should make the page a visual equivalent of shrieking whistle. And yet...for reason I have not yet figure out ( not YET) they are not. They are beautiful.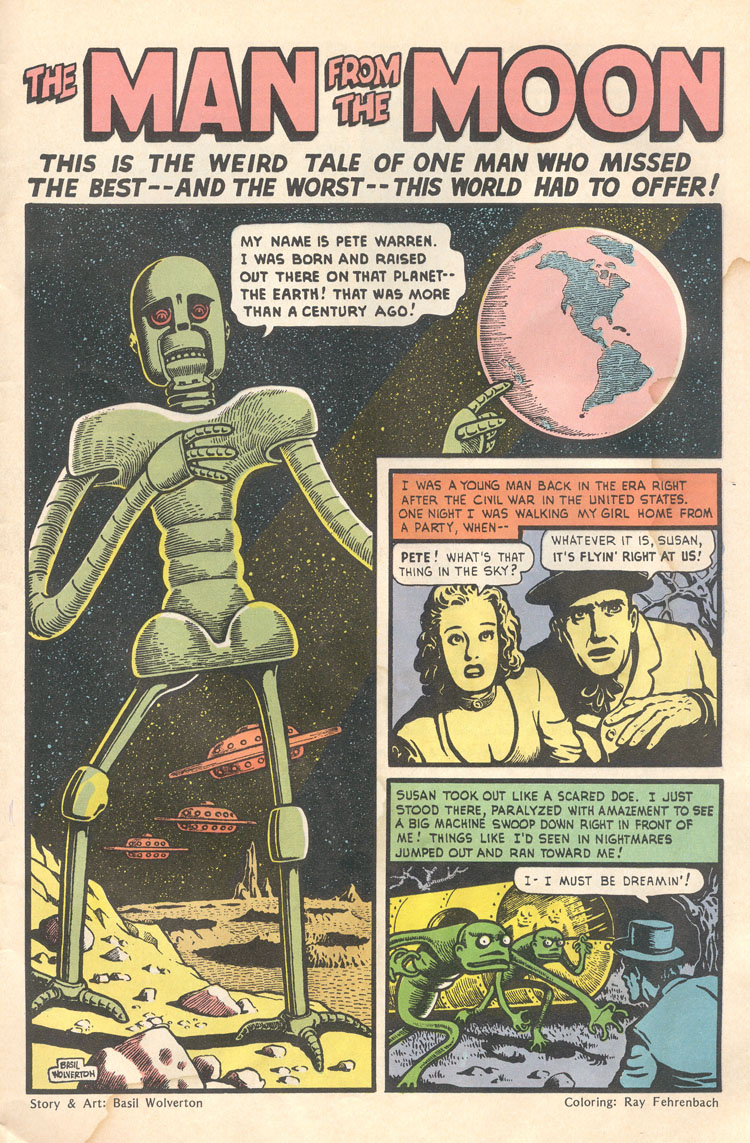 The stories are full of the strange forthright yet outdated charm of 1950's U.S. sci-fi. Maybe the best example of such writing. Heroes using 1950 slang even though it's 3010, absurd ( in retrospect) ideas of what technology would be , look like, and why... but at it's core very interesting, compelling and f*cking fun. Sometime even a bit sad.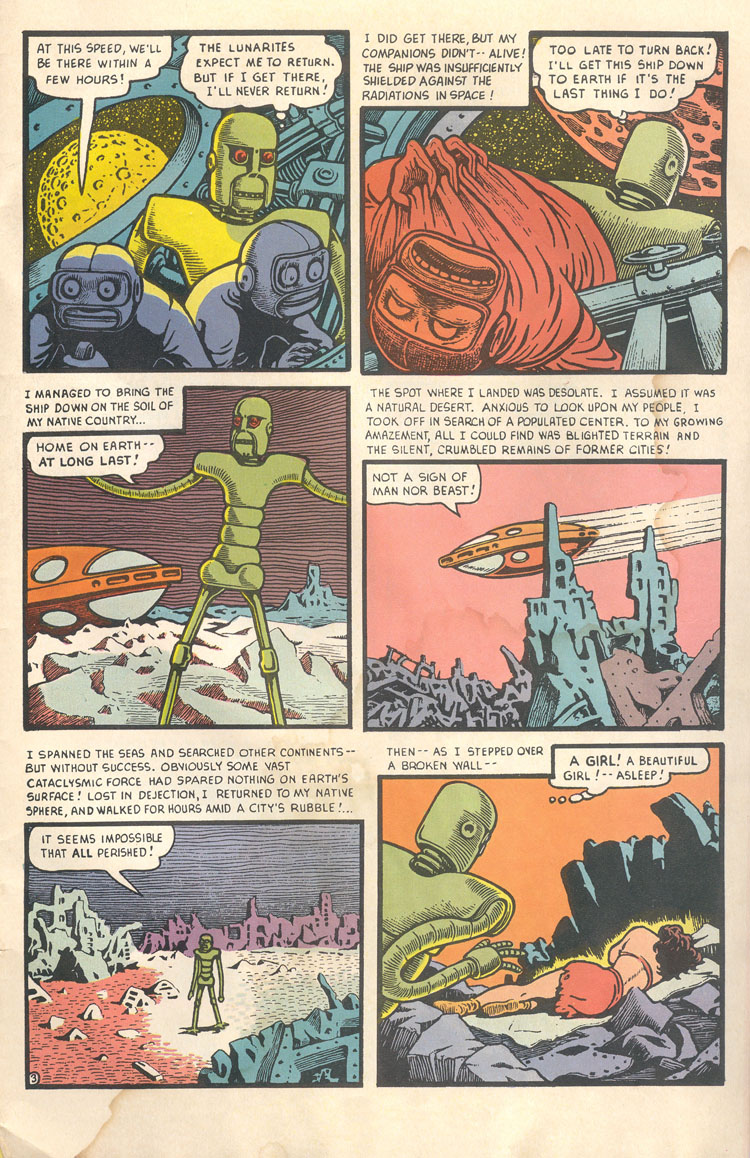 Like I said, this stuff has been reprinted a lot. Maybe even too many times for me to give you titles to track down. If you try your local comic books store it might help to tell them that IDW Publishing is probably the most recent guys to make a good collection of his stuff. Dark Horse Comics also reprinted single issue a while back.
But you can look around for yourself ( what else is there to do, eh?) searches of Basil Wolverton, Weird Tales of the Future, and Basil Wolverton Horror will send you down the rabbit hole.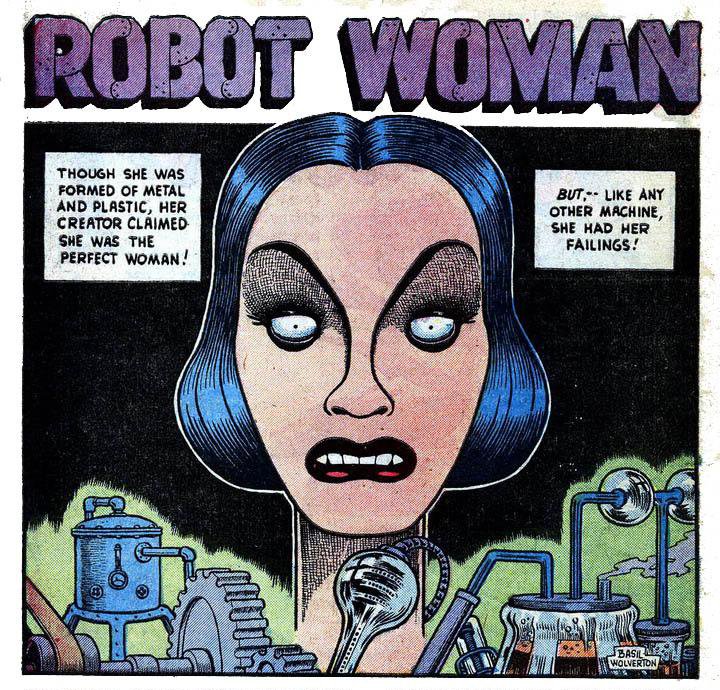 Some of the collections or single issues you find may have his work combined with stories from other guys from the era. And that's a good thing. It was perhaps comics' greatest era of horror and sci-fi and you won't get a bad one in the bunch.
anyways...
MY work can always be found at https://www.arseniclullabies.com
sign up for the Arsenic Lullaby email updates, you sign up for these and you get everything I post here on steemit and more...much more
http://www.arseniclullabies.com/newslettersignup19.html