In today's podcast Gualter Amarelo gladly introduces the one and only Vinney "smile Chopra. A syndicator expert, who wrote the book: Apartment Syndication Made Easy and Gualter also mentioned that he learned a lot from him. Just a few seconds of this video is so powerful it blows me away by the messages and positivity of Gualter and Vinney.
They are sharing the secret to success is all about mindset. It is the reason why Vinney reached his goal of 250 million dollars now 600 million net worth. They also clarify that it is not the technical where most people think it is, but it is the mindset.
Vinney Smile Chopra
Is a well-known real estate investor, motivation speaker, marketing strategist, and many more. One of the greatest rags to riches stories, he went to the USA more than 40 years ago with nothing but $7 in his pocket. At that time Vinney is a mechanical engineer and surviving his day-to-day expenses by selling encyclopedias and other books door to door.
He fell in love with sales long before he got his MBA, so once he got it he decided that there is no turning back now, and quickly decided to change his whole career. With hard work and a positive attitude, he went from $7 to a multi-millionaire that is giving motivation to other aspirants and giving them hope to succeed and bring a positive impact to the world.
As Gualter ask Vinney how did he start having this big mindset?
And as the above information, you can see that Vinney's life is not a bed of roses he started from the bottom. But challenges and trials can't bring him down. He emphasizes that he just let his mind think bigger. Being a child, we are always looking for something to experience and experiment with because we are not afraid of the world but as we grow older the world puts limitations in us and we put our own limitations in our minds. Having limitations will make your subconscious seal you in a box, and all you have to do is let your mind get out of the box and tear everything apart.
Hearing the answer of Vinney to the question Gualter easily gets that it seems like Vinney is comparing a human's mindset to a computer because Vinney is an engineer and he knows how the computer works. Vinney added, that it is what Gualter is saying. Clear the negativity of the mind then put the new program of positivity, and Vinney actually just made a new book about it titled: Positivity Brings Profitability.
He wrote his 2nd book quickly and he wants to expand so that more people can reach the positive thinking method and get out of their comfort zone. Think 100x, just like 10x from Grant Cardone's campaign. Vinney will use it to reach further and influence many online.
Join My Mission To Build 100 Millionaires!
As many of you know, I built my wealth through Real Estate and only now learning more about cryptocurrencies. I've found Leofinance to be a great place to share my insights and although I don't claim to be an expert in Crypto, I am considered a leading expert in small multi-family investing.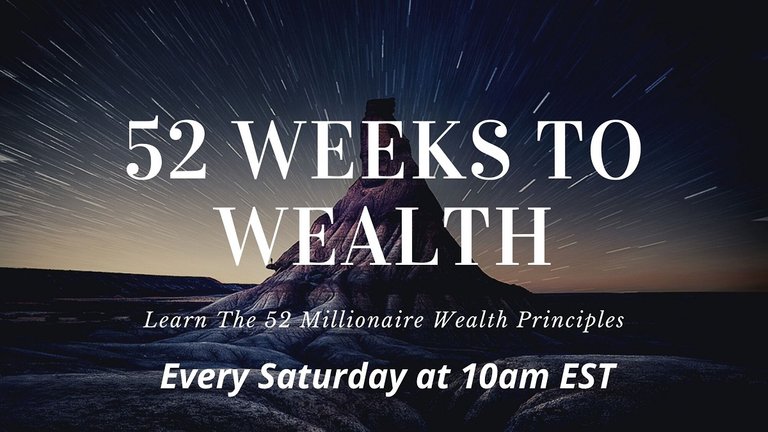 Each week I share my hard-earned insights on wealth building with anyone who will listen! I call this journey through the 52 wealth principles "The 52 Weeks To Wealth".
To join my mission and get access to over 30+ Real Estate & Wealth Building Courses for FREE at AlchemistNation.com
Thank You To This Community!
I provide these insights as a way to give back and help others who find themselves on the same journey I was when I got started. I want to say thank you to the Leofinance community for giving me the opportunity to learn more about Crypto as well as to the creators and team for providing many great avenues for investors to grow their wealth and knowledge in one easy place.
Cheers to our success!
@GualterAmarelo
Posted Using LeoFinance Beta