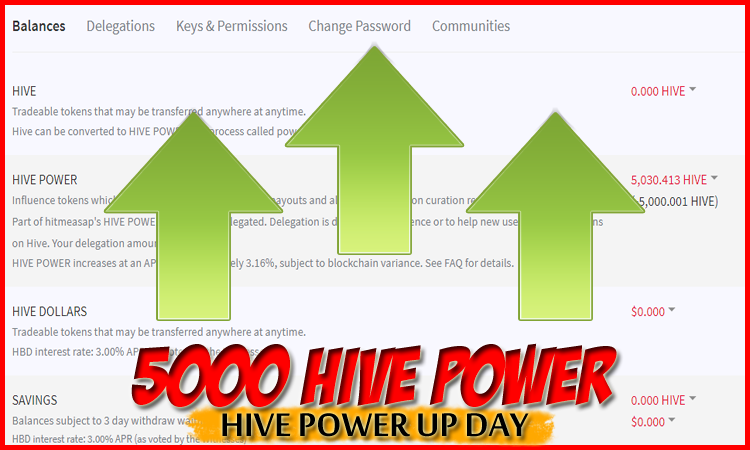 ---
HBD sits at a whopping $2.5+ at the time I am writing this and that might be enough for some people to start powering down and cashing out. Hive is up to $0.81 and I talked about powering down one week ago. There was a lot of people jumping in talking about their behaviours, ideas and overall approach to Hive and even though I have powered up and staked all my earnings since then, I still have some thoughts of cashing out something, but there was a goal I wanted to reach before that..
---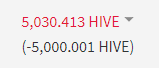 ---
I crossed 5K Hive Power today after powering up 61 HP and that was my first stepping stone. I am currently sitting at 5030 Hive Power and 3050 LEO Power, worth a total of $6700 USD at these current prices.
That's roughly 2 months salary or 70% of my total student debt which would obviously help med tremendously in real life, as I would reduce my monthly expenses a lot by paying off my student debts.
However, I will keep what I have because I want to grow my stakes even further. I believe in Hive & in LeoFinance, which is why I quickly upped my delegated to @leo.voter with another 100 HP to a total of 5000 Hive Power. That should give me a return of roughly 1.5 LEO per day, which I think is a decent chunk of tokens to get as a 100% passive income, and the truth is that I think that delegations to @leo.voter is far more than just getting good ROI.
That being said, I have started to play around with the idea of cashing out 20% of my rewards. That would basically mean that I would use the remaining 80% of my rewards to power up and grow my account, while I could cash out 10% of the rewards just to get something out of this bull run and the amazing prices we see today.. It would also give me 10% to invest into other cryptos. Nothing to brag about, but everything adds up over time. I still haven't decided though, but I think it's a decent idea.
I mentioned in my previous post that Hive & LeoFinance Is LIFE-CHANGING For HUNDREDS Of People, and with numbers like these, Hive & LeoFinance could actually become life-changing for me as well in a not so distant future..
Who knows what the future holds..?
Posted Using LeoFinance Beta