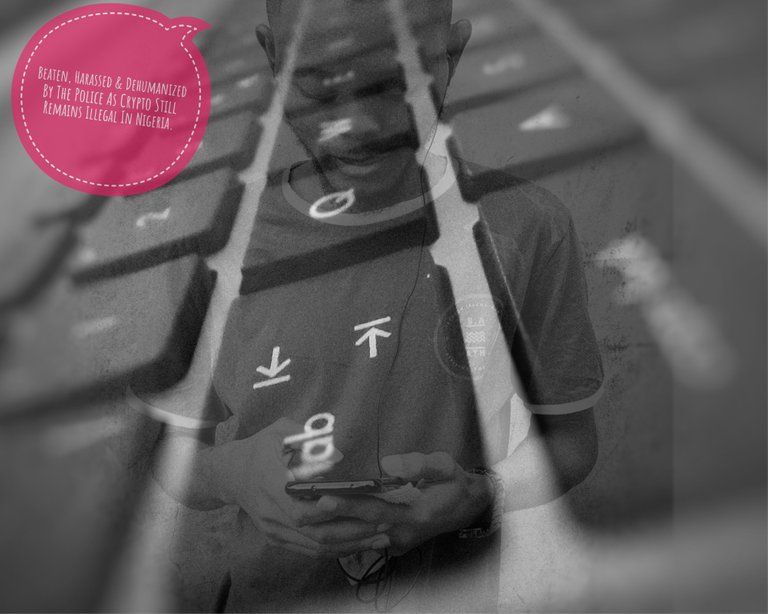 ---
---
It was barely 24 hours after @belemo talked about his experience, and it happened to me, I've lived and schooled in virtually the most dangerous part of Lagos in Nigeria and due to its cultism and anti-crypto stances.
I've always kept a low profile. Basically being a young man alone, makes you a suspect, wearing an expensive wristwatch or shirt makes you a further suspect, having a tattoo, makes you another suspect and finally having a cash app or binance wallet or maybe trust wallet nails your coffin as a criminal, no investigation, no fair hearing, you're beaten, locked up, stripped naked until you can pay a fine for doing nothing.
It was just morning, I took my friends, colleagues, some friends too, to spend some cash for cakes and all since I didn't really have a birthday party, then I set out dressing moderately well, we had taken a public bus and on getting down, I felt two strong hands grip my neck, (earlier that day I had spent a lot of money buying amino acid supplements)
They said they'd beat me up if I resisted arrest, they threw me and my friends into the bus, and they hit me with their iron cuffs and bundled us all into the van, they drove straight to their station. This was a daylight arrest, mind you. They defended themselves with being anti-crypto and that they're trying to clean the country of people who has business to do online or had any financial dealings with a white person.
They took my phone, and they straight away went into my crypto wallets, but I had hidden the wallets, my binance wallet had about $400 worth of BTC and owning this alone mean they'd lock me up, or I could even pay a fine of $500 or more, that's after I must have been beaten. My friends had their phones at home and due to this they felt they were fraudsters and only kept their phones at come to evade arrest.
I kept my cool because I was feeling sick, they'd slightly manhandled me and kept me sitting on the bare floor. After they could not see any form of cash app, binance or trustwallet, they began to check the people I had monetary dealings with, this happened fast, However I gave them my ID card, (My press ID, I was a tiny journalist in the making) the previous week before then I'd be assigned investigative reporting, so I went with my ID everywhere)
The police hates the press, so they felt they would release me, but lock up my friends, they were about to strip me of my clothes when they saw the ID, they then told me to bail my friends and take them with me.
I offered almost all the money in my wallet, they said it was small that I had to pay a lot for bailing my criminal friends, after I pleaded, they barked at me, chased me away with their guns and asked me to go home, I was wounded on my knee, but I had to get help for the rest, I had to contact the college's student's union and after about 4 hours, the student union came to bail the remaining people.
Won't tell you how hurt I am, it's a crime to be financially stable in Nigeria, being poor is considered the normal thing, only politicians are meant to be legally rich. I get this people are trying to fight crime, but they have just twisted the purpose of crime fighting. The original fraudsters are on the streets driving expensive cars and some other people like us are suffering the consequences.
For an average guy like me, I could be beaten, hurt and maimed and nobody would do anything. I thought I'd survive here, but it's becoming dangerous on a daily, even for an amateur reporter as me. The fact that I manage to look clean and have a crypto wallet makes me a criminal, I'm currently home bruised and pained, and sincerely I just have to leave, Nigeria is finished.
Posted Using LeoFinance Beta