HIVE for the WIN! Good job Hivers
Several days back, Quidax Africa put out a poll on Twitter asking users to vote for the coin they wanted to listed next on their crypto exchange.
The contest can be seen here:
https://hive.blog/hive-148441/@jrcornel/help-get-hive-listed-on-a-new-exchange
It was nice to see HIVE even included in the list with other crypto heavyweights such as BCH, EOS, and Dash.
Anyways, today the results are in and it was all HIVE.
Despite a mad dash (pun intended) by the BCH crew, HIVE was able to hang on and win the poll by capturing roughly 47% of the 850 total votes.
Check it out: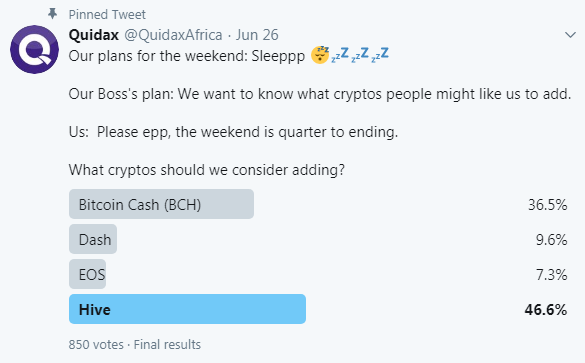 (Source:
1276586709795459073) twitter metadata:UXVpZGF4QWZyaWNhfHxodHRwczovL3R3aXR0ZXIuY29tL1F1aWRheEFmcmljYS9zdGF0dXMvMTI3NjU4NjcwOTc5NTQ1OTA3Myl8 ~~~
There is no guarantee that winning this poll necessarily ensures they will choose to list HIVE, but I would guess this is a pretty good indicator that they will.
Will keep you updated, when/if they decide to list HIVE on the Quidax exchange.
Another opportunity...
There is another opportunity to get one of our coins listed on an exchange by stepping up our Twitter game...
And this is a major exchange...
We were all very happy to see LEO listed on Probit, but this would truly be a game changer for LEO...
Get it listed on Binance!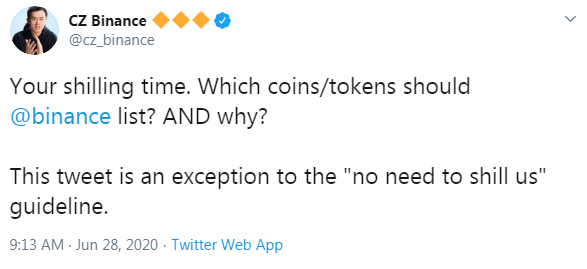 (Source:
1277273890830479361) twitter metadata:Y3pfYmluYW5jZXx8aHR0cHM6Ly90d2l0dGVyLmNvbS9jel9iaW5hbmNlL3N0YXR1cy8xMjc3MjczODkwODMwNDc5MzYxKXw= ~~~
All you gotta do is go to that tweet and request LEO be added and then make sure to state why you think it should be added.
In my opinion, saying it is one of the few projects in all of crypto that is actually generating revenue (that's not coming from transaction fees) is a pretty strong selling point.
Stay informed my friends.
-Doc
Posted Using LeoFinance