Everyone talks a $100k Bitcoin price, but it appears the vast majority don't think it is actually going to happen any time soon...
In a poll put out by PlanB on Twitter, it appears the vast majority of people are expecting a much more conservative price target for bitcoin by the end of next year.
How much more conservative you might be wondering?
Well, about half the price many have thrown out there...
Check it out:
(Source:
1278947158503362560) twitter metadata:MTAwdHJpbGxpb25VU0R8fGh0dHBzOi8vdHdpdHRlci5jb20vMTAwdHJpbGxpb25VU0Qvc3RhdHVzLzEyNzg5NDcxNTg1MDMzNjI1NjApfA== ~~~
As you can see the peak expectation for BTC over the next 18 months is something less than $55k.
Which is about half the $100k number that the stock to flow model anticipates and a lot of crypto analysts have thrown out over the last couple years as a real possibility.
As you know, polls can say a lot of things depending on the sample size and the participants in the sample.
In this case though, I think the poll is a pretty good representation of what people are thinking.
It had 27k participants and PlanB is followed by a lot of crypto investors, analysts, money managers, and financial advisors in the crypto space.
Those participating likely represented a large and diverse segment of the crypto community.
And for those reasons I think the results are an indication of what the crypto community feels is realistic for the price of BTC by the end of next year.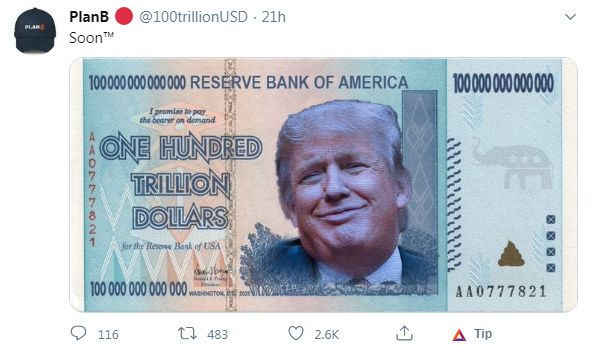 (Source:
1279161192573997057) twitter metadata:MTAwdHJpbGxpb25VU0R8fGh0dHBzOi8vdHdpdHRlci5jb20vMTAwdHJpbGxpb25VU0Qvc3RhdHVzLzEyNzkxNjExOTI1NzM5OTcwNTcpfA== ~~~
That being said, I still think we are going to see $100k by the end of next year.
Bitcoin has every macro tail wind you could ask for apart from it being declared as a national currency by a large country.
We are just about to embark on another round of stimulus as the first round is already starting to run out and the pandemic is long from over.
The good news is that we only have 18 months to wait in order to find out whether it happens or not.
The other good news is that if the price never goes over $55k before the end of next year, that would still represent a 6x return if it got to that level within the next 18 months.
Either way, we should be pretty happy by the end of 2021.
Stay informed my friends.
-Doc
Posted Using LeoFinance