The opportunity for Millennials to earn crypto by playing crypto games still exists.
While these crypto earnings are not large enough for a California Parent to pay even a phone bill, they are large enough to help the generation that is starting to push 40 build a retirement account.
Blockchain games help you learn about the crypto investment world without having to invest your fiat (cash).
While you do earn crypto pennies to play, and you can use them as a part of a whole strategy, the learning curve of how crypto works is the real gift that keeps on giving.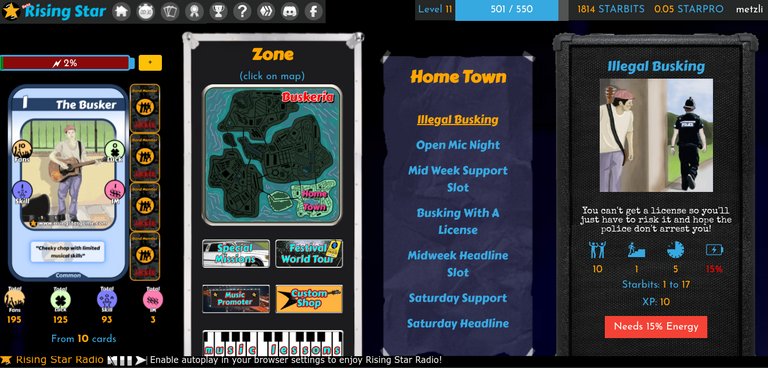 Rising Star is a simple blockchain based game. Anyone who has a hive account can play.
yes that's an affilliate link
It is free to get started, and while you really do earn crypto pennies, the game is still based in fun.
Someone like me, who already spends hours per day studying crypto can use it as a part of a retirement strategy
But every day people can simply learn the game, play, enjoy, and use it as a way to learn crypto strategies.
What crypto strategies can you learn on this game?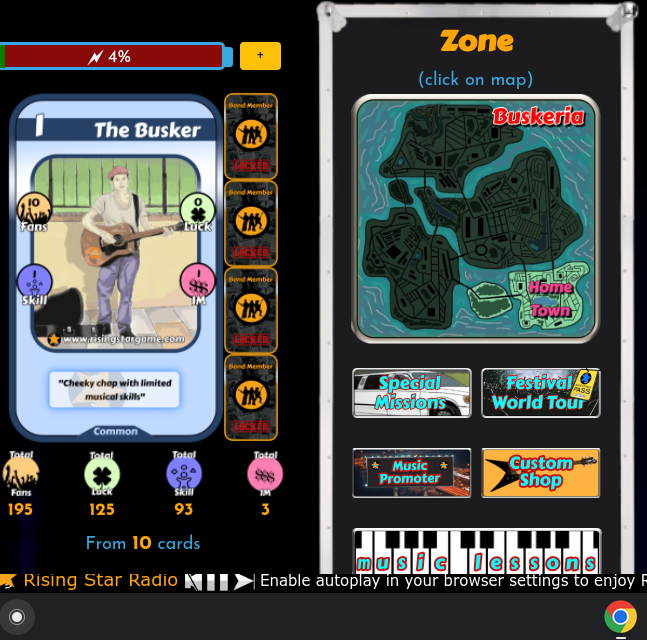 In this game you "do missions" by clicking a button. Click the busking mission button, wait five minutes, and your avatar has "gone busking."
If you have the sound on, there is music playing consistently while you play, and when the busking mission is done, you hear coins clacking and a congratulations.
This is basically the same way everything on the blockchain HIVE works.
Listnerds for example, you read an email, you earn tokens. Leofinance, you write a blog post, you earn some LEO.
Its called mining, and all the blockchains in existence work based on some type of mining.
After you earn some crypto pennies, you get to invest them.
Sure, you can transfer the earnings out, and turn them into fiat but you can also re-invest the earnings in the game.
You can purchase instruments for your avatar or buy boosters and such.
And
You can invest in the "real" musicians who share their music on this space.
I choose to invest in the musicians
It is both a game strategy, but I also like to support, and investing crypto pennies seems like a simple way to tell a musician "keep going."

You can invest in musicians by "staking" your crypto pennies (starbits).
Its the same way it works in many of the crypto projects. Staking basically means you lock up your earnings, to invest them in something else.
The earnings are still yours. They are just unusable (and can become usable again by unstaking).
Although I am building a long term crypto strategy that will fund my retirement
And although I do expect Rising Star to be a small part of that long term strategy, I am mostly playing for fun.
There are others who can use this game to really build some wealth. It is possible to buy and sell cards, to update avatars to make their earning potential the biggest ever, and to write about your journey, creating another income stream.
The opportunity to invest is also available. And there are so many components to the game that you can be lost in it for days.
Are you looking for an opportunity where you can invest your time, and learn how to build a retirement account?
The opportunity is real, exists, and available for anyone with an internet connection (and a hive account which can be gotten right on the website)
Posted Using LeoFinance Beta