After a long HIVE pause of about 9 months, I came back ready to empty my accounts and move to "traditional" investments
I saw that I could not tend to my accounts, and felt like my money would be better used where I could tend to it.
I quickly changed my mind as the truly passive income I had earned was well over anything my fiat could have done.
I decided to re-commit, and pay attention to the growth.
I decided I would grow my HBD by $50 USD plus the 20% interest rate.
I would make sure my HivePower grew by 10% with postings and curations, and if it didn't I would re-balance my accounts (aka take from tokens or other earnings to make sure it grew by 10%)
I would grow my Leo Stack by 10%
I would grow my CTP in Tribes AND in Listnerds by 10%
And I would HODL SIM and its 40% APR.
I have other crypto's of course, but those were the ones I would concentrate on.
It was easy to see early on that my delegations would take CTP and LEO to their 10% growth FAST
And I was already thinking of the best way to transfer the money to my HIVE POWER.
Would it be better to sell off slowly and trickle it into the account? Or should I sell off closer to the due date?
Which would be better for MY accounts? Which would be better for the health of the tribe.
What I hadn't accounted for was the CTP "Richlist"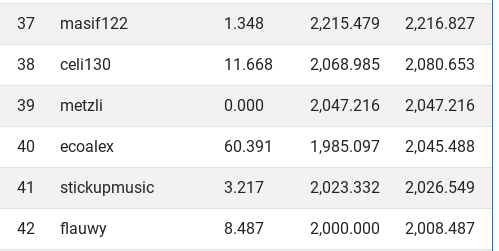 Because I had left my account basically dormant for 9 months, but there was a delegation to CTP I had left, I had enough CTP tokens to transfer into listnerds and get me into the richlist.
I was #40 and was very proud of it.
This was "proof" that my pizza money investments and my extreme time investments from the prior years were paying off.
I was a somebody on the CTP richlist.
I was proud of myself.
I was steadily at #40 until this morning.
When I hit #41, I forgot all about my goals
It didn't matter that I might need that CTP to help my HivePower reach its 10% growth!
What mattered what that I was lower on the RichList and did not want that to happen.
So I transferred just enough CTP into my account.
So let's continue to make goals
And remember them.
The truth is that the richlist is simply a vanity list. It makes people see how much time and money they need to invest to "be a whale" or whatever richlisters are called.
It helps you build your goals.
But it really doesn't "do" anything for you.
Still, I thwarted my goals to stay on there and number 40, and am now #39.
How many times am I going to have to pump my CTP bag to stay on the ListNerds richlist?
Hopefully, just enough to keep me interested in investing.
Posted Using LeoFinance Beta