We are getting to the finish of the #MyHiveGoals year and it is time to push to get there in time, but also, it's time to begin thinking the next year's goals! I know that many of you struggle with defining these goals to suit yourselves as we are different... My goals are not the same as yours... Someone likes one thing, others like another, etc...
Many times people comment on my posts about how they don't know where to start, how to define their goal, or what to follow here on HIVE... When I shared my Hive rankings the question that I got was where do I follow this ranking... So, I have decided to share part of this post to HiveBuzz website where you can follow many different activities on HIVE, simply by entering your username! The website is created by one of the Hive legends, @arcange who has created many different useful tools for Hivians!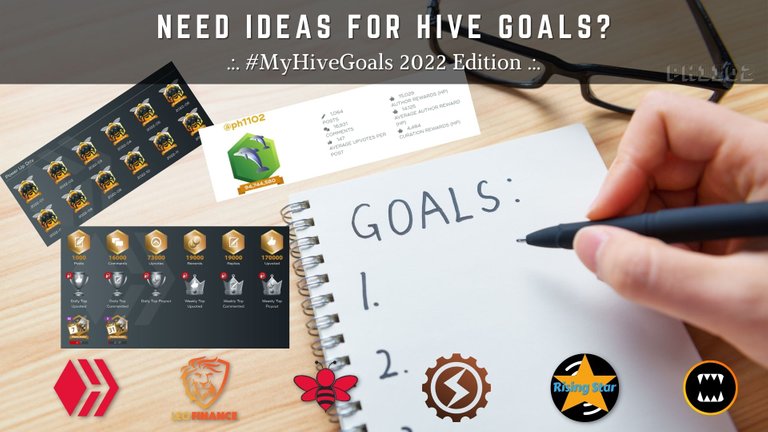 Created in Canva.com
So, the things that I like to check on HiveBuzz are some general stats that you can see on top of the website when you enter your username... It looks like this:

screenshot from https://hivebuzz.me
As you can see, just on this screenshot you can pick some of the ideas for your future Hive goals... Maybe you want to be more consistent with publishing posts, then you should follow the number of created POSTS... Or if you want to comment more then do that...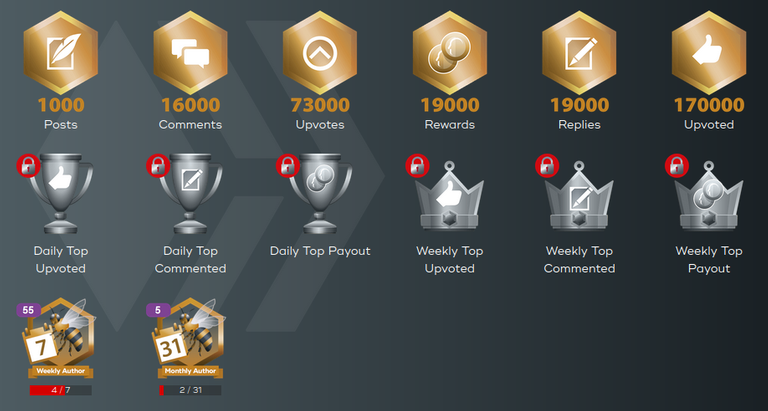 screenshot from https://hivebuzz.me
Every time you reach some milestone, you will get a badge for doing it... The number of posts, comments, upvotes, rewards, replies to your posts, etc...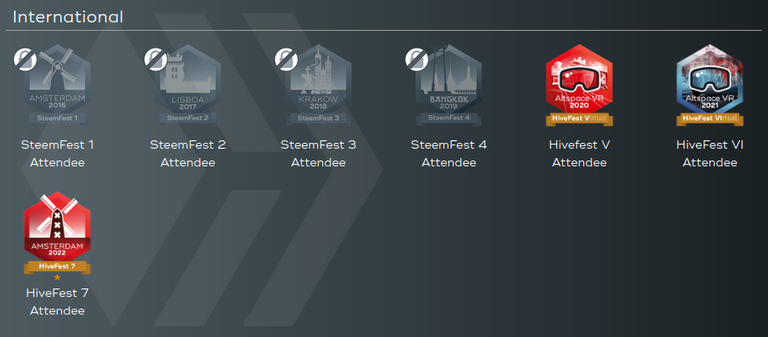 screenshot from https://hivebuzz.me
Maybe you need one BIG goal next year... Attending a live HiveFest event could be a nice motivator...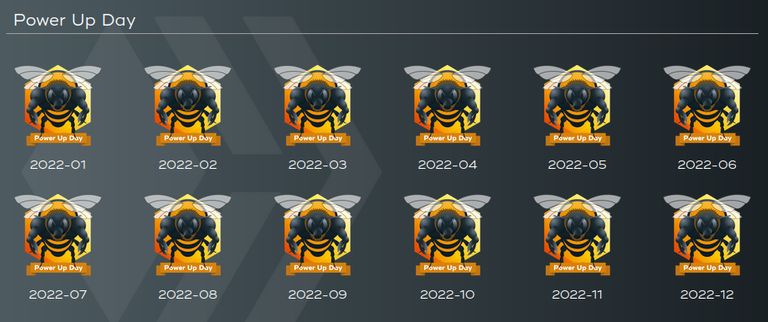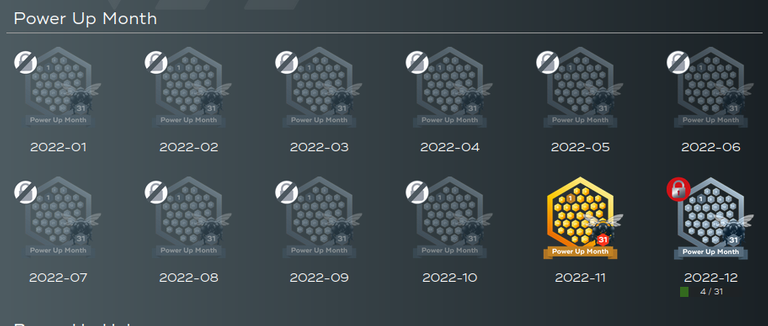 screenshot from https://hivebuzz.me
Or you would like to attend ALL #HivePUD events... Then your goal should be to collect all badges next year for this event! HivePUM is something that needs a lot of consistency as you have to power up every single day of the month... I have failed to do that couple of times as I have simply forgotten to do it... But, it could be a nice goal...
So, I hope that you will find some goals that fit you from these ideas from the HiveBuzz website... As more you search, the more will you find... :) Good luck!

Let's get back to the #MyHiveGoals and numbers for the last week...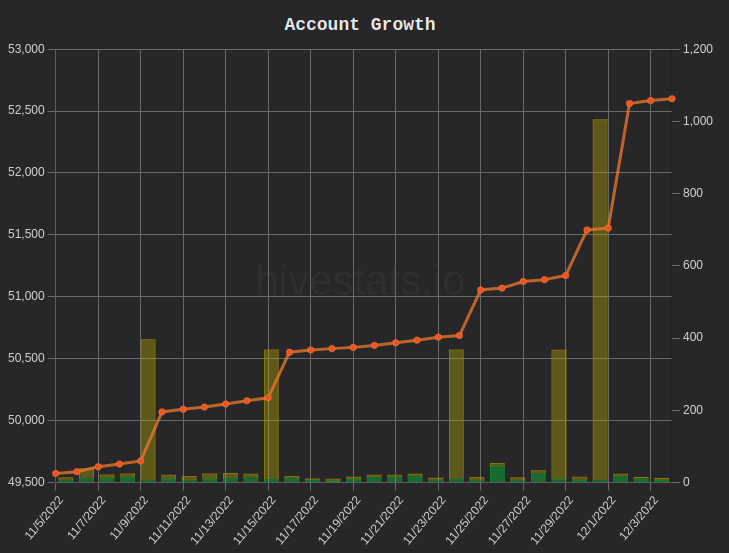 screenshot from hivestats.io
The last week was a combination of my regular 500 HP weekly power-up and the 1K HivePUD, so the total growth was almost exactly 1500 HP... It looks great on that chart and it would be great to see that until the end of the year... But, doing things step by step, as walking is the best way to get to the goal!

No more monthly goals as we are in the last month of the year... So, this month's goals are the yearly goals for 2022! This means that I have to stake almost 200 LEO tokens to reach my LEO Power goal for this year... As I was doing my staking weekly, maybe I will do it differently this month and keep some liquid tokens to participate in the LEOPUD day... I didn't do it until now and maybe it's fun like the HivePUD!

Regarding my WORKERBEE, I have staked 50 tokens more this week, and I need 100 more to reach my 10K goal for this year... This goal was a rollercoaster as the price of the token was very volatile... I'm happy that I have used the opportunity and bought most of my tokens while it was cheap... Lately, I don't see people willing to sell the token under 2.5 HIVE...
As for the BEE token, I have accumulated over 3K of them on one account, but I do have more on the other one... So, in some way, I consider this goal reached...

GAMING GOALS
A new month in the RISING STAR game means new cards, which means more fun and more new NFT to collect... :) Currently, I have over 8000 cards which are 2K more than my previously revised goal for this year! I can't believe that I have begun this year with a bit over 3K cards... So, this amount is more than doubled!
Regarding my SPS tokens* goal, I have changed my strategy... again... lol... But, not that drastically, just a small tweaking... I have continued with the accumulation of tokens and I'm not unstaking them, but I have decided to exchange my liquid SPS earnings for the GLX tokens and stake them... I know that some people are doing vice versa, but I think that the current APR on GLX staking is too good to not be used... I will probably change this strategy during December, or in January... Anyways, I have added 345 SPS tokens to my stake, which isn't bad at all...

It's time to update the numbers and put them into the spreadsheet until the next week! So, freshly updated numbers for #MyHIVEGoals, on December 4th, 2022 are: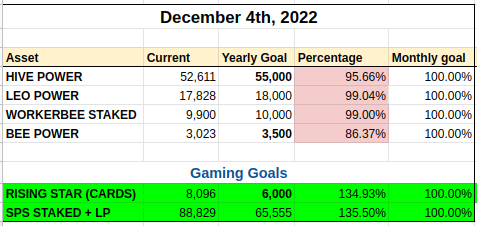 Join us in this awesome #MyHiveGoals and let's grow together! You can find the original post about the challenge by @robwillmann here.
Thank you for your time,
~ph~

The link to my initial 2022 Goals Edition is here...
These are my initial goals for 2022 created on January 2nd, 2022: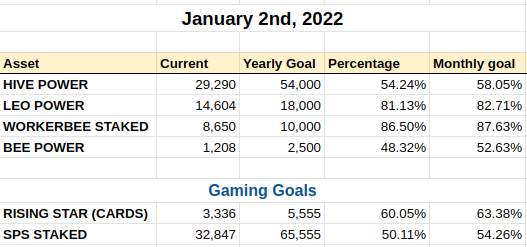 Update 06.02.2022.
BEE POWER 2500 --> 3500
RISING STAR NFTs 5555 --> 6000
Update 04.09.2022.
HIVE POWER 54000 --> 55000 (ORCA rank minimum went up)

If you want to support my witness, you can do it by voting for @ph1102.ctp here https://tribaldex.com/witnesses, or just scan the QR code down below...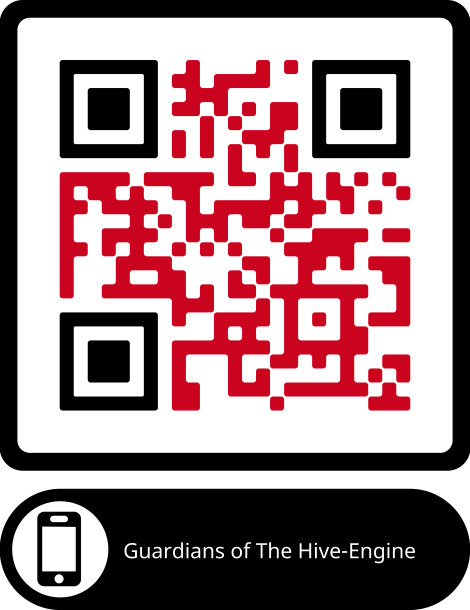 Don't forget to follow, reblog, and browse my Hivepage to stay connected with all the great stuff!
You can also find me on LEO Finance .:. Twitter .:. LBRY

Posted Using LeoFinance Beta