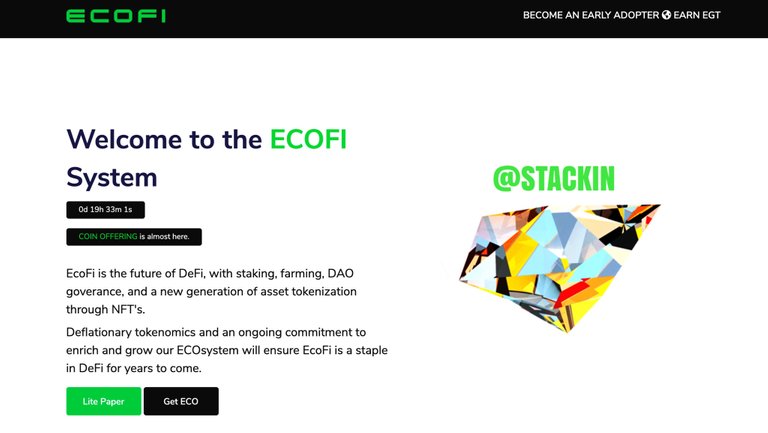 What's up STACKERS!
Yea, I know... it's been a long while since I've posted on social media and with all the crazy ass "SCAM-Demic" non-sense going on in 2020, I decided to focus more of my time on trading "Crypto" than anything else. 🤷‍♂️
I plan to more around more often in the coming months as we approach the next Bull Market starting in 2021. 🚀🌝
With that being said, A few days ago I ran into a new project called ECOFI that you might be interested in!"Claim 300 ECOFI Coins Heree"
---
What is ECOFI?
"ECOFI" is the future of DeFi, with staking, farming, DAO goverance, and a new generation of asset tokenization through NFT's.
Deflationary tokenomics and an ongoing commitment to enrich and grow our ECOsystem will ensure EcoFi is a staple in DeFi for years to come.
---
As you guys may know, DEFI and NFT's have been the "talk of the town" this year I don't see it stopping anytime soon!
Right now, you will be able to "Claim 300 ECOFI Coins for Free" by joining their Telegram BOT and all you have to do is follow them on Twitter.
The Value of these coins are over $100! You can also earn 100 Free Tokens for telling each of your friends! 🙋‍♂️
Is ECOFI the next big thing? Who knows, only time will tell but in the meantime, why not get some free money from awesome projects! 💰
Keep on STACKIN! 😎
~ Charles Fuchs
For those who's interested in following my "Content" and "Daily" Posts... you can just follow me @stackin to get my updates.
You Can Follow Me Here:
➡️ Facebook: https://facebook.stackin.co
➡️ Twitter: https://twitter.stackin.co
➡️ Instagram: https://instagram.stackin.co
➡️ UpTrennd: https://uptrennd.stackin.co
➡️ Hive: https://hive.stackin.co
---
PI NETWORK: Pi is a new digital currency you can mine on your mobile phone for free without draining the battery or using data. Use The Referral Code: ( stackin ) to be on my personal team.
---
WEBULL: A stock trading mobile app that offers a commission-free trading platform. Get 2 Free Stocks (Value $12 - $1400 Each) for just opening a Free Account!
---