Here is an initiative I know @felt.buzz usually do (I don't know of now) which I want to begin doing (sometimes everyday). This Initiative is similar to what @lebey1 discussed in his #airdrop50k post here.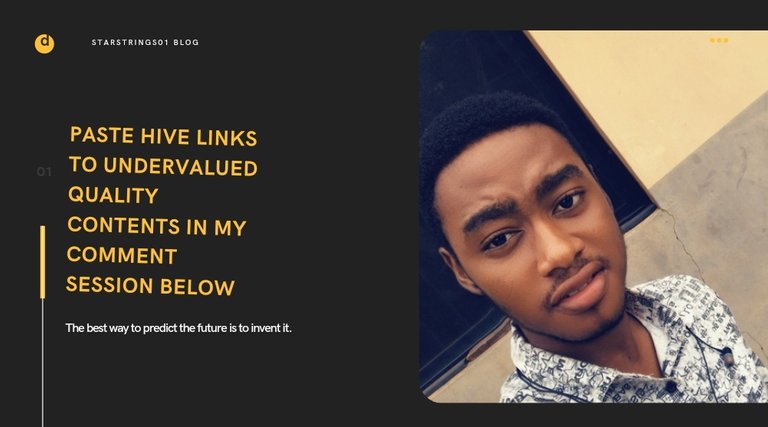 Now the Initiative goes like this, I would love to explore and meet more authors and read different variety of contents in my free time. Asides that, also support more undervalued contents in the chain but unfortunately, I would not be able to support more than five posts a day.

WHAT KIND OF POSTS AM I LOOKING FOR TO SUPPORT

Any content that possibly has some sense of efforts
I would also love to support bilingual contents as well
Some sense of originality on the post
The content has to be a quality undervalued post
Links to Contents of Newbies Most especially
Note: My voting power at the moment is about $0.4 - $0.9 at 100% but with my curation trail, it should worth almost $2 dollar. Moreover, after reading the post, I would make a curation post, explaining what I like about the blog I vote (Sure, I would read the post I curate) but not promised to be done everyday.




So if you see any post with a similar topic like this one, then it means I would be available to curate or read contents for that day (which I would be curating only 5 contents shared) but if not pasting content links on any other posts of mine won't be curated.
I would appreciate your support by following my curation trial through this link: https://hive.vote/dash.php?trail=starstrings01&i=1


Click the banner to get redirect to The Newbie Initiative

@aliento initiative by @eddiespino and @grisvisa

Click the banner to get redirect to SMILE server, or: https://discord.gg/wyhVUvt

---
All illustrations made by @tripode in Adobe Illustrator.
---
All images are mine except indicated otherwise
---


IF YOU LOVE THIS POST, YOU CAN KINDLY SUPPORT BY YOUR COMMENTS, REBLOG AND UPVOTE. IT WOULD BE MUCH APPRECIATED

THANKS FOR VISITING MY BLOG 😇💕
Posted Using LeoFinance Beta