A liquidity crisis creates the ultimate FOMO. However, unlike the Fear Of Missing Out, a liquidity crisis is actually more powerful since it is based upon need. Whereas the former is a want, when a true liquidity crisis hits, things go bonkers due to a lack of supply.
This is applicable to most anything where the supply-demand equation is in place. With HIVE, we are going to see this take place at some point in 2022. There simply is no way to avoid it.
One thing we have to keep in mind is the utility associated with the token. There are some rather unique properties which make this outcome unavoidable. When we compare it to the rest of the tokens, we can see how this operates in a different manner.
Even though it is the governance token, the utility is what is going to cause the crisis. It is also why we will see the price skyrocketing.
Here are the three areas that are going to exert enormous pressure on HIVE.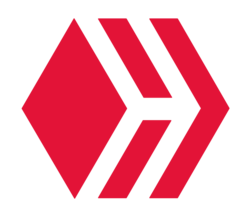 Resource Credits
This is something we covered a great deal since it is so practical. It is also akin to what Ethereum (and others) is doing with their chain.
In short, both instances show how the ability to operate is correlated to the main token. On many blockchains, the token itself is required to engage. Hive, however, established a unique system utilizing Resource Credits (RC).
At the moment, there are changes that are being enacted to enable the delegation of RCs. This will not generate a secondary market yet does lead to more demand for HIVE.
The key is that Resource Credits are generated via the powering up (staking) of HIVE. Termed Hive Power (HP), this is the correlation which provides the ability to interact on-chain. Everyone needs some RCs on Hive. This is unavoidable.
Having the ability to delegate RC puts more of it to use. At present, to achieve the same end, HP needs to be delegated. Due to the curation system, this might not be as desirable yet is the only way to get newer users what is needed to engage on-chain.
This is going to have a tremendous impact upon those applications which start to attain any degree of success. Personally, the expected activity from #ProjectBlank by the Leofinance team is one that we can easily see requiring a lot of RCs. Microblogging ("Twitter on the Blockchain") is a very popular activity online.
Essentially, successful games or applications will drive activity, requiring more Resource Credits. Due to the link with HIVE, this will help to drive more demand.
Hive Backed Dollar
A lot of this was spelled out in The Road To 10 Billion Hive Backed Dollars (HBD). However, as we ponder the HIVE-HBD correlation, it only gets more powerful.
Let us take the present numbers to see what is required. Here are the present statistics from Hiveblocks: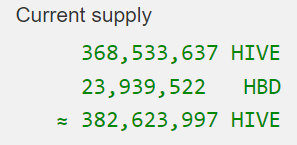 Right now there are just under 24 million HBD in total. Leaving aside the idea of 10 billion HBD, even 1 billion is a big leap from this point. It is also a small amount for a useful stablecoin.
One of the ways that HBD can be generated is via the interest paid on savings. The challenge with this is not enough is produced. Even if every token put into savings (impossible since a significant amount is in the Hive Developer Fund) and the Witnesses decided to pay 100% interest, it would still take more then 5 years to get 1 billion HBD on the market. This mechanism simply cannot generate enough.
Therefore, the main way to get significant amounts of HBD into circulation is by converting HIVE-to-HBD. This means the amount of HIVE eaten up is going to be massive if we move towards serious HBD adoption.
We already see how things operating on a smaller scale, something that should be massively eclipsed in 2022.
Here is a table put together in Hive Inflation And Supply For November 2021 | Is the supply increasing or decreasing?: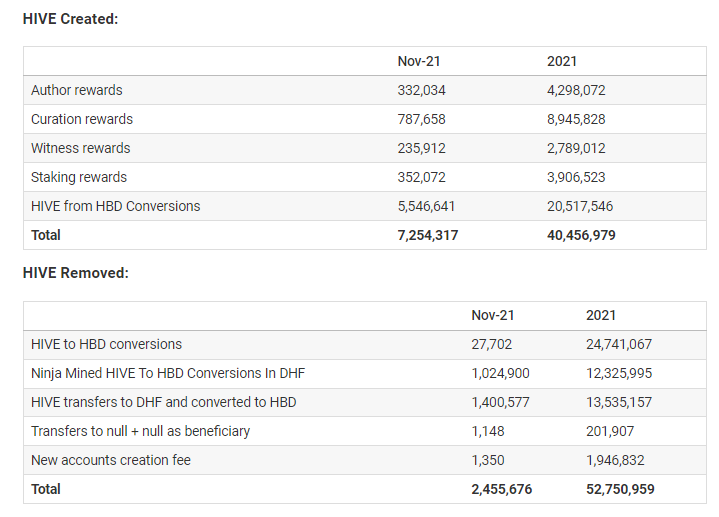 We can see the amount of HIVE on the market actually declined. This year, through the first 11 months, we also saw a great deal of HBD generated.
Here is the tables for HBD from the same post: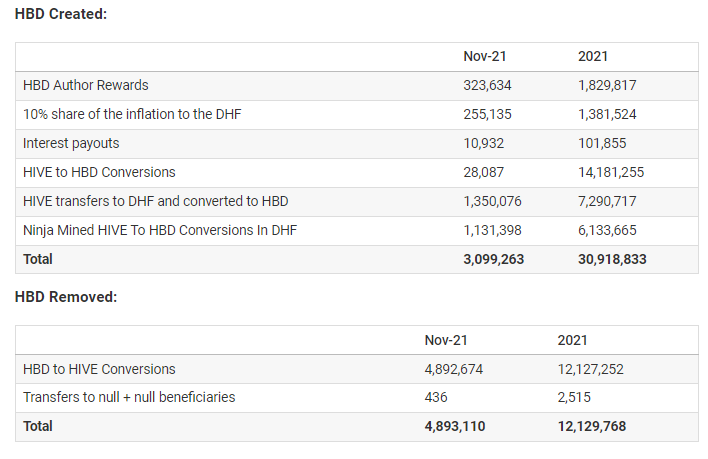 The net is just shy of 19 million HBD created in 2021. This is a far cry from 1 billion. What would the numbers look like if we progress down that path to create 1 billion tokens for an on-chain, algorithmic driven stablecoin?
Do not overlook how powerful the HIVE-HBD relationship is. This is something rather unique in the cryptocurrency world and not too many blockchains can 88enhance the value of the governance token by simply generating more of a stablecoin**.
Liquidity Pool
This is something that is, thus far, overlooked regarding the future of the HIVE token since it is not something that is presently being utilized. However, this is going to change in 2022 we see the entry of HIVE into a liquidity pool.
Before getting into this, it might be helpful to watch a short clip from the latest Leofinance AMA. The pertinent piece starts at the 42:30 mark. Here is where it is mentioned that LEO going into pools on different chains could encounter an issue since the supply is not that large.
Here we see another path where there is high chance of liquidity issues arising with HIVE.
We are aware of the road map of the SpkNetwork. One of the main features is going to be the Service Infrastructure Protocol (SIP). The basic idea here is to create an enormous liquidity pool for that ecosystem, using HIVE as the payment token for all miners and advertising.
While this is still in construction, the key takeaway is the more success the SpkNetwork has, the less HIVE that is floating on the open market. As more value is locked into that network, the amount of HIVE on the market will effectively be reduced. We know that tokens often go into liquidity pools and are left there if the return is strong enough.
The SIP is designed to utilize the value locked in the pool to generate returns that can help fund the expansion of the network (along with individual returns).
Massive Upside
As we can see, each of these shows the utility aspect of HIVE. Since this is more than just a governance token, its usefulness will be leveraged in a number of ways.
When we combine the totality of these three use cases, it is easy to envision how much HIVE could be eaten up.
Let us quickly recap:
HIVE locked up as HP to produce more Resource Credits to facilitate the demand of on-chain activity
HIVE converted to HBD, reducing the supply, to expand the amount of stablecoin available for commerce/DeFi.
HIVE locked in a liquidity pool as a result of ecosystem activity on the SpkNetwork.
Some might wonder where is all this HIVE going to come from? That is a logical question if a couple of these start to become a reality. Obviously, the HIVE-HBD conversion is aided by a higher price in the HIVE token. In fact, this is required to reach even a minimum level to be a functioning stablecoin.
Where will this send the price of HIVE? This is, of course, anyone's guess. However, when we look at the expansion that is taking place within the HIVE ecosystem, it is easy to see how a liquidity crisis can evolve. When this happens, demand simply exceeds supply to the point where people start to accumulate no matter what. In many ways, they simply have no choice.
For example, if there is a massive amount of HBD creation, this will reduce the amount of HIVE available. In spite of this, applications still need the HIVE to get RCs for their users. This means they are buyers of the token, no matter what the price.
Reduced supply coinciding with an increase in demand tends to mean only one thing: higher prices.
There is still a lot of "chicken or the egg" to this. We need to look at this in totality which leads to one factor being dependent upon other ones. For this reason, continued effort in a multitude of areas is required. Nobody has a magic wand that will instantly align everything to reach the end described in here. However, with each step forward, even in a small way, it enhances one area which have an impact elsewhere.
Over time, we will start to see all this coming together. Personally, with some of the road maps already out there, the path is evident along with the timeframe.
We are going to see massive changes in 2022 as some of these pieces roll out. It is inevitable.
Therefore, do not be surprised if, at some point, the price of HIVE starts flying.
---
If you found this article informative, please give an upvote and rehive.

gif by @doze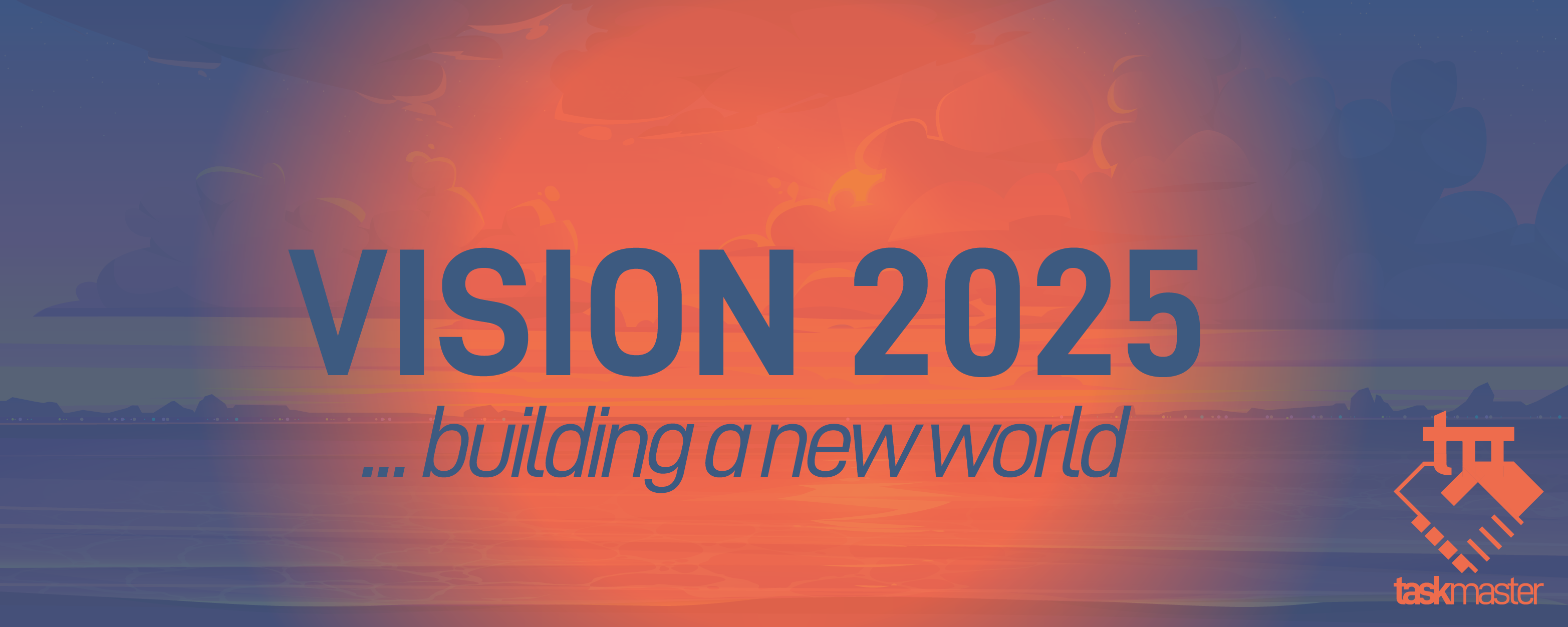 logo by @st8z
Posted Using LeoFinance Beta