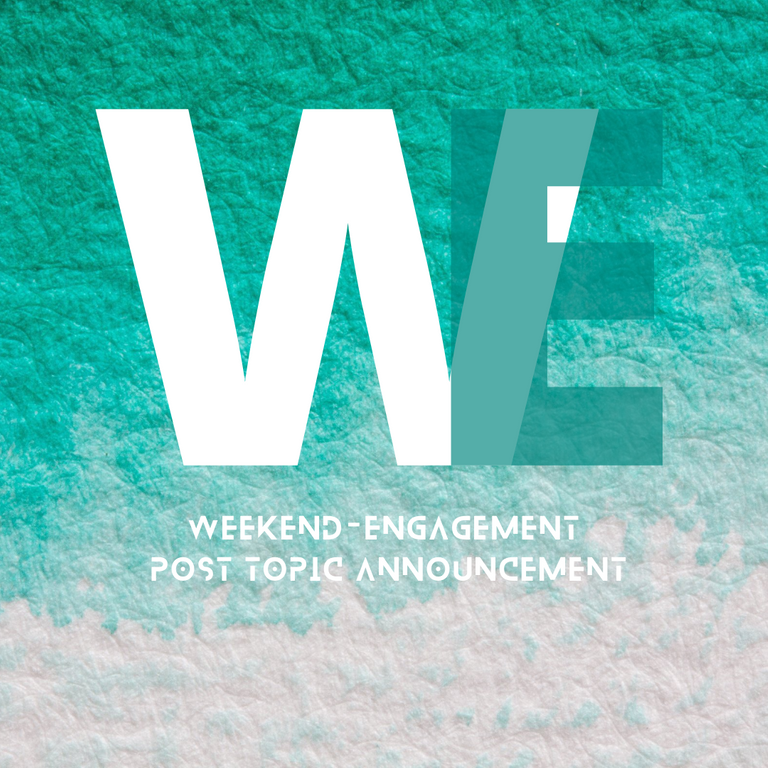 There is pleasure in the pathless woods, there is rapture in the lonely shore, there is society where none intrudes, by the deep sea, and music in its roar; I love not man the less, but nature more.
Lord Byron
---
I'm somewhat in love with nature and spend my weekends immersed in it mostly; I figured a set of post topics based on nature might be a great idea so take a look below for the topics and some of the benefits for getting involved with this posting initiative and I hope you'll choose to get a post into THE WEEKEND community.
---
Simple guidelines to follow
✔️ Use #weekend-engagement as the first tag of your post to be eligible
✔️ Must be posted in THE WEEKEND community.
✔️ Post directly into the community - Do not self cross post (Community rule)
✔️ Post in English (Use a translator if you like)
❌ Plagiarism won't be tolerated - Do your own work and credit photos
✔️ You have all weekend to get your post done - but follow the guidelines
Follow the guidelines above so you're eligible for the rewards and feel free to comment below if you have any questions about how it all works.

Benefits to getting involved
Post(s) will receive upvotes from me (and hopefully others)
Some posts will be curated for @curangel rewards
Hive rewards sent directly to some at the conclusion of each weekend
Best/most liked post pinned to THE WEEKEND community
Top posts showcased on the winners announcement post
Showcase yourself to the community and build your account
---
🔸This week's topic(s)🔸
🔸Option one🔸
Tell us about one of your most favoured, enjoyable, beautiful or idyllic moments spent in nature - Where and when was it, what did you do there. Your garden, the woods, the seaside, tropical paradise or desert, a park in the city or the wide open plains; anywhere counts as long as it was a moment spent with nature.
🔸Option two🔸
Explain what aspect, animal, feature or terrain in nature you like the most and why: Clouds, forests, mountain peaks or plains, the beach, under the sea, arid environments, deserts, savanna, lakes, trees, flowers, mushrooms, wind, rain, thunder and lightning, animals, snow, ice, fjords, city parks and gardens...The choice is endless.
🔸Option three🔸
If you could transport yourself to any natural environment outside of your own country for a two week vacation where would it be and why. Who would you take with you and what would you do there.
---
Curation and hive-rewards will happen on quality original content so proof read, use in-focus and interesting pictures and generally take pride in your post. Your posts are a representation and showcase of you - Give people a reason to visit your post feed for a look.
---
Design and create your ideal life, don't live it by default - Tomorrow isn't promised so be humble and kind
Discord: galenkp#9209
The image is mine and not yours