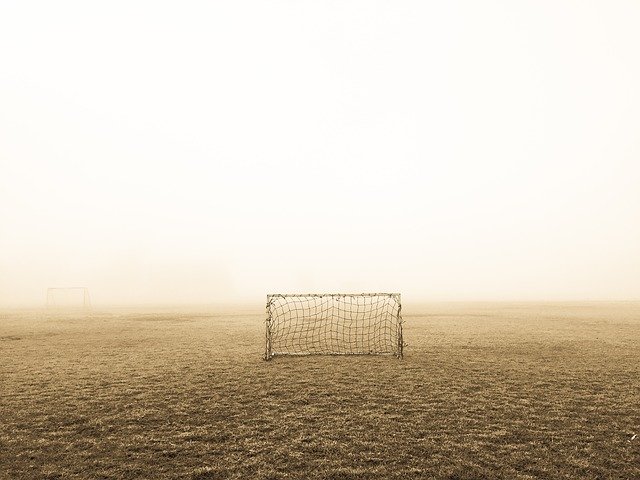 Ever since Loretta passed away so suddenly and unexpectedly, Reggie had been left on his own to look after little Ridley. Reggie was not hard on his son, he loved him to bits. But he had spotted little Ridley's football playing potential from an early age and decided that this would be his ticket out of poverty. And so began the meticulous training process. He oversaw his diet. He managed his fitness schedule. He brought him to professional games and showed him old recordings of classic games. Besides paying the bills, all that Reggie's money was good for was food and football. Being a street sweeper, money wasn't exactly in constant supply, but Reggie was wary of change and didn't want to break the rhythm. It would still take some time before his ticket would be redeemed, so all he needed to do for the time being was work hard, keep on top of the bills and dedicate every waking moment to little Ridley's career. Women were a distraction. Holidays were overrated. Movies and video games were strictly forbidden.
Coach Archer played a 4-5-1 formation. The season was coming to a close and Rovers were in second place. The title was theoretically within reach but all the parents knew it was out of the question, though they wouldn't dare mention that to each other and certainly not to the kids. However, despite being in second place, the team had an incredible goal difference and this was largely due to little Ridley's goal scoring abilities.
Harvey Kremhersh competed with little Ridley for the lone striker position. Harvey was the son of Matt Kremhersh, the well known movie star. Despite his fame, Matt enjoyed living a local lifestyle and always brought his son out to his football games. His movie shooting schedule (and by default that of his co-stars) revolved around Harvey's games. Everybody knew that little Ridley was a better choice for the team, but due to Matt's celebrity status, little Ridley began every game on the bench. This infuriated Reggie, but what could he do? All he had to show for all his years of hard work was pride and a handful of calluses. Clearly this was not enough to influence Coach Archer.
Archer knew all too well that little Ridley made a difference, but he simply could not drop Harvey. The youngsters were operating smoothly in the 4-5-1 formation and changing this around at the end of the season would not work. Their minds were too young and they did not have time to gel into a new attacking formation. Archer had them drilled to perfection, a stubborn, static perfection.
Saturday's game was against Rangers, a tough battling bunch of little hooligans. What they lacked in skill and intelligence, they more than made up for in brute force and determination. Goal difference was obviously not an issue for Rovers but getting through Ranger's midfield generals was going to be tough. Archer needed a goal or two and would then haul his boys back and out of trouble. This was going to be a tight game and the boys needed to avoid any nasty tackles. Next week saw the boys up against City, first place in the table, but Archer feared Rangers more than any other team, even City. The damage that those nasty Nordsyders could do was unspeakable.
Harvey had inherited his father's celebrity good looks, but was also well built just like his father, clearly noticeable even at this young age. Little Ridley could wiggle and worm his way through most defences and scored many goals in doing so, but Harvey was necessary for this job. As always, Harvey started the game up front and, as expected, got a good clattering. By halftime he was bruised from head to toe and a terrible tackle midway through the second half took him out of the game for good. Little Ridley came on and scored the winner, five minutes from time. 1-0. The boys went home on a high. Harvey went home with his leg in a cast.
City drew their game and suddenly the title was not so far fetched. Three points separated the teams, with two games left to go. They would square off next weekend, leaving a final round of games for the season's last weekend.
Harvey's injury had put him out of the final two games. A youth scout from Ghoston United was expected to attend the game, undoubtedly to see Harvey. Upon news of Harvey's injury, he quickly cancelled his visit. This enraged Reggie, who was desperate for his boy to be spotted, especially now that Harvey was out of the picture. It had been little Ridley's chance to shine!
As it turned out, little Ridley did shine, bagging a hat-trick and bringing the team level on points with City, and well ahead on goal difference. All they had to do now was win next week against bottom placed Valley. Technically speaking, Blue Shade Valley was located outside of Ghoston's city limits but they had been included in the city's youth league to make up the numbers. That's the way they felt about it and that's the way they played. Victory out at the Valley next weekend was pretty much guaranteed.
The atmosphere on the bus ride out to the Valley was raucous. Every player bounced on their seat, chanting 'Champione Champione Ole Ole Ole'. The proud fathers sat in the front of the bus, with a sprinkling of mothers and brothers thrown in for good measure. Reggie sat in the back row, keeping a close eye on his son. Harvey and Matt Kremhersh followed the bus in their luxury SUV. You'd be forgiven for thinking that this was due to Harvey's leg being in a cast, but the Kremhershs followed the team bus on every away game.
The game was a walkover, 7-0, little Ridley netting four times in the process. The league committee had predicted such a result would occur and had had the foresight to bring the trophy out to the Valley. City still had a chance to be champions, should they win their game by a margin of 20 goals. The boys gathered in the center of the pitch, waiting for news to arrive. Within a few minutes the committee received a phone call. City had won 9-2, but it wasn't enough. The boys jumped and screamed and hugged and danced and ran and shouted and jumped some more. The parents clapped and took photos. As the celebrations began to calm down, Coach Archer motioned the boys to line up. The squad followed Archer's instructions and received their medals. Then they huddled in eager anticipation of the trophy handover. They could see it glistening on a makeshift picnic table at the side of the pitch. Rover's purple and gold ribbons had already been attached by the time little Ridley netted his second goal. So what was the delay?
Charlie, the oldest boy in the team and Rover's captain for the last three seasons, spread the word to his teammates to calm down; Harvey wasn't here yet. At that exact moment, Matt Kremhersh strode onto the pitch. Harvey was sitting on his shoulders, with one leg protruding awkwardly like a bazooka. No other parents had been allowed on the pitch. Matt made his way to the center of the squad and shooed away little Ridley, who had been standing next to the captain, both of them eagerly awaiting the trophy. One rumour was that little Ridley would lift the trophy together with Charlie. The other rumour was that little Ridley would get the trophy for Player of the Year, well deserved indeed for his recent goal scoring endeavours and for finishing first on the league's top scorers chart.
The trophy arrived soon after and was presented above the heads of all the boys, straight into the outstretched arms of Harvey Kremhersh, as his father held his legs in place above his shoulders. From nowhere, a semi-circle of media mongrels appeared. Their cameras flashed. The Kremhersh name cut through the muffled hum emanating from the tiny stadium's loudspeaker system. The whole scene looked misplaced and scripted but nobody seemed to mind.
After three long minutes of posing with trophy and Daddy, Harvey passed the trophy down to captain Charlie. From the sidelines, as if on cue, a second league representative came with yet another trophy. The teammates looked left to right, collectively trying to locate little Ridley. The squad lined up again, this time forming a guard of honour leading down to little Ridley and began chanting his name. The league representative walked straight past the squad and presented the trophy to hovering Harvey, just like the patient photographers had been waiting for. Once again the cameras flashed and the Kremhersh name clattered and bounced through the stadium.
Reggie was obviously not having any of this. In fact, he was already halfway between the sidelines and the center circle, before he became conscious of his moving feet. The crowd of parents gasped as they saw Reggie nearing the children. Then again why shouldn't the parents be allowed to join in the fun? On they ran one after the other; fathers, mothers, ecstatic brothers. Reggie maintained his pace amidst the flurry, focused on his target.
The mob of families swelled around the boys like ants on a sugar cube. The cameramen repositioned themselves to get pictures of the Kremhershs holding their trophy against the backdrop of frantic families.
Reggie barged through the press members, grabbed the trophy out of Harvey's hand, swung it back behind him as far as his arm could stretch and launched it with all his force directly into the face of movie star Matt Kremhersh. The trophy's heavy square base scraped through Kremhersh's cheek, cut in through an eye socket and exited, dragging out the eyeball in doing so. Matt hit the ground immediately. Harvey let out a ferocious scream of shock and pain as he landed awkwardly with all his weight on his broken leg. Matt Kremhersh lay twitching on the ground, his eye dangling loosely from its socket, hanging by the optic nerve. Reggie dropped the trophy and stared absently at the calluses on his hand.


The End


Copyright JZG 2021


Image Source
https://pixabay.com/photos/deserted-field-fog-football-goal-1838313/