Rachel's paintings
---
Last summer I went to the train terminal to wait for my sister Rachel who arrived with her little boy, two trunks and one suitcase.

Although we had not seen each other for a long time, the hug was that of two sisters who love each other. Her son Michel was five years old. He was a very white boy with blond and wavy hair like hers. The resemblance to his father was striking.
We went to my house in a rental car. The heat was stifling, so a cold tea drink was ideal for conversation while I showed them the room I had prepared for their stay.
Rachel was separating from her husband and was also two months pregnant. Her attire reflected the sadness she felt.
The suitcase had Michel's clothes and toys. One trunk had dresses, shoes, and aprons stained with paint. And the other trunk had paints, solvents, brushes, and an easel. Since she was a child, Rachel has always loved to paint.
She looked tired and had bags under the eyes. The first weeks Rachel slept a lot. My nephew was a very adorable and restless boy. In those days we were getting to know each other. He liked to eat apples and pears. He also liked to play with a colored ball and had a teddy bear to sleep with.
The nausea of pregnancy wreaked havoc on my sister's stomach. I decided to consult with the village apothecary and made several infusions for Rachel to improve her health. Gradually, her appearance changed.
One morning, at the end of August, I invited her to the basement of the house. I took her painting trunk and told her that when she wanted that could be her new workshop. She was surprised by the beauty of the place but did not open the trunk or say a word.
The days continued to pass and the pace of the house's activities had changed. Rachel and Michel played in the mornings in the small garden. I visited some elderly friends in the retirement home to read them stories. Many times I would make up new stories while faking reading from the book. They listened attentively, and it was so much fun to look at their happy faces as I heard their names inside the stories. They loved happy endings.
A few days later, in early September, Rachel asked me to go into town to buy canvas. I was very happy because I knew her and that meant she was going to paint.
The three of us went to the village. The mornings were still sunny, and the days were long. We bought several canvases of different sizes. We ate chocolate ice cream in the square and watched Michel play with other children.
Rachel told me that the separation with André was traumatic. He had become a greedy man and didn't trust anyone, not even her. They had had arguments about money, which were becoming more and more frequent.
She had to buy less food, and they had years of patching up clothes because André didn't want to spend money. The week before the journey he accused her of stealing money. That was the last straw! Rachel said, looking into my eyes as the pain slipped into the tears that ran down her cheeks.
I heard my sister's story and felt sad. She never told me anything even though we always had phone contact. I guess at first she didn't notice André's changes or maybe she didn't want to see them. She was always in love and that state of feeling clouds the thought.
When we returned to the house we went down to the basement. We opened three small glass windows; the air and light from the garden came in through there. She opened her trunk while I prepared a snack in the kitchen.
I sat down with Rachel to have tea and cookies. We looked out the windows at Michel who was playing in the garden. She called him to open the paint tubes.
I will never forget that afternoon. Michel and Rachel adjusted the easel, took out the paint pallets, and smiled until the evening when we left the basement.
Autumn had come. The leaves were falling from the trees and the colors red, yellow and orange were producing the sensation of warmth, while the humidity was taking over the temperature of the room.
Rachel didn't have to tell me she was sad because I began to see it in her first few strokes of paint. Everything was dark and brown. Later, she added greens but it still looked like a forest lost in her imagination.
She decided to start another canvas and there green and red were the predominant colors. I suspected that Rachel's temperament was turning on the canvases in the form of colors. So, I had the idea to write stories while watching her paint.
She laughed and cried while splashing her canvases. She would draw a house with a fireplace and then disappear with a brush loaded with black anger.
I saw some strange shapes in her paintings. I once told her about it while we were having lunch. She smiled and told me that those figures were the monsters of her life. From now on they would be forever outside of her, she affirmed.
I tried to decipher her paintings but I never saw the monsters. After the green and red stage, the blue began to appear. The mountains looked beautiful in that color, while the sky yellow with the red springs caused a volcanic explosion sensation.
The ambient light had changed as Rachel's body had changed. Her belly had grown, and her toes were swelling very often.
I asked a carpenter to make a high chair so she could paint more comfortably.
I kept writing stories inspired by the marvelous color combinations I saw in my sister's paintings. Each layer of paint was an artist who wanted to get out but was still trapped in her world of contradictions.
Suddenly, without realizing it, winter had arrived just like the first snowfall. We had already lit the first advent candle.
The weather changed and the temperature in the basement was too cold. There was no heating there and Rachel stopped painting for several days. I talked to her about moving everything upstairs to the living room but she didn't want to. She told me she felt fine in her new workshop, which was in the basement.
I went out to the village several times to buy a small heater system, but I couldn't find it. Everyone at the retirement home knew my sister was an artist and they gave me a heater that needed repair. It was a big surprise for me.
I was very happy. I had the heating repaired and it was as good as new. They took it to the house and installed it in the basement. The atmosphere was warm again. But the light had changed. With the windows closed, there was only the light from a bulb that was insufficient. The men, with the kindness of the days of miracles, installed two white light bulbs. The basement became a gallery for art.
During the days of Christmas, the elders of the retreat house came to visit us. We welcomed them with cookies and tea. We took them down to the basement and Rachel showed them her artwork. Then I read the stories she had written while watching her paint. Rachel was excited to hear her artistic processes in my sweet metaphors.
Between candy and laughter, it ended that year. Even with the cold Rachel returned to painting. White had reached her heart and her color palette. First, it was the blue that diminished in intensity, then the red and green.
Her works became a multiplicity of colors with abstract forms. Every time I saw a new layer of paint I saw the transformation of her inner world. Those last three artistic works I could interpret in a thousand ways.
I wrote dozens of short stories that I read to Rachel when she asked me to. The three of us laughed at my discursive adventures. Michel also would invent characters, and he would tell me -Aunt, I want you to write about a fairy who grants wishes and who transforms an ogre into a good father.
Then, I would pretend to read a book while making up a story for him to be happy.
In the middle of March, Lourdes was born. She was a beautiful baby with wavy blond hair. Rachel did not paint at that time and devoted herself to caring for her children.
Unexpectedly, André arrived at my house when Lourdes was two months old. I had known him since he married my sister and had never seen him again. Michel went crazy with joy when he saw his father.
He arrived in his car with a flawless suit of clothes. He brought some gifts for Michel and two new dresses for Rachel. We talked about trivia in the living room while Rachel was nursing her baby in her room.
When Rachel went into the living room André got up from the couch to greet her with a hug. There was love in his eyes. Rachel also hugged him tenderly.
I left them alone. After an hour and a half, I heard Rachel say goodbye and close the door.
He went to look for her and the children but she didn't want to go with him. They talked calmly, according to what she told me.
He begged her for forgiveness, and she forgave him. Really, she had forgiven him a long time ago. But she did not want to and could not live with him anymore. She asked him for a divorce and then they would talk about a healthy arrangement for the children.
I never expected that attitude from my sister. But as she spoke I thought -the blind I was me. She was a sensitive but determined person. It was obvious and I hadn't understood it until that moment.
When Lourdes was six months old, Rachel moved from my house to a house in the center of town. We sold some paintings to pay the rent. Fifteen paintings remained in the basement of my house, which had been converted into a reading room for the young people of the village.
I continued to write my stories to read to the elders of the retirement home, and also to Michel who always interrupts me with his new characters.
My sister went back to painting and has given me two paintings for the reading room. Besides, she introduced me to a publisher who will publish my first book of short stories next December; I will title it "Michel and Lourdes among the colors of the basement".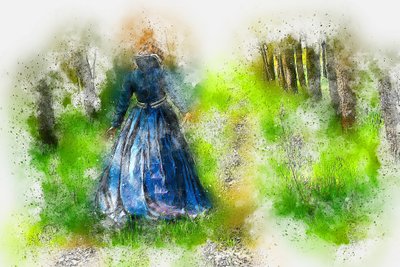 Source: Pixabay by ractapopulous
Declaration
I certify that my entry to the The Ink Well Writing Prize is my own original work and has been published exclusively to The Ink Well and my Hive profile. I understand that my entry may be excluded from the Writing Prize if I have not met the Rules of Entry and the Community Rules. The Ink Well and the Writing Prize is supported by the
@ocd
Communities Incubation Programme and the
@curie
curation initiative.
Story @marcybetancourt
© Dec 2020, Marcy Betancourt. All rights reserved