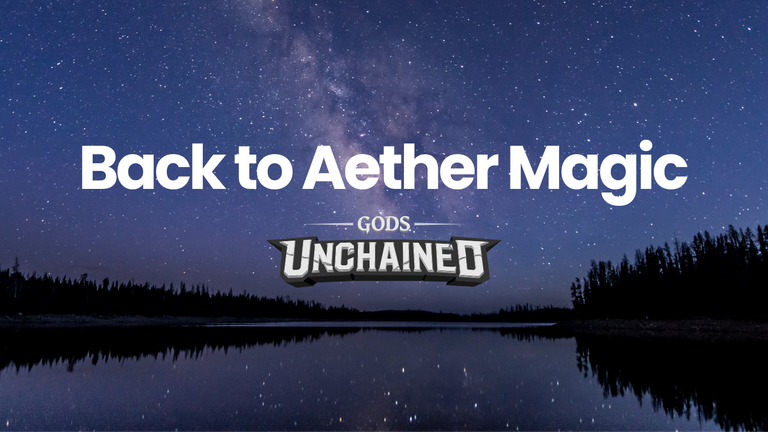 This week has probably been the most balanced the Mythic meta has ever been, with win rates being spread out more evenly than before. With the big Magic nerfs that were introduced before this weekend, Magic quickly fell out of favor and Light decks see much more play now. While I had tried a few different decks over the week, nothing quite felt too right to me yet, so I decided to try putting my version of Aether Magic to the test. Although it didn't perform spectacularly due to being unable to deal with wide boards too well, it still managed to bag a cool 16 wins. Let's dive right in!
Giveaway Results
Every week, I give away a few units of Hive SBI which help to upvote your Hive posts for visibility and rewards for as long as they run - you don't have to do anything on your part. I explained the mechanics of how this giveaway works in another Weekend Ranked Rundown post, but in short, the more active you are in the GU Hive community, the more chances you have to win. You can check your HBI status here.
This week's winners:
@motpanda - Leave a comment to accept the prize/give it to someone else or it will be forfeited once I post the next giveaway's results. Once you've accepted the prize once, you don't have to leave a comment anymore; future prizes will automatically be sent to you. Congrats, and thanks for being part of the GU community!
Deck Overview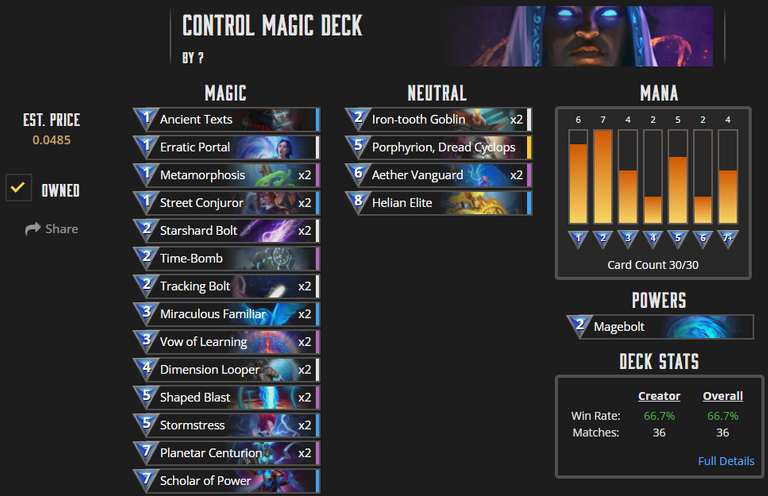 Deck Link: GUDecks
The main difference between my version of Aether Magic and the other versions out there is probably the distinct lack of a ramp element. Through many games, I found that it's very tough to ramp with Sip of Elixir or Mana Toad without losing lots of tempo and allowing the enemy to deal an extra 5 damage to the face. As such, I decided to take out the ramp elements to include more removal, which helped to deal with the onslaught of aggressive decks that came out in full force this weekend.
Also, one of my key ideas in this deck is to make Munosian Infiltrator and Light's Levy as useless as they can be. No All-seeing Spire or Demetrios included for that reason. Perhaps it isn't that good of a decision, but I was curious to see how this version without the common card draw engines performed. From my experience, these draw engine cards can be useless in aggro match-ups since they take up a potential removal spell card space.

I think I underestimated Time-Bomb before; I didn't put in any of my prior decks because I thought the spells were enough, but I found out that Time-Bomb can easily 2-for-1 against aggressive decks. Though, playing it on T2 against an aggressive deck can give the opponent the initiative to deal some crazy damage.

Dimension Looper is what a well-tuned Leyhoard Hound should have been. Playing Dimension Looper against an aggro deck can easily swing the tempo back onto my side with the caveat that I have to have both Dimension Looper and another Aether in my hand.

I previously tried a version without Iron-tooth Goblins, and I got eaten alive by Zombie decks due to their Necroscepter spawning Zombies for like 5 to 10 turns. Although it can seem like Magic decks have infinite removal, that isn't the case and it's easy to run out of removal against Zombie decks. Although Zombie decks aren't super popular on the weekends, I think the Goblin's utility is also good against a few other decks, although it isn't as game-changing.
Performance and Matchmaking Breakdown
Starting Rank: Mythic
Wins: 16/25
Reward Packs: 1x Core Rare, 1x Core Legendary, 1x DO Epic, 1x DO Legendary
Theoretical pack value based on current pack prices: $31.98
| Opponent God | Deck Archetype | Score (Wins / Total Games) |
| --- | --- | --- |
| Nature | Midrange Nature | 1 / 3 |
| | Control Nature | 0 / 1 |
| | Aggro Nature | 0 / 1 |
| War | Frenzied Aggro War | 6 / 7 |
| Magic | Card Draw Magic | 1 / 2 |
| | Control Magic | 2 / 3 |
| | Midrange Magic | 1 / 1 |
| Death | Zombie Death | 0 / 1 |
| Deception | Order Deception | 1 / 1 |
| | Control Deception | 1 / 1 |
| | Hidden Rush Deception | 1 / 1 |
| Light | Control Light | 1 / 1 |
| | Aggro Light | 1 / 2 |
| Total | | 16 / 25 |
Sadly, this deck performs pretty poorly against Nature decks, especially those that run the Animal Bond GP. With only 2x Shaped Blast as the board clears in this deck, an unchecked Wildfire can easily close in on a loss for me. I think there might just be insufficient removal to deal with Nature's shenanigans.
Surprisingly, even though every Aggro War match-up seemed like an uphill battle to keep me alive after turn 5, I think I drew well enough to deal with their threats most of the time. The new Viking synergy buffs are insane if left undealt with!
I expected to see more Light decklists given that Light has been buffed, but thankfully I didn't see too many of them here. The opponent playing Zealous March is almost a lose condition for this deck. One of the only ways to deal with it is to play Tracking Bolt into Shaped Blast. One tip for playing against Zealous March though: either clear most of the board, or don't clear any. Don't give your opponent a chance to play Asterius if you can't clear the horde of Acolytes.
All in all, I am quite satisfied with the performance of this deck. It's always fun getting out an OP 9-drop on 7-mana turns although it isn't as consistent as other decks. I acknowledge that this deck has many shortcomings that make its performance suffer, but that's the price I decided to pay for fun. 😂 (Also while farming more Core packs to build new decks)
Historical Performance
Well, this week's performance was my worst in 2 months. Although it's by no means a bad result, I hope that I can improve my performance in the following weeks. I expect the competition to get fiercer as more people complete their renewed Light, Nature, and War decks - some of the new cards are absolutely essential in boosting a few decks' power level! In the meantime, I'll be figuring out what new deck to try out next week.
Past Weekend Ranked posts and performance in order of recency:
Concluding Thoughts
The meta's as healthy as it has ever been (with the exception of Dralamar combo mage), and I hope that new decks pop up as people figure out the strengths of each new refreshed Core card. While I really enjoy playing Magic decks with Metamorphosis, I think I've played just a tad too much Magic recently and will be looking to try something different next week!
Hope everyone's Weekend Ranked went well!
---
Post Header image source: Unsplash
If you chanced upon this article and are interested in starting Gods Unchained, you can use my referral code to sign up to play here. It's free to play and free to earn!
Some of the card images in this post are generated by GUListCreator, a tool I created for fast card list lookup and creation to write posts like this on Hive. Do check it out if you like to create content for Gods Unchained!